T-Mobile US: 5G SA Core network to be deployed 3Q-2020; cites 5G coverage advantage
Yet another wireless telco is moving to a 5G Stand Alone (SA) core network, without any standard or even specification (yes, we know about 3GPP TS 23.501 5G Systems Architecture spec in R15 and R16) in place.
In a blog post to assess the progress in the (new) T-Mobile US network four months after the Sprint acquisition, CTO Neville Ray wrote:
We're also hard at work getting ready to light up standalone 5G this quarter, having recently completed the world's first standalone 5G data session on a multi-vendor radio and core network, and the first standalone 5G data session of any kind in North America. Standalone 5G will expand our coverage and bring with it improved latency and faster uploads. It will also pave the way for applications that require real-time responses and massive connectivity such as mobile augmented and virtual reality, cloud gaming, smart factories and meters and even connected vehicles.
Analysis:
To the best of our knowledge, there are no 5G SA core networks deployed yet.  All the so called "5G" deployments are based on NSA or a LTE anchor via EPC.  With a rush of recent 5G SA core announcements, that will soon change
Yet it's critical to note that ALL of the 5G core work is done in 3GPP– not in any SDO.  Moreover, ITU-T SG 13 which is responsible for IMT 2020 Non Radio Aspects recommendations has not received any of the 3GPP R16 documents.  And finally, URLLC for both the 5G radio access network and core are not yet complete as there has been no performance testing yet.  So how will "improved latency" be realized?
In the absence of any standard or detailed implementation spec, any 5G SA core network deployed within the next year (or longer) will be based on  a joint specification effort between the wireless network operator and its 5G core vendor (e.g. Huawei, Ericsson, Nokia, ZTE, possibly Cisco and NEC?).
Here's what Dell-Oro had to say about 5G SA/5G Core:
During 2020, the industry will progress toward 5G SA. Lab proof-of-concepts and field trials are well underway around the world. Vendors and SPs are working together to learn about the intricacies of implementing 5G SA, which primarily means implementing the 5G Core for 5G NR base stations (a.k.a. Option 2). Some SPs will operate multiple 5G Cores dedicated to consumers, enterprise, public safety, and Internet of Things (IoT). They believe that dedicated 5G Core networks will be able to deliver new agile business solutions at a quicker pace for their respective user bases and more efficient network management.

The 3GPP release schedule is highlighted to emphasize that 5G, and especially the 5G Core standard (3GPP TS 23.501, the overarching specification), still has a long way to go before the full potential of 5G will be achieved. While the industry has been touting 5G for several years, it cannot be realized without the 5G Core.

The 5G Core is known as a Service-Based Architecture (SBA). At a high level, it consists of the User Plane, the Control Plane, and the Shared Data Layer Network Functions. This enables a more resilient core network (CN). Hardware and software disaggregation creates what is known as stateless Virtual Network Functions (VNFs) that run on COTS Network Function Virtualization Infrastructure (NFVi). If a hardware failure occurs, a new virtual machine (VM) or Container can spin up on a new server without loss of data because it resides in the Shared Data Layer.

This structure allows for Cloud computing with container-based Cloud-Native Network Functions (CNFs) that permit microservices tailor-made for smaller groups of subscribers. CNFs enable SPs to build a web-scale core with greater degrees of orchestration and automation to bring new services to the market in a few hours or days, as compared to months or years.
More specifically,  TS 23.501 -Release 16 provides guidelines for 5G Core virtualized deployments, but does not specify how to implement any of those deployments.  Here's the relevant text:
5.21.0 General
5GC supports different virtualized deployment scenarios, including but not limited to the options below:
– A Network Function instance can be deployed as distributed, redundant, stateless, and scalable NF instance that provides the services from several locations and several execution instances in each location.
– This type of deployments would typically not require support for addition or removal of NF instances for redundancy and scalability. In the case of an AMF this deployment option may use enablers like, addition of TNLA, removal of TNLA, TNLA release and rebinding of NGAP UE association to a new TNLA to the same AMF.
– A Network Function instance can also be deployed such that several network function instances are present within a NF set provide distributed, redundant, stateless and scalability together as a set of NF instances.
– This type of deployments may support for addition or removal of NF instances for redundancy and scalability. In the case of an AMF this deployment option may use enablers like, addition of AMFs and TNLAs, removal of AMFs and TNLAs, TNLA release and rebinding of NGAP UE associations to a new TNLA to different AMFs in the same AMF set.
– The SEPP, although not a Network Function instance, can also be deployed distributed, redundant, stateless, and scalable.
– The SCP, although not a Network Function instance, can also be deployed distributed, redundant, and scalable.
Also, deployments taking advantage of only some or any combination of concepts from each of the above options is possible.
………………………………………………………………………………………………………………………………………………………….
Other T-Mo Highlights:
Ray referred to recent analysis from OpenSignal and Ookla on T-Mobile US' 5G network availability. T-Mo's reliance on far-reaching 600 MHz spectrum for its "5G foundation," assures that its 5G footprint significantly outstrips the other national carriers' 5G coverage areas.  Ray wrote:
A new report from Opensignal ranks the T-Mobile network first for 5G availability, meaning Un-carrier customers get a 5G signal more often than customers on any other network – more than twice as often as AT&T and 56 times more often than Verizon! Plus, a new report from Ookla measuring 4G and 5G from over one million customer devices shows that T-Mobile has 5G in nearly 4X more cities than Verizon and AT&T (and 32X more cities than Verizon alone). And T-Mobile customers with a 5G-capable device experience faster overall download and upload speeds than Verizon customers.  And look at the Verizon availability score – yep – no typo here – that's 0.4%…..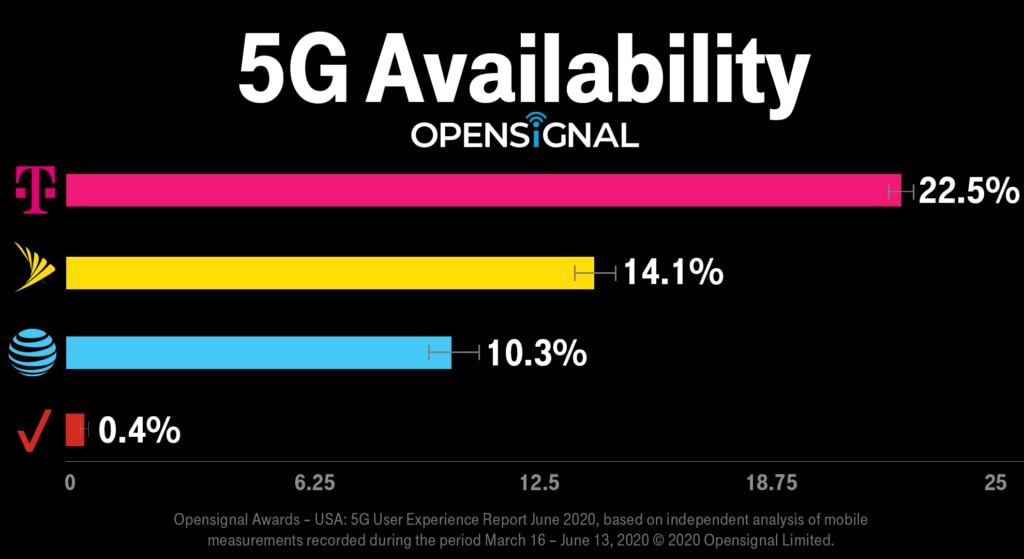 Verizon in particular relied on millimeter wave for its initial deployments, and AT&T has moved to a mix of high- and low-band 5G deployments. Verizon expects to be able to dramatically expand its 5G coverage via the use of Dynamic Spectrum Sharing later this year.
T-Mo's 5G Spectrum holdings are depicted in this graphic (courtesy of T-Mobile US):
……………………………………………………………………………………………………………………………………………………………………
Regarding 5G speeds, low-band 5G performance tends to look pretty similar to 4G, while mmWave-based 5G is spotty but speedy. Post-Sprint merger, T-Mo is leveraging Sprint's mid-band spectrum holdings to boost its 5G speed performance and also utilizes mmWave in some urban areas, per its "layer cake" 5G spectrum strategy as per the above graphic.
Ray said in his blog post that T-Mobile US is "rapidly deploying critical mid-band 2.5 GHz spectrum from Sprint" to increase capacity and speed, and announced that mid-band 5G from T-Mo is now live in parts of Chicago, Illinois; Houston, Texas; and Los Angeles, California.
Ray said that mid-band 5G testing is showing average download speeds of more than 300 Mbps and peak speeds of 1200 Mbps. T-Mobile US has also tested the reach of its low-band 5G, recently completing tests with Ericsson, Qualcomm and OnePlus that demonstrated a 5G connection reaching 60 miles from the base station (on 600 MHz).
The T-Mo exec also said that the carrier's 600 MHz spectrum is finally repacked and cleared of broadcasters, a little more than three years after being auctioned. Virginia Beach, Norfolk and Richmond, Va., Topeka, Kan., Sussex County, Del., and coming soon in Buffalo, N.Y.
Related to the carrier's commitments to the Federal Communications Commission as part of the merger with Sprint, Ray said that T-Mo is moving ahead with the expansion of its wireless broadband internet service pilot. In Grand Rapids, Michigan, the carrier has started offering the service to people who aren't existing T-Mobile US customers. Ray noted that the carrier plans to offer T-Mobile Home Internet in more than 50% of all U.S. zip codes.
References:
https://www.t-mobile.com/news/network/accelerating-5gforall
---