Dell'Oro: Telecommunication Equipment Market 1Q20 to 3Q20 +China's New 5G Base Stations
Preliminary estimates by the Dell'Oro Group suggest the overall telecom equipment market advanced 9% Year-Over-Year (Y/Y) during 3Q20 and 5% Y/Y for the 1Q20-3Q20 period.  That market includes: Broadband Access, Microwave & Optical Transport, Mobile Core & Radio Access Network, SP Router & Carrier Ethernet Switch (CES).
The analysis contained in these reports suggests revenue rankings remained stable between 2019 and 1Q20-3Q20, with Huawei, Nokia, Ericsson, ZTE, Cisco, Ciena, and Samsung ranked as the top seven suppliers, accounting for more than 80% of the total market. At the same time, revenue shares continued to be impacted by the state of the 5G rollouts in highly concentrated markets.
Huawei and ZTE are both on course to gain two percentage points of market share each this year, at the expense of Nokia, Cisco and Samsung. With investments in China outpacing the overall market, we estimate Huawei and ZTE collectively gained about 3 percentage points of revenue share," wrote Dell'Oro Analyst Stefan Pongratz in his blog on the matter, implying they actually grabbed around 1.5 percentage points each.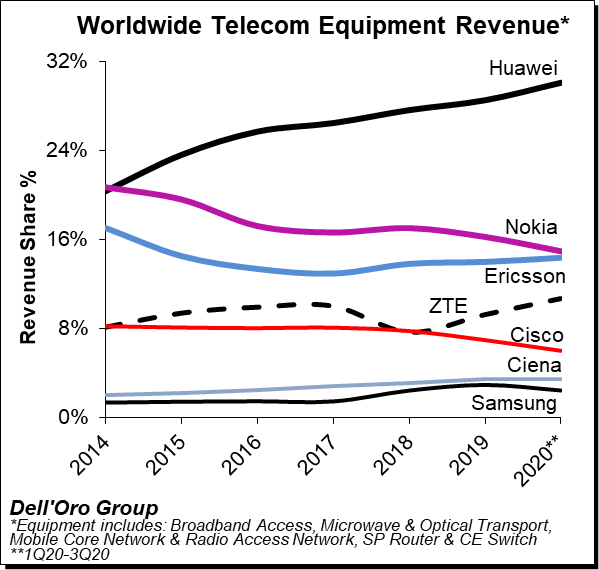 Dell' Oro estimates the following revenue shares for 2019 and the 1Q20-3Q20 period for the top seven suppliers:
Following the 4% Y/Y decline during 1Q20, the positive trends that characterized the second quarter extended into the third quarter, underpinned by strong growth in Optical Transport and multiple wireless segments including 5G RAN, 5G Core, and Microwave Mobile Backhaul. Technology segments that were impacted more materially by COVID-19 and the lockdowns during 1Q20 continued to stabilize in the quarter.
Preliminary estimates indicate increasing Mobile Infrastructure and Optical Transport revenues offset declining investments in Microwave Transport and SP Routers & CES for the 1Q20-3Q20 period.
The overall telecom equipment market continued to appear disconnected from the underlying economy. While the on-going transition from 4G to 5G is helping to offset reduced capex in slower-to-adopt mobile broadband markets, we also attribute the disconnect to the growing importance of connectivity and the nature of this recession being different than in other downturns improving the visibility for the operators.
With investments in China outpacing the overall market, we estimate Huawei and ZTE collectively gained about 3 percentage points of revenue share between 2019 and 1Q20-3Q20, together comprising more than 40% of the global telecom equipment market.
The Dell'Oro analyst team has not made any material changes to the overall outlook and projects the total telecom equipment market to advance 5% to 6% in 2020 and 3% to 4% in 2021. Total telecom equipment revenues are projected to approach $90 B to $95 B in 2021.
………………………………………………………………………………………………………………………………………………………………..
Judging from a report by China Daily "China to build 1 million new 5G stations in 2021." it appears Huawei and ZTE will continue to increase their telecom equipment market share.  Reporter Ma Si of China Daily spoke to Wu Hequan, an academician at the Chinese Academy of Engineering, who reckons China will build over a billion 5G base stations next year, taking the grand total to 1.7 million by the end of the year.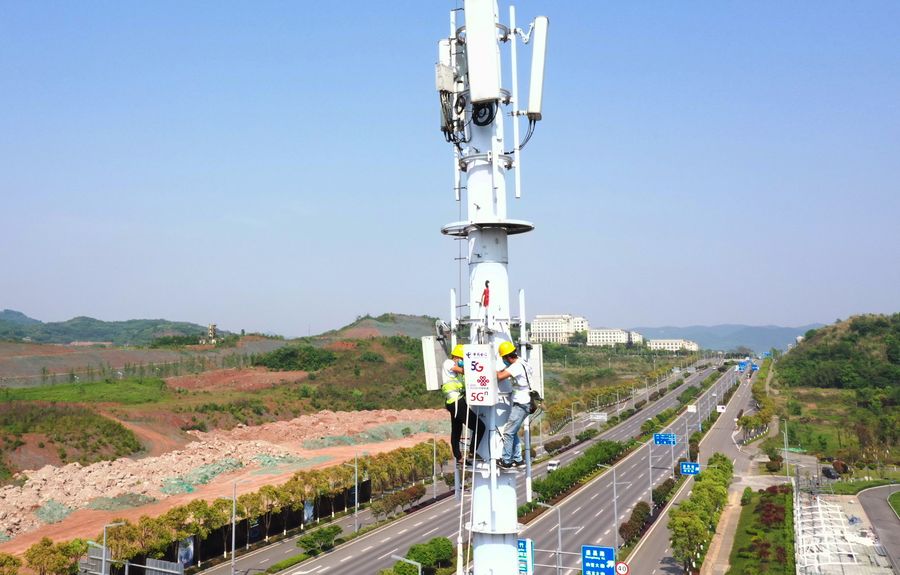 China workers working at the construction site of a 5G base station at Chongqing Hi-tech Zone in Chongqing, Southwest China. [Photo/Xinhua]
"As the construction of 5G networks accelerates, the cost of building each 5G base station will go down," said Wu. "Even if Chinese telecom carriers earmark the same amount of 5G investments in 2022 as they have done this year, they can build far more 5G base stations next year than this year. I believe Chinese telecom carriers will build more than one million 5G base stations next year, though the specific construction targets will have to wait for the telecom carriers' official announcements."
China Mobile, China Telecom and China Unicom did not immediately respond to requests for comment from China Daily.
Wu's remarks are in line with China's top industry regulators' predictions the nation will "moderately" push ahead 5G construction in the next few years. The Ministry of Industry and Information Technology said in October as the country is set to enter a lead-in period in the next three years, China will continue to build 5G networks in a rhythm that is moderately ahead of schedule, so the wider coverage of 5G can help promote its use in more industrial and consumer scenarios.
That lead-in period, according to some industry insiders, means new products, new formats and new models of 5G application are constantly emerging and such applications are shifting from single application to large-scale and systemic scenarios.
China seems to be all the more determined to ensure its domestic telecoms industry goes from strength to strength.  In response to the threat to the U.S. from China, John Ratcliffe wrote in the Wall Street Journal (on-line subscription required for access): "Beijing is preparing for an open-ended period of confrontation with the U.S. Washington should also be prepared. Leaders must work across partisan divides to understand the threat, speak about it openly, and take action to address it."
…………………………………………………………………………………………………………………………………………………………..
References:
Key Takeaways—Telecommunication Equipment Market 1Q20 to 3Q20
Chinese telecoms kit vendors gained global market share this year
https://www.chinadaily.com.cn/a/202012/02/WS5fc74e99a31024ad0ba99633.html
https://www.wsj.com/articles/china-is-national-security-threat-no-1-11607019599?st=3hvkbbblmgzks25&reflink=article_copyURL_share
---