Omdia and Dell'Oro Group increase Open RAN forecasts
In an updated forecast out this month, Informa owned Omdia predicts that Open RAN is likely to generate about $3.2 billion in annual revenues by 2024.  That would make it about 9.4% of the total 4G and 5G cellular market.
That forecast implies a massive increase on last year's sales of just $70 million (see Dell'Oro forecast below), and Omdia's Open RAN numbers have been raised significantly in the last few months. Previously, it was expecting Open RAN to generate about $2.1 billion in revenues in 2024.
Telco buy-in and support is critical, according to Daryl Schoolar, practice leader at Omdia responsible for the firm's Open RAN forecasts. "Mobile operators remain the real driving force behind the development of open virtual RAN," he says. "I see this as a positive sign for the market versus other technology and network developments I have seen during my career that were driven by vendors and ultimately went nowhere.   The bigger market opportunity is with brownfield deployments, but this takes more time to accomplish as operators have to integrate open RAN with their legacy network systems and make sure those legacy networks and services are not adversely impacted," Schoolar added.
Here are some of the network operators that have committed to OpenRAN:
Japan's Rakuten, which already operates a 4G and 5G network based on open RAN. While customer numbers remain low, its early success has undoubtedly encouraged others.
Telefónica and Rakuten have announced a partnership to accelerate the development of Open RAN technology for 5G access and core networks, and the associated operations support systems (OSS). They will jointly test, develop and procure Open RAN systems.
Dish Network, is another greenfield builder that is using open RAN technology to roll out a fourth mobile network in the US. which is primarily focused on business customers.
Orange sees a role for Open RAN vendors to provide more "plug and play" indoor coverage for businesses through 2021 and 2022.  Open RAN could also play a part in the macro network, although that is more likely to come from 2023, and still requires work.
Dell'Oro Group (see forecast below) says: "Dish is running into delays in the US market, Rakuten is moving forward at a rapid pace in Japan deploying a variety of both sub 6 GHz and mmWave RAN systems. In addition, some of the Japanese telecom equipment vendors (e.g. NEC) are reporting that the lion share of their radio shipments are already O-RAN compatible."
Open RAN progress: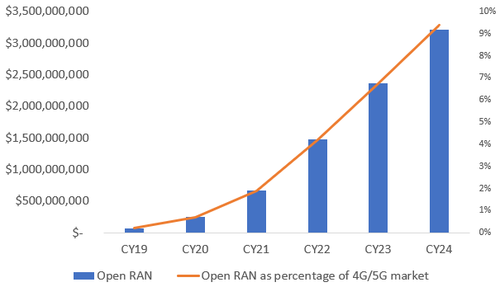 Source: Omdia
……………………………………………………………………………………………………………………
Omdia notes that Open RAN is a potential dilemma for the big telco equipment vendors like Ericsson and Nokia (which intends to supply Open RAN products).  The risk is that it decreases their market share for traditional cellular gear, as wireless network providers opt for Open RAN products developed by alternative suppliers. Yet open RAN might also bring opportunities in new markets for the old guard. "Either way, vendors cannot ignore this market trend," says Omdia.
Gabriel Brown, a principal analyst at Heavy Reading, a sister company to Omdia and Light Reading, says he is positive about Open RAN but warns against expectations of liftoff next year. "The right timeline to view it on is a four-to-five-year timeline," he said in a discussion with Light Reading this week. "I think next year continues to be primarily trials, scaling the trials … and some operators moving into production networks, but I don't think it's the year when it all takes off."
Separately, Dell'Oro Group's latest Open RAN forecast, projects that Open RAN baseband and radio investments—including hardware, software, and firmware excluding services—will more than double in 2020 with cumulative investments on track to surpass $5B over the forecast period.
Open and Virtual RAN continues to gain momentum, bolstered by Ericsson now formalizing its support with its Cloud-RAN announcement. The uptake remains mixed. In this blog we will discuss three key takeaways for the 3Q20 quarter including:
1) The primary objective of Open RAN is to address market concentration and vendor lock-in;
2) Open RAN revenues are trending ahead of schedule;
3) Not all Open RAN is disruptive.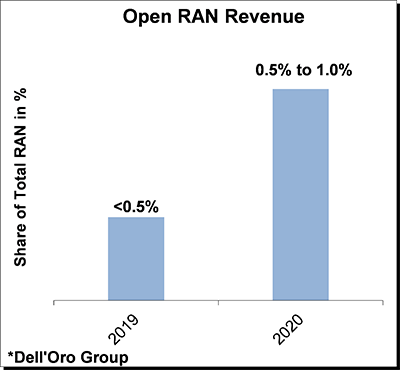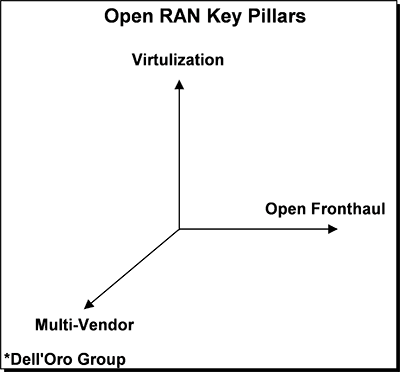 Source:  Dell'Oro Group
Dell"Oro says that the more favorable Open RAN outlook to a confluence of factors including:
Verification from live networks the technology is working in some settings;
Three of the five incumbent RAN suppliers are planning to support various forms of Open RAN – "Partial Open RAN" (open and virtual but not multi-vendor) are at this juncture captured in the Open RAN estimates meaning we require the first two pillars but we are excluding the third multi-vendor requirement as a necessity to reflect the Open RAN movement;
The geopolitical uncertainty has escalated significantly in the past six months, with multiple operators reassessing and/or reviewing their reliance on Huawei's RAN portfolio, resulting in an improved entry point for the Open RAN suppliers;
Progress with full virtualization is firming up, with multiple suppliers announcing the commercial availability of V-RAN, consisting of both vCU and vDU;
Operators are increasingly optimistic the technology will move beyond the rural settings for brownfield deployments;
Policies to stimulate Open RAN are on the rise.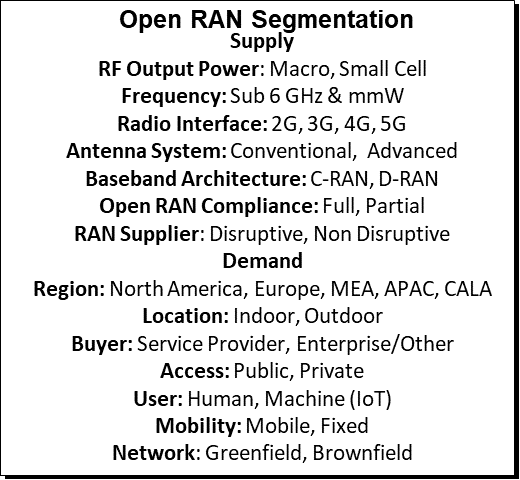 Source:  Dell'Oro Group
"We estimate total open RAN revenues are tracking ahead of schedule," wrote Stefan Pongratz of Dell'Oro Group, noting the market research firm recently raised its 2020 open RAN revenue forecast to $300,000 from $200,000. "On the other hand, the lion share of any 'security' related RAN swaps are still going to the traditional RAN players, suggesting the technology for basic radio systems remains on track but the smaller players also need to ramp up investments rapidly to get ready for prime time and secure larger brownfield wins."
…………………………………………………………………………………………………………….
References:
https://www.lightreading.com/open-ran/open-ran-will-be-$32b-market-in-2024-says-omdia/d/d-id/765889?
https://omdia.tech.informa.com/OM011039/Open-RAN-commercial-progress-in-2020 (must be an Omdia client to access)
https://www.delloro.com/open-ran-results-mixed-in-3q20/
https://www.delloro.com/open-ran-outlook-is-improving/
---