Dell'Oro Group: RAN market revenues at new record high
According to a recently published report from Dell'Oro Group, preliminary estimates suggest that the 2G-5G radio access network (RAN) market ended the year 2020 on a high note, with the full year 2020 revenues marking a new record since we started tracking the program in the year 2000.
"While we correctly identified the overall trajectory of the market going into the year and maintained the positive outlook even as the pandemic intensified and economists adjusted their GDP projections sharply downward," said Stefan Pongratz, Vice President and analyst with the Dell'Oro Group. "We also need to recognize that we completely underestimated the magnitude and the breadth of the ascent in the fourth quarter and for the full year 2020, reflecting stronger than expected results in multiple regions," Pongratz added.
Additional highlights from the 4Q 2020 RAN report:
Initial estimates suggest that vendor rankings remained stable between 2019 and 2020, while revenue shares were impacted to some degree by the state of the 5G rollouts in 

China

 and 

North America

.
Ericsson and Nokia maintained their No. 1 and No. 2 RAN revenues rankings excluding 

China

. Both suppliers improved their RAN revenue shares outside of 

China

, accounting for 35 percent to 40 percent and 25 percent to 30 percent of the overall RAN market, respectively.
Huawei maintained its No. 1 ranking for the global RAN market, reflecting share gains in 

China

.
Dell'Oro Group's RAN Quarterly Report offers a complete overview of the RAN industry, with tables covering manufacturers' revenue, transceivers or RF carrier shipments, macro cell and small cell BTS shipments for 5G NR Millimeter Wave, 5G NR Sub 6 GHz, and LTE. The report tracks the RAN market by region and includes market data for Massive MIMO. The report also includes a four-quarter outlook. To purchase this report, please contact us by email at [email protected].
https://www.prnewswire.com/news-releases/ran-market-reach-new-record-levels-according-to-delloro-group-301231500.html
In December 2020, Dell'Oro forecast the overall RAN market to advance for a fourth consecutive year in 2021. In North America, low-band activity is expected to remain elevated while mid-band activity is projected to improve.  However, the timing of the C-band availability remains uncertain (especially since there was no FCC requirement for C-band spectrum bidders to actually build and deploy cellular networks).
5G core capex should grow at a faster pace than 5G NR (RAN/RIT) revenues.  Dell'Oro believes that the 5G Core/5G RAN revenue ratio will trend below historical core/RAN averages in the initial 5G wave and then gradually improve as operators start embracing 5G SA.
Small Cells to Account for 10% to 20% of Total RAN
The global growth outlook for small cells – including sub 6 GHz and mmWave – remains favorable, underpinning projections the technology will play an increasingly important role supporting the overall RAN network as operators and enterprises navigate new technologies, spectrum bands, and use cases.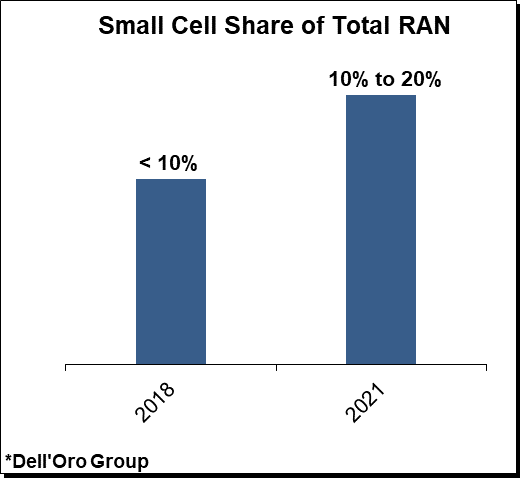 Small cell RAN revenues are projected to approach 10% to 20% of the overall RAN market in 2021. Within the small cell mix, Sub 6 GHz capex is expected to characterize the lion share of the investments, driven partly by the reduced gap between macro and small cell radios associated with upper mid-band deployments.
Open RAN to Account for 1% to 2% of Total RAN Market in 2021
Open RAN and Virtual RAN continues to gain momentum, bolstered by Ericsson now formalizing its support with its Cloud-RAN announcement. The uptake remains mixed between the various Open RAN segments, as noted with Dell'Oro's 3Q20 Open RAN update. These trends are expected to extend into 2021, with adoption accelerating in some RAN settings while the uptake remains weak in other RAN segments.
---