TIP OpenRAN project: New 5G Private Networks and ROMA subgroups
The Telecom Infra Project (TIP), one of several industry consortiums creating specifications for open radio access networks (Open RAN), recently announced a new 5G Private Networks subgroup.
Editor's Note:
We don't know whether the TIP OpenRAN project or the O-RAN Alliance has (and will have) more industry influence and impact. In addition, there are many splinter partnerships forming; many of them led by Rakuten Mobile.  What's mind boggling is that none of the groups have liaison agreements with either ITU-R WP5D (responsible for all IMT standards, including 4G and 5G) or 3GPP (the prime spec writing organization for mobile networks).
……………………………………………………………………………………
5G Private Networks contribute to improve the quality of experience for 5G connectivity, including better coverage and capacity through on-premise radio equipment, the ability to support low latency and high bandwidth service requirements through edge compute & routing of private traffic, and the potential to support the increasing demand for privacy and localized data analytics.
For network operators, 5G Private Networks also create the opportunity to implement new network management and operational models, enabling full automation of the operation of the enterprise network while improving end customer application experience.
However, to fully capture the benefits of 5G Private Networks, a different approach is required, because traditional network architectures, focused on large scale deployments and operations don't have the right economics or the operational flexibility to efficiently deliver on the emerging needs of enterprise customers.
The 5G Private Networks Solution Group will develop a new approach to manage and operate 5G Private Networks, based on a cloud-native architecture, and making use of a new class of software management tools, based on the paradigms currently used for the cloud, but adapted to deliver the requirements of a telecom network environment. Telefónica will test the solution in their local TIP Community Lab in Madrid and then move to field trials in Málaga (Spain).
Juan Carlos Garcia, SVP Technology Innovation & Ecosystem, Telefónica, and TIP Board Director said: "This new solution group will enable operators to address the exciting opportunities that 5G is creating in the enterprise segment, both through valuable features for our customers and more efficient network operations. The TIP community is the perfect environment for this innovation, as it will allow us to leverage multiple current project groups (Open Core Networks, OpenRAN) to deliver an end-to-end Minimum Viable Product that we will then test in Telefonica's TIP Community Lab."
In particular, the new Solutions Group will leverage previous work contributed to TIP's OpenRAN Project Group, on a first version of a CI/CD platform that applies traditional IT methodologies to automate integration, testing and deployment of OpenRAN software.
Ihab Tarazi, CTO and SVP, Networking and Solutions, Dell Technologies and TIP Board Director, said: "For open networks to deliver their benefits, the telecom industry needs an abstraction layer that helps integrate different components into end-to-end solutions. New software management tools based on the ones currently used for the cloud can address this need, and this Solution Group is a timely initiative for the industry to collaborate on making this happen."
Caroline Chan, VP and GM Network Business Incubation Division, Intel and TIP Board Director, said: "Through the recently launched solution groups, TIP is expanding its scope to include the validation of interoperability between different elements across the whole network, and insights and recommendations about how to operate them. The new 5G Private Networks Solution Group is a strong example of this approach. With dedicated local private high-performance network connectivity as a key emerging deployment model for 5G and edge buildout, this group can help foster important ecosystem collaboration."
As a result, this new solution group will help drive:
Improved network economics, through the use of commoditized hardware and open source software, and more efficient and flexible network operations and automation, enabled by the adoption of cloud-native technologies.
Dedicated local high-performance 5G connectivity and edge computing infrastructure, appealing to multiple B2B & B2B2C verticals.
Better network security and performance.
Telefónica is one of the five European telcos that announced that they will work together on open RANs for mobile networks. The others are Deutsche Telekom, Orange, TIM and Vodafone. A memorandum of understanding (MOU) for that grouping commits the five to the O-RAN Alliance, which has 27 network operator members from AT&T to Vodafone, and to "other industry initiatives, such as the Telecom Infra Project, that contribute to the development of open RAN and that aim to create a healthy and competitive open RAN ecosystem and advance R&D efforts."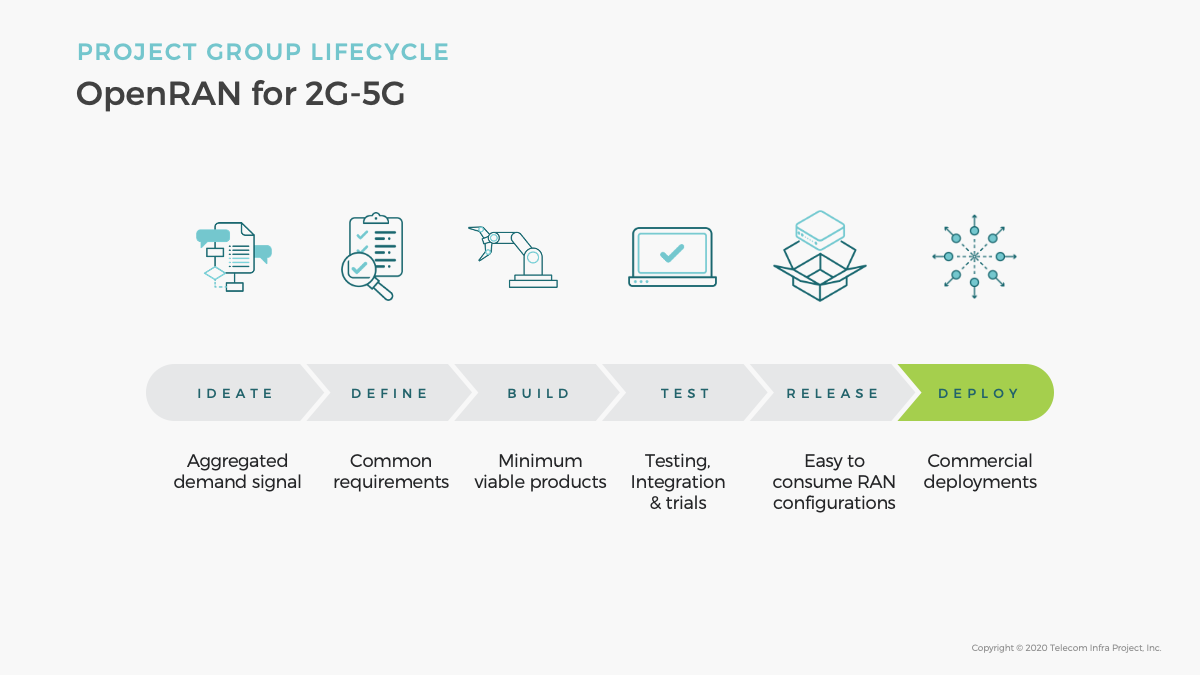 ……………………………………………………………………………………………………………….
Separately, the charter of the new OpenRAN Orchestration and Management Automation (ROMA) subgroup was approved by the OpenRAN PG.    ROMA focuses on aggregating and harmonizing mobile network operators requirements on Open RAN orchestration and lifecycle management automation, fostering ecosystem partners to develop products and solutions that meet ROMA requirements.
The goal of ROMA is to:
·       Develop a common set of use cases for OpenRAN lifecycle management automation and orchestration that are agreed across multiple MNO and OpenRAN ecosystem members
·       Develop Technical Requirements on products and solutions that support the identified use cases, including interfaces and data models
·       Facilitate product and solution development through lab testing, field trials, participating TIP Plugfest and badging on TIP exchange etc.
·       Support large scale OpenRAN deployment with lifecycle management automation, including Continuous Integration and Continuous Deployment (CI/CD) frameworks and tool sets.
It will bring better coverage and capacity through on-premise radio equipment, says TIP, and the ability to support low latency and high bandwidth service requirements through edge compute and routing of private traffic, and the potential to support the increasing demand for privacy and localized data analytics.
……………………………………………………………………
About the Telecom Infra Project:
The Telecom Infra Project (TIP) is a global community of companies and organizations that are driving infrastructure solutions to advance global connectivity. Half of the world's population is still not connected to the internet, and for those who are, connectivity is often insufficient. This limits access to the multitude of consumer and commercial benefits provided by the internet, thereby impacting GDP growth globally. However, a lack of flexibility in the current solutions – exacerbated by a limited choice in technology providers – makes it challenging for operators to efficiently build and upgrade networks.
Founded in 2016, TIP is a community of diverse participants that includes hundreds of companies – from service providers and technology partners, to systems integrators and other connectivity stakeholders. We are working together to develop, test and deploy open, disaggregated, and standards-based solutions that deliver the high-quality connectivity that the world needs – now and in the decades to come.
Find out more: www.telecominfraproject.com
References:
Learn more and join the new 5G Private Networks Solution Group here.
https://telecominfraproject.com/tip-launches-5g-private-networks-solution-group/
---