Dell'Oro: Mobile Core Network Market 5 Year Forecast
In a revision of its Mobile Core Network 5-Year Forecast report, Dell'Oro Group predicts the Mobile Core Network (MCN) to have an overall revenue compound annual growth rate (CAGR) of 3% from 2020 to 2025.  MCN includes 4G Evolved Packet Core (EPC), IP Multimedia Core Network Subsystem (IMS) and the 5G SA Core Network.
The Dell Oro report estimates the 5G portion of the MCN market to have a 33% CAGR. Strong growth in 5G Core network offsets corresponding declines in 4G and IMS core revenue.
Report Highlights:
The cumulative investment is expected to be over $50B from 2021 to 2025, with regional shares in the range for North America – 18% to 23%; Europe, Middle East, and Africa –   30% to 35%; Asia Pacific – 40% to 45%; and Caribbean and Latin America – 5% to 10%.
By the year 2025, MCN functions associated with 5G are expected to represent over 70% of the revenue mix between 4G and 5G MCN functions.
5G Core builds by the three incumbent service providers for 5G Standalone (5G SA) networks in China are continuing to exceed our expectations. In addition, in 2021, the new Chinese communications service provider, China Broadcasting Network (CBN)  will be beginning construction of its 5G SA network.
Deployments of more 5G SA networks are expected in the latter half of 2021 in Australia, Germany, Japan, South Korea, Switzerland, and the United Kingdom. AT&T and Verizon should begin in earnest in 2022 and 2023 with their 5G SA networks. Geographic coverage is minimal at launch and is expected to grow throughout the forecast period.
"China was all the action in 2020," Dave Bolan, research director at Dell'Oro Group for MCN, told Light Reading via email. He expects that trend to continue, especially in the first half of the forecast period. Bolan points out that phase one of the 5G SA rollout in China amounted to over $1 billion in 5GC contracts, and the pace of rollout is accelerating with phase two. Phase three is now being readied.
Dell'Oro does not yet provide vendor market share for MEC (Multi-Access Edge Computing formerly known as Mobile Edge Computing), but Bolan said Huawei and ZTE, given the size of China's market, are currently in the lead.
In an email to this author, Bolan wrote:
"All of 5G Core network will be Cloud-Native [1.], mostly Container-based. Except there are different cloud-native versions and container versions, not making it truly open. Anyone that wants to put their core on the public cloud will have to customize it for each cloud platform.

Same may be true for the NFVI ((network functions virtualization infrastructure) if it runs on – x86,  AMD, ARM, or Nvidia processors – and couple that with the different 5G UPF (user plane function) acceleration techniques, it gets complex very quickly."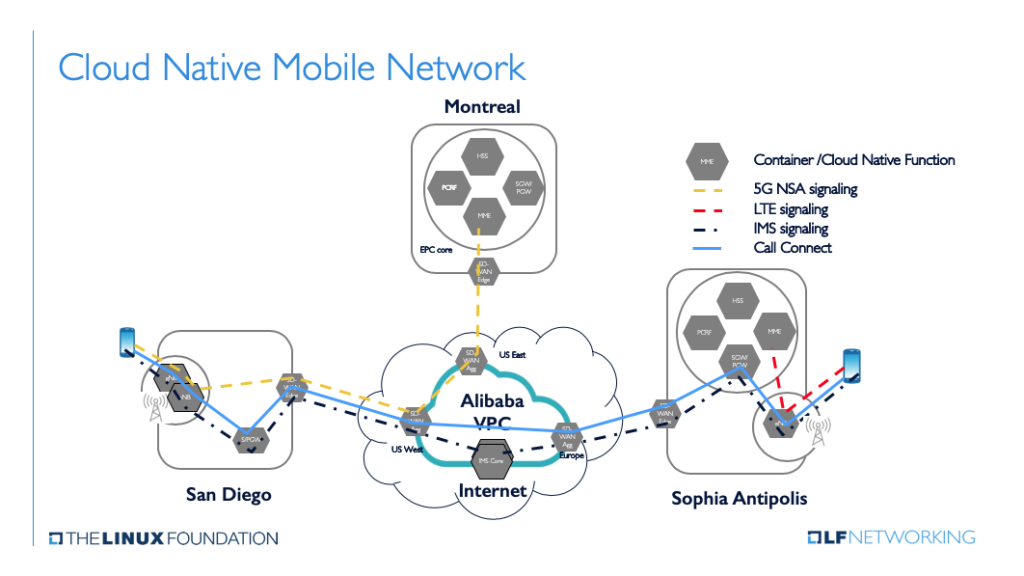 ………………………………………………………………………………………………
Note 1. Cloud native, in essence, means the MCN software has been designed for cloud deployment. The software is built up of independent microservices and can run on a container platform, like Kubernetes.  In addition to the traditional cloud service providers (AWS, Azure, Google Cloud), many IT vendors have developed 5G cloud native software.  The list includes, VMware, Oracle, Cisco, HPE, Mavenir, Samsung, Ericsson, Nokia, Huawei, ZTE, NEC, and Dell Technologies (partnering with either Affirmed Networks or Nokia).
……………………………………………………………………………………………
"The basic network to get the 5G core up and running is the focus today," Bolan told Light Reading. "NSSF [network slicing service function] and NEF [network exposure function] will come in the second half of the forecast."
………………………………………………………………………………………………
References:
5-Year Forecast: Mobile Core Network Market Revenues CAGR Projected at 3 Percent from 2020 to 2025
https://www.lightreading.com/the-core/5g-core-spend-is-on-roll-says-delloro/d/d-id/771043?
https://www.opnfv.org/resources/5g-cloud-native-network
---