FCC Auction 110 for mid-band 5G spectrum gets $21.9B in winning bids
The latest FCC auction (#110) of mid-band spectrum for 5G ended Tuesday with a total of $21.9 billion in winning bids.  That total is roughly in line with pre-auction estimates.
Auction 110 offered 100 megahertz of mid-band spectrum in the 3.45–3.55 GHz band (the 3.45 GHz Service) for flexible use, including 5G wireless. The 100 megahertz of spectrum available in Auction 110 will be licensed on an unpaired basis divided into ten 10-megahertz blocks in partial economic areas (PEAs) located in the contiguous 48 states and the District of Columbia (PEAs 1–41, 43–211, 213–263, 265–297, 299–359, and 361–411).  These 10-megahertz blocks are designated as A through J.
The clock phase concluded on November 16, 2021.  The FCC will release a public notice within the next few business days announcing details about the assignment phase, including the date and time when bidding in the assignment phase will begin.
See the Auction 110 website for more information.
Highlights:
Qualified Bidders (Clock Phase)= 33
Licenses Won=4041
FCC Held Licenses=19
Total Licenses=4060
Gross Proceeds as of Clock Phase=$21,888,007,794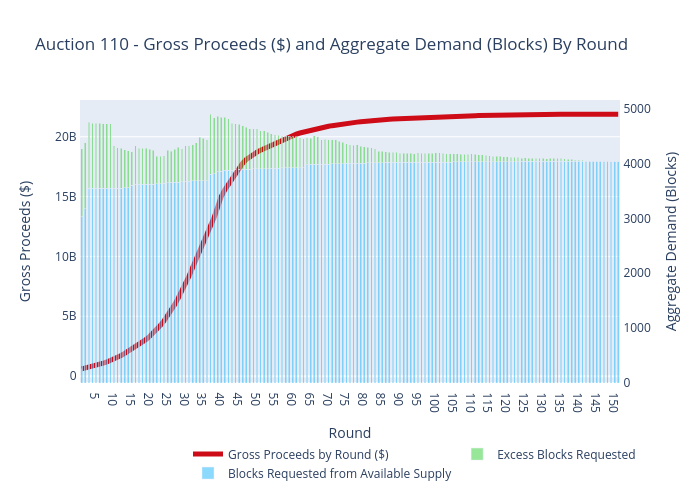 Next up is the auction's "assignment" phase, wherein winning bidders can select the specific frequencies they want to use. After that phase is over, the FCC will announce the identities of the winning bidders. That might not happen until December or January.
Major participants in the auction included AT&T, Verizon, T-Mobile, Dish Network, Grain Management and Columbia Capital.
The spectrum in this auction is ideal for 5G.  Mid-band spectrum is in high demand because it is widely viewed as providing the optimum mix of speed and coverage for 5G. Licenses in Auction 110 sold for an average of $0.666 per MHz per person (MHz pop) in the coverage area, according to Sasha Javid, chief operating officer for BitPath, who has been doing a detailed daily analysis of auction results.
Auction 110 winners will pay less per MHz pop in comparison with what Auction 107 (C-band) winners paid but more than Auction 105 CBRS band winners paid, according to Javid. Those other two auctions also included mid-band spectrum and the C-band auction was record breaking.
Javid notes that the CBRS licenses were subject to power restraints, making them less valuable. He didn't offer an opinion on why Auction 110 licenses were less costly than Auction 107 licenses (on a MHz-pop basis), but perhaps the disparity is related to license size.
Winning bidders will need to purchase new radio equipment from base station/kit makers Ericsson, Nokia, and Samsung (but not Huawei or ZTE which are banned in the U.S.) to put their spectrum licenses into 5 commercial service.
Unlike past spectrum auctions, cable companies including Comcast and Charter did not participate in the auction. Based on Dish Network's recent fundraising, the company appears poised to potentially account for as much as a fourth of the auction's total.
Broadly, the FCC's 110 auction of spectrum licenses between 3.45GHz and 3.55GHz can be considered a success. The auction started October 5, and bidding crossed the critical $14.8 billion reserve price October 20. That was a necessary milestone considering that reserve price is the cost to move existing, incumbent military users out of the band.
The auction was worth around $0.70 per MHz-POP. The per MHz-POP calculation is applied to most spectrum transactions and reflects the number of people covered compared with the amount of spectrum available, though it can be affected by a wide variety of factors.
In comparison, the recent CBRS auction of mid-band spectrum drew winning bids of just $0.215 per MHz-POP, whereas the massive C-band auction generated winning bids of $0.945 per MHz-POP, a figure that does not account for additional clearing costs.
This FCC auction is the agency's third-biggest spectrum auction ever. As noted by Next TV, only the $45 billion AWS-3 auction in 2015 and the $81 billion C-band auction earlier this year generated more in winning bids. The auction earlier this month passed the FCC's broadcast incentive auction of 600MHz licenses, which ended with $19.8 billion in winning bids in 2017.
The value of the spectrum licenses in this auction could rise if interference with aircraft concerns continue to drag on the C-band.  However, CTIA President and CEO, Meredith Attwell Baker in response to the bulletin maintained that 5G using C-band won't cause interference and that timely deployments are key for 5G leadership. "5G networks using C-band spectrum operate safely and without causing harmful interference to aviation equipment.
References:
https://www.fcc.gov/auction/110
https://auctiondata.fcc.gov/public/projects/auction110
https://www.fcc.gov/auction/110/factsheet
https://sashajavid.com/FCC_Auction110.php
https://www.linkedin.com/pulse/clock-stage-fcc-345-ghz-auction-finally-endshow-do-prices-sasha-javid/
FCC Pockets Close to $22B in Auction 110 of 3.45 GHz Band Spectrum
https://www.lightreading.com/5g/andromeda-auction-for-midband-5g-ends-with-$219b-in-bids/d/d-id/773549?
---