The case for and against AI in telecommunications; record quarter for AI venture funding and M&A deals
Many pundits believe that telcos will need AI driven solutions. Some of the benefits: enable telcos to configure new offers and products in hours and days, fail fast/ learn fast when 5G applications don't gain market traction, service customers more effectively and radically simplify their operations.
An  AI-powered "decisioning engine"  might help telcos take the correct action during every interaction in real time with customers, suppliers, and partners.
Proponents say that with AI-driven capabilities in place, telcos can:
Grow revenue through upsell and cross-sell of services: Telecom Providers (aka telcos or network operators) can increase average revenue per user (ARPU) by anticipating customer needs using real-time context, so they can make the right offer on the right channel when it is needed.
Accelerate subscriber growth: Net subscriber additions are critical to success. Key telecom industry partners can build customer interest in preferred channels, guide prospects to find the right bundle, and delight them with a flawless omni-channel experience.
Proactive digital customer service:  By combining AI-driven decisioning with end-to-end automation, telcos can deliver proactive, personalized service across channels. This might give customers and agents a guided, intuitive experience that delivers the best outcomes for everyone seamlessly.
Resolve billing enquiries: To avoid costly calls to service centers and keep customers happy, telcos need to stay one step ahead. AI driven capabilities such as real-time monitoring and pattern detection can enable them to sense a potential billing issue, then send a proactive notification to the customer.
Guided service setup: In order to make a great first impression and reduce calls to the service center, AI can drive a self-serve guided setup for services like internet connectivity to make customers' experience easy and frictionless. Step-by step visual instructions can help to get set up successfully, and troubleshooting tips allow customers to easily navigate challenges along the way.
Intelligent automation: To increase network capacity, efficiently deploy new 5G and fiber networks, or simplify order fulfillment, telecoms providers can use AI in combination with robotics and end-to-end automation to streamline and digitize complex operations, keeping margins high and bringing value to customers fast. With intelligent automation and robotics, telecoms can:
Orchestrate, automate, and deliver customer orders: With a better connection between front and back offices, partners, and customers across all channels, telcos can optimize operations, reduce costs and boost customer satisfaction.
Build and deploy new networks faster: Telecoms providers can accelerate fiber and 5G mobile network rollout with intelligent automation. Case management, robotics, and low-code development capabilities can help them build out critical infrastructure more efficiently and faster at lower cost.
Automatically resolve network outages and events: Telcos can provide end-to-end visibility of complex processes and analyze live data related to business rules, costs, and other criteria. The most effective delivery methods, equipment, vendors, or contractors can be selected to address and resolve problems.
……………………………………………………………………………………………………………………………………………………
However, the AI cheerleaders never talk about the shortcomings of  cyclically ultra hyped AI technology.  We call attention to the cover story on this month's IEEE Spectrum (the flagship publication of IEEE).  "Why is AI so Dumb?"  Here's an excerpt:
AI has suffered numerous, sometimes deadly, failures. And the increasing ubiquity of AI means that failures can affect not just individuals but millions of people. Increasingly, the AI community is cataloging these failures with an eye toward monitoring the risks they may pose.
"There tends to be very little information for users to understand how these systems work and what it means to them," says Charlie Pownall, founder of the AI, Algorithmic and Automation Incident & Controversy Repository. 
"I think this directly impacts trust and confidence in these systems. There are lots of possible reasons why organizations are reluctant to get into the nitty-gritty of what exactly happened in an AI incident or controversy, not the least being potential legal exposure, but if looked at through the lens of trustworthiness, it's in their best interest to do so."
Part of the problem is that the neural network technology that drives many AI systems can break down in ways that remain a mystery to researchers.
"It's unpredictable which problems artificial intelligence will be good at, because we don't understand intelligence itself very well," says computer scientist Dan Hendrycks at the University of California, Berkeley.
…………………………………………………………………………………………………………………………………………………………………………………………………………………………….
CB Insights: What you need to know about AI venture in Q3-2021:
New record: $17.9B in global funding for AI startups across 841 deals in Q3-2021. This marks an 8% increase in funding and 43% increase in deals QoQ.
At $50B, 2021 YTD funding has already surpassed 2020 levels by 55%. 75% Growth in megarounds YTD.
The number of $100M+ mega-rounds has reached a record-high 138 in 2021 YTD.
There were 45+ mega-deals in each of the first 3 quarters in 2021 — the highest quarterly numbers ever.
100+ AI acquisitions. Quarterly M&A deals have surpassed 100 for 2 consecutive quarters, putting total M&A exits at a record 253 in 2021 YTD.
Annual IPOs and SPACs are also up this year. In Q3-2021, there were 3 SPACs and 8 IPOs.
The largest M&A deal of Q3-2021 was PayPal's acquisition of buy now, pay later startup Paidy for $2.7B — 370% bigger than the next largest deal. Paidy uses machine learning to determine consumer creditworthiness and underwrite transactions instantly.
43% QoQ increase in median US deal size. In Q3-2021, global markets saw strong QoQ growth in the median size of funding rounds: 43% in the US, 64% in Asia, and 67% in Europe.
Across regions, median deal size was $7M, while average deal size reached a record $33M.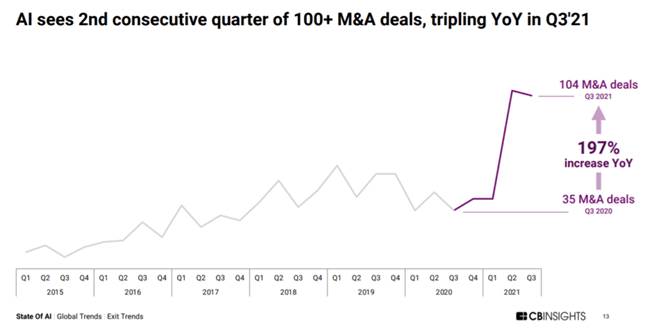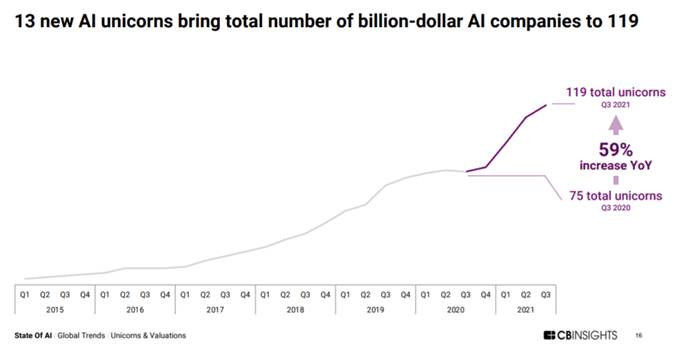 References:
https://telecoms.com/opinion/how-is-ai-reshaping-telecoms/
https://spectrum.ieee.org/files/11920/10_Spectrum_2021.pdf
https://www.cbinsights.com/research/report/ai-trends-q3-2021/
https://techblog.comsoc.org/2021/10/18/global-ai-in-telecommunication-market-at-cagr-40-through-2026-2027/
https://techblog.comsoc.org/2021/09/23/imt-towards-2030-and-beyond-6g-technologies-for-ubiquitous-computing-and-data-services/
https://techblog.comsoc.org/2021/06/30/project-marconi-machine-learning-based-ran-application-to-boost-5g-spectrum-capacity/
https://techblog.comsoc.org/2019/06/24/gsa-silicon-summit-focus-on-edge-computing-ai-ml-and-vehicle-to-everything-v2x-communications/
---