Telco business models must change as Big Tech generates the majority of internet traffic
In a blog post today, network intelligence firm Sandvine states that Google, Facebook, and other 'top-6' digital brands generate more than 56% of global network traffic. The company's upcoming 2022 "Global Internet Phenomenon Report," takes this a step further by showing that the top-6 – Google, Facebook, Netflix, Amazon, Microsoft, and Apple – are generating more than 56% of global network traffic.
For the first time, the biggest digital players account for more traffic than everyone else (telcos, MSOs/cablecos, satellite internet, state & local governments, municipalities, etc), combined! And that trend is likely to continue to increase. as OpenVault recently reported that average monthly home internet data consumption in the U.S. rose to 434.9 GBytes in the third quarter of 2021, up 13% over the same period in 2020.
The chart below shows the percentage of traffic that the six biggest Internet companies generated across global networks.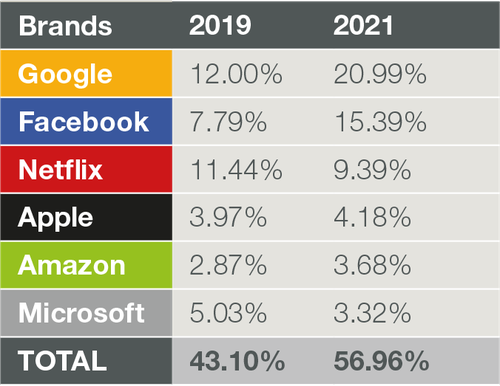 Source: Sandvine
For Communications service providers (CSPs), this is a watershed moment: they must deliver the benefits of 5G (are there any?), cloud, the IoT, AR/VR, AI, the metaverse (?), etc. and they must assure a good QoE (Quality of Experience) for the current and next generation of apps.
Sandvine believes the shift to more mission-critical enterprise and industry services will trigger a need for flawless connectivity (ultra high reliability/availability) and optimal performance for manufacturing robotics, remote healthcare, autonomous driving, public safety, and other critical services.
Recently, the CEOs of Deutsche Telekom, Telefonica, Vodafone, and 11 other influential service providers published an open letter stating that "a large and increasing part of network traffic is generated and monetized by Big Tech platforms."
They cited the fact that it is the telecommunications sector that is bearing the "continuous, intensive network investment and planning" that ultimately drives the unprecedented profitability of the biggest tech brands.
"A large and increasing part of network traffic is generated and monetized by Big Tech platforms, but it requires continuous, intensive network investment and planning by the telecommunications sector," the CEOs said in the joint statement seen by Reuters.
In other words, telcos are subsidizing Big Tech who reap the benefits of those same telco networks.  MSOs/cablecos broadband internet providers, like Comcast, Charter, and Cox Communications, could likely make the same argument.
The CEOs did not mention any big tech firms by name, but Reuters understands that U.S.-listed giants such as Netflix and Facebook are companies they have in mind.
According to Reuters, the investments in Europe's telco sector rose to 52.5 billion euros ($59.4 billion) last year, a six-year high. Those investments include the networks, 5G trials, licenses, planning, and deployment that fuel app QoE. In return, the European telcos received modest usage fees from subscribers.
In addition to wanting a fair ROI for their substantial investments, CSPs also want to protect their networks and brands. The recent Facebook, AWS, and Tesla outages demonstrated how pronounced and far reaching the impacts on networks can be now that apps and services are far more intertwined and interdependent than ever before. QoE for both related and unrelated apps and services were affected.
Source: Sandvine
Sandvine says CSPs need predictive insights that help identify macro trends across their millions of subscribers, billions of devices, and thousands of applications to answer key questions that can drive business actions and outcomes.
Here are a few such questions CSPs should address, according to Sandvine:
Which apps are consuming and generating the most traffic, downstream and upstream?
What's the impact of app complexity in terms of mashups, embedded video, payments, chat, and other features?
How are QUIC (a new multiplexed transport built on top of UDP), HTTP/3, iCloud Private Relay, and encryption affecting the network?
Who are the "heavy users" in the upgrade from 4G to 5G?
The above questions are just some that Sandvine will explore in detail in their upcoming "Global Internet Phenomenon Report."
………………………………………………………………………………………………………………………………..
Meanwhile, a growing number of professionals are calling for "Big Tech" to contribute to the Universal Service Fund (USF). The FCC instituted the USF in 1997 to help fund the construction of broadband networks in rural and unserved areas of the country, and to help low-income Americans afford telecom services. But the primary sources of funding for the USF are network operators (which redirect the USF fees paid by their customers each month).
FCC Commissioner Brendan Carr said that the best way to fund the FCC's Universal Service Fund advanced communications subsidies is to make Big Tech pay the freight.  Citing a new study from economist Hal Singer and Ted Tatos, Carr said that the current method of assessing dwindling traditional telecom services is unsustainable, and that shifting to assessing wireless broadband would continue to hit consumers in the pocketbook–the USF fees are passed on by telecoms onto their customers' bills.
Car argues that the FCC should make Big Tech companies like Google and Facebook pay the USF  fees, which would be very difficult for them to pass on to consumers and which would, "significantly reduce consumers' costs, properly align incentives, and unlike assessing wireline broadband revenues, would not raise consumers' monthly bill for internet services,"  Carr said citing the study,
References:
https://www.sandvine.com/blog/telco-business-models-reaching-tipping-point-in-digital-era
https://www.reuters.com/markets/deals/exclusive-d-telekom-vodafone-others-want-us-tech-giants-help-fund-network-costs-2021-11-28/
https://www.nexttv.com/news/fccs-carr-make-big-tech-pay-for-usf-subsidies
https://www.lightreading.com/optical-ip/heres-why-the-telecom-industry-is-taking-aim-at-big-tech/d/d-id/774280?
https://techblog.comsoc.org/2021/12/21/synergy-research-microsoft-and-amazon-aws-dominate-it-vendor-revenue-popularity-of-multi-cloud/
---