According to Grandview Research, the global telecom services market size was valued at USD 1,805.61 billion in 2022 and is expected to expand at a compound annual growth rate (CAGR) of 6.2% from 2023 to 2030.
Rising spending on the deployment of 5G infrastructures due to the shift in customer inclination toward next-generation technologies and smartphone devices is one of the key factors driving this industry. An increasing number of mobile subscribers, soaring demand for high-speed data connectivity, and the growing demand for value-added managed services are the other potential factors fueling the market growth. The global communication network has undoubtedly been one of the prominent areas for continued technological advancements over the past few decades.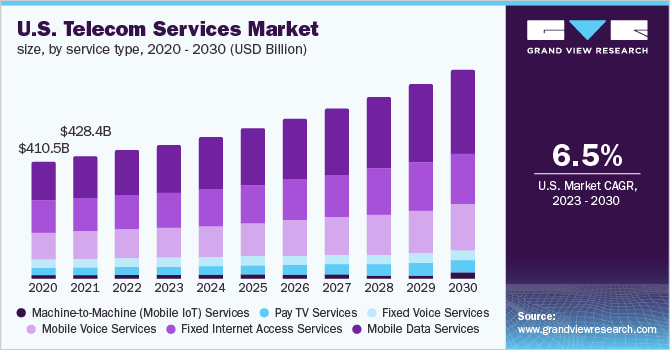 In 2022, the wireless networks accounted for a market share of more than 76.0% in the global market. The advent of cloud-computing technologies, artificial intelligence, and IoT is presumed to majorly contribute to the growth of wireless communication channels worldwide. Over the years, there has been a rapid deployment of systems for Wireless Local Area Networks (WLANs) that has enabled internet access to cellular devices in private homes, public spaces, airports, office buildings, cafeterias, and other areas. Such wireless densification to simplify work processes and automate routine test actions is presumed to prove beneficial, hence registering a robust CAGR in the forthcoming years.
In 2022, the consumer/residential segment accounted for the largest revenue share of more than 59.0% and is projected to maintain its lead over the forecast period. The significant growth is ascribed to the proliferation of smartphones worldwide. There were more than 8 billion mobile subscribers recorded globally in 2020, wherein more than 60% of the population was using smartphones. The private telecom operators account for a larger subscriber base as compared to government-owned companies. In addition, the growing demand for OTT applications is contemplating the users to subscribe to wireless internet offerings, thereby significantly contributing to the deployment of communication networks at a broader level. Additionally, the growing trend of using ultra-high-definition videos and online gaming is expected to boost the segment growth over the forecast period.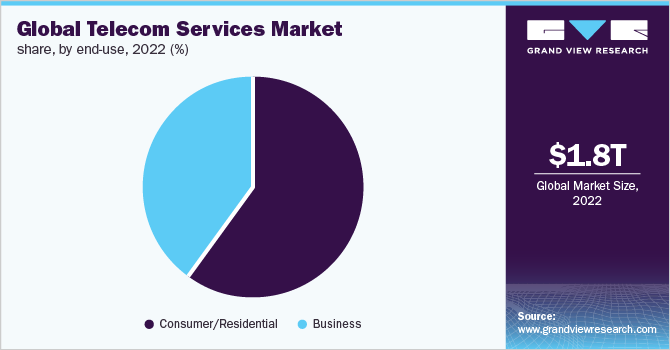 In 2022, the Asia Pacific captured more than 33.0% of share and is expected to grow at a CAGR of 7.0% from 2023 to 2030. The region is likely to attract more than half of the new mobile subscribers by 2030. The regional market is primarily driven by e-commerce and retailer buy-in platforms, smartphone ubiquity, and investments in 5G networks. China, Japan, and India have emerged as significant contributors to regional market growth. According to industry expert analysis, in February 2022, China recorded 1.02 billion internet users, which is more than three times the number of the third-placed United States, which had just over 307 million. India recorded the second highest internet users in February 2022.
Some prominent players in the global telecom services market include:
AT&T Inc.
Verizon Communications Inc.
Nippon Telegraph and Telephone Corporation (NTT)
China Mobile Ltd.
Deutsche Telekom AG
SoftBank Group Corp.
China Telecom Corp Ltd.
Telefonica SA
Vodafone Group
KT Corporation
Bharati Airtel Limited
Reliance Jio Infocomm Limited
KDDI Corporation
Orange SA
BT Group plc
Comcast Corporation
Telecom Services Market Report Scope
| | |
| --- | --- |
|  Report Attribute | Details |
| Market size value in 2023 | USD 1,885.41 billion |
| Revenue forecast in 2030 | USD 2,874.76 billion |
| Growth Rate | CAGR of 6.2% from 2023 to 2030 |
| Base year for estimation | 2022 |
| Historical period | 2017 – 2021 |
| Forecast period | 2023 – 2030 |
| Quantitative units | Revenue in USD billion and CAGR from 2023 to 2030 |
| Report coverage | Revenue forecast, company ranking, competitive landscape, growth factors, and trends |
| Segments covered | Service type, transmission, end-use, region |
| Regional scope | North America; Europe; Asia Pacific; Latin America; MEA |
| Country scope | U.S.; Canada; U.K.; Germany; France; Italy; China; Japan; India; South Korea; Brazil; Mexico |
| Key companies profiled | AT&T Inc.; Verizon Communications Inc.; NTT; China Mobile Ltd.; Deutsche Telekom AG; SoftBank Group Corp.; China Telecom Corp Ltd.; Telefonica SA; Vodafone Group; KT Corporation; Bharati Airtel Limited; Reliance Jio Infocomm Limited; KDDI Corporation; Orange SA; BT Group plc; Comcast Corporation |
| Customization scope | Free report customization (equivalent up to 8 analysts working days) with purchase. Addition or alteration to country, regional & segment scope. |
| Pricing and purchase options | Avail customized purchase options to meet your exact research needs. Explore purchase options |
References:
https://www.grandviewresearch.com/industry-analysis/global-telecom-services-market
According to market research dynamo Omdia, 2022 will be rife with regulatory activity that will impact the telecommunications market for years to come.
"As technology evolves, regulation will become more important than ever in the TMT industry," said Sarah McBride, senior analyst for regulation at Omdia.
Omdia identified several trends it says will be "at the heart of regulatory activity" next year, including spectrum licensing, fiber networks, the digital divide and 6G (even though 5G spectrum has not been standardized by ITU-R in a revision to M.1036).
Regarding the digital divide (between the broadband haves and have nots), Omdia says "governments should learn from the pandemic and recognize the need for these broadband services to be affordable to all."
The Omdia analysts say that governments must define a "comprehensive national digital strategy that includes providing state-aid tools to improve broadband availability and affordability."
Such a strategy should go beyond deployment to "ensure citizens can use connectivity transformatively to bring about innovation and growth." Doing so will encourage more deployment and investment, writes Omdia.
However, to avoid too much government intervention, Omdia also stresses the need for cooperation by service providers.
"Experience shows that market-led development, not a reliance on government intervention, is the most effective model for effective allocation of resources. However, economic viability is lower in some rural and sparsely populated areas than in populous areas," Omdia said.  The firm  recommends that network operators collaborate by sharing infrastructure to reduce deployment costs and create shared wireless networks to "remove the need for regulators to set ambitious coverage obligations as part of spectrum licenses or universal service obligations."
According to Omdia's tracker for 5G networks, more than 150 5G networks have been launched around the world to date, which the research firm says will continue to drive demand for more spectrum.
"5G will profoundly affect society because of its ultrafast speeds, low latency, and high reliability, which enable digital transformation and support new use cases," writes Omdia.
Regulators need to effectively manage spectrum allocation, "allowing access to the right amount of internationally harmonized spectrum (e.g., 700MHz, 3.6GHz, and 26GHz bands in the EU) in a timely manner to keep costs down."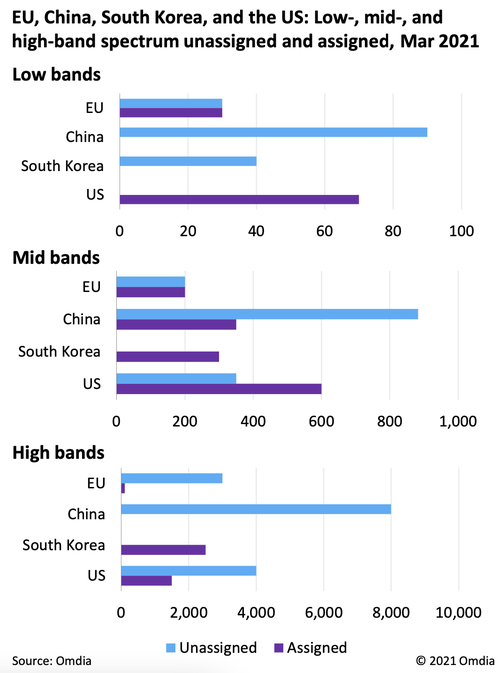 As operators continue to build out their 5G networks, Omdia tells policymakers it's important to plan ahead on 6G standards, given the role these networks will play in the digital economy and the danger posed by a lack of cohesion.
Specifically, the firm warns against further splintering the telecom and Internet ecosystem, or what it calls "the splinternet."
"It is especially important that regulators and policymakers prepare for future network generations by ensuring agreement is reached on 6G standards. A fragmentation of standards must be avoided to prevent any further separation of the telecoms and internet ecosystem, a 'splinternet'," writes Omdia.
Acknowledging that plans for 6G are in their infancy, Omdia further tells policymakers to begin identifying appropriate spectrum bands, though it notes that such plans "will need to be balanced with the need to release spectrum for 5G."
Part of the rush to deploy high-speed internet everywhere includes a migration to fiber, whether through new builds or upgrades of existing cable networks. Omdia says that as network operators migrate to fiber, regulators should focus on promoting competition, pricing strategies and raising awareness amongst consumers about fiber access.
The firm further states that regulators should include fiber access in wholesale obligations, "once sufficient fiber coverage is reached."
It's important for network operators to collaborate with regulators on network upgrade plans and give wholesale customers advance warning to avoid disruption.
"Operators need to give their wholesale customers a sufficient notice period when withdrawing copper networks. This includes providing formal notifications that outline the timeframes involved, the replacement products on offer, and the new price terms," writes Omdia.
……………………………………………………………………………………………..
In a separate report titled, 2022 Trends to Watch: Global 5G, Omdia says that 5G network rollouts are still in the early stages, especially in developing regions.
"But there are compelling reasons for telcos to commit to 5G so they can differentiate around an improved network experience, as well as realize network efficiencies and lower operating costs. Moreover, 5G's enhancements over 4G – most noticeably speed and latency – will come to be appreciated by consumers more next year as an increasing number of data-intensive services and applications become popular in the mass market," the research firm said.
"A surprise to many next year may be the rapid emergence of satellite to augment telcos' terrestrial network coverage," Omdia observed.
"A key driver for hybrid satellite-cellular deployments is the need for ubiquitous high-speed data coverage, something which telcos can greatly benefit from if their rivals' 5G network coverage remains patchy."
Major telcos including BT, Deutsche Telekom, Telecom Italia and Verizon signed significant deals with satellite internet providers in 2021 to offer a hybrid approach to targeted residential, enterprise and industrial markets.
Omdia believes that the likely success of these satellite internet initiatives could jump-start a flurry of new activity in this area in 2022.
"Although most end users aren't rushing to buy 5G, the quality of their network experience in terms of reliability, speed, and coverage is increasingly important to them. As such, 5G offers telcos a better opportunity than 4G to differentiate, especially for ones that can claim they offer the best-in-market network experience," Omdia said.
Omdia thinks that partnership strategies will be even more important for telco 5G success in 2022.
"How good telcos are at partnering, whether for content, service, or technology development, will increasingly define how successful they are in consumer, enterprise, and industrial markets. Because of its enhanced capabilities over 4G, 5G enables telcos to offer much more, and they will have to partner effectively to capitalize on this."
"Except for 5G MEC (really ?), the ecosystem and markets for advanced 5G technologies are still in their infancy. However, 5G front-runners are already launching them, placing them in a strong position to gain a first-mover advantage when the market is ready to adopt them," Omdia said.
References:
https://www.broadbandworldnews.com/document.asp?doc_id=774240&
https://www.lightreading.com/5g/device-upgrades-to-drive-5g-growth-in-2022-andndash-omdia/d/d-id/774276?
https://techblog.comsoc.org/2021/12/18/etsi-mec-standard-explained-part-ii/
https://techblog.comsoc.org/2021/12/15/multi-access-edge-computing-mec-market-applications-and-technology-part-i/
In a blog post today, network intelligence firm Sandvine states that Google, Facebook, and other 'top-6' digital brands generate more than 56% of global network traffic. The company's upcoming 2022 "Global Internet Phenomenon Report," takes this a step further by showing that the top-6 – Google, Facebook, Netflix, Amazon, Microsoft, and Apple – are generating more than 56% of global network traffic.
For the first time, the biggest digital players account for more traffic than everyone else (telcos, MSOs/cablecos, satellite internet, state & local governments, municipalities, etc), combined! And that trend is likely to continue to increase. as OpenVault recently reported that average monthly home internet data consumption in the U.S. rose to 434.9 GBytes in the third quarter of 2021, up 13% over the same period in 2020.
The chart below shows the percentage of traffic that the six biggest Internet companies generated across global networks.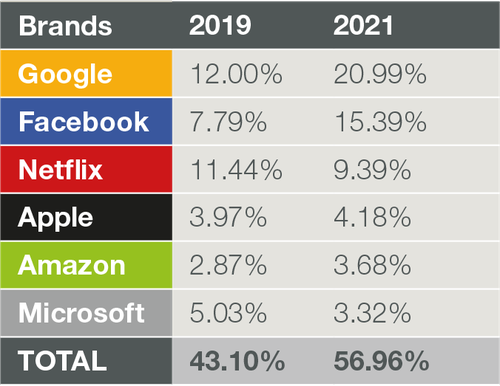 Source: Sandvine
For Communications service providers (CSPs), this is a watershed moment: they must deliver the benefits of 5G (are there any?), cloud, the IoT, AR/VR, AI, the metaverse (?), etc. and they must assure a good QoE (Quality of Experience) for the current and next generation of apps.
Sandvine believes the shift to more mission-critical enterprise and industry services will trigger a need for flawless connectivity (ultra high reliability/availability) and optimal performance for manufacturing robotics, remote healthcare, autonomous driving, public safety, and other critical services.
Recently, the CEOs of Deutsche Telekom, Telefonica, Vodafone, and 11 other influential service providers published an open letter stating that "a large and increasing part of network traffic is generated and monetized by Big Tech platforms."
They cited the fact that it is the telecommunications sector that is bearing the "continuous, intensive network investment and planning" that ultimately drives the unprecedented profitability of the biggest tech brands.
"A large and increasing part of network traffic is generated and monetized by Big Tech platforms, but it requires continuous, intensive network investment and planning by the telecommunications sector," the CEOs said in the joint statement seen by Reuters.
In other words, telcos are subsidizing Big Tech who reap the benefits of those same telco networks.  MSOs/cablecos broadband internet providers, like Comcast, Charter, and Cox Communications, could likely make the same argument.
The CEOs did not mention any big tech firms by name, but Reuters understands that U.S.-listed giants such as Netflix and Facebook are companies they have in mind.
According to Reuters, the investments in Europe's telco sector rose to 52.5 billion euros ($59.4 billion) last year, a six-year high. Those investments include the networks, 5G trials, licenses, planning, and deployment that fuel app QoE. In return, the European telcos received modest usage fees from subscribers.
In addition to wanting a fair ROI for their substantial investments, CSPs also want to protect their networks and brands. The recent Facebook, AWS, and Tesla outages demonstrated how pronounced and far reaching the impacts on networks can be now that apps and services are far more intertwined and interdependent than ever before. QoE for both related and unrelated apps and services were affected.
Source: Sandvine
Sandvine says CSPs need predictive insights that help identify macro trends across their millions of subscribers, billions of devices, and thousands of applications to answer key questions that can drive business actions and outcomes.
Here are a few such questions CSPs should address, according to Sandvine:
Which apps are consuming and generating the most traffic, downstream and upstream?
What's the impact of app complexity in terms of mashups, embedded video, payments, chat, and other features?
How are QUIC (a new multiplexed transport built on top of UDP), HTTP/3, iCloud Private Relay, and encryption affecting the network?
Who are the "heavy users" in the upgrade from 4G to 5G?
The above questions are just some that Sandvine will explore in detail in their upcoming "Global Internet Phenomenon Report."
………………………………………………………………………………………………………………………………..
Meanwhile, a growing number of professionals are calling for "Big Tech" to contribute to the Universal Service Fund (USF). The FCC instituted the USF in 1997 to help fund the construction of broadband networks in rural and unserved areas of the country, and to help low-income Americans afford telecom services. But the primary sources of funding for the USF are network operators (which redirect the USF fees paid by their customers each month).
FCC Commissioner Brendan Carr said that the best way to fund the FCC's Universal Service Fund advanced communications subsidies is to make Big Tech pay the freight.  Citing a new study from economist Hal Singer and Ted Tatos, Carr said that the current method of assessing dwindling traditional telecom services is unsustainable, and that shifting to assessing wireless broadband would continue to hit consumers in the pocketbook–the USF fees are passed on by telecoms onto their customers' bills.
Car argues that the FCC should make Big Tech companies like Google and Facebook pay the USF  fees, which would be very difficult for them to pass on to consumers and which would, "significantly reduce consumers' costs, properly align incentives, and unlike assessing wireline broadband revenues, would not raise consumers' monthly bill for internet services,"  Carr said citing the study,
References:
https://www.sandvine.com/blog/telco-business-models-reaching-tipping-point-in-digital-era
https://www.reuters.com/markets/deals/exclusive-d-telekom-vodafone-others-want-us-tech-giants-help-fund-network-costs-2021-11-28/
https://www.nexttv.com/news/fccs-carr-make-big-tech-pay-for-usf-subsidies
https://www.lightreading.com/optical-ip/heres-why-the-telecom-industry-is-taking-aim-at-big-tech/d/d-id/774280?
https://techblog.comsoc.org/2021/12/21/synergy-research-microsoft-and-amazon-aws-dominate-it-vendor-revenue-popularity-of-multi-cloud/
---