Heavy Reading: How network operators will deploy Open RAN and cloud native vRAN
Heavy Reading conducted an operator survey in association with Quanta Cloud Technology (QCT) to explore how and why operators are likely to deploy Open RAN. The data was collected in November 2021 and includes North American, European and Asian operator respondents in roughly equal proportions.
The first question in the survey that asked about the business justification for Open RAN.  Here's the result: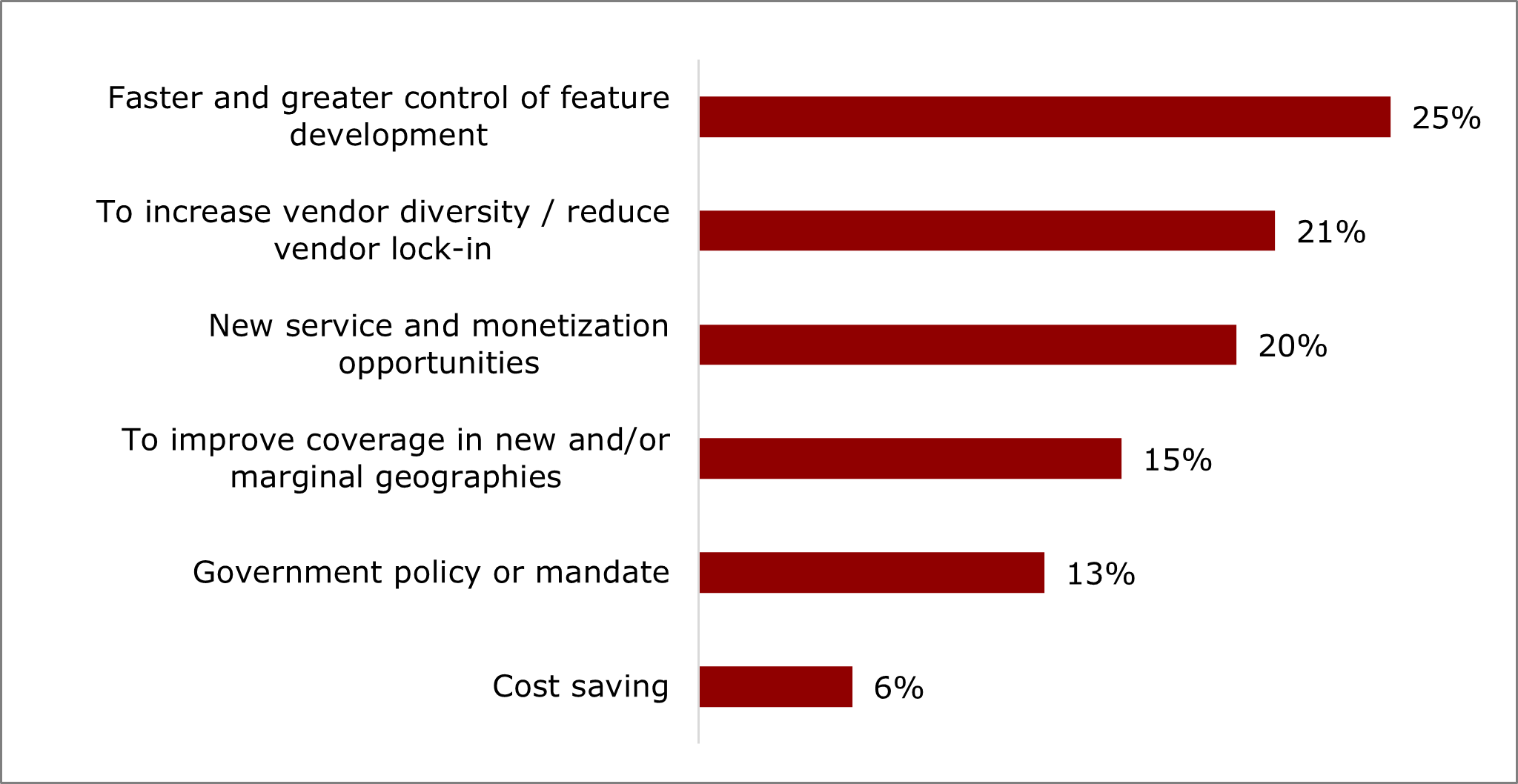 The lead response is for "faster greater control of feature development" with 25%, just ahead of "increase vendor diversity" at 21%, and "new service and monetization opportunities" at 20%.
The absence of an overriding reason to pursue open RAN is consistent with previous Heavy Reading operator surveys. These results indicate the business case will be founded on an accumulation of benefits that will deliver value relative to a classic, single-vendor RAN. They also point to the view that open RAN has not yet found — or at least, has not yet proven — a compelling business justification and that this diversity of views reflects an ongoing search for a business case.
Note that cost savings at 6% of respondents, indicates lower cost is not really a business reason to deploy Open RAN. There are likely two explanations for this:
Open RAN has a similar bill of materials to classic single-vendor RAN.  Ericsson and Nokia say Open RAN is more expensive than integrated, single vendor RAN.
Operators in leading markets will not compromise on user experience simply to save a small percentage on RAN equipment costs.
With respect to cloud native vRAN (RAN software that is deployed in containers and centrally orchestrated)  the survey asked when operators plan to deploy a containerized Distributed Unit (DU) vRAN application in their commercial network.  21% of respondents said they are "deploying now," and a further 34% "will deploy within 1 year."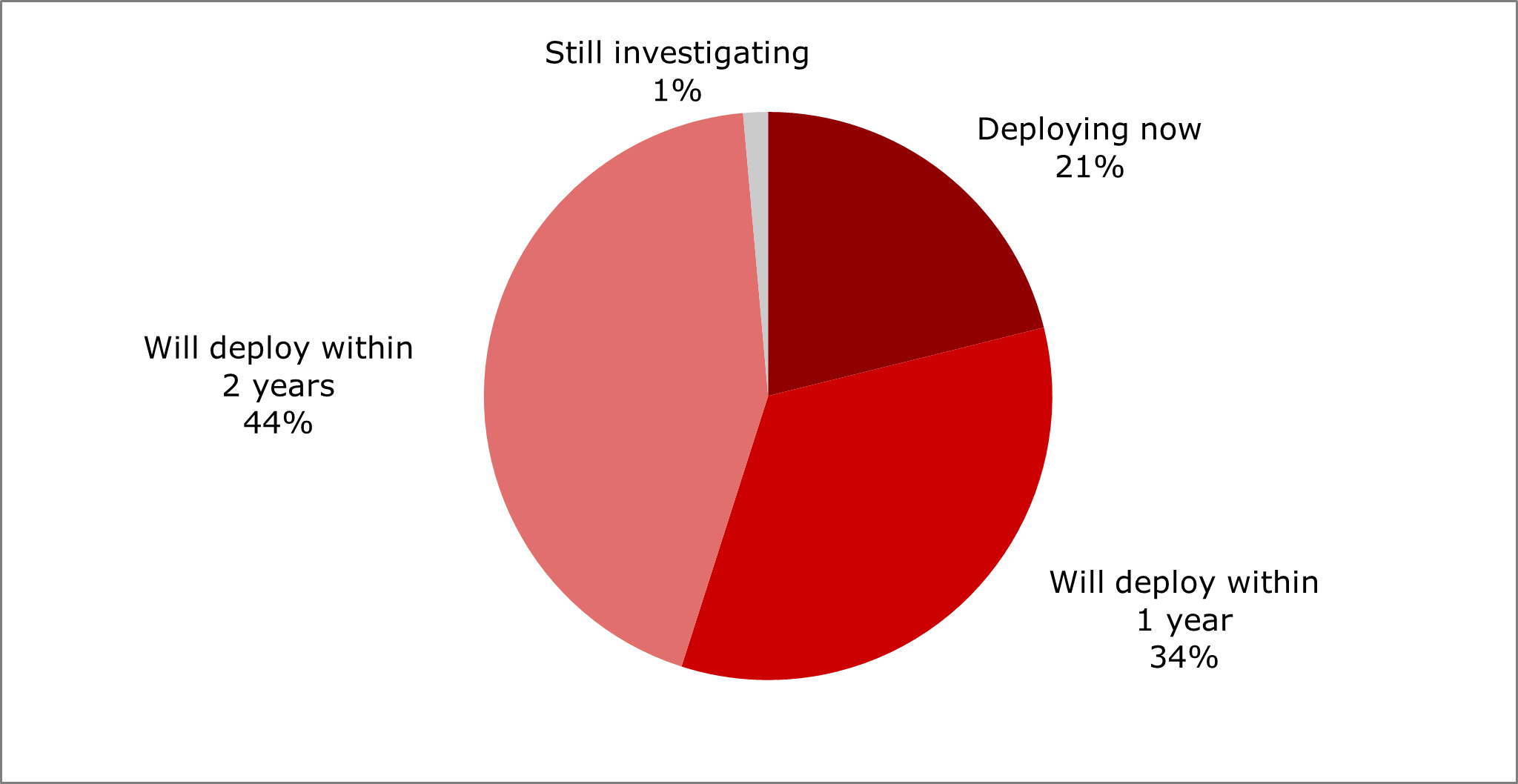 While this response this looks overly optimistic, containerized DU products are now available and are commercially deployed and operational. Heavy Reading expects deployment of this technology to scale quickly. So even if this data seems too optimistic on the timeline, it is a good indicator of sentiment among operators that are likely to already be positive on vRAN.
Network operators must deploy RAN software — either in virtual machines, containers or both — on cloud infrastructure. A key question is which software infrastructure platform to use?
The chart below shows three leading operator preferences: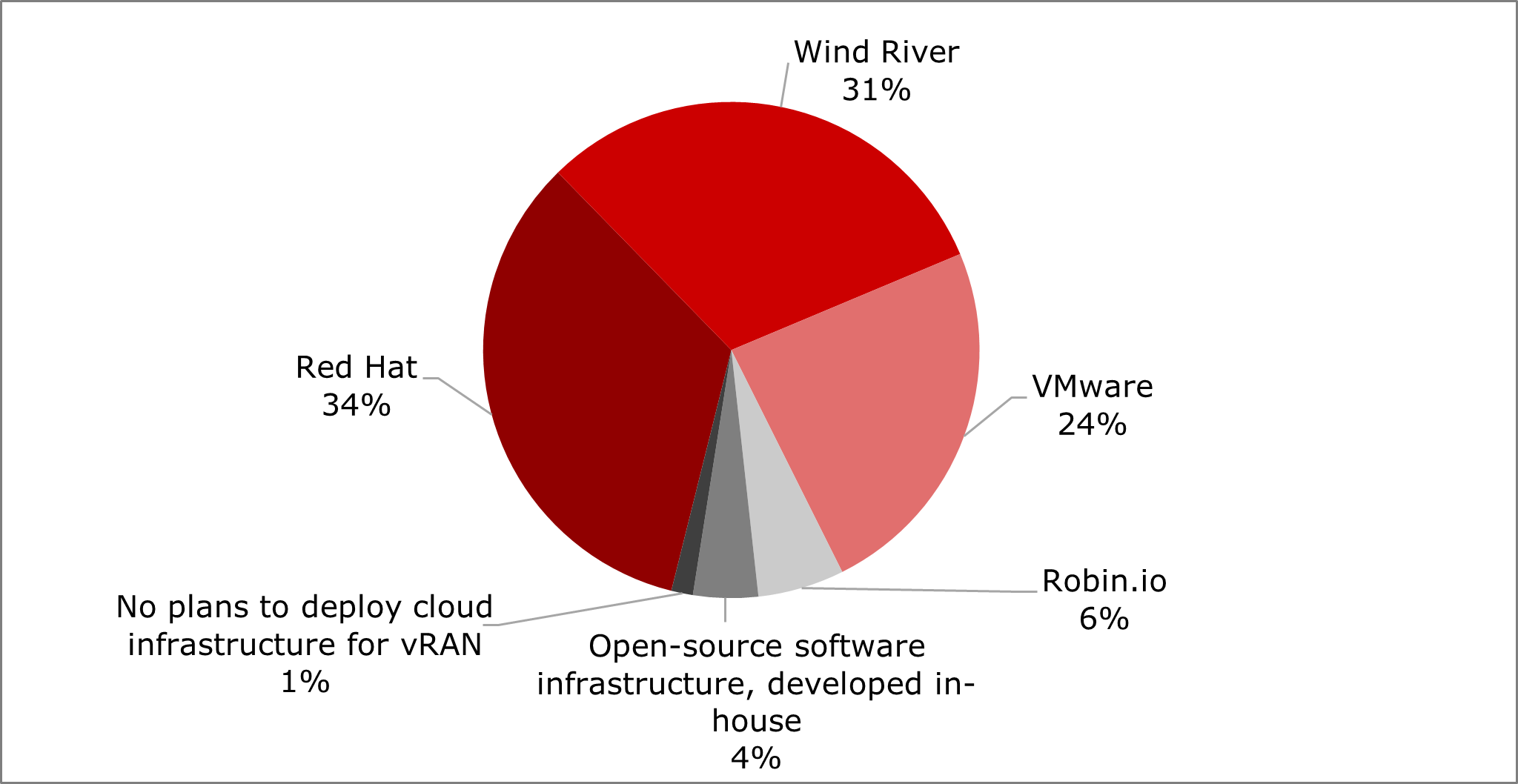 For vRAN software suppliers and DU server vendors that want to help accelerate open vRAN deployments, the three main cloud environments to pre-integrate with appear to be Red Hat, Wind River and VMware.
These are well-known solutions in the telco cloud and core network, and it is logical operators will want to extend their existing telco cloud to the edge to support vRAN. An interesting third option also emerges from this data. Wind River, which offers cloud infrastructure software focused on smaller footprint edge devices that can be optimized for RAN applications, also scores highly at 31%. This is consistent with several Tier 1 operator vRAN deals that reference Wind River publicly.
To learn more about this Heavy Reading operator survey, register for the archived Light Reading webinar on Designing and Deploying Cloud Native Open RAN.
— Gabriel Brown, Principal Analyst, Heavy Reading
……………………………………………………………………………………………………………………………………………………..
A Red Hat survey found that communication service providers (CSPs) now realize the role and benefits of cloud-native network functions (CNFs) and container-based cloud platforms as the means to advance their infrastructures. Benefits include features and efficiency, automation, scalability, and flexibility that will help further lower overall costs. Respondents confirmed their rollout of 5G services would utilize container-based 5G infrastructure, with three-quarters of those respondents indicating the use of container-based platforms in over 25% of their networks by 2022.
In a recent report from Heavy Reading based on a survey of respondents from 77 CSPs, the steady uptick of service providers evolving their RAN has been significant, with the following observations:
50% of service providers have deployed a vRAN in over a quarter of their network compared to the fourth quarter of 2019, when only 35% of respondents had achieved the same rollout.

vRAN deployment has doubled in service provider 4G-only networks and vRAN in service provider 5G-only networks has increased by 66% since the survey in Q4 of 2019.

By the end of 2023 , the above numbers are expected to be flipped, with the majority of service providers deploying vRAN into both their 4G and 5G networks and not 4G alone.
As service providers' experience with network transformation grows, they are embracing horizontal cloud platforms over vertically integrated solutions. The increased flexibility provided by containers, coupled with automation, can take full advantage of horizontal platforms.
A common cloud-native application platform deployed across any footprint and any cloud provides a simplified operational model and allows greater choice of CNFs. This is important to fit service providers' business needs and to deploy and scale where needed, so they can make future additions and changes more easily. A Kuberenetes-based platform offers other direct benefits for RAN workloads, such as reduced latency, higher throughput and precision timing.
In summary, service providers are evolving their RAN to deliver new 5G services that are adaptable, scalable and efficient. Successful vRAN deployments will build upon a telco-grade container platform solution that takes automation and flexibility to the next level. With that, disaggregated vRAN architectures can be optimized to deliver the lowest latency and highest performance.   This infrastructure needs to be a consistent cloud-native platform that can support multiple RAN functions and that spans the entire service provider network from edge to core to cloud.
Red Hat OpenShift is an application platform that not only boosts developer productivity but can orchestrate both containers and VMs in production environments. OpenShift helps simplify workflows and reduce overall total cost of ownership (TCO). As an answer to ever-changing marketplace demands, Red Hat's extensive partner ecosystem provides choices to select software functions and hardware from multiple vendors, while accommodating present needs and anticipating those in the future.
References:
https://www.lightreading.com/open-ran/designing-and-deploying-cloud-native-open-ran/a/d-id/774302?
https://www.redhat.com/en/blog/adoption-evolved-vran-propels-network-enhancements
https://www.redhat.com/en/resources/virtualized-ran-insights-2021-analyst-paper
---