Starlink's huge ambition and deployment plan may clash with reality
Starlink's first mission of 2022 launched another 49 satellites into orbit, extending its grand total to nearly 2,000. But since completing its first orbital shell of about 1,600 satellites last May, "Starlink's launch frequency has slowed dramatically with only four rocket launches over the past seven months, or roughly one every seven weeks," explained Craig Moffett, principal analyst at MoffettNathanson in a note to clients.  Craig wrote:
Starlink's ambition is huge (a constellation of as many as 42,000 satellites). And the implied valuation for the still-private company is huge ($100B+ for all of SpaceX).

This "hugeness" has captured investors' imaginations and no doubt hugeness itself is very much part of its appeal. But we haven't yet seen investors come to grips with all of the implications of this bigness. We were struck by Elon Musk's recent tweet conceding a "genuine risk of bankruptcy" – immediately dismissed by some as hyperbole – and it got us thinking about scale, and risk, in ways we really hadn't considered before.
Moffett notes  that the new Starlink V1.5 satellites are heavier, leading to fewer satellites per launch. "At a payload of 50 satellites per launch for Falcon 9 rockets – down from 60 per launch for V1.0 satellites – SpaceX would need to drastically increase launch frequency to once every seven days for five consecutive years just to launch the satellites required for their planned constellation of ~12,000 by their FCC deadline in 2027."
In low-Earth orbit, satellites will drift back to Earth and burn up on re-entry. Assuming the satellites have an average lifespan of five years, the number of launches to simply replace expiring satellites will, by year five, be as large as the number of launches required over the next five years to grow the constellation. By the end of 2030, just nine years from now, they would have had to launch nearly 23,000 satellites in support of a 12,000 bird constellation. Assuming a Falcon 9 payload of 50 satellites, that would imply 48 launches each year – roughly one every seven days – just to sustain a constellation of 12,000 satellites even after the constellation is "finished."
Privately held SpaceX (Starlink's owner) will also need to strongly increase manufacturing capacity and manage tricky supply chain logistics to meet the needs for Starlink, as well as for SpaceX's clients.
Based on $30 million per launch, Moffett estimates that it would cost about $15 billion to build a constellation of 30,000 satellites, with satellite replacement (production and launch) alone costing more than $3.6 billion per year.  Please see chart below.
Starlink hopes to beef up its capabilities with Starship, a larger launch vehicle that's had its share of problems, with an orbital test flight that could take place as soon as March. However, Craig suggests that Starship isn't necessarily the answer to the problem, considering that new V2.0 satellites will be perhaps four times as massive as previous generation Starlink LEO satellites.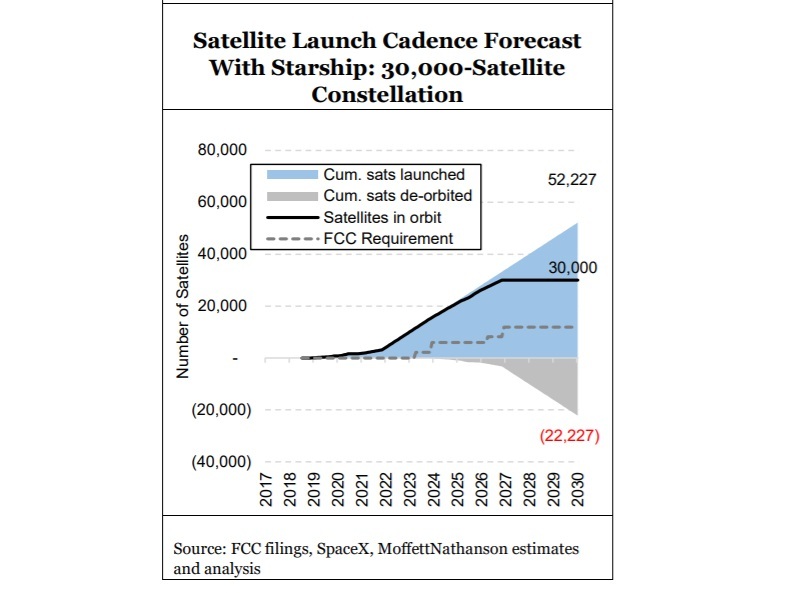 In November 2021, Elon Musk distributed a companywide email stating that a production crisis centered on the Starship rocket engine puts SpaceX on a path to "genuine risk of bankruptcy if we cannot achieve a Starship flight rate of at least once every two weeks next year."
However, the costs will be very high.  Moffett says the "sustenance" cost of the constellation, before considering any costs associated with overhead, engineering, ground facilities, network operations centers, or end-user support, installation, and/or maintenance, could tally $5B per year as per this chart:
Satellite projects are, by their very nature, huge. A defining characteristic of big infrastructure investments is that they demand that investors be confident about the success and payoffs from infrastructures that may take as much as a decade to build.
Moffett is concerned that investors [1.] have yet to "come to grips with all of the implications" of the audaciousness of the Starlink's huge ambitions.
Note 1.  It's important to note that Starlink is part of SpaceX, which is still a privately owned company.  As of October 2021, Barron's said that "Elon Musk owns roughly 50% of SpaceX." It is not known who or whom owns the other half of SpaceX
…………………………………………………………………………………………………………………………….
References:
https://www.lightreading.com/satellite/starlinks-daunting-deployment-plan-leaves-no-margin-for-error—analyst/d/d-id/774665?
https://www.barrons.com/articles/elon-musk-net-worth-trillionaire-51634679420?tesla=y
---