Nokia survey finds CSPs are not monetizing 5G services- BSS must be improved
A Nokia-commissioned survey of 100 communication service providers (CSPs) around the world found only 11% have sufficient Business Support Systems (BSS) in place for effective 5G monetization.  Yet this author believes such BSS are not the key issue in monetizing 5G.  The IEEE Techblog which has repeatedly stated there are currently no compelling 5G use cases without URLLC in the RAN/core and cloud native 5G SA Core networks deployed.   Also, a cloud-native software architecture is key to achieving a 5G-ready monetization system, with many benefits that include limitless scalability, and an ideal platform for AI, analytics, and edge computing capabilities for ultra-low latency use cases.
An overwhelming number of survey respondents, at 98%, indicated they would have to alter their BSS in the coming years in order to put proper, up-to-date monetization tools in place.
The survey also found that nearly 70% of CSPs are now considering deploying cloud-based monetization solutions. In addition, two-thirds of respondents indicated they believe that real-time charging is essential for 5G monetization, in part because of its ability to help CSPs respond quickly to customer demands.
More details on the research can be found here.
John Abraham, Principal Analyst at Analysys Mason, said: "Most Service Providers are ill-prepared to effectively engage and monetize emerging 5G-enabled use cases and need to urgently transform their BSS. With Service Providers looking to get that ROI on 5G, now is the time for them to invest in flexible monetization systems especially as 5G brings to the forefront the importance of real-time charging capabilities. Given Nokia's portfolio and expertise, they are well placed to support CSPs on this journey."
Hamdy Farid, Senior Vice President, Business Applications at Nokia, said: "To unlock 5G revenues and move beyond the traditional data plan model, a major shift among CSPs is needed toward adaptable monetization systems that utilize cloud-native, scalable and flexible infrastructure and open APIs for easy integration and deployment; and I think this survey highlights the work still to be done."
…………………………………………………………………………………………………………………………………………………………………….
Nokia's Head of Digital Business within CNS Jonah Pransky shared with RCR Wireless News that moving to cloud-native BSS "is becoming increasingly important to ensure greater business agility."
"This is particularly true when it comes to efficiently monetizing 5G and capturing new revenue streams that 5G makes possible, including differentiated pricing, network slicing, and flexible product offerings, such as IoT and B2B2X.  The 5G Standalone [SA] network is built on cloud-native network functions that provide the flexibility and agility to define, create and launch new services faster than ever before. 5G monetization systems, starting with the 5G charging function, need to be based on the same agile technology, or risk becoming a bottleneck in the release of new offers to the market, and ultimately slow the ROI that service providers must see sooner rather than later."
Pransky also indicated that real-time charging is important for 5G-ready monetization systems, but provided a longer view of what capabilities are necessary, including support for open APIs, the enablement of new network-sliced based services easily and efficiently, meeting the CX demands of digital users for simple, transparent digital first commerce and finally, and being designed with no-code configurability.
While CSPs are still behind in their 5G monetization journeys, Pransky said that because the industry is moving away from large software monoliths and towards modular microservices-based applications, there is an opportunity for service providers to take a phased approach to transforming their monetization systems for 5G.
"That means they can begin with the most urgent need, which in this case is the 5G Converged Charging system," he continued. "There is definitely still time with the roll out of 5G SA accelerating in some regions, but with many still only beginning to prepare for this. The advice [Nokia] would give would be to look for a monetization partner that has actual experience implementing 5G Charging in 5G SA networks in order to avoid potential pitfalls and hit the ground running, prepared for what will be necessary for effective monetization."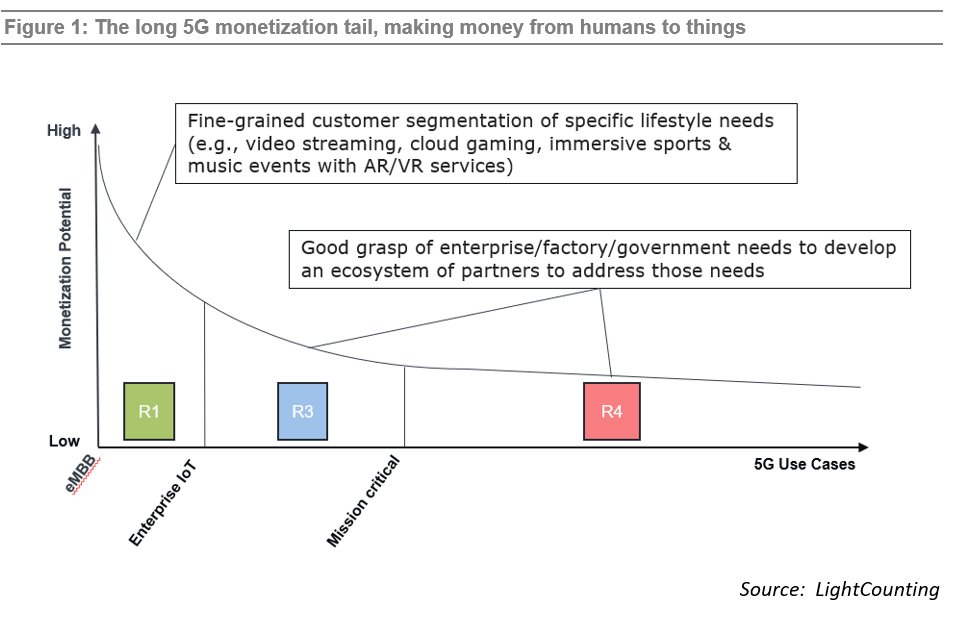 …………………………………………………………………………………………………………………………………………………..
References:
https://www.nokia.com/about-us/news/releases/2022/02/17/nokia-research-finds-csps-have-catching-up-to-do-to-deliver-on-5g-monetization/
CSPs are behind in 5G monetization, according to Nokia survey
https://www.rajarshipathak.com/2020/01/requirements-for-5g-network-monetization-solution.html
---