Nokia  has teamed up with semiconductor company Marvell Technology Group Ltd  to develop customized 5G radio access system-on-chip leveraging its ReefShark technology. The alliance underscores Nokia's commitment to deliver cost-effective and automated 5G network operations, especially at a time when it is aiming to walk the extra mile to revive its faltering 5G business.
As part of the agreement, Marvell Technology's multi-core Radio Access Technology applications will be incorporated in Nokia's AirScale RAN product line with its 5G-backed ReefShark portfolio. Equipped with customized ARM-architecture-based processor chips, this potential breakthrough innovation aims to deliver a best-in-class customer experience with reduced power consumption and enhanced performance and capacity.
…………………………………………………………………………………………………………………………………………………………………………………………………………………………………………..
Tommi Uitto, President of Mobile Networks at Nokia, said:
"This important announcement highlights our continued commitment to expanding the variety and utilization of ReefShark chipsets in our portfolio. This ensures that our 5G solutions are equipped to deliver best-in-class performance to our customers. As service providers continue to evolve their 5G plans and support growing traffic and new vertical services, the infrastructure and components must evolve rapidly. Adopting the latest advancements in silicon technology is a critical step to better serve our customers' needs."
"5G networks need to support billions of devices and machines, and this massive increase in volume and scale means that existing infrastructure and components must evolve rapidly, adopting technologies and techniques to enable to deploy 5G networks quickly, added Uitto."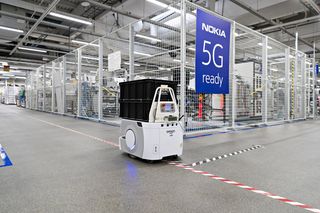 (Image credit: Nokia)
Other Nokia Initiatives:
Nokia also agreed to a partnership with Intel on programs to accelerate its 5G development.  Intel's new Atom chip is targeted at base stations. Nokia will ship Intel Atom-powered variants of its 5G AirScale radio access technology. The company will also use Intel's second generation Xeon scalable processor in its AirFrame data center kit, allowing for common architecture from the cloud to the edge of 5G networks.
Nokia said it needed several partnerships to enable it support and achieve its goals for 5G.
Nokia will acquire optical networking technology provider Elenion. Nokia said that adding Elenion will broaden its addressable market and unlock some cost benefits.
Nokia took a $561 million R&D loan which was signed with the European Investment Bank (EIB) in August 2018, but was only disbursed last month. The loan has an average maturity of about five years after disbursement according to Reuters. A Nokia representative said the company would use the loan to further accelerate its research and development of 5G technology
……………………………………………………………………………………………………………………………………………………………………………
Analysis by Zacks Equity Research:
Nokia has long struggled to undertake additional investments related to its 5G powered ReefShark SoCs. These SoCs are best known to leverage a single computer chip to operate an entire system. Unfortunately, its inability to develop ReefShark portfolio has hindered its cost-efficiency feature, compromising its profitability to rivals like Ericsson ERIC, which spends hefty amounts on R&D. Dearth of resources and geared up 5G spending cycle have also put Nokia at the risk of losing out on upcoming commercial launches.
The latest collaboration comes as a savior for the Finnish company to cater new vertical markets especially in the face of burgeoning network traffic and dynamic 5G plans. Dubbed as a key partnership, it is expected to reduce Nokia's technical disparities and address the complex requirements of 5G NSA, SA, NR specifications for future 5G network deployments.
Nokia's gross margin was negatively impacted by a high cost level associated with its first generation 5G products, product mix and profitability challenges in China. Despite a 4.2% rise in revenues in third-quarter 2019, the performance was marred by pricing pressure in early 5G deals and temporary capital expenditure constraints in North America related to the proposed merger of            T-Mobile US and Sprint. This was followed by its decision to suspend dividend payments and slash guidance for 2020. The company has also decided to retrench about 180 employees in order to trim operating costs.
It remains to be seen whether Nokia will be able to script a turnaround amid a challenging macroeconomic environment and geopolitical uncertainties.
……………………………………………………………………………………………………………………………………………………………………………
About Marvell:
Marvell first revolutionized the digital storage industry by moving information at speeds never thought possible. Today, that same breakthrough innovation remains at the heart of the company's storage, processing, networking, security and connectivity solutions. With leading intellectual property and deep system-level knowledge, Marvell's infrastructure semiconductor solutions continue to transform the enterprise, cloud, automotive, industrial, and consumer markets. To learn more, visit: https://www.marvell.com/
About Nokia:
We create the technology to connect the world. Only Nokia offers a comprehensive portfolio of network equipment, software, services and licensing opportunities across the globe. With our commitment to innovation, driven by the award-winning Nokia Bell Labs, we are a leader in the development and deployment of 5G networks.
Our communications service provider customers support more than 6.1 billion subscriptions with our radio networks, and our enterprise customers have deployed over 1,000 industrial networks worldwide. Adhering to the highest ethical standards, we transform how people live, work and communicate. For our latest updates, please visit us online www.nokia.com and follow us on Twitter @nokia.
Media Inquiries:
Nokia Communications
Phone: +358 10 448 4900
Email: press.services@nokia.com
Marvell Communications
Phone: +1 408 222 8966
Email: pr@marvell.com
……………………………………………………………………………………………………………………………………………………………………………
References:
https://www.nokia.com/about-us/news/releases/2020/03/04/nokia-and-marvell-enter-into-partnership-on-silicon-technology-for-5g/
https://www.zacks.com/stock/news/797965/can-nokia-revive-its-5g-business-with-marvell-partnership
https://www.techradar.com/news/nokia-secures-5g-chip-partnerships-with-intel-and-marvell
We've strongly warned for some time that making money in 5G will be extremely difficult until the core IMT 2020 standards (radio and non radio aspects) are complete and widely implemented. Today we heard proof of that from Nokia:
"Some of the risks that we flagged previously related to the initial phase of 5G are now materializing," Nokia CEO Rajeev Suri said, noting that its third-quarter gross margin was impacted by the "high cost level associated with our first generation 5G products."
"Competitive intensity has increased in some accounts as some competitors seek to take share in the early stage of 5G," Nokia said in a statement.  Yet the company said it has 48 commercial 5G deals and has launched 15 live (pre-standard) 5G networks.  It's telco customers include Sprint, Verizon, AT&T, and T-Mobile in the U.S.
China has been a disappointment for Nokia, too. Greater China made up 8% of Nokia's net sales in the third quarter, the company said Thursday. But revenue from the region fell by 21% from the year-earlier period.
Nokia shares had one of their worst days ever on Thursday after the Finnish telecom equipment maker reduced its profit outlook to reflect the costs of developing 5G products.  The stock fell by -24% to $3.87 — the largest drop since 1991 — as Nokia also disclosed in its third-quarter earnings release that it would not be paying a dividend for that quarter and the fourth quarter in part to "guarantee Nokia's ability to increase 5G investments."
The elimination of Nokia's dividend contradicted what the company said about dividends on its website to attract investors:
The dividend is the principal method of distributing earnings to shareholders. Over the long term, Nokia targets to deliver an earnings-based growing dividend by distributing approximately 40% to 70% of non-IFRS diluted EPS, taking into account Nokia's cash position and expected cash flow generation.
Instead of paying a dividend, the company wants to use its cash to increase its 5G investments, strengthen its cash position, and invest in strategic areas such as software. The company expects to start paying dividends again after it reaches a cash balance of 2 billion euros.
Nokia reduced its earnings forecast this year from an operating margin of 9-12 per cent to one of 8.5 per cent, plus or minus one percentage point. For next year, it slashed its estimate of a 12-16 per cent operating margin to 9.5 per cent, plus or minus one percentage point.
……………………………………………………………………………………………………………………………………………………………………………………………………..
It will take much longer than most pundits believe to realize to monetize the potential and make a decent profit from 5G!
AJW Comment: We are at the start of the 5G transition and Nokia appears to be having the usual problems of refining and finding cost efficiencies in its technology in its first iterations. Gross margins were hit by "a high cost level associated with our first generation 5G products" combined with "pricing pressure in early 5G deals" as it has been limited in what it can charge for the next-generation equipment by competition for those key first customer wins. There are also "profitability challenges in China," where there has been patriotic domestic buying and support of Huawei 5G equipment by the three state owned telcos. Also, the proposed (but not consummated) merger of Sprint and T-Mobile in the U.S. is causing uncertainty on future demand in one of Nokia's main early markets for 5G where the company largely competes only with Ericsson (as Huawei has been shout out of the U.S. telecom equipment market, except for earlier sales to rural wireless carriers).
Nokia is the world's second-largest telecom gear maker by market share, but way behind #1 Huawei.  Ericsson is #3 (see Positive Note below).
………………………………………………………………………………………………………………………………………………………………………………………
From Nokia's 3rdQ-2019 earnings statement:
The overall decrease in Nokia gross profit in the first nine months of 2019 was primarily due to lower gross margin in Networks. We experienced relatively high 5G product costs in Networks, as well as elevated levels of deployment services, consistent with being in the initial phase of 5G. This was partially offset by lower costs related to network equipment swaps, net sales growth in both Networks and Nokia Software, as well as higher gross margin in Nokia Software. In the first nine months of 2019, Nokia gross profit benefited from lower incentive accruals.
………………………………………………………………………………………………………………………………………………………..
From the company's 3rdQ-2019 slide presentation:
Key drivers of Nokia's outlook-

Net sales and operating margin for Networks and Nokia Software are expected to be influenced by factors including:
• Our expectation that we will perform approximately in-line with our primary addressable market in full year 2019 and full year 2020, as we further prioritize profitability and cash, while continuing to drive growth in our Nokia Software and Nokia Enterprise businesses. (This is an update to earlier commentary to outperform our primary addressable market in full year 2019 and over the longer-term.) On a constant currency basis, we expect our primary addressable market to grow slightly in full year 2019, and for growth to continue in full year 2020;
• Competitive intensity has increased in some accounts as some competitors seek to take share in the early stage of 5G, which is particularly impacting Mobile Access. (This is an update to earlier commentary that competitive intensity could increase);
• Additional 5G investments focused on accelerating our product road maps and cost competitiveness. Investment areas include System on Chip based 5G hardware, including diversifying and strengthening the related supplier base (new commentary);
• Additional digitalization investments focused on driving automation and productivity, including further simplification of IT tools and operational processes (new commentary);
• Temporary capital expenditure constraints in North America related to customer merger activity, as well as other potential mergers or acquisitions by our customers (This is an update to earlier commentary for potential mergers or acquisitions by our customers);
• The timing of completions and acceptances of certain projects, particularly related to 5G. Based on the evolving readiness of the 5G ecosystem and the staggered nature of 5G rollouts in lead countries, we expect full year 2019 will have seasonality characterized by a particularly weak first quarter, a strong second quarter, a solid third quarter and an expected strong fourth quarter (This is an update to earlier commentary for an expected soft third quarter and an expected particularly strong fourth quarter);
• Some customers are reassessing their vendors in light of security concerns, creating near-term pressure to invest in order to secure long-term benefits;
• Our expectation that we will improve our R&D productivity and reduce support function costs through the successful execution of our cost savings program;
• Our product and regional mix, including the impact of the high cost level associated with our first generation 5G products (This is an update to our earlier commentary, providing additional details); and
• Macroeconomic, industry and competitive dynamics.
On a positive note:  "As I look to the future, it is clear to me that Nokia has some unique advantages," Suri said, citing "a powerful, end-to-end portfolio that allows us to benefit from 5G investments across all network domains."
Nokia's dismal earnings report contrasts with that of rival Ericsson which last week beat quarterly earnings expectations and lifted its market forecast for this year and its sales target for 2020. The Swedish firm said demand for (pre-standard) 5G networks was robust: "5G is taking off faster than earlier anticipated," CEO Börje Ekholm said in an earnings statement. The Swedish telecom equipment company said it had signed 27 commercial 5G contracts.
Other Voices:
Some analysts had thought that Nokia would benefit from the pressure on Huawei. But the disappointing results published Thursday were driven primarily by weakness in the division responsible for rolling out 5G.
"The report was a major disappointment … outlook was cut across the board reflecting the company's continuing stumbles as the new cycle of network market is starting to take off," Inderes analyst Mikael Rautanen said in a note to clients.
"This is all very disappointing," said Lee Simpson, an analyst at Jefferies. "There is something almost embarrassingly irrelevant about the Nokia story now."
"He has been in the position now for over five years and is still struggling to put in place a sustainable, comprehensive set of results and targets," sad Neil Campling of Mirabaud Securities.
References:
https://www.nokia.com/system/files/2019-10/nokia_results_2019_q3.pdf
https://www.nokia.com/system/files/2019-10/nokia_slides_2019_q3.pdf
Thailand's AIS Fibre has become the first network operator globally to commercially launch services based on Nokia's in-home meshed Wi-Fi solution.  The fixed line broadband operator will offer customers Nokia CPE designed to provide a seamless Wi-Fi broadband experience across every corner of the home.  IEEE Techblog covered whole-home Wi-Fi service in this blog post.
AIS Fibre customers in Thailand will be eligible to receive the Nokia WiFi Beacon 3 duo-pack for a special price which, once installed, should establish a whole-home meshed Wi-Fi network that significantly enhances ultra-broadband coverage and performance.
Many homes suffer from poor Wi-Fi performance. Speeds and reliability can be impacted by the number of connected devices and by interference from appliances like microwaves or Wi-Fi networks from neighbours. In addition, coverage is often inadequate due to dead zones from indoor walls. Solving these issues can be difficult, often requiring several access points to be installed.
Nokia's meshed Wi-Fi solution is designed to address common issues impacting Wi-Fi performance in the home, such as interference from household appliances or neighboring Wi-Fi networks, as well as dead zones from indoor walls.  It automatically connects to the strongest channel to provide the best possible performance. The beacons also include embedded software and analytic functions to automatically self-heal and optimize Wi-Fi networks.
"In speaking with service providers from all over the world it's clear that Wi-Fi is a major challenge because, most don't provide or manage the Wi-Fi network in the home that customers rely on for broadband access," Diffraction Analysts chief research officer Benoit Felten said.  "To deliver a great end-to-end service, operators need to ensure a consistent broadband experience can be achieved in the home and Nokia is helping make that happen,"  Felton added.
AIS Fibre customers with a true meshed Wi-Fi experience that is easy to install and delivers the whole-home coverage and performance needed to support ultra-broadband services.
Under the agreement, AIS will offer the beacons to customers at a special price. The solution is designed to be set up in minutes and generate a heat map to help users identify and manage dead zones.
Nokia says their product "enhances in-home Wi-Fi solution for service providers to provide a faster, better, smarter network experience:"
Expanded portfolio of Nokia residential devices and gateways now support intelligent mesh Wi-Fi capabilities
New software and analytics provide self-healing, self-learning, self-care functions that optimize Wi-Fi networks and maximize performance
Nokia enables service providers and users to quickly identify and resolve Wi-Fi network issues with new online portal and mobile application
References:
https://networks.nokia.com/solutions/nokia-wifi/the-solution
https://www.telecomasia.net/content/ais-fibre-launches-nokias-meshed-wi-fi-solution
http://www.nationmultimedia.com/detail/Corporate/30359542
https://techblog.comsoc.org/2018/11/07/consumers-want-whole-home-wi-fi-service-from-isps/
---