NTT & Docomo announce "6G" trials with NEC, Fujitsu, and Nokia
Japanese wireless network operator NTT Docomo and its parent company NTT have teamed up with mobile technology vendors Fujitsu, NEC and Nokia to conduct experimental trials of new mobile communications technologies for the targeted commercial launch of 6G services  (?) by 2030.
While 6G technology is totally undefined, most industry bodies aiming for commercialization around 2030.  It is already clear that the technology will be required to offer faster speeds, lower latencies, and a larger capacity than 5G wireless technology.
To achieve this, higher frequencies than those currently used for mobile services will be required, with most industry bodies suggesting that frequencies of between 100 GHz and 300 GHz will be best suited for these services.
Launching the envisioned 6G services will require verification of numerous new mobile technologies, including those needed to adopt new frequencies (not yet approved by ITU-R for use in IMT) in the millimeter and sub-terahertz (above 6 GHz) bands, in addition to bands for existing 5G services, NTT said. The trials are also expected to verify AI-based wireless transmission methods.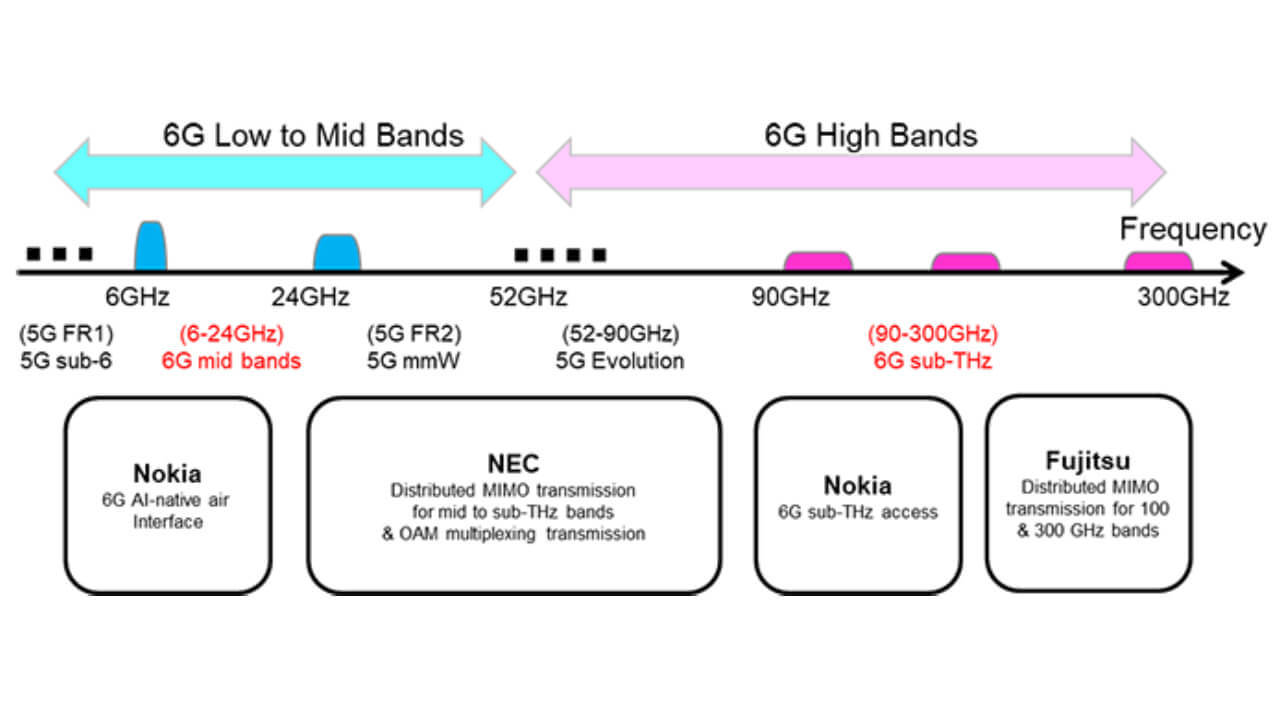 Docomo and NTT will launch indoor trials within the fiscal year ending in March 2023, and outdoor trials will begin in the following fiscal year. These trials are expected to verify concepts proposed so far by Docomo and NTT and will be reported in global research groups, international conferences and standardization activities related to 6G, and will serve as a foundation for more advanced technologies.
…………………………………………………………………………………………………………………………………….
Note that in April, NTT and Sky Perfect JSAT agreed to establish a joint venture company that will launch an integrated space computing network. The joint venture will build new infrastructures in space. In FY2024, the new joint venture, Space Compass, plans to launch an optical data relay service for high-speed transmission to the ground via a geostationary orbit (GEO) satellite.
Space Compass plans to use high altitude platform stations (HAPSs) to provide low-latency communication services in Japan in FY2025. HAPSs are expected to help provide communication in times of disaster, high-capacity communication for ships and aircraft, and communications services for distant islands and remote areas. NTT says mobile operators can improve their mobile networks by combining HAPSs with an increase in the number of their terrestrial base stations to expand their service coverage.
…………………………………………………………………………………………………………………………………….
Fujitsu announced that it will conduct joint trials of distributed MIMO communication technology where multiple sub-terahertz wave antennas are dispersed to simultaneously emit radio waves from multiple directions to a receiving terminal. Those joint trials will be with Docomo and NTT.  Through this joint experiment, the three companies aim to develop technology that is resistant to obstruction and realizes stable high-speed wireless communication over 100 Gbps.
To achieve high-speed and large-capacity communications at sub-terahertz waves with small size and low power consumption, Fujitsu aims to develop high-frequency wireless devices utilizing compound semiconductors such as gallium nitride (GaN) and indium phosphorus (InP).
Nokia reports that its cooperation with Docomo and NTT will focus on two proof-of-concepts for emerging 6G technologies: an AI native air interface and sub-THz radio access. These aim to demonstrate a performance gain with an AI based 6G air interface compared to a conventional air interface, and to show that high-data rate beamformed access can be achieved in a high frequency band at 140 GHz, Nokia added.
Nokia has envisioned six key technologies that will be vital components of future 6G networks. Those include new spectrum technologies, AI native air interface, network as a sensor, extreme connectivity, cognitive, automated and specialized architectures, and security and trust. Among the six key technology components, the initial focus of the partnership is to demonstrate the benefits of AI-based learned waveform in the transmitter with a deep learning receiver in the mid-band, as well as to test high data rate indoor communications in the sub-THz band.
The plan is to set up environments for experiments and demonstrations in Docomo and NTT premises in Japan and Nokia premises in Stuttgart, Germany, and to start performing tests and measurements this year.
As communications technology becomes increasingly politicized, 6G targets are also beginning to be announced by national governments. Earlier this year, the Indian government announced that it would aim to deploy domestically made 6G equipment by 2030, thereby offering a major boost to the Indian economy and reducing the country's dependence on typical telecoms equipment vendors like Nokia, Ericsson, and Huawei.
6G may only now be beginning to be defined, but the race to achieve 6G milestones has already begun.
References:
https://www.totaltele.com/513502/DOCOMO-and-NTT-announce-raft-of-partnerships-for-6G-trials
https://www.telecompaper.com/news/ntt-starts-6g-trials-with-fujitsu-nec-nokia–1426751
https://www.telecompaper.com/news/ntt-sky-perfect-jsat-to-launch-integrated-space-computing-network-jv–1422178
India creates 6G Technology Innovation Group without resolving crucial telecom issues
---