France's Eutelsat nears deal to buy UK satellite internet company OneWeb
From the Financial Times:
The UK government is set to become a minority shareholder in a listed French business, as France's Eutelsat nears a deal to acquire OneWeb, the satellite internet company rescued from bankruptcy by Boris Johnson's government. According to people involved, a deal will be announced as soon as Monday and involve a takeover of OneWeb by Eutelsat, which already owns a 24 per cent stake in the UK-based company.
Expecting heavy political scrutiny, the deal will be presented publicly as a merger of equals. Combining the two companies will bring together the UK, French and Chinese governments as well as Indian billionaire Sunil Bharti Mittal as common shareholders in one of the world's biggest satellite operators. Recommended The Big Read The corporate feud over satellites that pitted the west against China The French state owns a 20 per cent stake and China's sovereign wealth fund owns 5 per cent in Eutelsat.
The UK has just under 18 per cent of OneWeb. After the deal, shareholders from both sides will be diluted. Paris-listed Eutelsat has a market value of €2.4bn and has roughly €3bn of net debt. In its most recent funding round, OneWeb was valued at $3.4bn. The deal values the UK government's OneWeb stake at $600mn, two people with knowledge of the details said, which is $100mn more than it initially invested in 2020. Mittal, who has a 30 per cent stake in OneWeb, will be one of the largest shareholders in the combined group.
The UK will retain its special rights over OneWeb as part of the deal. Those rights include a veto over certain customers deemed undesirable for national security reasons as well as a say on supply chain and launch decisions. One UK official said that Eutelsat would seek a secondary listing on the London market. By merging with Eutelsat, OneWeb's backers will have support for the huge amount of funding still required to deliver the company's second generation satellite network.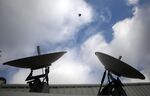 The greater financial firepower will be needed in the competition with Elon Musk's Starlink and Jeff Bezos' Project Kuiper for low earth orbit, the new frontier for commercial space. OneWeb, which has 428 satellites in orbit, was a pioneer in the field but its current technology is acknowledged to be out of date. Musk's Starlink has more than 2,000 satellites in orbit with newer technology. "The deal recognises that this is a highly competitive global race. It will allow the two companies to compete with SpaceX and emerging rivals from China as well. This is a good story for Britain," the official said. Falling launch costs and cheaper satellites are enticing hundreds of private companies into a global space market estimated to be worth $1tn by 2040. The UK's initial investment into OneWeb in 2020 was highly controversial and championed by Johnson's former adviser Dominic Cummings.
The government ignored advice from senior officials when it decided to invest $500mn alongside $500mn from Bharti Global, part of the conglomerate controlled by Mittal, to bring the business out of Chapter 11 bankruptcy in the US. OneWeb collapsed in 2020 after its main backer SoftBank refused to fund yet another financing round, in a sign of significant cash funding requirements needed to take low earth orbit constellations to commercial operation. SoftBank still remains a substantial shareholder in OneWeb. Since its bankruptcy the group has raised $2.7bn. Eutelsat paid $550mn for a 24 per cent stake in OneWeb last year. Rothschild is working with Eutelsat, while Barclays is advising OneWeb, people close to the deal said. Bloomberg earlier reported on this deal.
………………………………………………………………………………………………………………………………………………………………………………………………………………………………….
From Bloomberg:
Musk's Starlink fleet of more than 1,500 satellites launched in the past three years by SpaceX has created an unprecedented challenge for rivals, leading to a wave of consolidation in the sector.
Last year, Viasat Inc. agreed to purchase Inmarsat Group Holdings Ltd. for $4 billion, creating the world's biggest geostationary satellite company. Eutelsat itself rejected a takeover bid from billionaire Patrick Drahi that valued it at 2.8 billion euros.
OneWeb emerged from bankruptcy in 2020 in bailout by the UK with the help of Mittal, signaling a more interventionist industrial strategy by the government after Brexit. A deal with Eutelsat would be a rare example of a UK and a French company merging, and one that involves two state-backed companies shows how much the two governments are getting involved in the telecommunications industry.
The company was established in 2012 to build a constellation of small satellites in low-earth orbit, beaming internet connections to isolated places. OneWeb raised $3.4 billion from SoftBank Group Corp., Airbus SE and other big names before collapsing when lead investors pulled their money at the height of the coronavirus pandemic.
References:
https://www.ft.com/content/47219d82-1995-4555-ba13-48223364fa15
https://www.bloomberg.com/news/articles/2022-07-23/uk-satellite-operator-oneweb-said-to-near-merger-with-eutelsat
---