Omdia: ARPU declining or flat for South Korean 5G network operators
A new research report from Informa owned consulting firm Omdia finds that the average revenues per user (ARPU) are now falling for the three big South Korean 5G network providers.  That follows two previous years of rising ARPU.
"After two years of consistent growth, mobile ARPU is back in decline for KT Corp and LG U+ while maintaining relatively flat for SK Telecom, with 5G subscription growth and revenue growth stalled," wrote Omdia analyst Anshika Gandotra in a recent report.
"Initially, the launch of 5G stopped the declining ARPU trend. However, mobile ARPU has been declining since 1Q21. Mobile operators made diverse efforts to meet customers' varying needs. SK Telecom started offering new 5G price plans at a 30% cut in rates for online-only mobile plans."
"Additionally, LG U+ reduced the cost of 5G plans. South Korea has shown early signs of 5G market maturation because the top-tier customers have now upgraded to 5G services. Other customers seem more resistant to upgrading at the moment, thereby slowing down 5G growth."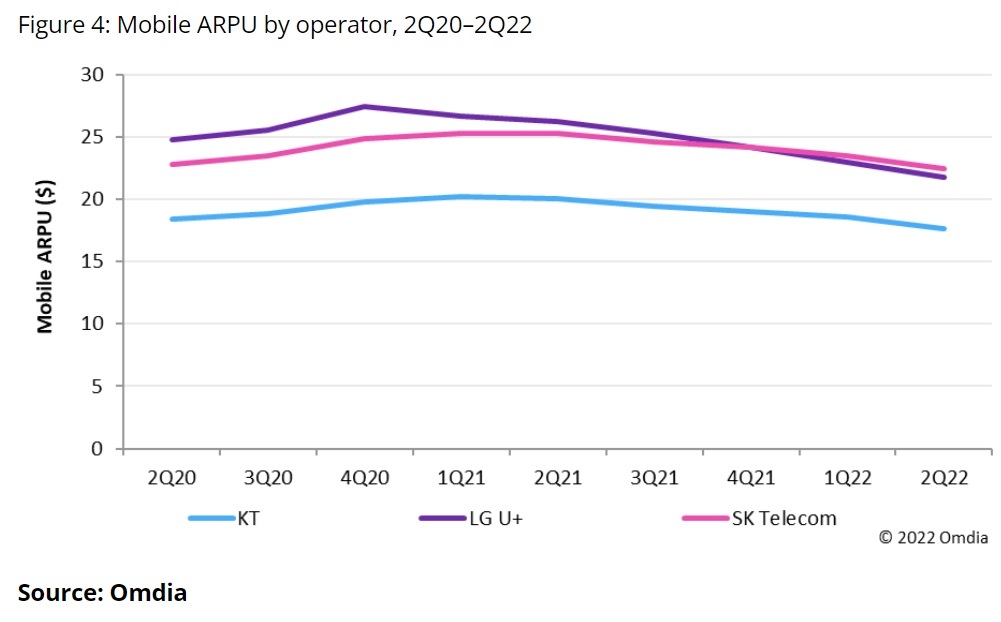 South Korea is often viewed as a bellwether for the 5G business, largely because the country was first in widescale 5G deployment and its regulator collects detailed information about the adoption of the technology.  As of August 2022, there were 24.53 million 5G subscribers in South Korea, accounting for around 33% of all mobile subscriptions in South Korea.  Perhaps more importantly, 5G networks are now carrying roughly 70% of all mobile data traffic in the country. That's mainly because the average 5G user consumes around 27GB per month, or nearly 3.1x the average 4G user.
This September, Mobile World reported that ARPU at:
SK Telecom, with the highest 5G penetration (38.7 per cent), was flat in Q2-2022.
LG U+, with 34 per cent on 5G plans, posted a third consecutive quarterly dip in ARPU in the quarter, falling 4.1 per cent.
KT with 32 per cent of subscribers using 5G services bucked the downward trend. ARPU rose for the fourth straight quarter, increasing 3.2 per cent.
Loud and Clear Message:
Obviously, there is no pent up demand for faster 5G services.  App makers have not brought to mass market services like autonomous driving that would require more firepower. Customers can watch Netflix and surf the net well enough with existing 5G technology. Telcos have adapted by diversifying. To make the quantum leap to the highest-speed 5G will require the roll-out of essential services that need such fast connections.
"When households begin to have robots at their homes, for instance, telcos would then start ramping up infrastructure investments, so the highest-speed 5G will be partially available around 2025," said Kim Hyun-yong, an analyst at Hyundai Motor Securities.
The lesson for other countries racing toward 5G may be: curb your enthusiasm. The new technology holds great promise, but for now there will still be as much evolution as revolution in the high-speed internet future.
References:
https://omdia.tech.informa.com/OM025134/5G-in-South-Korea–2022
https://www.lightreading.com/5g/a-concerning-arpu-trend-shows-up-in-south-koreas-5g/d/d-id/780403?
---