South Korea is arguably one of the leading countries that has deployed 5G.  According to the Ministry of Science and ICT, the country had 29.6 million users as of  this March, and given that number of subscribers has increased to around 500,000 per month up to now, it is more than likely that as of early May, there are 30 million 5G users.   This milestone comes four years after 5G became available in smartphones in the country in April 2019 (based on 3GPP Release 15 specs).
South Korea started 2G code division multiple access (CDMA) services in 1996 and 3G wide CDMA in 2003, starting the cell phone era. This allowed South Korean telecommunication companies to expand abroad. The launch of WCDMA also allowed Qualcomm and Samsung to become leaders in application processors and smartphones, respectively, today.  Then in 2011 came 4G long-term evolution (LTE) services. This truly enabled smartphones which could now stream videos in real time.  South Korean wireless network operators SK Telecom, KT and LG Uplus became board members of GSMA, the global telecommunications suppliers organization.
Expectations were high for 5G. The government and telcos claimed in marketing before launch that 5G will be, compared to 4G, 20 times faster, 100 times better simultaneous access and 10 times shorter delays. They claimed new augmented reality, virtual reality, 3D content and IoT services would be introduced.  However, the reality after 5G launched was quite different and none of the promises were kept.
According to the Ministry of Science and ICT, 5G download speed on average was 896.10Mbps as of October. Upload speed was on average 93.16Mbps. This was only faster by 5.9 times and 2.8 times faster, respectively than 4G LTE in the same month.
Image Credit: TheElec (http://thelec.net)
5G coverage was also only around 33.1% of the country, which means on a national level, most people were using non-standalone 5G services  (5G NR with LTE infrastructure and EPC).
Spending to obtain 28 GHz mmWave spectrum has effectively ended. KT and LG Uplus had their spectrum cancelled in December; SK Telecom is also expected to lose theirs within the year  (SEE UPDATE BELOW)!  Without spending on 28GHz, there will be no "20 times faster 5G."  The country's Fair Trade Commission is expected to penalize the three South Korean telcos for violating advertisement laws.
………………………………………………………………………………………………………………………………………………………………………………..
On the positive side, 5G is being combined with AI.  KT announced the commercial launch of a new solution, which it calls its "5G Infrastructure Intelligent Control Solution", that is based on artificial intelligence (AI) technology.  The South Korean network operator noted that this solution is designed to control 5G infrastructure with the aim of making that infrastructure more efficient and stable.
KT's new solution is equipped with AI technology to detect abnormalities in the status of networks and equipment in real-time. By comparing dozens of equipment quality data in real-time with pre-learned data, the new solution can determine whether the equipment is abnormal or not with a single indicator, KT said.  Also, the solution also displays the status of access and core equipment in five stages, making it easy to "intuitively check the equipment and the degree of abnormality" that occurred, the Korean telco added.
The company highlighted that companies and institutions without expertise in network management can use KT's 5G solution to operate 5G networks without any "burden."  KT said it has already implemented the solution in four institutions, including Bundang Seoul National University Hospital, Samsung Seoul Hospital, Korea Aerospace Industries Co., Ltd. and Navy Headquarters.
"When KT's 5G specialized network testbed is established, it will be possible to perform a one-stop service for testing equipment for 5G specialized network, interworking with terminals, and conducting network trial operation and inspection. It is expected to greatly reduce the cost and technical burden of companies considering the introduction of a 5G specialized network," KT said.
"SK Telecom (SKT) is stepping up efforts on all fronts to transform itself into an AI company," CFO Kim Jin Won told a results briefing Wednesday. Its strategy is to grow through partnerships with local and global top-tier AI companies while also continuing to develop its own AI technology.
SKT has been trialing generative AI in its A. (pronounced "A-dot") service, built on its own technology and capable of holding complex conversations and developing long-term memories. Last month the telco invested 15 billion Korean won (US$11.4 million) in local startup Scatter Lab, which has used deep learning to create a chatbot that can hold empathetic conversations.  SKT wants to work with Scatter Lab to develop an AI agent that can have human-like conversations with A. customers. The two companies also aim to develop a hyperscale language model equipped with emotions and knowledge domains.
May 15 2023 Update:
On Friday, May 12th South Korea's Ministry of Science and ICT cancelled SKT's 28 GHz 5G license. The Korean network operator's major rivals KT Corp and LG U+ had their 28 GHz licences cancelled last year for the same reason, but SKT held on to its concession by the skin of its teeth and escaped with a warning.
"It is regrettable that this result has finally come about despite the government's active efforts so far," said Choi Woo-hyuk, director of radio wave policy at the Ministry of Science and ICT, in a Korean language statement confirming the licence withdrawal.
The three South Korean mobile operators each acquired 800 MHz of 28 GHz spectrum, alongside 3.5 GHz frequencies, in 2018, with the band being available for use by the end of that year. The licence conditions required them to deploy 15,000 base stations using 28 GHz within three years. But an investigation on the part of the last year Ministry showed that the telcos had built only 10% of the number of sites they had committed to, which led to it pulling the licences of the worst offenders: KT and LG U+.
https://telecoms.com/521670/south-korea-cancels-skts-28-ghz-5g-licence/
References:
https://www.thelec.net/news/articleView.html?idxno=4524
https://irsvc.teletogether.com/skt/pdf/skt2023Q1_Subtitles_eng.pdf?2
https://www.lightreading.com/aiautomation/skt-chases-ai-vision-as-legacy-business-goes-flat/d/d-id/784795?
A new research report from Informa owned consulting firm Omdia finds that the average revenues per user (ARPU) are now falling for the three big South Korean 5G network providers.  That follows two previous years of rising ARPU.
"After two years of consistent growth, mobile ARPU is back in decline for KT Corp and LG U+ while maintaining relatively flat for SK Telecom, with 5G subscription growth and revenue growth stalled," wrote Omdia analyst Anshika Gandotra in a recent report.
"Initially, the launch of 5G stopped the declining ARPU trend. However, mobile ARPU has been declining since 1Q21. Mobile operators made diverse efforts to meet customers' varying needs. SK Telecom started offering new 5G price plans at a 30% cut in rates for online-only mobile plans."
"Additionally, LG U+ reduced the cost of 5G plans. South Korea has shown early signs of 5G market maturation because the top-tier customers have now upgraded to 5G services. Other customers seem more resistant to upgrading at the moment, thereby slowing down 5G growth."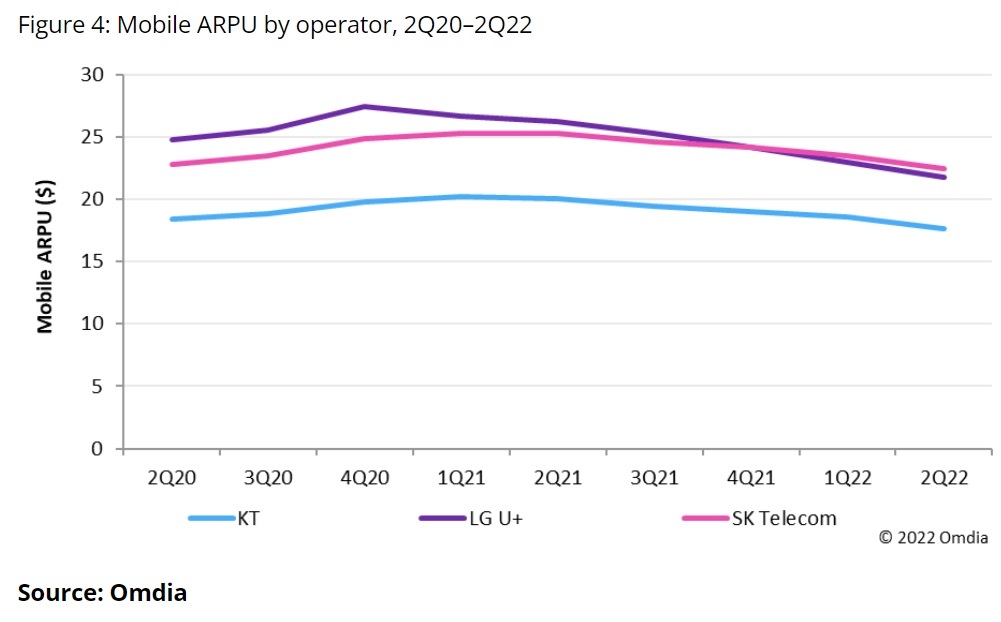 South Korea is often viewed as a bellwether for the 5G business, largely because the country was first in widescale 5G deployment and its regulator collects detailed information about the adoption of the technology.  As of August 2022, there were 24.53 million 5G subscribers in South Korea, accounting for around 33% of all mobile subscriptions in South Korea.  Perhaps more importantly, 5G networks are now carrying roughly 70% of all mobile data traffic in the country. That's mainly because the average 5G user consumes around 27GB per month, or nearly 3.1x the average 4G user.
This September, Mobile World reported that ARPU at:
SK Telecom, with the highest 5G penetration (38.7 per cent), was flat in Q2-2022.
LG U+, with 34 per cent on 5G plans, posted a third consecutive quarterly dip in ARPU in the quarter, falling 4.1 per cent.
KT with 32 per cent of subscribers using 5G services bucked the downward trend. ARPU rose for the fourth straight quarter, increasing 3.2 per cent.
Loud and Clear Message:
Obviously, there is no pent up demand for faster 5G services.  App makers have not brought to mass market services like autonomous driving that would require more firepower. Customers can watch Netflix and surf the net well enough with existing 5G technology. Telcos have adapted by diversifying. To make the quantum leap to the highest-speed 5G will require the roll-out of essential services that need such fast connections.
"When households begin to have robots at their homes, for instance, telcos would then start ramping up infrastructure investments, so the highest-speed 5G will be partially available around 2025," said Kim Hyun-yong, an analyst at Hyundai Motor Securities.
The lesson for other countries racing toward 5G may be: curb your enthusiasm. The new technology holds great promise, but for now there will still be as much evolution as revolution in the high-speed internet future.
References:
https://omdia.tech.informa.com/OM025134/5G-in-South-Korea–2022
https://www.lightreading.com/5g/a-concerning-arpu-trend-shows-up-in-south-koreas-5g/d/d-id/780403?
---