FCC Releases New National Broadband Maps & FCC Speed Test App
At long last, the FCC has released the first public version of its National Broadband Map. The new map is consequential as it will inform how many millions or billions of dollars each state and territory gets from the federal government for broadband infrastructure.
The broadband map's release follows an effort that began in September to give Internet service providers (ISPs) and local governments an opportunity to review and challenge broadband data findings. That followed an initial FCC broadband data collection process that began in June.  IEEE Techblog summarized that and more in this post.
"Today is an important milestone in our effort to help everyone, everywhere get specific information about what broadband options are available for their homes, and pinpointing places in the country where communities do not have the service they need," said Chairwoman Rosenworcel. "Our pre-production draft maps are a first step in a long-term effort to continuously improve our data as consumers, providers and others share information with us. By painting a more accurate picture of where broadband is and is not, local, state, and federal partners can better work together to ensure no one is left on the wrong side of the digital divide."
The public will be able to view the maps at broadbandmap.fcc.gov and search for their address to see information about the fixed and mobile services that internet providers report are available there. If the fixed internet services shown are not available at the user's location, they may file a challenge with the FCC directly through the map interface to correct the information.
Map users will also be able correct information about their location and add their location to the map if it is missing. The draft map will also allow users to view the mobile wireless coverage reported by cellular service providers.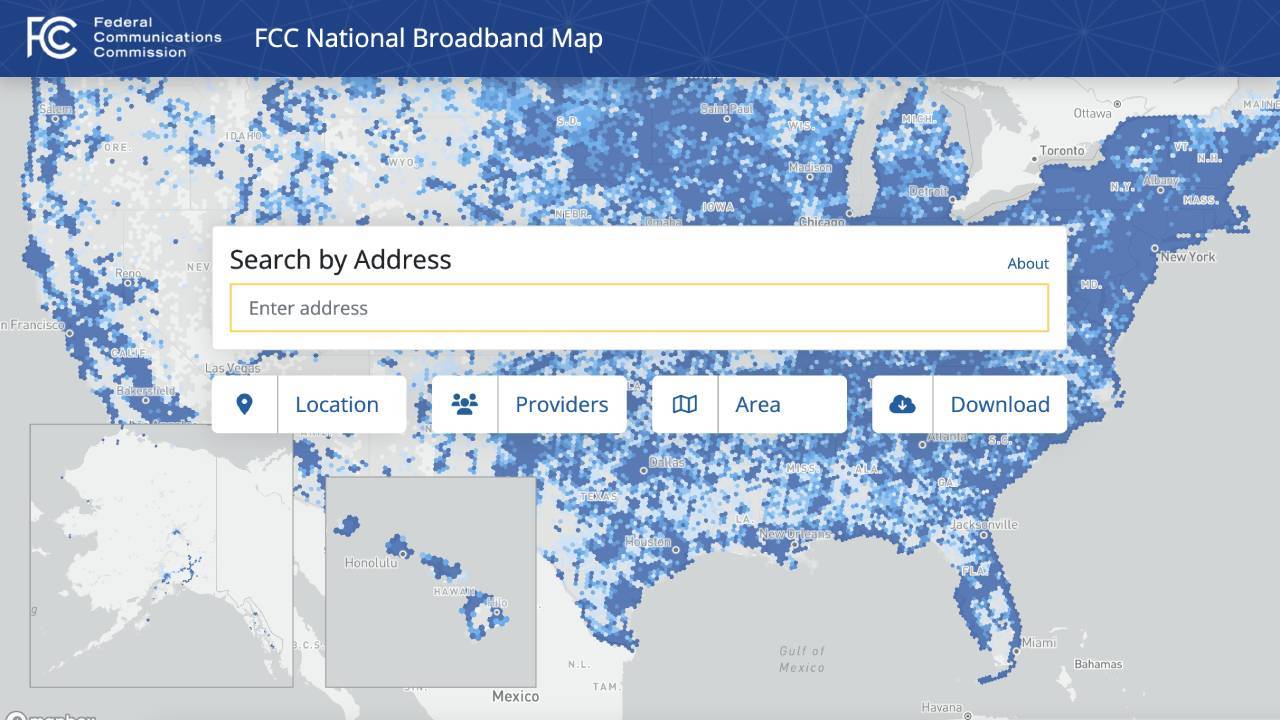 The FCC also announced the launch of an updated version of the FCC Speed Test App that will enable users to quickly compare the performance and coverage of their mobile networks to that reported by their provider. The app allows users to submit their mobile speed test data in support of a challenge to a wireless service provider's claimed coverage.
Today's debut marks the start of the public's ability to offer challenges as well. The FCC has asked for challenges to the map data to be submitted between now and January 13, 2023, so that corrections can be included in a finalized version of the map.
The final version of the map will be used to distribute funding from the Broadband, Equity, Access and Deployment (BEAD) program in summer 2023. As determined by the Department of Commerce last year, each state will get an initial $100 million from the $42.5 billion BEAD program, with additional funding to be distributed based on the number of unserved and underserved locations, according to the new national broadband map.
Members of the public, along with local governments and providers, will now be able to submit two different types of challenges: location (for example, incorrect location address, incorrect location unit count, etc.) and availability (for example, if the map incorrectly lists a certain provider or broadband technology as available).
While the FCC will continue collecting crowdsourced speed data for fixed speeds, that data is not part of the challenge process. Rather, the map is relying on maximum available advertised speeds.
References:
https://www.fcc.gov/document/fcc-releases-new-national-broadband-maps
https://broadbandmap.fcc.gov/home
https://www.fcc.gov/news-events/notes/2022/06/30/status-update-mapping-where-broadband-and-not-available-us
Additional information sources:
New users can download the FCC Speed Test App in both the Apple App Store and Google Play Store.
Existing app users should update the app to gain these new features.
A video tutorial and more information on how to submit challenges is available at fcc.gov/BroadbandData/consumers.
For more information about the BDC, please visit the Broadband Data Collection website at fcc.gov/BroadbandData.
---