Dell'Oro: SASE Market grew 33% in 2022; forecast to hit $8B in 2023
According to Dell'Oro Group, the ongoing need to modernize the network and security architecture for branch offices and hybrid users led to the vigorous 33% revenue growth in the SASE [1.] market. The market research firm anticipates that enterprises will continue to place a high priority on SASE and cause the overall SASE market to grow to $8B for the full year 2023.  In contrast, Gartner forecasts that total worldwide end-user spending on SASE will reach $9.2 billion in 2023, a 39% increase from 2022.
Note 1.  In 2019, Gartner coined the term secure access service edge, or SASE, that brings a more secure and flexible way to perform advanced security inspection directly in the cloud, instead of backhauling application traffic to a data center before forwarding it to the cloud. This cloud-first approach to security also aligns with the increasing adoption of hybrid work post-pandemic, where workers will balance their time in the office and working remote for the foreseeable future.
……………………………………………………………………………………………………………………………………………………………….
"3Q 2022 was the seventh consecutive quarter of year-over-year SASE revenue growth topping 25%, which signals the importance enterprises are placing on SASE," said Mauricio Sanchez, Research Director, Network Security, and SASE & SD-WAN at Dell'Oro Group. "Unlike some other network security markets we track, we expect the high investment priority will continue and lead to the SASE market eclipsing $8 B in 2023," added Sanchez.
Image Source: https://trustgrid.io/sase/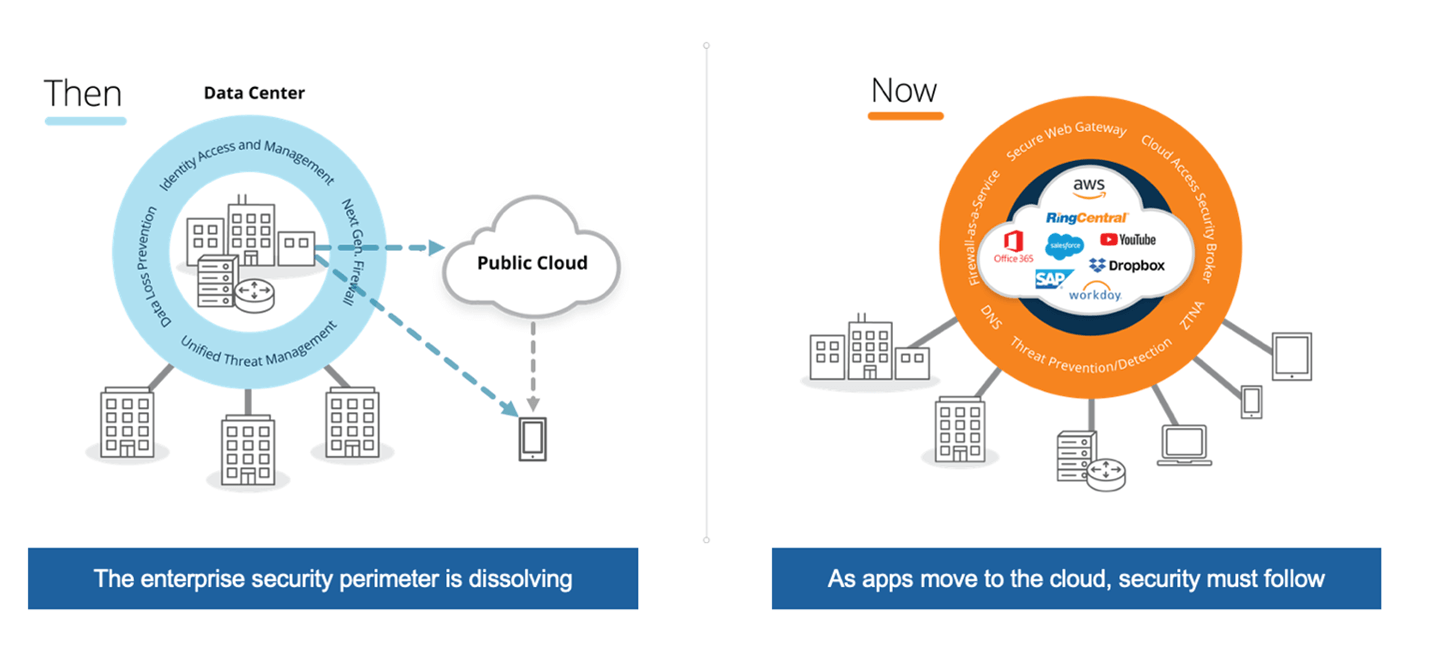 Additional highlights from the 3Q 2022 SASE & SD-WAN Quarterly Report:
SASE security, also referred to as SSE (the basket of products providing cloud-delivered SWG, CASB, ZTNA, and FWaaS), achieved its tenth consecutive quarter of sequential revenue expansion.
SASE networking, synonymous with SD-WAN, had a challenging Y/Y comparison in 3Q 2022 against a very strong 3Q 2021 when enormous pent-up demand was a significant driver. Nonetheless, the ongoing trend of improved supply chains allowed vendors to better service demand and sustain a similar level of market growth compared to recent quarters.
Cisco, Fortinet, Palo Alto Networks, Symantec/Broadcom, Versa Networks, VMware and Zscaler are the leading SASE suppliers, according to Del'Oro (see different list below).  However, Sanchez also mentioned another company not typically associated with SASE: Microsoft.
"The dark horse is Microsoft. Not a significant player today, but could easily become one virtually overnight," he said. "Microsoft – Windows, Azure – has all the technology elements to not only do SASE but compete on a number of other fronts: identity management, firewalls, email/content security, WAF, DDoS, endpoint, cloud security, cloud networking. Moreover, Microsoft has been beating the drum louder about their security capabilities and desire to go after share of security wallet."
Author's Note: SASE is a single vendor turn key solution so vendor selection is ultra important.
The Dell'Oro Group SASE & SD-WAN report includes manufacturers' revenue covering the SASE and Access Router markets. In addition, the report analyzes the SASE market from two perspectives, technology (SD-WAN networking and SSE security) and implementation (unified and disaggregated). The report also provides unit information for the Access Router market. To purchase this report, please contact us at [email protected].
Dell'Oro Group is a market research firm that specializes in strategic competitive analysis in the telecommunications, security, enterprise network, and data center infrastructure markets. Our firm provides in-depth quantitative data and qualitative analysis to facilitate critical, fact-based business decisions. For more information, contact Dell'Oro Group at +1.650.622.9400 or visit www.delloro.com.
…………………………………………………………………………………………………………………………………………………
Definition: SASE (an acronym coined by Gartner) converges network (SD-WAN, ZTNA) and network security services (SWG, CASB, FWaaS, etc). All of these services are integrated and delivered based on user and device identities, context, policies with continuous assessment of risk/trust throughout a session. This combination creates small perimeters around users, devices, and applications, that are then additionally hardened by security services.
Netskope research says that by 2024, at least 40% of enterprises are expected to have explicit strategies for adopting SASE. SASE solutions will help small to large businesses with extracting the security incidents mentioned in the below image. According to MarketWatch, the global SASE market is expected to reach $3936.4 million by 2026.
Image Source: https://trustgrid.io/sase/
According to Software Testing Help, the leading SASE vendors are:
To leverage the SASE platform, it should have cloud-native & cloud-based architecture. It should support all edges and be distributed globally across many PoPs (Points of Presence). A SASE platform with significant geographical reach will let you compete effectively and meet the requirements of low latency. A platform with agent-based capabilities can facilitate policy-based access, and some on-premises-based capabilities can provide network functions like QoS.
References:
https://www.delloro.com/news/strong-enterprise-demand-drives-sase-growth-33-percent-in-3q-2022/
https://www.fiercetelecom.com/telecom/microsoft-dark-horse-contender-sase-revenue-tipped-hit-8b-2023-delloro
https://www.softwaretestinghelp.com/top-sase-vendors/
---