ETSI NFV evolution, containers, kubernetes, and cloud-native virtualization initiatives
Backgrounder:
NFV, as conceived by ETSI in November, 2012, has radically changed.  While the virtualization and automation concepts remain intact, the implementation envisioned is completely different. Both Virtual Network Functions (VNFs) [1.] and Management, Automation, and Network Orchestration (MANO) [2.] were not commercially successful due to telco's move to a cloud native architecture.  Moving beyond virtualization to a fully cloud-native design helps push to a new level the efficiency and agility needed to rapidly deploy innovative, differentiated offers that markets and customers demand.  An important distinguishing feature of the cloud-native approach is that it uses Containers [3.] rather than VNFs implemented as VMs.
Note 1. Virtual network functions (VNFs) are software applications that deliver network functions such as directory services, routers, firewalls, load balancers, and more. They are deployed as virtual machines (VMs). VNFs are built on top of NFV infrastructure (NFVI), including a virtual infrastructure manager (VIM) like OpenStack® to allocate resources like compute, storage, and networking efficiently among the VNFs.
Note 2. Management, Automation, and Network Orchestration (MANO) is a framework for how VNFs are provisioned, their configuration, and also the deployment of the infrastructure VNFs will run on.  MANO has been superseded by Kubernetes, as described below.
Note 3.  Containers are units of a software application that package code and all dependencies and can be run individually and reliably from one environment to another.  Some advantages of Containers are:  faster deployment and much smaller footprint, factors that can help in improving the resource utilization and lowering resource consumption.
An article which compares Containers to VMs is here.
High Level NFV Framework: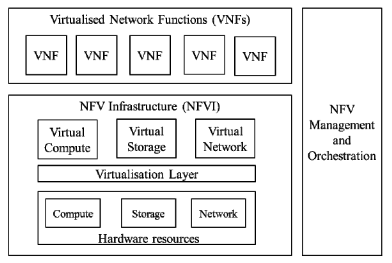 Kubernetes Defined:
Each application consisted of many of these "container modules," also called Pods, so a way to manage them was needed. Many different container orchestration systems were developed, but the one that became most popular was an open source project called Kubernetes which assumed the role of MANO. Kubernetes ensured declarative interfaces at each level and defined a set of building blocks/intents ("primitives") in terms of API objects. These objects are representation of various resources such as Pods, Secrets, Deployments, Services. Kubernetes ensured that its design was loosely coupled, which made it easy to extend it to support the varying needs of different workloads, while still following intent-based framework.
The traditional ETSI MANO framework as defined in the context of virtual machines along with 3GPP management functions.
ETSI MANO Framework and Kubernetes and associated constructs
Source of both diagrams: Amazon Web Services
…………………………………………………………………………………………………………………………………………………………………………………………………………………………….
ETSI NFV at 2023 MWC-Shanghai Conference:
During the 2023 MWC-Shanghai conference, ETSI hosted a roundtable discussion of its NFV and cloud-native virtualization initiatives.  There were presentations from China Telecom, China Mobile, China Unicom, SKT, AIS, and NTT DOCOMO. Apparently, telcos want to leverage opportunities in cloud-based microservices and network resource management, but it also has become clear that there are "challenges."
Three reoccurring themes during the roundtable were the following:
1) the best approach to implement containerization (i.e., Virtual Machine (VM)-based containers versus bare-metal containers) which have replaced the Virtual Network Machine (VNF) concept
2) the lack of End-to-End (E2E) automation;
3) the friction and cost that is incurred from the presence of various incompatible fragmented solutions and products.
Considering the best approach to implement containerization, most attendees present suggested that having a single unified backward-compatible platform for managing both bare metal and virtualized resource pools would be advantageous. Their top three concerns for selecting between VM-based containers and bare-metal containers were performance, resource consumption, and security.  The top three concerns for selecting between VM-based containers and bare-metal containers were performance, resource consumption, and security.
…………………………………………………………………………………………………………………………………………………………………………………………………………….
ETSI NFV Evolution:
While the level of achievements and real benefits of NFV might not equate among all service providers worldwide, partly due to the particular use cases and contexts where these operate.  Based on the ETSI NFV architecture, service providers have been able to build ultra-largescale telco cloud infrastructures based on cross-layer and multi-vendor interoperability. For example, one of the world's largest telco clouds based on the ETSI NFV standard architecture includes distributed infrastructure of multiple centralized regions and hundreds of edge data centers, with a total of more than 100,000 servers. In addition, some network operators have also achieved very high ratios of virtualization (i.e., amount of virtualized network functions compared to legacy ATCA-based network elements) in their targeted network systems, e.g., above 70% in the case of 4G and 5G core network systems. In addition, ETSI NFV standards are continuously providing essential value for wider-scale multivendor interoperability, also into the hyperscaler ecosystem as exemplified by recent announcements on offering support for ETSI NFV specifications in offered telco network management service solutions.
ETSI ISG NFV Release 5, initiated in 2021, had "consolidation and ecosystem" as its slogan.  It aimed to address further operational issues in areas such as energy efficiency, configuration management, fault management, multi-tenancy, network connectivity, etc., and consider new use cases or technologies developed by other organizations in the ecosystem
Work on ETSI NFV Release 6 has started.  It will focus on: 1) new challenges, 2) architecture evolution, and 3) additional infrastructure work items.
Key changes include:
The broadening of virtualization technologies beyond traditional Virtual Machines (VMs) and containers (e.g., micro VM, Kata Containers, and WebAssembly)
Creation of declarative intent-driven network operations
Integrating heterogenous hardware, Application Programming Interfaces (APIs), and cloud platforms through a unified management framework
All changes aim for simplification and automation within the NFV architecture. The developments are preceded by recent announcements of standards-based applications by hyperscalers: Amazon Web Services (AWS) Telco Network Builder (TNB) and Microsoft Azure Operator Nexus (AON) are two new NFV-Management and Orchestration (NFV-MANO)-compliant platforms for automating deployment of network services (including the core and Radio Access Network (RAN)) through the hybrid cloud.
As more network operators and vendors are already leveraging the potential of OS container virtualization (containers) technologies for deploying telecom networks, the ETSI ISG NFV also studied how to enhance its specifications to support this trend. During this work, the community has found ways to reuse the VNF modeling and existing NFV management and orchestration (NFV-MANO) interfaces to address both OS container and VM virtualization technologies, hence ensuring that the VNF modeling embraces the cloud-native network function (CNF) concepts, which is now a term commonly referred in the industry.
This has been achieved despite OS container and VM technologies having somewhat different management logic and resource descriptions. However, diverse and quickly changing open source solutions make it hard to define unified and standardized specifications. Nevertheless, due to the fact that both kind of virtualization technologies can and will still play a major role in the future to fulfill the various and broad set of telecom network use cases, efforts to further evolve them as well as to complement them with other newer virtualization technologies (e.g., unikernels) are needed.
Furthermore, driven by new application scenarios and different workload requirements (e.g., video, Cloud RAN, etc.), new requirements for deploying diversified heterogeneous hardware resources in the NFV system are becoming a reality. For example, to meet high-performance VNFs, requirements for heterogeneous acceleration hardware resources such as DPUs, GPUs, NPU, FPGAs, and AI ASIC are being brought forward. In another example, to meet the ubiquitous deployment of edge devices in the future, other types of heterogeneous hardware resources, such as integrated edge devices and specialized access
devices, are also starting to be considered.
NFV architectures have and will continue to evolve, especially with the rise of Artificial Intelligence (AI) and Machine Learning (ML) automation. Data centers, either cloud-based or "on-premises" are becoming complex, heterogeneous environments. In addition to Central Processing Units (CPUs), complementary Graphics Processing Units (GPUs) handle parallel processing functions for accelerated computing tasks of all kinds. AI, Deep Learning (DL), and big data analytics applications are underpinned by GPUs. However, as data centers have expanded in complexity, Digital Processing Units (DPUs) have become the third member of this data-centric accelerated computing model. The DPU helps orchestrate and direct the data around the data center and other processing nodes on the network.
……………………………………………………………………………………………………………………………………………………………………………………………………………………………………………………………
References:
https://www.abiresearch.com/market-research/insight/7782316-etsi-gathers-points-of-view-from-asian-tel/
https://www.etsi.org/images/files/ETSIWhitePapers/ETSI-WP-53-In-the-Light-of-Ten-ears-from-the-NFV-Introductory-Whitepaper.pdf
https://www.etsi.org/images/files/ETSIWhitePapers/ETSI-WP-54-Evolving_NFV_towards_the_next_decade.pdf
Updates in ETSI NFV for Accelerating the Transition to Cloud (abiresearch.com)
https://docs.aws.amazon.com/whitepapers/latest/ETSI-NFVO-compliant-orchestration-in-kubernetes/mapping-etsi-mano-to-kubernetes.html
https://docs.aws.amazon.com/pdfs/whitepapers/latest/ETSI-NFVO-compliant-orchestration-in-kubernetes/ETSI-NFVO-compliant-orchestration-in-kubernetes.pdf
---