1.   According to Dell'Oro Group's Wireless LAN Quarterly Report, the Wireless LAN market reached  a new high in the second quarter, eclipsing $2 Billion, with HPE Aruba and Juniper Mist overcoming supply constraints to contribute over two thirds of the shipment growth outside China. Enterprises saw a 10 percent increase in average prices compared to last year, boosting manufacturers' revenues and helping to defray additional costs.
"HPE and Juniper really pulled rabbits out of their hats this quarter ̶ Aruba and Mist represent the majority of the growth in units shipped outside China," says Siân Morgan, Wireless LAN Research Director at Dell'Oro Group. "It's like a game of whack-a-mole for the manufacturers. They'll get their hands on one particular access point component and then another shortage will pop up. We're expecting shipments to be lumpy through the next few quarters."
Cisco has promised shipments 'en masse' for enterprises, and all of the manufacturers are busy finding creative solutions: redesigning products, using brokerage firms, or bypassing component distributors.
"Wireless LAN solutions have also become more expensive for enterprises.  It's very rare to see such a long stretch of quarters with year-over-year price increases.  It's a combination of higher-end products being available, including the new Wi-Fi 6E technology, as well as a general move by the manufacturers to cover their escalating costs.  Looking ahead we have to ask ourselves how long the market will bear these higher prices," added Morgan.
Additional highlights from the 2Q 2022 Wireless LAN Quarterly Report:
The Wireless LAN market saw two distinct phenomena driving the growth: one in China, and another one in the markets outside China.
In light of the China lockdowns, the Wireless LAN market in China showed surprising strength with both Huawei and H3C pulling in strong quarters.
Wi-Fi 6E shipments accelerated this quarter, as another half dozen vendors started shipping products supporting the new 6 GHz band. However, now in its fourth quarter of product availability, Wi-Fi 6E is lagging the adoption rate of the prior two generations of Wi-Fi.
Revenue from public cloud-managed APs has outpaced the market.  The cloud-managed AP business is still dominated by Cisco – although this quarter, Juniper grabbed an outsized market share in cloud-managed Wireless LAN.
Sian wrote in an email to this author, "It is difficult to judge changes in market share based on one or two quarters, given that supply constraints are making shipment volumes choppy.  To understand how the market is unfolding it is useful to look at market share based on trailing four-quarter averages, which are shown in the chart below.
Dell'Oro note earlier this year that supply chain issues increased vendor backlogs by up to 15-times normal levels.  "Many enterprises have planned network upgrades and the popular connection is Wi-Fi. The trouble is getting it. Several manufacturers announced that components from second and third-tier suppliers became the bottleneck in 1Q22," said Tam Dell'Oro, Founder, CEO and Wireless LAN Analyst. "Supply constraints have resulted in highly volatile quarterly performance vendor-to-vendor depending on whether or not they have all the components. For example, sales may be up 20 percent in one quarter and down 20 percent the next. Another item, which could potentially cause delays, that we are keeping our eye on are the contract negotiations between the west coast dockworkers union and the Maritime Association," added Dell'Oro.
The Dell'Oro Group Wireless LAN Quarterly Report offers complete, in-depth coverage of the Enterprise Outdoor and Indoor markets, Wireless LAN Controllers with tables containing manufacturers' revenue, average selling prices, and unit shipments by the following wireless standards: 802.11ax (Wi-Fi 6 and 6E [6 GHz]), 802.11ac (Wi-Fi 5) Wave 1 vs. Wave 2, and historic IEEE 802.11 standards. The Enterprise market is portrayed by Public Cloud vs. Premises and Private Cloud deployments, as well as by ten Vertical markets and by Customer Size.  To purchase these reports, please contact us by email at [email protected].
……………………………………………………………………………………………………………………………………………………………………………………………………………………………………………..
2.  IDC reports that the enterprise segment of the worldwide wireless local area network (WLAN) market continued its strong growth in the second quarter of 2022 (2Q22), increasing 20.4% year over year to $2.1 billion.   That's according to the IDC report: "Worldwide Quarterly Wireless LAN Tracker."
The 20.4% annualized growth builds on the enterprise WLAN market growing 17.1% year over year in the first quarter of 2022. In the first half of 2022, the enterprise WLAN market has grown 18.4% compared to the first half of 2021. Growth in the enterprise WLAN market continues to be driven by the latest Wi-Fi standard, known as Wi-Fi 6 or 802.11ax. Wi-Fi 6 access points (AP) made up 76.5% of the revenues in the Dependent AP segment and accounted for 62.7% of unit shipments within the segment. Wi-Fi 5 products, also known as 802.11ac, made up the remaining balance of Dependent AP sales.
The consumer segment of the WLAN market declined 3.5% year over year in 2Q22, with the quarter's unit shipments remaining relatively flat at 0.6% growth compared to the first quarter of 2022. Adoption of Wi-Fi 6 continues in the consumer segment of the WLAN market too: In 2Q22, Wi-Fi 6 made up 33.5% of the market's revenues.
"The enterprise WLAN market continues to grow at a rapid clip, emphasizing the importance of wireless technology in the network and digital transformation goals of organizations across the globe," said Brandon Butler, research manager, Enterprise Networks at IDC. "The enterprise WLAN market is not immune to challenges however, with the supply chain disruptions and component shortages being notable examples. But strong demand for wireless refreshes to Wi-Fi 6 – and increasingly to Wi-Fi 6E – is buoying the market and leading to strong growth rates."
The enterprise WLAN market had mixed results across the globe. In the United States, the market increased 15.7% annually, while in Latin America the market grew 47.7% from a year earlier. In Canada the market declined 1.6%. In Western Europe, the market increased 45.4%, but in Central and Eastern Europe, the market declined 20.6%. Within Central and Eastern Europe, Russia's market declined 73.2% as the Russia-Ukraine war rages on. In the Middle East & Africa, the market rose 23.2%. In the Asia/Pacific region, excluding Japan and China, the market rose 26.5%, while in the People's Republic of China the market increased 8.7% year over year. In Japan the market rose 6.2%.
Vendor highlights (note that Juniper Mist is NOT mentioned by IDC as a leading wireless LAN vendor):
Cisco's enterprise WLAN revenues increased 19.3% year over year in 2Q22 to $792.0 million, giving the company market share of 37.7%, compared to market share of 41.5% in the previous quarter, 1Q22.
HPE-Aruba revenues rose 48.6% year over year in 2Q22, giving the company market share of 14.9%, down from 16.5% in the first quarter.
Ubiquiti enterprise WLAN revenues increased 10.5% year over year in 2Q22, giving the company 7.9% market share in the quarter, up from 7.1% in 1Q22.
Huawei enterprise WLAN revenues rose 20.0% year over year in 2Q22, giving the company 8.5% market share, up from 4.6% market share in the previous quarter.
H3C revenues increased 16.4% year over year in 2Q22, giving the company market share of 4.6%, up from 4.3% in 1Q22.
The IDC Worldwide Quarterly Wireless LAN Tracker provides total market size and vendor share data in an easy-to-use Excel Pivot Table format. The geographic coverage includes nine major regions (USA, Canada, Latin America, People's Republic of China, Asia/Pacific (excluding Japan & China), Japan, Western Europe, Central and Eastern Europe, and Middle East and Africa) and 60 countries. The WLAN market is further segmented by product class, product type, product, standard, and location. Measurement for the WLAN market is provided in vendor revenue, value, and unit shipments.
About IDC Trackers:
IDC Tracker products provide accurate and timely market size, vendor share, and forecasts for hundreds of technology markets from more than 100 countries around the globe. Using proprietary tools and research processes, IDC's Trackers are updated on a semiannual, quarterly, and monthly basis. Tracker results are delivered to clients in user-friendly Excel deliverables and on-line query tools.
References:
HPE Aruba and Juniper Mist Navigate Component Shortages to Gain Share, According to Dell'Oro Group
https://www.idc.com/getdoc.jsp?containerId=prUS49663322
https://www.idc.com/getdoc.jsp?containerId=IDC_P23464
According to a new research report "Wi-Fi 6 Market Global Forecast to 2027," published by MarketsandMarkets™, the global Wi-Fi 6 market size is expected to grow from $11.5 billion in 2022 to $26.2 billion by 2027, at a Compound Annual Growth Rate (CAGR) of 17.9% during the forecast period.
……………………………………………………………………………………………………………………………………
Editor's Note:
Wi-Fi 6 is an acronym for the IEEE 802.11ax standard.  Prior to the release of Wi-Fi 6, Wi-Fi standards were identified by version numbers ranging from 802.11b to 802.11ac.
…………………………………………………………………………………………………………………….
The managed  services Wi-Fi 6 market segment is expected to grow at a higher CAGR than enterprise or consumer Wi-Fi 6 during the forecast period.  Managed Service Providers (MSPs) offer are third–party IT service providers that remotely manage the IT infrastructure and systems of clients for backup and recovery of business–critical data. These service providers carry out 24/7 remote monitoring of Wi–Fi 6 networks for their commercial clients. Enterprises opt for managed services to overcome the challenges of budget constraints and technical expertise as managed service providers have skilled human resources, infrastructure, and industry certifications. They offer services to monitor and manage hardware devices and manage the availability and the performance of networks. They also ensure smooth operations and security of networks. The growth of the Wi–Fi 6 market is being driven by the increasing reliance by businesses on the use of IT to improve business productivity, coupled with a continuing rise in demand for specialized MSPs and cloud–based managed Wi–Fi 6 services.
Asia Pacific (APAC) region to record the highest growing region in the Wi-Fi 6 Market.  Important countries include Australia, Japan, Singapore, India, China, and New Zealand. The region is expected to witness the fast-paced adoption of Wi-Fi 6 software. The Asia Pacific region is estimated to be the fastest-growing Wi-Fi 6 Market owing to the rise in the adoption of new technologies, high investments for digital transformation, the rapid expansion of domestic enterprises, extensive development of infrastructures, and increasing GDP of various countries. Rapidly growing economies, such as China, Japan, Singapore, and India, are implementing Wi-Fi 6 solutions across multiple business processes to provide effective solutions.
Key and innovative vendors in the Wi-Fi 6 market are:
Cisco Systems (US), Intel Corporation (US), Huawei Technologies (China), NETGEAR (US), Juniper Networks (US), Broadcom (US), Qualcomm Inc. (US), Extreme Networks (US), Ubiquiti Networks (US), Fortinet Inc. (US), Aruba Networks (US), NXP Semiconductors (Netherlands), AT&T (US), Cambium Networks (US), D-Link Corporation (China), Alcatel-Lucent (US), TP-Link (China), MediaTek (China), Telstra (Australia), Murata (Japan), Sterlite Technologies Limited (India), Celeno (Israel), H3C (China), Senscomm Semiconductor (China), XUNISON (Ireland), Redway Networks (UK), VSORA (France), NEWRACOM (US), WILUS Group (South Korea), Federated Wireless (US).
References:
https://www.prnewswire.com/news-releases/wi-fi-6-market-worth-26-2-billion-by-2027–exclusive-report-by-marketsandmarkets-301523591.html
Philippines network operator Globe Telecom has partnered with Linksys, a provider of home and business WiFi services, to provide Globe At Home subscribers with Linksys' Atlas Pro 6 Dual-Band Mesh WiFi 6 system.
All Globe At Home subscribers can now pre-order the Linksys WiFi 6 Mesh device. Powered by Velop Intelligent Mesh, this dual-band WiFi 6 router is designed to allow more than 30 devices to connect across three bedrooms. It is best recommended for subscribers to Globe At Home's Unli Fiber Up 70 Mbps plan and up, the operator added.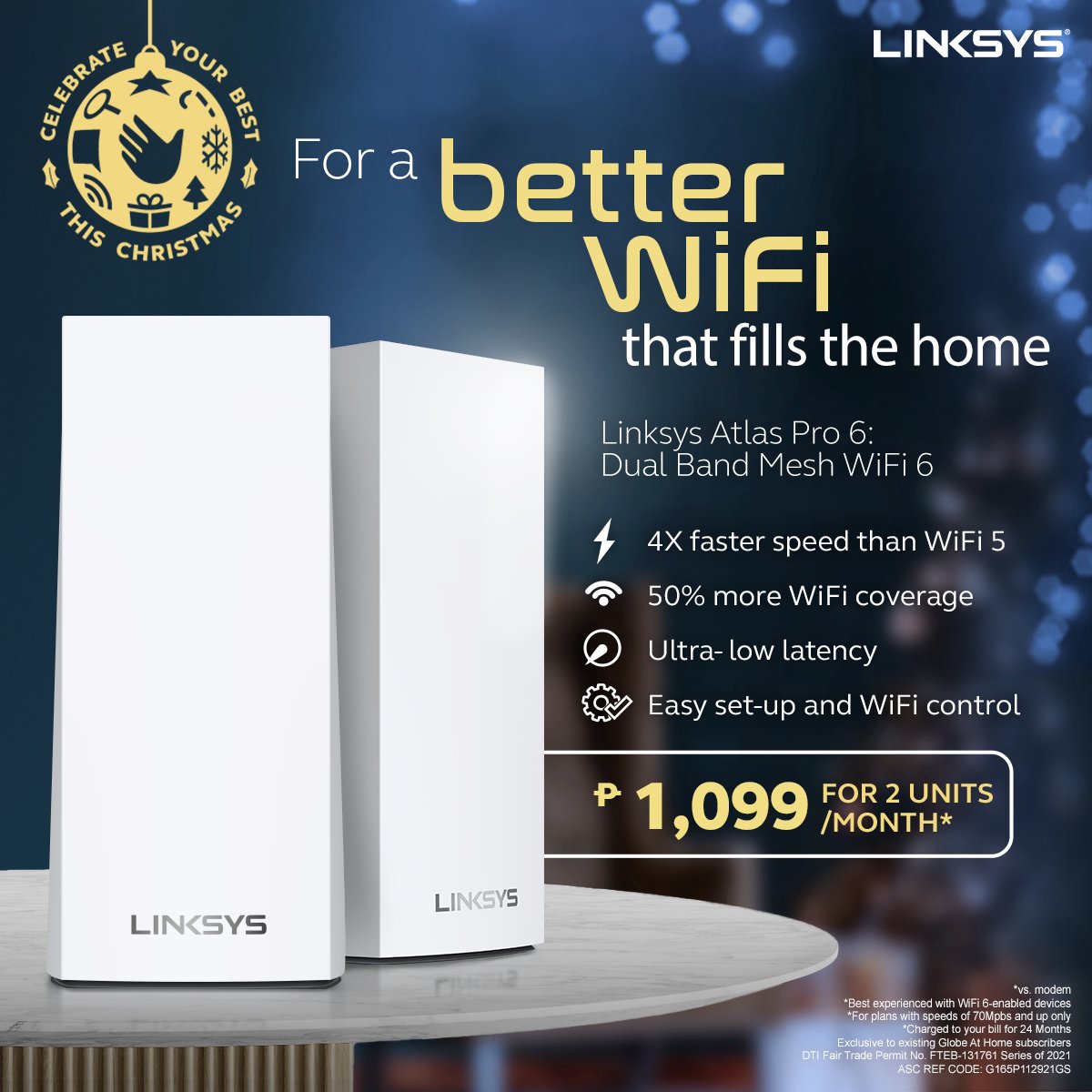 Globe customers can take up the Linksys Atlas Pro 6 (MX5502 – two units) for PHP 1,099 per month or for a one-time payment of PHP 19,995. For a limited time only, every pre-order will come with a bonus Samsung SmartThings camera worth PHP 5,500, Globe said.
"As a company whose mission is to give Filipinos the tools they need to keep winning in life despite all the challenges we face, we are always on the lookout for emerging technologies that can help us do just this," says Barbie Dapul, Vice President for Marketing of Globe At Home. "From our improved unli, fiber internet plans to Globe Streamwatch 2-in-1 Entertainment Box, and now the Linksys Atlas Pro 6 WiFi Mesh, all of our efforts are geared towards turning Filipino houses into powerhouses; homes that are capable of enriching familial bonds and at the same time, fulfilling dreams."
The Linksys Atlas Pro 6 makes so much sense especially in the post-pandemic setting with the internet becoming more central in people's lives and the home becoming a central venue for work, school, gaming, and family entertainment. The WiFi 6 competency is designed to deliver gigabit WiFi speeds to every corner of the home, including balconies and outdoor areas, offering the best home mesh WiFi coverage to date.
"With more people working from home, and attending school online, home networks are becoming increasingly constrained, especially when used for video or other streaming applications," said Kingsley Chan, Business Development Director, Linksys. "The new Linksys Atlas Pro 6 is designed to address this and provides all of the heavy WiFi lifting at a reasonable price."
Access to 160 MHz unleashes the true power of WiFi 6 technology—the least-congested channels on the 5 GHz band offer incredibly fast connectivity. Faster peak data rates allow work-from-home, online learning, streaming, and gaming devices to operate simultaneously without diminished bandwidth. Meanwhile, advanced security and parental controls all add to the essentiality of this upgrade to any home.
Additional Features and Benefits
4X Faster Speed than WiFi 5, Powerful WiFi 6 Mesh Coverage: WiFi 6 sends and receives multiple streams of data simultaneously, providing up to 4X more WiFi capacity to handle more mobile, streaming, gaming, and smart home devices.
Increased WiFi Range by 50%: Expands WIFI coverage up and lessens dead spots.
Ultra-Low Latency: Faster WiFi performance for lag-free online gaming and HD streaming to any device, providing 4X more speed compared to WiFi 5.
Easy set-up and WIFI controls with Linksys app let you access your network from anywhere, and view or prioritize which connected devices are using the most WiFi.
References:
https://www.globe.com.ph/about-us/newsroom/consumer/better-wider-wifi-globe-at-home-linksys.html
For more information, please visit shop.globe.com.ph/linksys-atlas-pro6-pre-order. You can also download the Globe At Home app and follow Globe At Home on Facebook.
https://www.linksys.com/us/whole-home-mesh-wifi/linksys-velop-intelligent-mesh-wifi-system-1-pack-white-ac1300/p/p-whw0101/
https://www.linksys.com/us/velop/
---