China's  three major wireless carriers— China Mobile, China Unicom , and China Telecom —will begin selling 5G services to consumers on Friday, November 1st in 50 major cities, including Beijing and Shanghai, said Chen Zhaoxiong, vice minister of the Ministry of Industry and Information Technology on Thursday October 31st at a Beijing conference. That will allow those with the few available 5G-China compatible smartphones to buy a subscription to access the network.  The Chinese telcos will charge by speed rather than data used. See the section on 5G Subscriber Pricing below.
A woman using her cellphone walks past a vehicle covered in a China Unicom 5G advertisement in Beijing on Sept. 17. Chinese phone carriers will begin offering 5G service Friday. (China Stringer Network/Reuters)
……………………………………………………………………………………………………………………………………………………………………………………………………………………..
The Chinese government has made building 5G a national priority, clearing red tape and reducing costs so the three wireless providers introduce the new technology as swiftly as possible.  "They've made this a national priority. It's part of the [Communist] Party's ability to show that it's delivering the goods," said Paul Triolo, head of geo-technology at the Eurasia Group consultancy. "And in the middle of the trade dispute and the actions against Huawei, it's even more important for China to show that they are continuing to move forward despite all these challenges," he added.
"This 5G technology is part of an overall, far-reaching revolution, and it will bring brand-new changes to the economic society," China Telecom President Ke Ruiwen said at the launch Thursday.
China is forecast to spend between $130 billion and $217 billion on 5G between 2020 and 2025, according to a study by the state-run China Academy of Information and Communications Technology.
While some countries, such as South Korea, Australia and parts of the United States, have started 5G pilots, the Chinese government has embarked on a centrally planned push to roll out the technology on a commercial basis and give it an unassailable lead in the global race to install 5G wireless networks.
"The commercialization of 5G technology is a great measure of [President] Xi Jinping's strategic aim of turning China into a cyber power, as well as an important milestone in China's information communication industry development," said Wang Xiaochu, president of China Unicom.
China President Xi has described the world as on the cusp of a fourth industrial revolution, one characterized by advances in information technology and artificial intelligence, analysts at Trivium China, a consultancy, wrote in a research note this week. "Xi wants to make sure that China is at the forefront of this new revolution — getting 5G up and running is a way to get a leg up in that race," they said.
China's central government wants 5G coverage extended to cover all of Beijing, Shanghai, Hangzhou and Guangzhou by the end of the year. The country's largest carrier, China Mobile, which has 900 million cellphone subscribers, says it will be able to offer 5G services in more than 50 cities this year.  Chinese technology companies have been touting the industrial applications of 5G, such as managing cement production,  typhoon monitoring and  surgeries performed by robots.
"Two robots accurately planted 12 guide pins into the patients' spines," Beijing Daily reported after a surgeon manipulated robots performing operations in Shandong and Zhejiang provinces. "The signal transmission ran smoothly during the surgery without latency, despite the distance of over 1,000 miles."
The advent of 5G could also enable some of China's more repressive applications of technology, such as
facial recognition
. Travelers will be able to enjoy faster check-in with facial recognition systems at Beijing's
gargantuan new airport
, a China Unicom representative said at a 5G exhibition in the capital accompanying the commercial rollout.
But there are challenges ahead.  For one, relatively few people have 5G-enabled phones or other 5G end points. Huawei has released phones that can support 5G, as have China's Oppo and South Korea's Samsung.  Apple, which comprises only 6 percent of the Chinese market, is not expected to release a 5G-capable iPhone until next year.
Further, there are questions about whether Huawei, the main manufacturer of base stations, can keep up its production pace now that it is on an American blacklist. The Trump administration, citing national security concerns, added Huawei and 70 of its affiliates to its entity list in May, 
blocking them
 from buying American parts and components.
"It's going to be really hard for Huawei to overcome the supply chain problems," said Triolo of Eurasia Group. "Basically, the United States has Swiss-cheesed their supply chain, and there are big question marks hanging over Huawei's ability to plug the holes."
The technology is at the heart of a bitter dispute between China and the United States. Washington has expressed concern that 5G hardware made by Chinese manufacturers might contain hidden "back doors" that could enable spying.
……………………………………………………………………………………………………………………………………………………………………………………………………………..
5G Base Stations:
Approximately 13,000 5G base stations have been installed in Beijing, the communications administration said this week.  About 10,000 are already operating.  China already has a total of more than 80,000 5G macro base stations, typically cellular towers with antennas and other hardware that beam wireless signals over wide areas, government officials said. They said China will end the year with about 130,000, while Bernstein Research estimates South Korea will be in second place with 75,000, followed by the U.S. with 10,000.  Piper Jaffray estimated that of the 600,000 5G base stations expected to be rolled out worldwide next year, half will be in China.
Indeed, Chinese operators are launching 5G across fully 80,000 macro base stations this week, a figure that will grow to 130,000 by the end of this year, according to Wall Street research firm Bernstein Research. In comparison, the firm expects South Korea to end the year in second place with 75,000 base stations, followed by the US with just 10,000.
This is why most analyst firms expect China to command the largest number of 5G customers in the years to come.
Telecom-industry executives say Chinese wireless carriers now (and in the future will) buy the most of their cellular transmission equipment from Huawei. Analysts say U.S. measures that limit American businesses from selling components to Huawei could make it more difficult for the Chinese company to make telecom equipment. Huawei says it has taken steps to minimize the impact of such restrictions.
China's 5G Standard-Approved by ITU-R for IMT 2020 RIT:
It should be noted that China has their own 5G standard, which has been presented to and progressed by ITU-R WP5D which is standardizing the radio aspects of IMT 2020.  Here's an excerpt of an IEEE Techblog comment:
On July 17, 2019, the ITU-R WP5D#32 meeting ended in Buzios, Brazil. At this meeting, China completed the complete submission of the IMT-2020 (5G) candidate technical solution, and obtained the official acceptance confirmation letter from the ITU regarding the 5G candidate technology solution.

China's 5G wireless air interface technology (RIT) solution is based on 3GPP new air interface (NR) and narrowband Internet of Things (NB-IoT) technology. Among them, NR focuses on the technical requirements of enhanced mobile broadband (eMBB), low latency and high reliability (URLLC) scenarios, and NB-IoT meets the technical requirements of large-scale machine connection (mMTC) scenarios. China's 5G technology program expresses China's understanding of 5G technology, considers the integrity and advancement of 5G technology, and maintains the global unified standard with 3GPP as the core, reflecting China's industrial interests.

According to the requirements of the ITU, the complete 5G technology submission materials include technical solution descriptive templates, link budget templates, performance indicator satisfaction templates, and self-assessment reports. China's 5G technology solutions and technical support materials come from many research results of domestic equipment manufacturers, operators and research units, reflecting the collective efforts and collective wisdom in the domestic communications field. China's self-assessment research results show that the NR+NB-IoT wireless air interface technology solution can fully meet the technical vision requirements of IMT-2020 and the IMT-2020 technical indicators.
https://techblog.comsoc.org/2019/07/17/itu-r-wp5d-brazil-meeting-imt-2020-rit-srits-from-3gpp-china-korea-advance-nufront-submits-new-rit/#comment-3673
……………………………………………………………………………………………………………………………………………………………………………………………………………..
5G Subscriber Pricing:
Chinese officials said the cheapest 5G subscription would cost 128 yuan (about $18) for 30 gigabytes of data a month.  To enjoy the peak speed of 1 Gbps, Unicom customers will pay about $45 a month.
According to the Wall Street research analysts at New Street Research, China Mobile is offering 5G services at a 30% discount to 4G. "A 30GB 4G customer who migrated to 5G on the same plan would see their bill reduced from RMB 188 to RMB 128. Even a 12GB 4G customer migrating to the 30GB 5G plan would save money," the analysts wrote in a report to investors.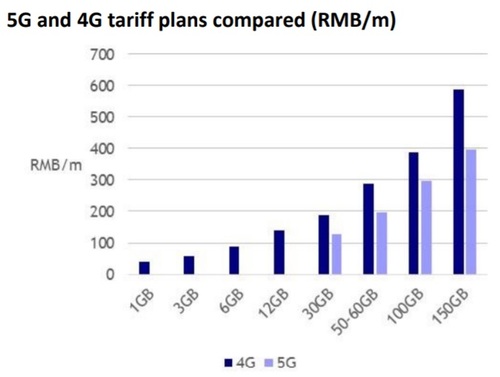 10 million people in China have already registered their intention to purchase 5G subscriptions as we wrote in this IEEE Techblog post.
Mike Dano of Light Reading had this assessment:
A big part of the "race to 5G" discussion centers on spectrum allocation. Operators in China and South Korea are mainly using midband spectrum like 3.5GHz for their 5G buildouts, while operators in the US are using bands ranging from 600MHz to 28GHz because there isn't much available midband spectrum for 5G in the US. This could change in the months to come as the FCC moves to release midband C-Band spectrum for 5G in the US. Midband spectrum is useful for 5G because it toes the line between providing high-speed connections and covering large geographic areas.

However, in recent months some US policymakers have been working to move the goalposts in the "race to 5G" a bit by pointing out that China's 5G buildout is mandated by the country's ruling party while 5G buildouts in the US and elsewhere are driven by the economics of competition and capitalism. As FCC Commissioner Brendan Carr explained earlier this month, that means 5G networks in the US will be more directly aligned with consumer demands than 5G networks in China.

Regardless, China's official 5G rollout is starting this week — in a country with about four times more potential customers than the US — and it's undoubtedly going to dwarf the 5G efforts in other countries in terms of most industry metrics.
Huawei vs Apple 5G smartphones in China:
Huawei Technologies has increased its smartphone market share in China to a record 42% in the September quarter, growing shipments by 66% year over year, while Apple's share fell by two percentage points to 5%, with its shipments falling 28% year over year, according to Canalys.
Huawei has already released 5G-enabled phones—and they're cheaper than Apple's high-end non-5G iPhones. More models from other Chinese competitors will likely come out in the next few quarters. Industry analysts don't expect a 5G-enabled iPhone until late 2020.
Rosenblatt Securities analyst Jun Zhang predicts many low- to mid-end iPhone users in China could switch to a cheaper 5G Android phone in 2020. "We believe Apple still has yet to face its biggest challenge in China, which is the upcoming launch of 5G service in November as well as the coverage for 5G service expanding to 100 cities by the middle of 2020," Zhang wrote in a Thursday research note. "We continue to expect Apple's smartphone market share will decline once 5G service starts in more cities," he wrote in a note to clients.
……………………………………………………………………………………………………………………………………………………………………………………………………………..
References:
https://www.lightreading.com/mobile/5g/chinese-operators-start-selling-5g-at-a-big-discount/d/d-id/755307?
https://www.wsj.com/articles/china-is-about-to-switch-on-5g-its-behind-the-u-s-but-not-for-long-11572494203?
https://www.barrons.com/articles/chinas-5g-networks-go-live-friday-it-could-be-bad-news-for-apple-51572545922
https://www.washingtonpost.com/world/asia_pacific/showing-that-the-us-wont-hold-it-back-china-launches-commercial-5g-service/2019/10/31/4f2e64da-fb16-11e9-9e02-1d45cb3dfa8f_story.html
China's big 3 mobile operators have 9 Million 5G subscribers in advance of the service; Barron's: China to lead in 5G deployments
Bloomberg: China Races Ahead of the U.S. in the Battle for 5G Supremacy
by Sheryl Tian Tong Lee –with assistance from Ed Ludlow (emphasis added by Alan J Weissberger)
In the race for tech supremacy, China is betting it can seize the lead by building the world's biggest 5G wireless networks.
To get there, the country is banking on the might of the one-party state, making sure its state-run carriers have access to cheap airwaves and fast, inexpensive approvals for putting up the hundreds of thousands of base stations the fastest wireless technology requires.
As top phone companies elsewhere flinch at the cost of building 5G wireless networks, China's operators are barreling ahead on the government's mandate, virtually free airwaves and equipment at less than half the price U.S. carriers are paying. Being the first to reach massive scale with the speediest networks could also help the nation in its ambition to dominate industries like factory automation, robotics and autonomous driving.
"5G is a foundation and catalyst for reinventing industries," said Paul Lee, U.K.-based head of research for technology, media and telecommunications at Deloitte Consulting. "The fundamental benefit of being the first mover is that you can build business models on the back of that and export them to other countries."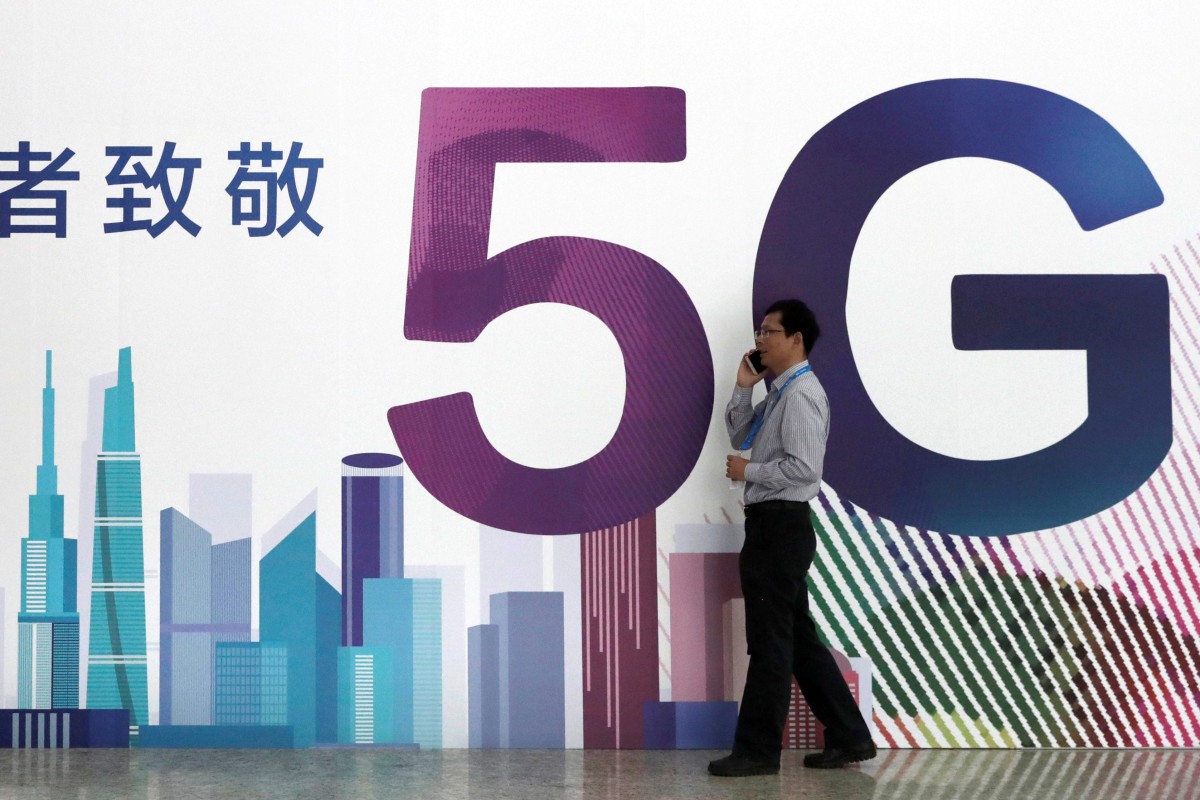 As top mobile carriers elsewhere flinch at the cost of building 5G wireless networks, China's telecoms operators are barrelling ahead on the government's mandate, virtually free airwaves and equipment at less than half the price U.S. carriers are paying. Photo: Reuters
…………………………………………………………………………………………………………………………………………………………………………………………………
South Korea's wireless carriers were the first to offer commercial 5G services, with SK Telecom Co. launching its network in April and Samsung Electronics Co. already offering a 5G-enabled smartphone. But while U.S. carriers in cities like Minneapolis and Chicago have the beginnings of 5G offerings, it's in sheer scale where China is on course to edge ahead over the next five years.
That size advantage is also reflected in China's push to invent 5G technology.
The country's biggest companies have already established a lead in patents related to the fastest network technology. Huawei Technologies Co., the contentious Chinese firm that's at the heart of current U.S.-China tensions, leads the pack as the world's biggest telecom equipment supplier. Meanwhile, ZTE Corp., which has also drawn America's ire in the past, comes in at No. 3, according to Berlin-based patent information platform IPlytics.
But that won't necessarily translate into network domination. China's three carriers — China Mobile Ltd., China Unicom Hong Kong Ltd. and China Telecom Corp. — are all state owned.
Harvard Business School economist Shane Greenstein says having a bigger government role in 5G may not provide an advantage.  "The private firms in China in the digital sector have an admirable record with experimentation," he said. "The state-owned enterprises? That is a more open question."
Where the government is helping is by holding carriers' costs down. Beijing is providing the bandwidth for 5G networks almost for free, said Edison Lee, head of telecommunications research at Jefferies Hong Kong Ltd.
U.S. carriers, by contrast, bid $2.7 billion at two auctions of 5G airwaves, according to the Federal Communications Commission. In India, the industry group representing carriers says its members can't afford spectrum the government expects to auction for about $84 billion this year.
China's operators will also pay less for base stations. The units will probably cost about $30,000 each in China, less than half the $65,000 average in other developed-economy markets, Jefferies' Lee estimates. Two of China's carriers have said they will lease the equipment, cutting the upfront cash outlay to roughly $6,500 each per year, Lee said.
In the U.S., where the government is leaving 5G to companies, carriers will also pay at least five times more than Chinese operators for civil engineering and permits to build 5G, Deloitte Consulting estimates.
The world's most populous country has about 350,000 5G-operable base stations deployed, nearly 10 times as many as in the U.S., according to a U.S. Department of Defense study.  The report says China claiming the position of standard-setter for 5G, with Huawei leading rival telecom equipment makers, is a risk for the U.S. This "will create serious security risks for DoD going forward if the rest of the world accepts Chinese products as the cheaper and superior option for 5G," said the report.
Concern about China's edge prompted President Donald Trump to float a proposal last year for the government to build a secure 5G network, people familiar with the matter said at the time. The idea was dropped immediately after regulators, industry leaders and elected officials immediately pushed back, saying companies were in a better position to move the technology forward.
The idea of China securing that advantage is also stoking concern among competitors beyond the telecommunications equipment and wireless services industries.
Chip maker Qualcomm Inc., for example, is urging the U.S. and other Western governments to embrace 5G more rapidly or risk falling behind China in the potentially life-saving technology, which is also used in self-driving cars.
China will be "saving hundreds if not thousands of lives much sooner than we will as we fumble to determine which is the standard that is best for the long-term road map in the Western world," Qualcomm Senior Vice President Patrick Little said in an interview.
While China's autonomous driving infrastructure lags behind the U.S., where firms like Alphabet Inc.'s Waymo LLC are streaking ahead in real-world testing, Chinese companies are developing related 5G applications with some established car makers.
ZTE is conducting 5G tests on self-driving cars, and has cooperated with Audi AG's China unit to develop "internet-of-vehicles" technology. In robotics, ZTE is working with internet giant Baidu Inc. and Siasun Robot & Automation Co. to develop 5G applications.
Byton Ltd., an electric-vehicle startup based in Nanjing, will release an SUV in China at the end of this year that includes a range of artificial intelligence functions and a roof antenna that offers data transfer rates up to 10 Gbit a second, which it says is hundreds of times the normal average bandwidth.
The benefits of setting 5G standards may also help China outside its borders. President Xi Jinping's Belt and Road Initiative includes a push for Chinese-built network infrastructure across the length of a route that runs across Eurasia, the Middle East and parts of Africa.
"Developing countries that are more sensitive to cost will find the Chinese 5G price-point difficult to turn down, especially when the offer is sweetened with infrastructure and project-financing incentives like the Belt and Road Initiative," the U.S. Department of Defense report said.
For its part, the U.S. is letting the private sector guide 5G development, Federal Communications Commission Chairman Ajit Pai said in a June speech to wireless executives in New York.
"For all this talk about our government's focus on 5G, make no mistake that we are pursuing a market-based strategy to promote 5G development and deployment," Pai said.
And the U.S.' crackdown on Huawei, cutting it off from components made by American companies, will be a big test of China's 5G lead, says Anthea Lai, Asia Pacific media, technology and telecommunications analyst for Bloomberg Intelligence.
"Before Huawei's ban, China had strong potential to lead in standalone 5G," Lai said. "But now we have to see how much Huawei can keep its carrier business intact," she said.  "Huawei could slow China down."
…………………………………………………………………………………………………………………………………………………………………………………..
To contact the reporter on this story: Sheryl Tian Tong Lee in Hong Kong at slee1905@bloomberg.net
To contact the editors responsible for this story: Dave McCombs at dmccombs@bloomberg.net, Jason Clenfield
©2019 Bloomberg L.P.
Original article at: https://www.bnnbloomberg.ca/china-races-ahead-of-the-u-s-in-the-battle-for-5g-supremacy-1.1296079
………………………………………………………………………………………………………………………………………………………………………………………
From South China Morning Post: 5G to stimulate US$500 billion in China tech growth over next five years
At the Global Mobile Internet Conference held in the southern coastal city of Guangzhou on Saturday, a representative from the China Academy of Information and Communications Technology (CAICT) forecast that 5G will stimulate growth in the country's information technology industry by 3.3 trillion yuan (US$479 billion) over the next five years.  That development is expected to rev up digitization across traditional industries, which would yield more than 10 trillion yuan in growth over the same period.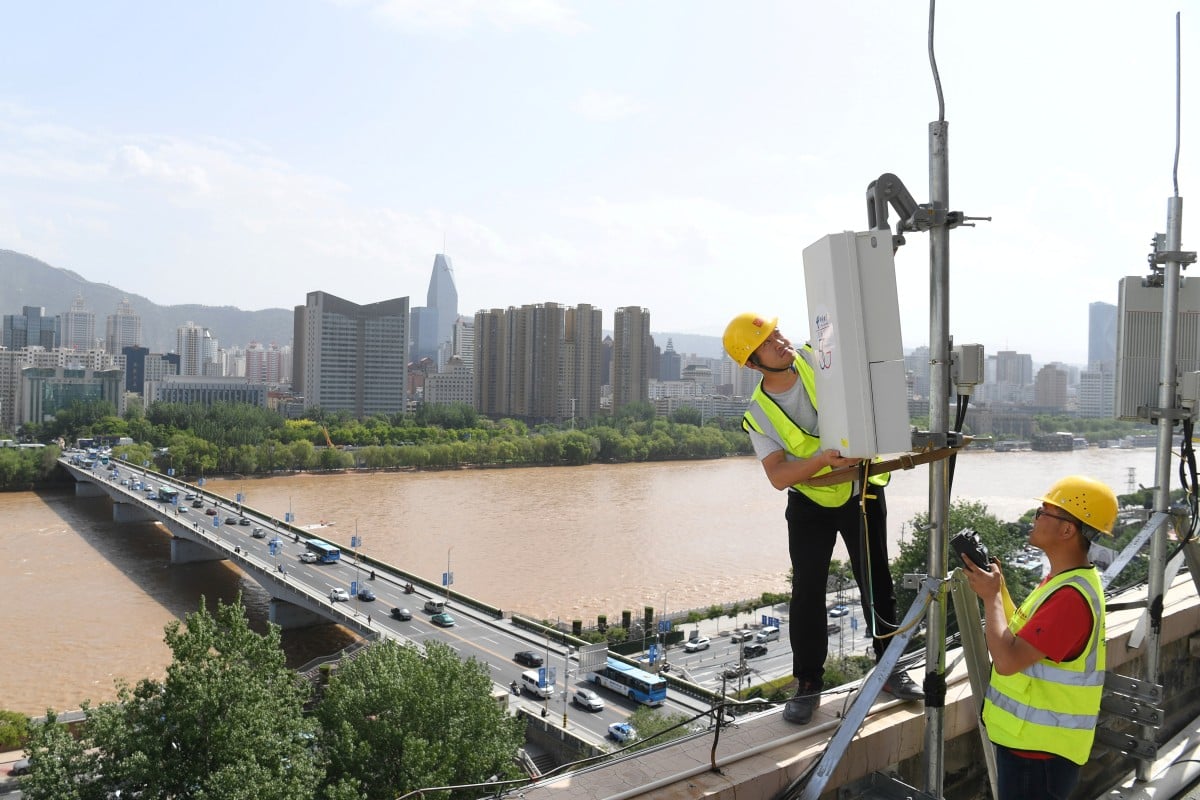 China Telecom technicians set up a 5G base station near the Yellow River in Lanzhou, capital of Gansu province in northwestern China, on May 16, 2019. Photo: Reuters
………………………………………………………………………………………………………………………………………………………………………………………..
"4G has changed people's lives," said Chen Jinqiao, deputy chief engineer at the academy, which is under the Ministry of Industry and Information Technology (MIIT), during his presentation on China's 5G development in the conference. But he indicated that 5G has the potential "to change society," as different industries adopt the technology to their various requirements.
With peak data rates up to 100 times faster than what current 4G networks provide, 5G has been held out as "the connective tissue" for the Internet of Things, autonomous cars, smart cities and other new mobile applications, establishing the backbone for the industrial internet.
………………………………………………………………………………………………………………………………………………………………………………………..
References:
https://www.scmp.com/tech/big-tech/article/3020815/5g-stimulate-us500-billion-china-tech-growth-over-next-five-years
https://www.scmp.com/tech/enterprises/article/2168665/made-china-2025-5g-offers-worlds-biggest-mobile-market-chance-seize
China IT Minister: 5G Licenses Coming this Year; Deployment timing dependent on technology maturation
China Telecom to accelerate 5G deployment; 100% Fiber network coverage; Gigabit fiber broadband deployment
https://techblog.comsoc.org/tag/chinas-imt-2020-promotion-group/
http://www.imt-2020.cn/en/category/65569
https://money.cnn.com/2018/04/16/technology/china-united-states-5g-technology-study/index.html
ZTE has announced it has completed the third phase of China's Ministry of Industry and Information Technology's (CMIIT)  "IMT-2020 core network tests."  Those tests include: evaluating the performance of the network function virtualization infrastructure (NFVI) platform, the service performance of the 5G core network element, as well as system capacity and stability.  The security function test focuses on the device identity management and registration, as well as the security service procedure in mobility.
ZTE said it has passed all test cases and met the requirements for service model and specification indicators with its test results, verifying the maturity of its 5G core network solution.
ZTE general manager for telecom cloud and core network products Liu Jianhua said the completion of the testing represents another significant milestone following the vendor's completion of 5G standalone architecture functionality testing in September last year.
"ZTE will actively support and cooperate with (China) Ministry of Industry and Information Technology to help the 5G industry grow mature and embrace the arrival of the 5G era," he said.
In addition to the completion of IMT-2020 third phase 5G core network test, ZTE also completed the world's first end-to-end connection between 5G device and system, based on 3.5 GHz NSA networking, by virtue of ZTE's 5G prototype smartphones.   In collaboration with China Telecom, ZTE recently completed the first 4G and 5G network interoperability test using standalone (non LTE) architecture. In collaboration with Tianjin Unicom and Port of Tianjin, ZTE released 5G&MEC smart port industry applications.
…………………………………………………………………………………………………………………………………………………………………..
China's IMT-2020 (5G) promotion group was jointly established in 2013 by the Chinese Ministry of Industry and Information Technology, the National Development and Reform Commission, and the Ministry of Science and Technology, based on the original IMT-Advanced Promotion Group. In China, it is the primary platform through which 5G research and international exchange and cooperation is conducted.  Operators participating in the IMT-2020 Promotion Group include China Mobile, China Telecom, China Unicom and Japanese telecoms operator NTT DoCoMo. Vendors which are part of the initiative are Huawei, ZTE, Ericsson, Nokia, Datang and Samsung. A number of chipset and test measurement vendors, including Qualcomm, Intel, Mediatek, Ctec, Keysight Technologies and Rohde & Schwartz are also part of the initiative.
Under the guidance of China's Ministry of Industry and Information Technology, IMT-2020 (5G) Promotion Group initiated the third phase of 5G R&D tests in November 2017, aiming at continuously improving the 5G technological R&D capability and promoting the maturity of the 5G industry.  Under this initiative, China state-run telcos are in the process of deploying 5G networks in 16 cities to trial the pre-IMT 2020 standard wireless technology.
China has previously announced plans to commercialize 5G mobile networks as early as 2020. China Mobile, the world's largest mobile operator, previously said it aims to deploy 10,000 5G base stations across China in 2020.
https://www.telecomasia.net/content/zte-completes-third-phase-imt-2020-core-network-tests
---