China's  three major wireless carriers— China Mobile, China Unicom , and China Telecom —will begin selling 5G services to consumers on Friday, November 1st in 50 major cities, including Beijing and Shanghai, said Chen Zhaoxiong, vice minister of the Ministry of Industry and Information Technology on Thursday October 31st at a Beijing conference. That will allow those with the few available 5G-China compatible smartphones to buy a subscription to access the network.  The Chinese telcos will charge by speed rather than data used. See the section on 5G Subscriber Pricing below.
A woman using her cellphone walks past a vehicle covered in a China Unicom 5G advertisement in Beijing on Sept. 17. Chinese phone carriers will begin offering 5G service Friday. (China Stringer Network/Reuters)
……………………………………………………………………………………………………………………………………………………………………………………………………………………..
The Chinese government has made building 5G a national priority, clearing red tape and reducing costs so the three wireless providers introduce the new technology as swiftly as possible.  "They've made this a national priority. It's part of the [Communist] Party's ability to show that it's delivering the goods," said Paul Triolo, head of geo-technology at the Eurasia Group consultancy. "And in the middle of the trade dispute and the actions against Huawei, it's even more important for China to show that they are continuing to move forward despite all these challenges," he added.
"This 5G technology is part of an overall, far-reaching revolution, and it will bring brand-new changes to the economic society," China Telecom President Ke Ruiwen said at the launch Thursday.
China is forecast to spend between $130 billion and $217 billion on 5G between 2020 and 2025, according to a study by the state-run China Academy of Information and Communications Technology.
While some countries, such as South Korea, Australia and parts of the United States, have started 5G pilots, the Chinese government has embarked on a centrally planned push to roll out the technology on a commercial basis and give it an unassailable lead in the global race to install 5G wireless networks.
"The commercialization of 5G technology is a great measure of [President] Xi Jinping's strategic aim of turning China into a cyber power, as well as an important milestone in China's information communication industry development," said Wang Xiaochu, president of China Unicom.
China President Xi has described the world as on the cusp of a fourth industrial revolution, one characterized by advances in information technology and artificial intelligence, analysts at Trivium China, a consultancy, wrote in a research note this week. "Xi wants to make sure that China is at the forefront of this new revolution — getting 5G up and running is a way to get a leg up in that race," they said.
China's central government wants 5G coverage extended to cover all of Beijing, Shanghai, Hangzhou and Guangzhou by the end of the year. The country's largest carrier, China Mobile, which has 900 million cellphone subscribers, says it will be able to offer 5G services in more than 50 cities this year.  Chinese technology companies have been touting the industrial applications of 5G, such as managing cement production,  typhoon monitoring and  surgeries performed by robots.
"Two robots accurately planted 12 guide pins into the patients' spines," Beijing Daily reported after a surgeon manipulated robots performing operations in Shandong and Zhejiang provinces. "The signal transmission ran smoothly during the surgery without latency, despite the distance of over 1,000 miles."
The advent of 5G could also enable some of China's more repressive applications of technology, such as
facial recognition
. Travelers will be able to enjoy faster check-in with facial recognition systems at Beijing's
gargantuan new airport
, a China Unicom representative said at a 5G exhibition in the capital accompanying the commercial rollout.
But there are challenges ahead.  For one, relatively few people have 5G-enabled phones or other 5G end points. Huawei has released phones that can support 5G, as have China's Oppo and South Korea's Samsung.  Apple, which comprises only 6 percent of the Chinese market, is not expected to release a 5G-capable iPhone until next year.
Further, there are questions about whether Huawei, the main manufacturer of base stations, can keep up its production pace now that it is on an American blacklist. The Trump administration, citing national security concerns, added Huawei and 70 of its affiliates to its entity list in May, 
blocking them
 from buying American parts and components.
"It's going to be really hard for Huawei to overcome the supply chain problems," said Triolo of Eurasia Group. "Basically, the United States has Swiss-cheesed their supply chain, and there are big question marks hanging over Huawei's ability to plug the holes."
The technology is at the heart of a bitter dispute between China and the United States. Washington has expressed concern that 5G hardware made by Chinese manufacturers might contain hidden "back doors" that could enable spying.
……………………………………………………………………………………………………………………………………………………………………………………………………………..
5G Base Stations:
Approximately 13,000 5G base stations have been installed in Beijing, the communications administration said this week.  About 10,000 are already operating.  China already has a total of more than 80,000 5G macro base stations, typically cellular towers with antennas and other hardware that beam wireless signals over wide areas, government officials said. They said China will end the year with about 130,000, while Bernstein Research estimates South Korea will be in second place with 75,000, followed by the U.S. with 10,000.  Piper Jaffray estimated that of the 600,000 5G base stations expected to be rolled out worldwide next year, half will be in China.
Indeed, Chinese operators are launching 5G across fully 80,000 macro base stations this week, a figure that will grow to 130,000 by the end of this year, according to Wall Street research firm Bernstein Research. In comparison, the firm expects South Korea to end the year in second place with 75,000 base stations, followed by the US with just 10,000.
This is why most analyst firms expect China to command the largest number of 5G customers in the years to come.
Telecom-industry executives say Chinese wireless carriers now (and in the future will) buy the most of their cellular transmission equipment from Huawei. Analysts say U.S. measures that limit American businesses from selling components to Huawei could make it more difficult for the Chinese company to make telecom equipment. Huawei says it has taken steps to minimize the impact of such restrictions.
China's 5G Standard-Approved by ITU-R for IMT 2020 RIT:
It should be noted that China has their own 5G standard, which has been presented to and progressed by ITU-R WP5D which is standardizing the radio aspects of IMT 2020.  Here's an excerpt of an IEEE Techblog comment:
On July 17, 2019, the ITU-R WP5D#32 meeting ended in Buzios, Brazil. At this meeting, China completed the complete submission of the IMT-2020 (5G) candidate technical solution, and obtained the official acceptance confirmation letter from the ITU regarding the 5G candidate technology solution.

China's 5G wireless air interface technology (RIT) solution is based on 3GPP new air interface (NR) and narrowband Internet of Things (NB-IoT) technology. Among them, NR focuses on the technical requirements of enhanced mobile broadband (eMBB), low latency and high reliability (URLLC) scenarios, and NB-IoT meets the technical requirements of large-scale machine connection (mMTC) scenarios. China's 5G technology program expresses China's understanding of 5G technology, considers the integrity and advancement of 5G technology, and maintains the global unified standard with 3GPP as the core, reflecting China's industrial interests.

According to the requirements of the ITU, the complete 5G technology submission materials include technical solution descriptive templates, link budget templates, performance indicator satisfaction templates, and self-assessment reports. China's 5G technology solutions and technical support materials come from many research results of domestic equipment manufacturers, operators and research units, reflecting the collective efforts and collective wisdom in the domestic communications field. China's self-assessment research results show that the NR+NB-IoT wireless air interface technology solution can fully meet the technical vision requirements of IMT-2020 and the IMT-2020 technical indicators.
https://techblog.comsoc.org/2019/07/17/itu-r-wp5d-brazil-meeting-imt-2020-rit-srits-from-3gpp-china-korea-advance-nufront-submits-new-rit/#comment-3673
……………………………………………………………………………………………………………………………………………………………………………………………………………..
5G Subscriber Pricing:
Chinese officials said the cheapest 5G subscription would cost 128 yuan (about $18) for 30 gigabytes of data a month.  To enjoy the peak speed of 1 Gbps, Unicom customers will pay about $45 a month.
According to the Wall Street research analysts at New Street Research, China Mobile is offering 5G services at a 30% discount to 4G. "A 30GB 4G customer who migrated to 5G on the same plan would see their bill reduced from RMB 188 to RMB 128. Even a 12GB 4G customer migrating to the 30GB 5G plan would save money," the analysts wrote in a report to investors.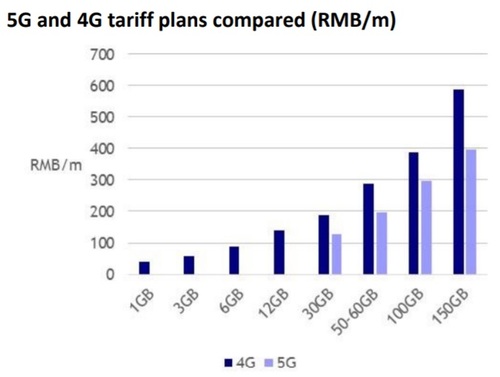 10 million people in China have already registered their intention to purchase 5G subscriptions as we wrote in this IEEE Techblog post.
Mike Dano of Light Reading had this assessment:
A big part of the "race to 5G" discussion centers on spectrum allocation. Operators in China and South Korea are mainly using midband spectrum like 3.5GHz for their 5G buildouts, while operators in the US are using bands ranging from 600MHz to 28GHz because there isn't much available midband spectrum for 5G in the US. This could change in the months to come as the FCC moves to release midband C-Band spectrum for 5G in the US. Midband spectrum is useful for 5G because it toes the line between providing high-speed connections and covering large geographic areas.

However, in recent months some US policymakers have been working to move the goalposts in the "race to 5G" a bit by pointing out that China's 5G buildout is mandated by the country's ruling party while 5G buildouts in the US and elsewhere are driven by the economics of competition and capitalism. As FCC Commissioner Brendan Carr explained earlier this month, that means 5G networks in the US will be more directly aligned with consumer demands than 5G networks in China.

Regardless, China's official 5G rollout is starting this week — in a country with about four times more potential customers than the US — and it's undoubtedly going to dwarf the 5G efforts in other countries in terms of most industry metrics.
Huawei vs Apple 5G smartphones in China:
Huawei Technologies has increased its smartphone market share in China to a record 42% in the September quarter, growing shipments by 66% year over year, while Apple's share fell by two percentage points to 5%, with its shipments falling 28% year over year, according to Canalys.
Huawei has already released 5G-enabled phones—and they're cheaper than Apple's high-end non-5G iPhones. More models from other Chinese competitors will likely come out in the next few quarters. Industry analysts don't expect a 5G-enabled iPhone until late 2020.
Rosenblatt Securities analyst Jun Zhang predicts many low- to mid-end iPhone users in China could switch to a cheaper 5G Android phone in 2020. "We believe Apple still has yet to face its biggest challenge in China, which is the upcoming launch of 5G service in November as well as the coverage for 5G service expanding to 100 cities by the middle of 2020," Zhang wrote in a Thursday research note. "We continue to expect Apple's smartphone market share will decline once 5G service starts in more cities," he wrote in a note to clients.
……………………………………………………………………………………………………………………………………………………………………………………………………………..
References:
https://www.lightreading.com/mobile/5g/chinese-operators-start-selling-5g-at-a-big-discount/d/d-id/755307?
https://www.wsj.com/articles/china-is-about-to-switch-on-5g-its-behind-the-u-s-but-not-for-long-11572494203?
https://www.barrons.com/articles/chinas-5g-networks-go-live-friday-it-could-be-bad-news-for-apple-51572545922
https://www.washingtonpost.com/world/asia_pacific/showing-that-the-us-wont-hold-it-back-china-launches-commercial-5g-service/2019/10/31/4f2e64da-fb16-11e9-9e02-1d45cb3dfa8f_story.html
China's big 3 mobile operators have 9 Million 5G subscribers in advance of the service; Barron's: China to lead in 5G deployments
---