Consistent with the strong fiber build-out megatrend, Cincinnati Bell [1.] said it will now be doing business in Ohio, Kentucky and Indiana under the new Altafiber brand. With its takeover by Macquarie Infrastructure now complete, the company will continue to put attention on expanding its geographic reach and investing into its broadband network. Cincinnati Bell will transition to the Altafiber brand over the next 6-9 months. The change will not impact Hawaiian Telcom and the IT services business, branded as CBTS.
Note 1.  Cincinnati Bell was founded in 1873 as the City and Suburban Telegraph Association and later called the Cincinnati and Suburban Bell Telephone Company starting in 1903.
"The investment in fiber, our geographic expansion, and our partnership with Macquarie mark a clear inflection point for the company. And it's all incredibly exciting and positive for our employees and for the communities and customers that we serve," said Leigh Fox, President and CEO of altafiber.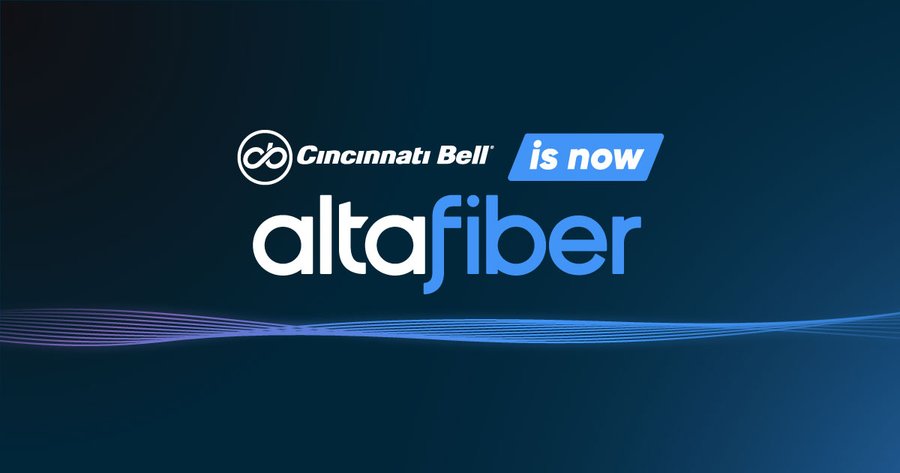 "The word 'alta' is rooted in a word that means elevated, and that's what altafiber is doing: We're providing an elevated connection through fiber and raising the standard of service to our customers and the communities," the company said. Cincinnati Bell said the new Altafiber brand and mission statement embodies the company's tagline, "Connecting What Matters," while capturing its transformation into a fiber optic based carrier positioned to support customers over the next 150 years.
As the leading supplier of fibre services in Greater Cincinnati, Altafiber has invested over USD 1 billion into the fiber optic network and now offers Fiber-to-the-Premises (FTTP) connectivity to 60 percent of all locations in the area. The idea is to provide the services to all of the addresses in the area over the next fibre years.
Altafiber will also bring fiber beyond its traditional operating area through partnerships with Greene County in Ohio, and City of Greendale, Indiana. Altafiber has established a regional headquarter in the Dayton market, including a retail store and business office in the city.
Fox noted that the he company's commitment to the community, its customers, and leadership continues:
• Commitment to the community. altafiber and its employees will continue to support community initiatives – particularly those that provide increased access to education, employment, and healthcare opportunities – and increase investments into sustainability, safety, and diversity and inclusion initiatives.
•Commitment to customers. altafiber will continue to provide customers with the same great service they have come to expect from the company.
• Leadership. The current executive team will continue to lead the company. altafiber will also honor its legacy through the recently launched "Bell Charitable Foundation," an exciting new platform for corporate giving that will allow the company to more strategically support
organizations that are focused on Economic, Environmental, Social, Technology, and Health & Wellbeing initiatives.
"We are proud of the Cincinnati Bell name, and it will always be a part of our history," said Fox. "We are still the local hometown company, with 2,000 employees across Greater Cincinnati who are dedicated to connecting our customers with what matters most through technology for the next 150 years," Fox said.
About altafiber:
Cincinnati Bell is now doing business as "altafiber" in Ohio, Kentucky, and Indiana. The Company delivers integrated communications solutions to residential and business customers over its fiber-optic network including high-speed internet, video, voice and data. The Company also provides service in Hawai'i under the brand Hawaiian Telcom. In addition, the Company's enterprise customers across the United States and Canada rely on CBTS and OnX, wholly-owned subsidiaries, for efficient, scalable office communications systems and end-to-end IT solutions.
References:
https://info.cincinnatibell.com/altafiber
https://fs.hubspotusercontent00.net/hubfs/2444853/Acquisition%20files%20-%20Ewing/AF_LP_Ewing/Altafiber_Press%20Release_Feb.%2028.pdf
https://www.telecompaper.com/news/cincinnati-bell-rebrands-to-altafiber–1416259
Cincinnati Bell is the latest telco to undertake a smart city deployment project.  Under an agreement with the city of Dayton, OH, Cincinnati Bell will install fiber and provide free Wi-Fi in the historic Oregon district of the city. The regional telecom network provider will also provide technology for cameras on the street as well as software to help economic development efforts.
Cincinnati Bell smart city deployment includes:
Analytics and engagement software to support local businesses and drive economic development
Cameras will be installed throughout the business district, including in alleyways and parking lots
Links from the Wi-Fi portal will enable users to easily contact legislators and/or make donations to The Dayton Foundation
"We are so incredibly grateful for Cincinnati Bell's generosity," said Kyle Babirad, president of the Oregon District Business Association.
"The importance of connectivity within the Oregon District cannot be overstated. Cincinnati Bell's work with us improves our ability to connect with each other and with the broader Dayton community."
"Cincinnati Bell is committed to supporting the City of Dayton and Oregon District Business Association," said Jason Praeter, president and general manager of Cincinnati Bell's Entertainment and Communications business.
"As a lifelong Dayton resident currently residing in Bellbrook, I am especially proud that Cincinnati Bell is a part of this important project," he added.
…………………………………………………………………………………………………………
The Cincinnati Bell smart city deployments in Dayton is the latest example of a telecom provider getting involved with a smart city deployment within or near its serving area. Other examples:
AT&T participated in a smart lighting project in Atlanta, Georgia.
Smart lighting also was a focus for a C Spire smart city deployment in Ridgeland, Mississippi.
Sprint deployed Wi-Fi in Kansas City to support public Wi-Fi connectivity as well as video cameras and smart lighting.
In some cases, service providers are getting involved in these projects to learn more about the smart city and to enhance public perceptions of the company. But some smart city projects have the potential to benefit service providers in other ways and have generated competition among service providers.
For example, AT&T and Verizon both pursued smart city opportunities in San Jose and each company ended up being involved in a different aspect of the project. A key motivation was the possibility of gaining access to prime small cell locations within the city.
References:
https://www.telecompetitor.com/cincinnati-bell-smart-city-deployment-will-serve-dayton-neighborhood/
https://www.smartcitiesworld.net/news/news/cincinnati-bell-helps-oregon-district-deploy-smart-city-solution-4540
---