A study by leading data and analytics company GlobalData reveals that network operators don't seem to know how to market this new phase of the technology to their customers.  The study by GlobalData Technology was a July 2022 audit of around 30  standalone 5G (5G SA)  commercial deployments worldwide.
The conclusion was that  although operators are keen to promote the adoption of  5G SA in general marketing messages—largely focusing on the improved network quality and capabilities for enterprises—the number of 5G SA references within consumer 5G service portfolios are few and far between.  GlobalData found "many operators marketed  5G SA very similarly to how operators have been marketing non-standard 5G for years," which itself has yet to be a financial success for wireless telcos.
Emma Mohr-McClune, Service Director at GlobalData, comments: "The lack of effective standalone 5G promotion is a real problem for the future of 5G monetization. Standalone 5G will be a vital requirement for a lot of the more exciting 5G use cases, from autonomous devices to commercial augmented and virtual reality."
The research found that there were a few exceptional cases of standalone 5G marketing and branding, but many operators marketed standalone 5G very similarly to how operators have been marketing non-standard 5G for years.
Mohr-McClune continues: "The few exceptional cases—in Singapore, but also in Germany and elsewhere—make for fascinating study. In the future, we could see more operators position standalone 5G as greener, safer and more reliable than future generations of wireless technology, but the current industry is still waiting for signature use cases to give the upgrade meaning to consumers. In the meantime, we believe that most operators will focus on marketing the technology to the business sector, where there are more immediate and distinctive use cases emerging.
"In the Enterprise sector, it's an entirely different story. Standalone 5G enables enterprises to set up their own, closed Private 5G networks, to better manage the connectivity in ultra-connected working set-ups, such as ports and mines – or even 'slice' the network for prioritized levels of service for mission-critical operations. The benefits, use cases and ROI are far clearer. But in selling Standalone 5G to consumers, operators are going to have to make sure they don't repeat the same promises they spun out for non-standalone 5G, or risk appearing to contradict themselves.
The GlobalData report echoed one recently put forth by LightCounting, which tied the tepid deployment pace of 5G SA networks to the industry's inability to produce compelling use and business cases.
The firm noted that ongoing "headwinds" have limited the deployment of 5G SA networks to just 20 at the end of last year. This was just 10% of the 200 5G non-standalone (NSA) commercial networks deployed worldwide.
Those headwinds are led by "the lack of 5G business cases beyond enhanced mobile broadband combined with some network architecture issues" that continue "to inhibit 5GC SBA [5G core service-based architecture] rollouts."
"Communications service providers are just sweating their EPC/vEPC [evolved packet core/virtualized evolved packet core] assets, in such conditions, there is no rush to move to 5GC SBA," the firm explained.
Here's a simplified block diagram of 5G non-standalone vs 5G standalone networks: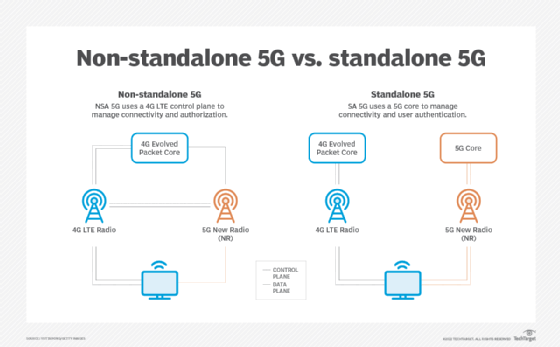 References:
https://www.globaldata.com/media/technology/mobile-operators-failing-come-strong-marketing-story-standalone-5g-says-globaldata/
https://www.sdxcentral.com/articles/analysis/telecom-operators-failing-5g-sa-globaldata-finds/2022/08/
The number of 5G mobile subscriptions worldwide is forecast to reach 3.9 billion by the end of 2026, according to new research from data and analytics company GlobalData. 5G will be 35.1% of all global mobile subscriptions at that time.  Other predictions:
Global 5G service revenues will total $609 billion (€517bn).
5G is forecast to generate monthly ARPU of $14.15 in 2026, more than double 4G's monthly ARPU of $5.48.
5G is expected to bring down the per-bit cost for carriers. The basic cost efficiencies that 5G brings will enable operators and developers alike to create new applications for the technology as it becomes to mature and develop.
5G has yet to make a significant mark in terms of the faster data speeds, latency and other hallmarks that will enable advanced features such as self-driving cars and cloud gaming.  A number of 5G operators are beginning to sell cloud gaming services. Telia in Sweden and EE in the UK are selling Microsoft's Xbox Game Pass Ultimate memberships that include cloud gaming. Telia customers can also buy a dedicated cloud gaming promotion featuring an Android phone, Telia data plan and a free Razer Kishi universal Android controller and the Xbox Game Pass in one bundle.
"Although we have not yet seen all that 5G is capable of in early deployments, the technology has a multitude of future opportunities for telecom operators," said Lynnette Luna, Principal Analyst with GlobalData. "Not only will capacity bring down the per-bit cost for carriers, the basic cost efficiencies that 5G brings will enable operators and developers alike to create new applications for the technology as it becomes to mature and develop.
[We believe that those 5G telco opportunities will ONLY be realized via deployment of a 5G SA Core network.]
"This growing innovation will contribute to an expected rise in 5G mobile subscriptions worldwide. At the end of 2026, GlobalData predicts there will be 3.9 billion such subscriptions, representing 35.1% of total subscriptions."
Some revenue-generating strategies seen in the US and Europe on 4G networks also resonate on 5G networks. Within the US postpaid wireless market in particular, operators have always enticed users to sign up for premium plans through service bundles, such as video streaming and gaming.
In some markets, we are beginning to see more advanced bundles marketed with 5G, said GlobalData. Vodafone is in the process of rolling out Nreal smart glasses in its 5G markets across Europe, offering an interest-free hardware bundle and an app called Vodafone 5G Reality AR.
"Operators will continually improve their bundles with new 5G features. Eventually they will take advantage of ultra-low latency and consistent gigabit data speeds," Luna concludes.
…………………………………………………………………………………………………………………………………………………………..
Separately, Research & Markets new report, 5G In Defense Global Market Report 2021: COVID-19 Growth and Change forecasts that the global 5G in defense market is expected to grow from $39.62 million in 2020 to $71.24 million in 2021 at a compound annual growth rate (CAGR) of 79.82%.Major players in the 5G in defense market are Ericsson, Huawei, Nokia Networks, Samsung, NEC, Thales Group, L3Harris Technologies Inc., Raytheon Technologies, Ligado Networks, Wind River Systems Inc., AT&T, and Qualcomm Technologies Inc.
The 5G-Defense Market growth is mainly due to the high speed, low latency (?) offered by 5G and growing adoption of autonomous and connected defense devices. The market is expected to reach $646.61 million in 2025 at a CAGR of 73.57%.
The 5G in defense market consists of sales of 5G technology and services by entities (organizations, sole traders, and partnerships) that are engaged in providing 5G technology and services for military and homeland security uses. 5G for defense is expected to improve reconnaissance, intelligence, and surveillance systems and processing, streamline logistics systems for increased efficiency and enable new methods of control and command. 5G in defense is used to transfer video, text, image, and voice data with faster bandwidth of 300 GHz to create data on demand for the battlefield.
The main types of communication infrastructure for 5G in defense are small cell, macro cell, radio access network (RAN). Small cell infrastructure uses wireless receivers and transmitters to provide network coverage to smaller areas. Macro cell provides radio coverage for cellular networks through large towers and antennas across a wider area. Radio Access Network (RAN) connects individual devices to other parts of a network through radio connections.
The various network technology in 5G in defense include software-defined networking (SDN), fog computing (FC), mobile edge computing (MEC), network functions virtualization (NFV). The different types of network used comprises enhanced mobile broadband (eMBB), ultra-reliable low-latency communications (URLLC), and massive machine type communications (MMTC). 5G in defense are used in areas such as military and homeland security.
North America was the largest region in the 5G in defense market in 2020. Asia Pacific region is predicted to record fastest growth over the forecast period. The regions covered in this report are Asia-Pacific, Western Europe, Eastern Europe, North America, South America, Middle East and Africa.
The countries covered in the 5g in defense market report are Australia, Brazil, China, France, Germany, India, Indonesia, Japan, Russia, South Korea, UK, and USA.
References:
We haven't even begun to see 5G's capabilities, says GlobalData – GlobalData
https://www.telecomlead.com/5g/5g-to-bring-in-arpu-of-14-15-per-month-versus-5-48-for-4g-100889
https://www.businesswire.com/news/home/20210719005455/en/5G-in-Defense-Global-Market-Report-2021—ResearchAndMarkets.com
---