Paradise Mobile, a new Mobile Network Operator (MNO) building a greenfield, cloud-native, Open RAN (oRAN) 4G/5G mobile network from the ground up in Bermuda, today announced the selection of Amazon Web Services, Inc. (AWS) as its preferred cloud provider to help build an Open RAN 4G/5G network and bring innovative services to Bermuda for the first time.
Paradise Mobile will leverage AWS for digital platform workloads, with agreements to roll out AWS edge services on island to host the wireless core and Open RAN DU and CU workloads. Paradise Mobile is also working to bring AWS services to the island, which will provide local businesses and innovators in the IoT industry the necessary tools and infrastructure to rapidly develop, test and deploy cutting edge products and services. The new environment will provide the ability for a secure, scalable, and high-performance network, optimized for businesses to develop and launch their next big thing.
Sam Tabbara, Co-Founder and CEO, Paradise Mobile, said: "We see Amazon as a strategic long-term collaborator who shares our vision and values, and has the ability to significantly accelerate our roadmap of innovative new products and services we want to launch in Bermuda. This relationship will allow us to provide our customers with the best possible experience and create a hub for IoT innovation in Bermuda and beyond."
Tabbara said Paradise plans to run its 5G network operations – including management software from Mavenir – directly inside a Kubernetes stack running on AWS. To do so, Tabbara explained that Paradise will install an instance of AWS inside a LinkBermuda data center and will run AWS at the base of each of its roughly two dozen planned cell towers.  "The opportunity for us with AWS is to accelerate that [5G] future," Tabbara told Light Reading.
The new IoT environment will also provide businesses with access to a wide range of AWS services. These services will give businesses the ability to process and analyze vast amounts of data in real-time, enabling them to create new and innovative products and services.
Sameer Vuyyuru, head of worldwide business development at AWS, said: "Leveraging AWS helps reduce time-to-market as well as create a new path to deliver innovation to customers. Our work with Paradise Mobile will not only help Paradise Mobile rapidly build, scale, and manage its mobile network but also offer secure solutions to accelerate innovation across Bermuda."
Paradise intends to  build specific network-based applications and services that can be used by other operators.  Drone operations is one of the first 5G use cases that Paradise plans to support. Tabbara said that the company is in discussions with an unnamed drone startup that may use the Paradise 5G network for testing.
AWS will play a key role in that strategy, according to Tabbara. He explained that enterprise developers are already familiar with AWS' cloud computing platform and therefore will be able to add networking into the mix as Paradise lights up its 5G operations. "Anyone who knows how to code applications … if you are able to code within that [AWS] ecosystem, then there's value add for us to be in that same ecosystem," Tabbara said.  The drone startup plans to do its development work inside the relatively familiar confines of Amazon's cloud computing platform. "We're already co-developing some of these solutions," Tabbara said.
The announcement is yet another win for AWS as the hyperscaler competes against Oracle, Microsoft and Google Cloud for the telecom business.  Omdia asked 49 telecom executives to list which public cloud or clouds their company is currently using to run any network functions, and respondents could select all that apply.  Here was their response: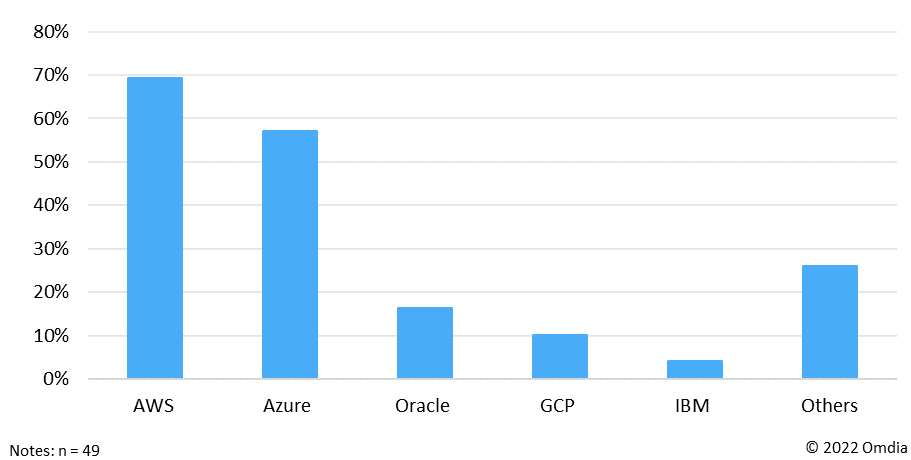 Note: Azure is Microsoft's cloud offering, Google Cloud Platform is Google/Alphabet's
…………………………………………………………………………………………………………………………………
Paradise Mobile is building a next generation wireless net network in Bermuda, followed by other CARICOM markets to be announced in the near future.
About Paradise Mobile:
Paradise Mobile is building a world of effortless connection with a next generation wireless network launching in multiple markets and countries, starting with Bermuda in 2023. Visit www.paradisemobile.com to learn more.
References:
https://www.prnewswire.com/news-releases/paradise-mobile-selects-amazon-web-services-as-its-preferred-cloud-provider-to-create-advanced-iot-innovation-environments-301782589.html
https://www.lightreading.com/service-provider-cloud/aws-may-be-pulling-ahead-of-microsoft-and-google-in-telecom/d/d-id/781666
https://www.lightreading.com/service-provider-cloud/heres-why-paradise-mobile-chose-aws-for-its-5g-cloud/d/d-id/784056?
---