Highlights of 2017 Telecom Infrastructure Project (TIP) Summit
Executive Summary:
The Telecom Infra Project (TIP) is gaining a lot of awareness and market traction, judging by last week's very well attended TIP Summit at the Santa Clara Convention Center.  The number of telecom network operators presented was very impressive, especially considering that none were from the U.S. with the exception of AT&T, which presented on behalf of the Open Compute Project (OCP) Networking Group.   It was announced at the summit that the OCP Networking group had formed an alliance with TIP.
The network operators that presented or were panelists included representatives from:  Deutsche Telekom AG, Telefonica, BT, MTN Group (Africa),  Bharti Airtel LTD (India), Reliance Jio (India), Vodafone, Turkcell (Turkey), Orange, SK Telecom, TIM Brasil, etc.  Telecom Italia, NTT, and others were present too.   Cable Labs – the R&D arm of the MSOs/cablecos – was represented in a panel where they announced a new TIP Community Lab (details below).
Facebook co-founded TIP along with Intel, Nokia, Deutsche Telekom, and SK Telecom at the 2016 Mobile World Congress event.  Like the OCP (also started by Facebook), its mission is to dis-aggregate network hardware into modules and define open source software building blocks. As its name implies, TIP's focus is telecom infrastructure specific in its work to develop and deploy new networking technologies. TIP members include more than 500 companies, including telcos, Internet companies, vendors, consulting firms and system integrators.  Membership seems to have grown exponentially in the last year.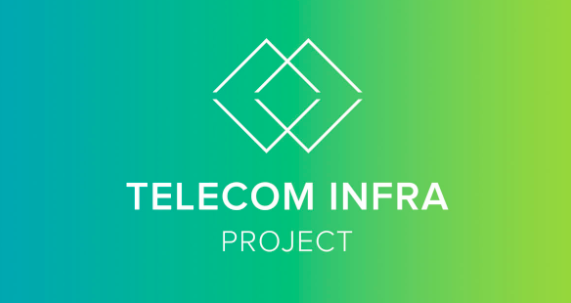 During his opening keynote speech, Axel Clauberg, VP of technology and innovation at Deutsche Telekom and chairman of the TIP Board of Directors, announced that three more operators had joined the TIP Board: BT, Telefonica, and Vodafone.
"TIP is truly operator-focused," Clauberg said. "It's called Telecom Infrastructure Project, and I really count on the operators to continue contributing to TIP and to take us to new heights." That includes testing and deploying the new software and hardware contributed to TIP, he added.
"My big goal for next year is to get into the deployment stage," Clauberg said. "We are working on deployable technology. [In 2018] I want to be measured on whether we are successfully entering that stage."
Jay Parikh, head of engineering and infrastructure at Facebook, echoed that TIP's end goal is deployments, whether it is developing new technologies, or supporting the ecosystem that will allow them to scale.
"It is still very early. Those of you who have been in the telco industry for a long time know that it does not move lightning fast. But we're going to try and change that," Parikh said.
…………………………………………………………………………………………………………………….
TIP divides its work into three areas — access, backhaul, and core & management — and each of the project groups falls under one of those three areas.  Several new project groups were announced at the summit:
Artificial Intelligence and applied Machine Learning (AI/ML): will focus on using machine learning and automation to help carriers keep pace with the growth in network size, traffic volume, and service complexity. It will also work to accelerate deployment of new over-the-top services, autonomous vehicles, drones, and augmented reality/virtual reality.
End-to-End Network Slicing (E2E-NS): aims to create multiple networks that share the same physical infrastructure. That would allow operators to dedicate a portion of their network to a certain functionality and should make it easier for them to deploy 5G-enabled applications.
openRAN: will develop RAN technologies based on General Purpose Processing Platforms (GPPP) and disaggregated software.
The other projects/working groups are the following:
Edge Computing: This group is addressing system integration requirements with innovative, cost-effective and efficient end-to-end solutions that serve rural and urban regions in optimal and profitable ways.
 This group is pioneering a 60GHz wireless networking system to deliver gigabits of capacity in dense, urban environments more quickly, easily and at a lower cost than deploying fiber.  A contribution was made to IEEE 802.11ay task force this year on use cases for mmW backhaul.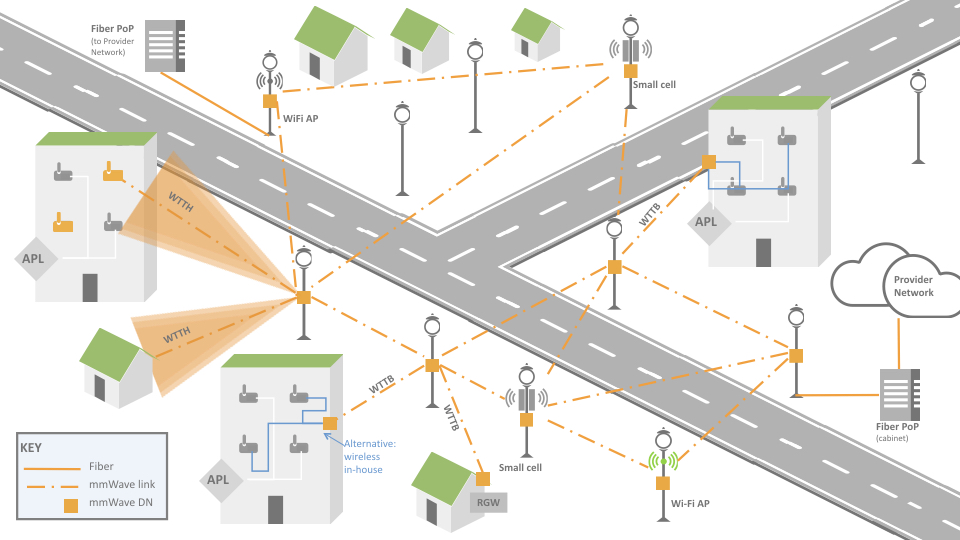 Above illustration courtesy of TIP mmW Networks Group
Open Optical Packet Transport:  This project group will define Dense Wavelength Division Multiplexing (DWDM) open packet transport architecture that triggers new innovation and avoids implementation lock-ins. Open DWDM systems include open line system & control, transponder & network management and packet-switch and router technologies.
The Working Group is focused on enabling carriers to more efficiently deliver new services and applications by using mobile edge computing (MEC) to turn the RAN network edge (mobile, fixed, licensed and unlicensed spectrum) into an open media and service hub.
The project is pioneering a virtualized RAN (VRAN) solution comprised of low-cost remote radio units that can be managed and dynamically reconfigured by a centralized infrastructure over non-ideal transport.
project group will develop an open RAN architecture by defining open interfaces between internal components and focusing on the lab activity with various companies for multi-vendor interoperability. The goal is to broaden the mobile ecosystem of related technology companies to drive a faster pace of innovation.
A complete description, with pointers/hyperlinks to respective project/work group charters is in the TIP Company Member Application here.
TEACs –  Innovation Centers for TIP:
Also of note was the announcement of several new TEACs – TIP Ecosystem Acceleration Centers, where start-ups and investors can work together with incumbent network operators to progress their respective agendas for telecom infrastructure.
The TIP website comments on the mission of the TEACs:
"By bringing together the key actors – established operators, cutting-edge startups, and global & local investors – TEACs establish the necessary foundation to foster collaboration, accelerate trials, and bring deployable infrastructure solutions to the telecom industry."
TEACs are located in London (BT), Paris (Orange), and Seoul (SK Telecom). .
TIP Community Labs:
TIP Community Labs are physical spaces that enable collaboration between member companies in a TIP project group to develop telecom infrastructure solutions. While the labs are dedicated to TIP projects and host TIP project teams, the space and basic equipment are sponsored by individual TIP member companies hosting the space.  The labs are located in: Seoul, South Korea (sponsored by SK Telecom); Bonn, Germany (sponsored by Deutsche Telekom); Menlo Park, California, USA (sponsored by Facebook). Coming Soon Rio de Janiero, Brazil – to be sponsored by TIM Brasil.  At this summit, Cable Labs announced it will soon open a TIP Community Lab in Louisville, CO.
…………………………………………………………………………………………………………………………..
Selected Quotes:
AT&T's Tom Anschutz (a very respected colleague) said during his November 9th – 1pm keynote presentation:
"Network functions need to be disaggregated and 'cloudified.'  We need to decompose monolithic, vertically integrated systems into building blocks; create abstraction layers that hide complexity.  Design code and hardware as independent modules that don't bring down the entire IT system/telecom network if they fail."
Other noteworthy quotes:
"We're going to build these use-case demonstrations," said Mansoor Hanif, director of converged networks and innovation at BT. "If you're going to do something as difficult and complex as network slicing, you might as well do it right."
"This is the opening of a system that runs radio as a software on top of general purpose processes and interworks with independent radio," said Santiago Tenorio, head of networks at Vodafone Group. The project will work to reduce the costs associated with building mobile networks and make it easier for smaller vendors to enter the market.  "By opening the system will we get a lower cost base? Definitely yes," absolutely yes," Tenorio added.
"Opening up closed, black-box systems enables innovation at every level, so that customers can meet the challenges facing their networks faster and more efficiently," said Josh Leslie, CEO of Cumulus Networks. "We're excited to work with the TIP community to bring open systems to networks beyond the data center." [See reference press release from Cumulus below].
"Open approaches are key to achieving TIP's mission of disaggregating the traditional network deployment approach," said Hans-Juergen Schmidtke, Co-Chair of the TIP Open Optical Packet Transport project group. "Our collaboration with Cumulus Networks to enable Cumulus Linux on Voyager (open packet DWDM architecture framework and white box transponder design) is an important contribution that will help accelerate the ecosystem's adoption of Voyager."
……………………………………………………………………………………………………………………………
Closing Comments:  Request for Reader Inputs!
 What's really interesting is that there are no U.S. telco members of TIP.  Bell Canada is the only North American telecom carrier among its 500 members. Equinix and Cable Labs are the only quasi- network operator members in the U.S.
Rather than write a voluminous report which few would read, we invite readers to contact the author or post a comment on areas of interest after reviewing the 2017 TIPS Summit agenda.
References:
http://www.businesswire.com/news/home/20171108005571/en/Cumulus-Networks-Telecom-Infra-Project-TIP-Collaborate
https://www.devex.com/news/telecom-industry-tries-new-tactics-to-connect-the-unconnected-91492
---