Comcast earnings beat with strong broadband subscriber growth; AT&T is still largest U.S. pay TV provider but bleeds video subs
Despite much higher video subscriber losses than in the past, Comcast generated healthy revenue and profit margin increases in Q2-2019, based on the strength of its performance in the broadband, wireless, business services and other sectors.   Comcast, the largest cable and broadband provider in the U.S., reported steady revenue and subscriber gains nearly across the board on July 25th, with the glaring exception of its slumping Xfinity pay-TV business.  It also racked up revenue gains in its NBC Universal cable networks, broadcast TV and theme park units, as well as customer revenue gains at its new Sky operation in Europe.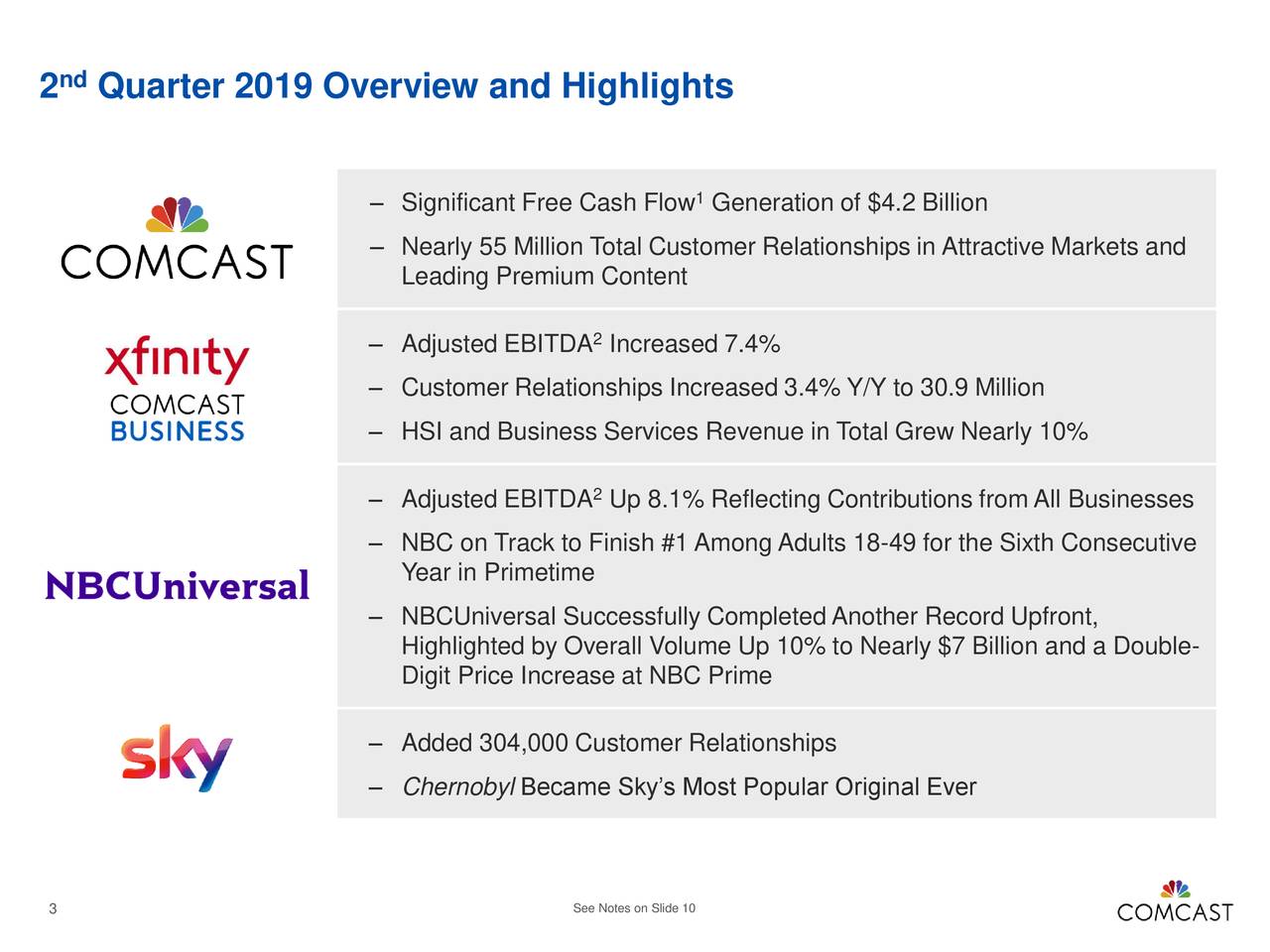 On the pay-TV side, Comcast suffered less collateral damage than most of its peers (e.g. AT&T Direct TV and Direct TV now bled subscribers in the most recent quarter – see Editor's Note below).  The cableco/MSO saw its video subscriber losses increase in the second quarter as cord-cutting by consumers accelerated. The company shed 224,000 video subs (209,000 residential and 15,000 business subs) during the quarter, far worse than its loss of 140,000 subs a year earlier. That reduced its total video base to 21.64 million, maintaining its status as the nation's second-largest pay-TV provider behind AT&T.  Despite these much heftier sub losses, Comcast's video revenues declined just 0.6% on a year-over-year basis to $5.59 million, thanks to price hikes and subscriber tier upgrades. More importantly from the company's perspective, video ARPU increased by 1.3%, as the operator, like a growing number of its peers, continues to shift its focus from low-margin to high-margin customers.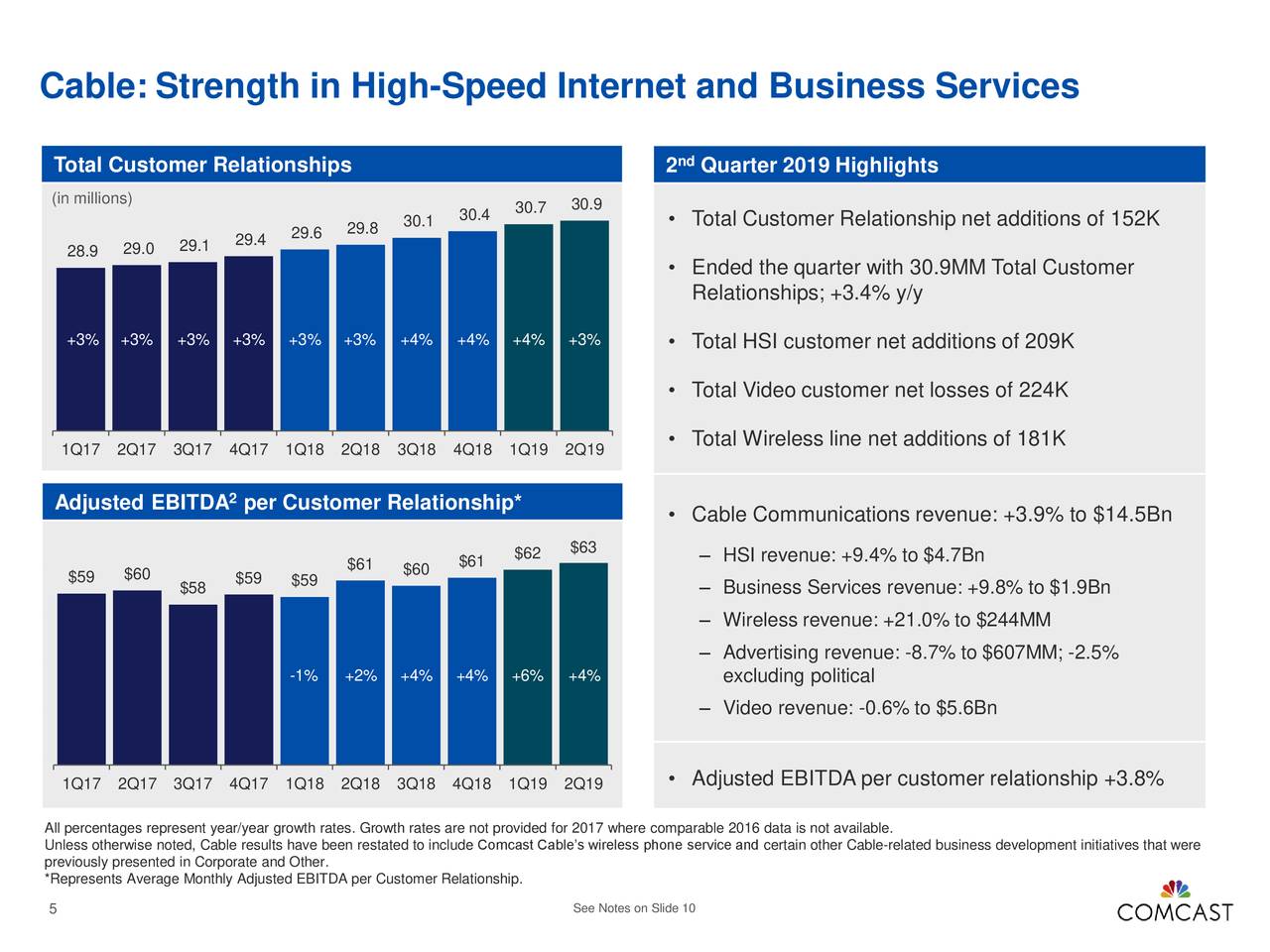 …………………………………………………………………………………………………………………………………………………………………………………………………………..
Editor's Note: The second quarter is typically the worst of the year for pay-TV providers. For example, AT&T lost 778,000 premium TV subscribers in the second quarter, including DirecTV satellite and U-verse television customers – a sharp acceleration in subscriber losses from the 544,000 that cut the cord in Q1-2019.  The total number of premium TV video connections fell to 22.9 million, its lowest total since June 30, 2017, when it stood at almost 25.2 million, an overall net loss of 2.3 million.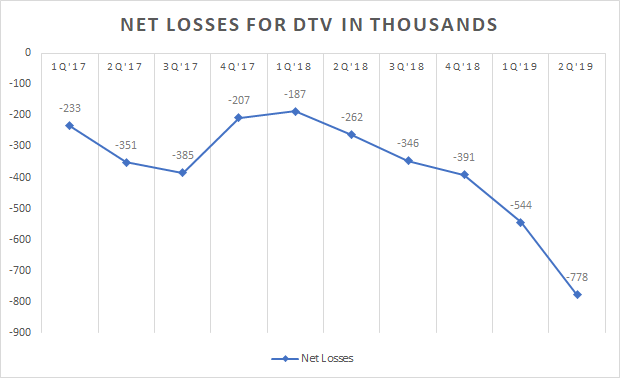 AT&T also lost 168,000 streaming DirecTV Now accounts and AT&T said it expects a similar level of video losses to continue in the current quarter. It's somewhat surprising that AT&Ts video streaming offering is seeing a mass exodus with the number of subscribers peaking at 1.858 million in September 2018 to 1.34 million now, a decline of more than 500,000.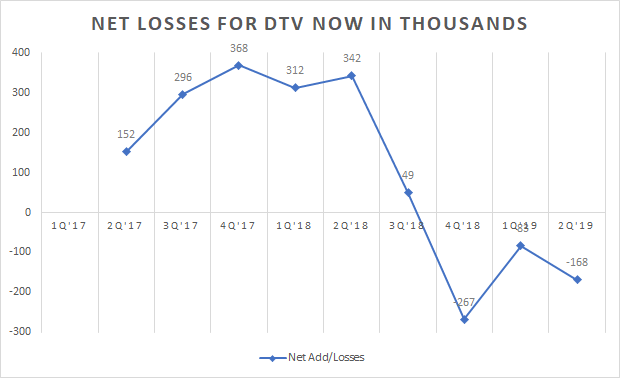 …………………………………………………………………………………………………………………………………………………………………………………………….
Comcast is by far the largest broadband provider in the U.S.  (that's right- ahead of AT&T, Verizon and CenturyLink).  The cableco/MSO added 209,000 new broadband Internet subscribers (182,000 residential and 28,000 business) in the spring quarter, boosting its total broadband base to 27.8 million at the end of June. While that's down markedly from its gain of 260,000 broadband subs a year earlier, the year-ago total marked the company's best-ever broadband quarter. Comcast executives stressed that they're well on their way to their 14th consecutive year of 1 million-plus broadband subscriber increases.
Broadband revenues surged 9.4% to $4.66 billion in the 2nd quarter, due to the impressive increase in broadband subscribers. Residential broadband ARPU (average revue per unit) rose by 4.2% year-over-year, as fewer bundling discounts and subscriber upgrades to higher-priced speed tiers lifted revenues even without price hikes.
"The ARPU is growing, broadband revenue is growing, and it's margin accretive, so it's helping the EBITDA growth," said Comcast Cable President and CEO Dave Watson, in the cableco/MSO's Q2 earnings call. "So overall, I think we have a solid pipeline for broadband innovation."
…………………………………………………………………………………………………………………………………………………………………………….
On the wireless front, Comcast's Xfinity Mobile service continued its steady, if slightly slower, ascent to profitability. The MSO added 181,000 mobile lines in Q2, raising its total to nearly 1.6 million lines. The strong mobile line gains were off from adds of 204,000 lines in the year-ago period but up from adds of 170,000 lines in Q1.
As a result, Comcast's mobile revenues rose 21.0%, to $244 million. Operating cash flow from Comcast's mobile business improved as well to $88 million, down substantially from a year earlier, as the new unit edges ever closer to profitability.
Speaking on the company's earnings call Thursday morning July 25th, Comcast Senior EVP and CFO Mike Cavanagh said Xfinity Mobile is "already positively impacting [customer] retention and attracting new customers" to the company's cable offerings. He predicted that the mobile unit will start producing positive economic results when penetration rates reach "the mid-to-high single digits."
…………………………………………………………………………………………………………………………………………………………………………..
Similar to other large North American pay-TV providers that have reported Q2 earnings so far.  "We'll continue to emphasize our approach to this segment," said Comcast Cable President and CEO Dave Watson. "We're not going to chase the low end."
Comcast officials still had no early results to share about Xfinity Flex, a new video streaming product for broadband-only customers that's powered by the MSO's cloud-based X1 platform (including the X1 voice-based navigation and search system) and integrated with OTT offerings like Netflix, Amazon Prime Video and YouTube. But executives said more information will come soon.
"It's an important long-term product," Watson said Flex on the company's Q1 earnings call in April, noting it's early use in a "targeted fashion" to build a broader video relationship with the operator's broadband-only subs. "We think Internet-delivered video is a good thing for the cable business."
Also on the streaming video front, Comcast executives revealed a bit more about the forthcoming OTT-delivered video service from the conglomerate's NBCUniveral (NBCU) unit. Plans call for the OTTP offering, to be based on the existing Now TV platform of Comcast's Sky service in Europe, to launch in April.
The new ad-supported service mainly will feature acquired movies and TV shows, rather than exclusive originals, at least at first, said NBCU CEO Steve Burke. Despite a market crowded with incumbents like Netflix and Amazon, as well as such new entrants as Disney, WarnerMedia and Apple, Burke is not worried, he said, in a statement.
"Our service is very different from Netflix," said Burke. "We believe we've got some ideas that are innovative and don't really want to share those until we get right close to launch, but we're very pleased to have The Office and very optimistic about our streaming plans at this point."
…………………………………………………………………………………………………………………………………………………………………………..
In a fresh research note issued after the earnings call this morning, Craig Moffett, a principal analyst at MoffettNathanson, gave an approving nod to this strategy:
"As cable operators stop chasing low-value video subscribers, their margins will rise with mix shift, their margins will improve further with improvement in video economics on those that remain; their margins will expand still further as broadband ARPU accelerates (fewer bundled discounts), and their margins will expand still further as their non-programming costs fall as a percentage of revenue.  Almost predictably, Comcast raised its cable margin 2019 guidance yet again (now to 'over' 100 bps for the year, from previously 'up to')."
Comcast Business kept up its steady growth pace of the past decade and a half. With close to 2.4 million commercial "customer relationships," the cableco boosted its business service take to $1.93 billion in the second quarter, up 9.8% from a year ago. As a result, the company is now on target to approach the $8 billion mark in annual business revenues this year.
References:
https://www.lightreading.com/services/broadband-services/comcast-broadband-mobile-growth-engines-keep-purring/d/d-id/753019?
http://www.broadbandworldnews.com/author.asp?section_id=472&doc_id=753022&
https://www.cnbc.com/2019/07/25/comcast-q2-2019-earnings.html
https://www.cmcsa.com/financials/earnings
https://seekingalpha.com/article/4277488-t-mass-exodus-continues
---