Dell'Oro: Worldwide Telecom Equipment market increases after 3 years of decline; VoLTE up 16% Y/Y
The worldwide telecom equipment market grew 6 percent year-over-year (Y/Y) in the past twelve months, according to a new Dell'Oro Group report.  The majority of growth was driven by Mobile RAN and Optical Transport sales. Equipment manufacturer revenue in these two technology areas grew 10 percent and 8 percent, respectively.
The telecom equipment market shifted into a growth phase in 3Q 2018 after three years of decline. As a result, the market's growth for the trailing four-quarter period ending 2Q 2019 was up significantly from a bottom reached in 2017. Most of the leading vendors gained revenue during this period with the highest percentage increases obtained by Samsung, ZTE, and Ciena.
Although Huawei was placed on the U.S. Entity List in late May, restricting its purchase of U.S. components without a license, the company seems to have avoided any negative impact on sales of telecom equipment. For the trailing four-quarter period (3Q18 through 2Q19), Huawei held the highest share of the telecom equipment market at 28 percent.
Nokia captured the second-highest share in the period due to its strong position in each of the seven technology segments included in the Telecom Equipment Market report. Nokia was a top vendor in each product category.
Global Telecom Equipment Market Share: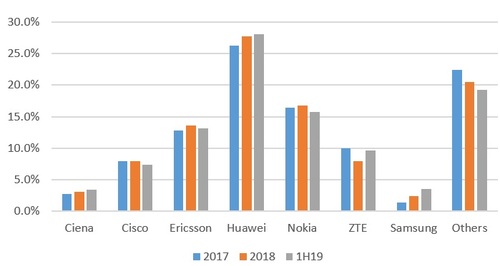 Dell'Oro's market share rankings cover the entire telecom equipment industry and are inclusive of everything from Mobile Radio Access Network (RAN) to optical transport to routers to switches to packet cores and microwave transmission and mobile backhaul.
Huawei's ability to grow its share through 2019 is noteworthy considering the Chinese tech giant is in the eye of the trade war between the U.S. and China, a battle that has global implications. Many (like this author) believe that the company is being used as a bargaining chip by the U.S. in that trade war.  For example, President Trump banned some U.S. companies from doing business with Huawei on national security grounds, though it's also viewed primarily as a negotiating tactic.
However, the ban may initially affect only Huawei's smartphone business, which is #2 in the world.  It relies on components from U.S. suppliers and the Android OS from Google. The company's networking business — which includes cellular base stations, optical transport, Ethernet switches, routers and transponders– may be more insulated from the effects of the U.S. ban, given that sales cycles among global telecom service providers are much longer when compared with smartphone buyers.
Further, Huawei's networking equipment has long been implicitly forbidden among major US telecom service providers, so the Chinese supplier has little to lose, except for sales of mobile base stations to rural U.S. carriers as per this IEEE Techblog post.
The Dell'Oro Group Advanced Research: Telecom Equipment Market Report is a compilation of the findings of seven research programs conducted by Dell'Oro Group. These research programs are:
Broadband Access and Home Networking, Carrier IP Telephony, Microwave Transmission & Mobile Backhaul, Mobile Radio Access Network, Optical Transport, Router & Carrier Ethernet Switch, and Wireless Packet Core. For more information, please contact us by email at [email protected].
…………………………………………………………………………………………..
VoLTE and Carrier Telephony:
In a separate report, Dell'Oro said that the worldwide Voice-over-LTE (VoLTE) infrastructure market revenues grew 16 percent Year-Over-Year (Y/Y) in 2Q 2019, as the Asia Pacific region took the leading role in licenses shipped, growing 62 percent Y/Y.
"It appears the tipping point of preparing 5G networks for voice with VoLTE is upon us as indicated by the growth rate we saw in 2Q 2019," said Dave Bolan, senior analyst at Dell'Oro Group. "Licenses shipped to service providers in China and India accounted for most of the 62 percent growth in the Asia Pacific region. With 5G services expected to launch in October 2019, Chinese service providers are aggressively trying to migrate their 1.2 B LTE subscribers to VoLTE. Currently only about half are using VoLTE," continued Bolan.
"In addition, the market in India is seeing a rapid shift to VoLTE services. For example, service provider Reliance Jio, had over 331 M VoLTE subscribers with a 54 percent Y/Y growth rate," Bolan added.
Additional highlights from the 2Q 2019 Carrier IP Telephony report include:
The top three ranking VoLTE vendors were Huawei, Nokia, and Ericsson
Circuit switched core market revenues were down 21 percent Y/Y
The IMS Core market revenues were up 13 percent Y/Y
The Carrier IP Telephony market was up 5 percent Y/Y
The Dell'Oro Group Carrier IP Telephony Quarterly Report offers complete, in-depth coverage of the market with tables covering manufacturers' revenue, shipments, and average selling prices for both wireline and wireless voice core markets. The segments include soft switches, media gateways, session border controllers, voice application servers, IMS CSCF and HSS, and legacy mobile switching centers.  To purchase this report, please contact us at: [email protected].
Dell'Oro Group is a market research firm that specializes in strategic competitive analysis in the telecommunications, networks, and data center IT markets.  Our firm provides in-depth quantitative data and qualitative analysis to facilitate critical, fact-based business decisions.  For more information, contact Dell'Oro Group at +1.650.622.9400 or visit www.delloro.com.
References:
Worldwide Telecom Equipment Market Grew 6 Percent in Past Twelve Months, According to Dell'Oro Group
Worldwide VoLTE Market Revenues Grew 16 Percent Y/Y in 2Q 2019, According to Dell'Oro Group
https://www.lightreading.com/market-research/huaweis-share-of-the-global-telecom-market-keeps-growing/d/d-id/753768?
---