Worldwide telecom equipment market
Dell'Oro Group has completed its 1H2021 reports on "Telecommunications Infrastructure programs" including Broadband Access, Microwave & Optical Transport, Mobile Core & Radio Access Network (RAN), Service Provider Router & Switch markets. The data contained in these reports suggest that the positive trends that characterized the broader telecom equipment market extended into the second quarter, even if the pace of the growth slowed somewhat between the first and the second quarter.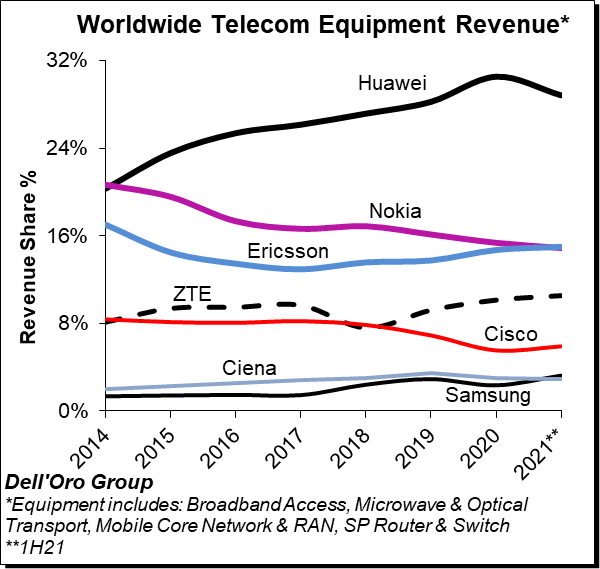 Preliminary estimates suggest the overall telecom equipment market advanced 10% year-over-year (Y/Y) during 1H21 and 5% Y/Y in the quarter, down from 16% Y/Y in the first quarter. The growth in the first half was primarily driven by strong demand for both wireless and wireline equipment, lighter comparisons, and the weaker US Dollar (USD). Helping to explain the Y/Y growth deceleration between 1Q and 2Q is slower growth in China.
The analysis contained in these reports suggests the collective global share of the leading suppliers remained relatively stable between 2020 and 1H21, with the top seven vendors comprising around ~81% of the total market.
Huawei is still the overall market leader by some margin, despite its sales and marketing challenges in many other parts of the world.   Huawei's market share slid below 30%, though that still almost double the share of its nearest rivals Ericsson and Nokia.  Within the mix, Dell-Oro estimates Huawei and Nokia lost some ground between 2020 and 1H21 while Cisco, Ericson, Samsung, and ZTE recorded minor share gains over the same period.
Additional key takeaways from the 1H2021 reporting period include:
Following the Y/Y decline in 1Q20, our analysis suggests the overall telecom equipment market recorded a fifth consecutive quarter of growth in the second quarter.
The improved market sentiment in the first half was relatively broad-based, underpinned by single-digit growth in SP Routers and double-digit advancements in Broadband Access, Microwave Transport, Mobile Core Networks, and RAN.
Aggregate 2Q21 revenues were in line with expectations, however, within the programs both Broadband Access and Microwave Transport were surprised on the upside while Optical Transport and SP Routers came in below expectations.
From a regional perspective, China underperformed in the quarter, impacting the demand for both wireless and wireline-related infrastructure.
Ongoing efforts by the US government to curb the rise of Huawei are starting to show in the numbers outside of China, not just for RAN but in other areas as well.
Though Huawei is not able to procure custom ASICs for its telecom products, the supplier is assuring the analyst community its current inventory levels is not a concern over the near term for its infrastructure business.
The majority of the vendors have through proactive measures been able to navigate the ongoing supply chain shortages and minimize the infrastructure impact. At the same time, the supply constraints appear more pronounced with higher volume residential and enterprise products including CPE and WLAN endpoints.
Even with the unusual uncertainty surrounding the economy, the supply chains, and the pandemic, the Dell'Oro analyst team remains optimistic about the second half – the overall telecom equipment market is projected to advance 5% to 10% for the full-year 2021, unchanged from last quarter.
Two of the key telecom revenue drivers will be the RAN and Broadband Access markets, both of which have been growing at a strong pace this year so far: The RAN market is set to grow at between 10% and 15% this year, which means it could be worth as much as $40 billion, while the increasing number and size of investments in fibre broadband access networks around the world is driving growth in the Broadband Access market, which Dell'Oro reports was worth $3.6 billion during the second quarter alone.
 Dell'Oro Group telecommunication infrastructure research programs consist of the following: Broadband Access, Microwave Transmission & Mobile Backhaul, Mobile Core Networks, Mobile Radio Access Network, Optical Transport, and Service Provider (SP) Router & Switch.
Samsung Electronics said on Monday it had won a $6.64 billion order to provide wireless communication solutions to Verizon in the United States, a major win for the South Korean firm in the next-generation 5G network market.  Samsung's local unit Samsung Electronics America signed the agreement with Verizon Sourcing, a subsidiary of Verizon Communications, to offer network products for the wireless carrier through the end of 2025. This includes providing, establishing and maintaining the company's 5G mobile telecom equipment.
…………………………………………………………………………………………………………………………………………………………………………….
Sidebar:  Nokia on the sidelines:
Nokia's biggest customer is Verizon, JP Morgan research said in a July note to clients.  Yet Nokia didn't win any part of the new Verizon 5G order. That was predicted by Rosenblatt analyst Ryan Koontz, who said in July "Samsung will "leapfrog Nokia to secure one of the largest new supplier telecom contracts in many years."
Nokia wrote in an email, "We do not comment on our customers' vendor strategy. Nokia is proud to serve Verizon, and we are committed to continuing to help them build the best, most reliable and highest performing network. Nokia and Verizon have a longstanding strategic partnership in key technologies across their network with our end-to-end solutions portfolio."
…………………………………………………………………………………………………………………………………………………………………………….
Samsung's global prospects for its network business have improved following U.S. sanctions on its bigger rival Huawei , analysts said.  The Trump administration last month unveiled plans to auction off spectrum previously dedicated to military purposes for commercial use starting in mid-2022, to ramp up fifth-generation network coverage in the United States. In July, the UK ordered Huawei equipment to be purged completely from its 5G network by the end of 2027, adding it needs to bring in new suppliers like Samsung Electronics and Japan's NEC Corporation.
Verizon CEO Hans Vestberg told CNBC in July last year that Verizon does not use any Huawei equipment. Verizon had already been a Samsung customer before the order. Vestberg's statement about no Huawei gear is not true, as Light Reading and other websites noted on Friday.
The FCC requested information about "the presence or use of Huawei or ZTE equipment and/or services in their networks, or in the networks of their affiliates or subsidiaries."

The FCC's goal is to determine how many US companies use equipment from Huawei or ZTE – the equipment has been deemed a threat to national security – and how much it might cost to replace that gear with equipment from "trusted" suppliers.

On Friday, the FCC published a list of companies that reported they have existing Huawei or ZTE equipment and services.

Three of the nation's five biggest wireline phone providers (Verizon, CenturyLink and Windstream) have admitted to having equipment from Huawei or ZTE, according to Leichtman Research Group.

"Verizon's networks do not include equipment from any untrusted vendors. In addition, the company is not seeking funds from the FCC to replace equipment," a Verizon representative wrote in response to questions from Light Reading. "Verizon has a relatively small number of devices, called VoiceLink, which were made by Huawei and are used by some customers to make voice calls. There are no data services associated with these devices. Earlier this year, Verizon started replacing these units. That effort was temporarily halted by the pandemic and is now underway again. We expect to have all Voicelink devices fully retired by the end of the year."
"Samsung winning the order from Verizon would help the company expand its telecom equipment business abroad, potentially giving leverage to negotiate with other countries," Park Sung-soon, an analyst at Cape Investment and Securities told Reuters.
The order is for network equipment, a Samsung spokesman said. The company declined to comment on detailed terms the contract such as the portion of 5G-capable equipment included.
Verizon joined with Samsung long before 5G made its debut in smartphones last spring. In early 2018, the two firms teamed up for trial runs of 5G-powered home internet. Verizon officials have previously pledged not to use Huawei for its next-generation rollout. Samsung has supplied some network gear for prior generations including 4G LTE.
To Samsung, the deal represents a major 5G win. The contract, valued at 7.898 trillion South Korean won over five years, compares with the roughly 5 trillion won Samsung's network business racked up in revenue in all of 2019.
Last year, 5G represented less than half of Samsung's network business, of which U.S. carriers accounted for 10%, said S.K. Kim, a Seoul-based analyst with Daiwa Securities.
"With this latest long-term strategic contract, we will continue to push the boundaries of 5G innovation to enhance mobile experiences for Verizon's customers," Samsung said in a statement.
………………………………………………………………………………………………………………………………………………………………………………………….
Sidebar —  Telecom Equipment Vendor Market Shares:
Samsung had a 3% market share of the global total telecom equipment market in 2019, behind No. 1 Huawei with 28%, Nokia's 16%, Ericsson's 14%, ZTE's 10% and Cisco's 7%, according to market research firm Dell'Oro Group.
Among 5G network sales, Samsung ranks No. 4 with about 13% of the total market, according to market research firm Dell'Oro Group. It trails the top three, which include China's Huawei Technologies Co. and the European firms Ericsson AB and Nokia Corp.
Huawei said early this year that it had signed more than 90 5G contracts, and Ericsson last month touted its 100th 5G "commercial agreement." Samsung hasn't divulged how many 5G contracts it has signed. But it has high hopes, having invested more than $30 billion in the U.S. market alone.
………………………………………………………………………………………………………………………………………………………………………………………….
Separately, Samsung announced the Galaxy Book Flex 5G, an adaptable, 5G-powered addition to its premium laptop line.   Galaxy Book Flex 5G is powered by the new 11th Gen Intel® Core™ processor with Intel® Iris® Xe graphics offering intelligent performance and powerful processing for impressive productivity and stunning entertainment, along with Wi-Fi 6 and 5G connectivity for an unparalleled laptop experience.
"Across the world, we're being asked to adapt and change constantly, and it's vital we have devices that move with us," said Mincheol Lee, Corporate VP and Head of New Computing Biz Group at Samsung Electronics. "Thanks to our close collaboration with Intel, Galaxy Book Flex 5G provides users with a powerful performance, next-generation connectivity, effortless productivity and premium entertainment features, all in the form function of their choosing."
……………………………………………………………………………………………………………………………………………………………………………………………..
References:
https://www.channelnewsasia.com/news/business/samsung-electronics-wins-us-6-7-billion-verizon-order-for-13087716
The worldwide telecom equipment market grew 6 percent year-over-year (Y/Y) in the past twelve months, according to a new Dell'Oro Group report.  The majority of growth was driven by Mobile RAN and Optical Transport sales. Equipment manufacturer revenue in these two technology areas grew 10 percent and 8 percent, respectively.
The telecom equipment market shifted into a growth phase in 3Q 2018 after three years of decline. As a result, the market's growth for the trailing four-quarter period ending 2Q 2019 was up significantly from a bottom reached in 2017. Most of the leading vendors gained revenue during this period with the highest percentage increases obtained by Samsung, ZTE, and Ciena.
Although Huawei was placed on the U.S. Entity List in late May, restricting its purchase of U.S. components without a license, the company seems to have avoided any negative impact on sales of telecom equipment. For the trailing four-quarter period (3Q18 through 2Q19), Huawei held the highest share of the telecom equipment market at 28 percent.
Nokia captured the second-highest share in the period due to its strong position in each of the seven technology segments included in the Telecom Equipment Market report. Nokia was a top vendor in each product category.
Global Telecom Equipment Market Share: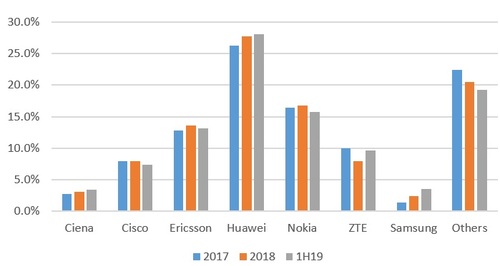 Dell'Oro's market share rankings cover the entire telecom equipment industry and are inclusive of everything from Mobile Radio Access Network (RAN) to optical transport to routers to switches to packet cores and microwave transmission and mobile backhaul.
Huawei's ability to grow its share through 2019 is noteworthy considering the Chinese tech giant is in the eye of the trade war between the U.S. and China, a battle that has global implications. Many (like this author) believe that the company is being used as a bargaining chip by the U.S. in that trade war.  For example, President Trump banned some U.S. companies from doing business with Huawei on national security grounds, though it's also viewed primarily as a negotiating tactic.
However, the ban may initially affect only Huawei's smartphone business, which is #2 in the world.  It relies on components from U.S. suppliers and the Android OS from Google. The company's networking business — which includes cellular base stations, optical transport, Ethernet switches, routers and transponders– may be more insulated from the effects of the U.S. ban, given that sales cycles among global telecom service providers are much longer when compared with smartphone buyers.
Further, Huawei's networking equipment has long been implicitly forbidden among major US telecom service providers, so the Chinese supplier has little to lose, except for sales of mobile base stations to rural U.S. carriers as per this IEEE Techblog post.
The Dell'Oro Group Advanced Research: Telecom Equipment Market Report is a compilation of the findings of seven research programs conducted by Dell'Oro Group. These research programs are:
Broadband Access and Home Networking, Carrier IP Telephony, Microwave Transmission & Mobile Backhaul, Mobile Radio Access Network, Optical Transport, Router & Carrier Ethernet Switch, and Wireless Packet Core. For more information, please contact us by email at [email protected].
…………………………………………………………………………………………..
VoLTE and Carrier Telephony:
In a separate report, Dell'Oro said that the worldwide Voice-over-LTE (VoLTE) infrastructure market revenues grew 16 percent Year-Over-Year (Y/Y) in 2Q 2019, as the Asia Pacific region took the leading role in licenses shipped, growing 62 percent Y/Y.
"It appears the tipping point of preparing 5G networks for voice with VoLTE is upon us as indicated by the growth rate we saw in 2Q 2019," said Dave Bolan, senior analyst at Dell'Oro Group. "Licenses shipped to service providers in China and India accounted for most of the 62 percent growth in the Asia Pacific region. With 5G services expected to launch in October 2019, Chinese service providers are aggressively trying to migrate their 1.2 B LTE subscribers to VoLTE. Currently only about half are using VoLTE," continued Bolan.
"In addition, the market in India is seeing a rapid shift to VoLTE services. For example, service provider Reliance Jio, had over 331 M VoLTE subscribers with a 54 percent Y/Y growth rate," Bolan added.
Additional highlights from the 2Q 2019 Carrier IP Telephony report include:
The top three ranking VoLTE vendors were Huawei, Nokia, and Ericsson
Circuit switched core market revenues were down 21 percent Y/Y
The IMS Core market revenues were up 13 percent Y/Y
The Carrier IP Telephony market was up 5 percent Y/Y
The Dell'Oro Group Carrier IP Telephony Quarterly Report offers complete, in-depth coverage of the market with tables covering manufacturers' revenue, shipments, and average selling prices for both wireline and wireless voice core markets. The segments include soft switches, media gateways, session border controllers, voice application servers, IMS CSCF and HSS, and legacy mobile switching centers.  To purchase this report, please contact us at: [email protected].
Dell'Oro Group is a market research firm that specializes in strategic competitive analysis in the telecommunications, networks, and data center IT markets.  Our firm provides in-depth quantitative data and qualitative analysis to facilitate critical, fact-based business decisions.  For more information, contact Dell'Oro Group at +1.650.622.9400 or visit www.delloro.com.
References:
Worldwide Telecom Equipment Market Grew 6 Percent in Past Twelve Months, According to Dell'Oro Group
Worldwide VoLTE Market Revenues Grew 16 Percent Y/Y in 2Q 2019, According to Dell'Oro Group
https://www.lightreading.com/market-research/huaweis-share-of-the-global-telecom-market-keeps-growing/d/d-id/753768?
---