Zayo's largest capacity wavelengths deal likely for cloud data center interconnection (DCI)
Zayo Group Holdings announced it has signed a deal for the largest amount of capacity sold on any fiber route in the company's history.  The deal with the unnamed customer will provide approximately 5 terabits of capacity that can be used to connect mega scale data centers. While Zayo didn't disclose the customer, large hyperscale cloud providers, such as Amazon Web Services, Microsoft Azure and Google Cloud Project, and webscale companies such as Facebook, seem to be likely candidates.
Zayo provides a 133,000-mile fiber network in the U.S., Canada and Europe.  Earlier this year it agreed to be acquired by affiliates of Digital Colony Partners and the EQT Infrastructure IV fund.  That deal is slated to close in the first half of next year.
"Our customers [1] are no longer talking gigabits — they're talking terabits on multiple diverse routes," said Julia Robin, senior vice president of Transport at Zayo. "Zayo's owned infrastructure, scalable capacity on unique routes and ability to turn up services quickly positions us to be the provider of choice for high-capacity infrastructure."
Note 1. Zayo's primary customer segments include data centers, wireless carriers, national carriers, ISPs, enterprises and government agencies.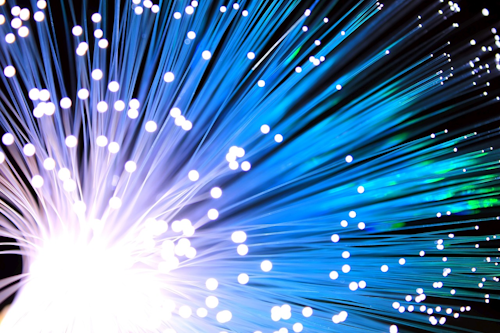 Zayo to extend fiber-optic network in central Florida: The new fiber network infrastructure, comprising more than 2300 route miles, will open Tampa and Orlando as new markets for the fiber-optic network services company.
…………………………………………………………………………………………………………………………………………………………………………………………….
Zayo's extensive wavelength network provides dedicated bandwidth to major data centers, carrier hotels, cable landing stations and enterprise locations across our long-haul and metro networks. Zayo continues to invest in the network, adding new routes and optronics to eliminate local stops, reduce the distance between essential markets and minimize regeneration points. Options include express, ultra-low and low-latency routes and private dedicated networks.
Zayo says it "leverages its deep, dense fiber assets in almost all North American and Western European metro markets to deliver a premier metro wavelength offering. Increasingly, enterprises across multiple sectors including finance, retail, pharma and others, are leveraging this network for dedicated connectivity as they seek ways to have more control over their growing bandwidth needs."
According to a report by market research firm IDC, data created, captured and replicated worldwide will be 175 zettabytes by 2025 and 30% of it will be in real time. A large chunk of that amount will be driven by webscale, content and cloud providers that require diverse, high capacity connections between their data centers. In order to provision high bandwidth amounts, service providers and webscale companies are turning to dedicated wavelength solutions.
Zayo's wavelength network provides dedicated bandwidth to major data centers, carrier hotels, cable landing stations and enterprise locations across its long-haul and metro networks. Its communications infrastructure offerings include dark fiber, private data networks, wavelengths, Ethernet, dedicated internet access and data center co-location services. Zayo also owns and operates a Tier 1 IP backbone and 51 carrier-neutral data centers.
References:
https://investors.zayo.com/news-and-events/press-releases/press-release-details/2019/Zayo-Announces-Largest-Capacity-Wavelengths-Deal/default.aspx
For more information on Zayo, please visit zayo.com
https://www.fiercetelecom.com/telecom/zayo-lands-largest-wavelengths-deal-its-history-at-5-terabits
---