Digital Realty, the largest global provider of carrier- and cloud-neutral data center, colocation and interconnection solutions, announced today a significant step in its plan to create next-generation interconnection and security capabilities and build the largest open fabric-of-fabrics interconnecting key centers of data exchange.
As part of this development strategy, Digital Realty is working with Zayo Group Holdings, Inc., a leading global provider of fiber-based communications solutions, to lay the physical and virtual foundations of a new open fabric.
This collaboration represents a significant milestone on the cross-industry roadmap outlined earlier this year in Digital Realty's industry manifesto for open interconnection and next-generation colocation solutions.  The collaborative approach aims to unlock trapped value and remove legacy barriers to digital transformation by more closely aligning with the hybrid IT and security considerations of multinational enterprises. 
"As businesses continue to shift globally towards hybrid IT to enable new digital workplace models, create new lines of business, and control costs, Zayo and Digital Realty are in an excellent position to enable customers' growth through a shared interest in globally secure, software-defined interconnection," said Brian Lillie, Chief Product and Technology Officer at Zayo.  "We look forward to working together to power next-generation interconnection and security capabilities that will unlock the true potential of digital transformation."
This initiative builds upon new and existing innovative capabilities, including PlatformDIGITAL®, Digital Realty's first of its kind global data center platform, which already brings together over 4,000 participants in connected data communities around the world, as well as Zayo's extensive global fiber network.  The new collaboration also follows Digital Realty's recent announcement of its plan to build native SDN-enabled multi-platform orchestration and global fabric connectivity across its global platform.
"We're excited to advance our roadmap for removing the legacy interconnection barriers that continue to impede enterprise digital transformation initiatives," said Digital Realty Chief Technology Officer Chris Sharp.  "Our platform capabilities and the steps we are taking in collaboration with Zayo will serve as a force-multiplier in building the industry's largest open fabric-of-fabrics to effectively address the growing intensity of enterprise data creation and its gravitational impact on IT architectures."
Digital Realty's Data Gravity Index DGx™ projects that Forbes global 2000 enterprises will be adding storage at a combined rate of more than 620 terabytes per second for data aggregation and exchange across 53 metros by 2024.  This rapid growth reflects a growing trend among global customers towards deploying and connecting large, private data infrastructure footprints across multiple global locations.
Gartner® predicts that by 2023, over 50%1 of the primary responsibility of data and analytics leaders will comprise data created, managed, and analyzed in edge environments.  As a result, a new pervasive data center infrastructure is needed to enable digitized endpoints and mobile users to fully participate in globally distributed workflows.  By removing legacy barriers across the interconnection industry, the consortium approach seeks to enable connected data communities and to support transformative outcomes for customers across all industries.
References:
https://investor.digitalrealty.com/news-and-events/news/press-release-details/2021/Digital-Realty-Outlines-Next-Generation-Interconnection-Initiative-to-Lay-Foundation-for-Industrys-Largest-Open-Fabric-of-Fabrics/default.aspx
Media & Industry Analyst Relations:
Marc Musgrove, Digital Realty, +1 (415) 508-2812
[email protected]
Zayo Group Holdings announced it has signed a deal for the largest amount of capacity sold on any fiber route in the company's history.  The deal with the unnamed customer will provide approximately 5 terabits of capacity that can be used to connect mega scale data centers. While Zayo didn't disclose the customer, large hyperscale cloud providers, such as Amazon Web Services, Microsoft Azure and Google Cloud Project, and webscale companies such as Facebook, seem to be likely candidates.
Zayo provides a 133,000-mile fiber network in the U.S., Canada and Europe.  Earlier this year it agreed to be acquired by affiliates of Digital Colony Partners and the EQT Infrastructure IV fund.  That deal is slated to close in the first half of next year.
"Our customers [1] are no longer talking gigabits — they're talking terabits on multiple diverse routes," said Julia Robin, senior vice president of Transport at Zayo. "Zayo's owned infrastructure, scalable capacity on unique routes and ability to turn up services quickly positions us to be the provider of choice for high-capacity infrastructure."
Note 1. Zayo's primary customer segments include data centers, wireless carriers, national carriers, ISPs, enterprises and government agencies.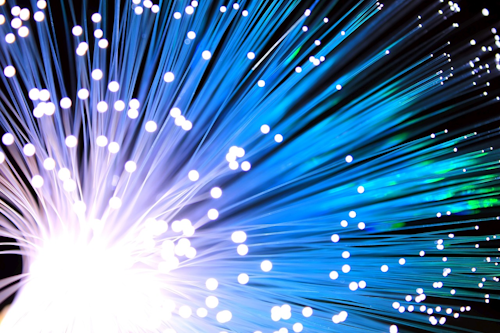 Zayo to extend fiber-optic network in central Florida: The new fiber network infrastructure, comprising more than 2300 route miles, will open Tampa and Orlando as new markets for the fiber-optic network services company.
…………………………………………………………………………………………………………………………………………………………………………………………….
Zayo's extensive wavelength network provides dedicated bandwidth to major data centers, carrier hotels, cable landing stations and enterprise locations across our long-haul and metro networks. Zayo continues to invest in the network, adding new routes and optronics to eliminate local stops, reduce the distance between essential markets and minimize regeneration points. Options include express, ultra-low and low-latency routes and private dedicated networks.
Zayo says it "leverages its deep, dense fiber assets in almost all North American and Western European metro markets to deliver a premier metro wavelength offering. Increasingly, enterprises across multiple sectors including finance, retail, pharma and others, are leveraging this network for dedicated connectivity as they seek ways to have more control over their growing bandwidth needs."
According to a report by market research firm IDC, data created, captured and replicated worldwide will be 175 zettabytes by 2025 and 30% of it will be in real time. A large chunk of that amount will be driven by webscale, content and cloud providers that require diverse, high capacity connections between their data centers. In order to provision high bandwidth amounts, service providers and webscale companies are turning to dedicated wavelength solutions.
Zayo's wavelength network provides dedicated bandwidth to major data centers, carrier hotels, cable landing stations and enterprise locations across its long-haul and metro networks. Its communications infrastructure offerings include dark fiber, private data networks, wavelengths, Ethernet, dedicated internet access and data center co-location services. Zayo also owns and operates a Tier 1 IP backbone and 51 carrier-neutral data centers.
References:
https://investors.zayo.com/news-and-events/press-releases/press-release-details/2019/Zayo-Announces-Largest-Capacity-Wavelengths-Deal/default.aspx
For more information on Zayo, please visit zayo.com
https://www.fiercetelecom.com/telecom/zayo-lands-largest-wavelengths-deal-its-history-at-5-terabits
---