Gartner's 2021 Magic Quadrant for WAN Edge Infrastructure
Gartner's 2021 Magic Quadrant for WAN Edge Infrastructure [1.] notes that spending on WAN edge equipment will grow by 2.6% per year through 2025.  This is the result of the robust growth of SD-WAN (18.0% CAGR) and the decline of traditional branch office routers (-16.5% CAGR). The past several years have seen a large-scale shift from traditional MPLS-based customer edge routers to SD-WAN technology, according to the report.
Note 1.  WAN edge infrastructure enables network connectivity from distributed enterprise locations to access resources in both private and public data centers as well as cloud (as a service). It is typically procured by senior networking leaders within an infrastructure and operations (I&O) organization. This market has evolved from traditional branch routers (often called "customer edge routers" in a Multiprotocol Label Switching [MPLS] implementation), and is undergoing dramatic change, driven by the needs of digital business transformation and the demands of line-of-business managers. The market for branch office wide-area network functionality is shifting from dedicated routing, security and WAN optimization appliances to feature-rich SD-WAN and vCPE platforms. WAN edge infrastructure now incorporates a widening set of network functions, including secure routers, firewalls, SD-WAN, WAN path control and WAN optimization, along with traditional routing functionality.
The increased sales of WAN edge technology in general has been driven by SD-WAN equipment designed to support work-from-home and in-office environments are slightly dampened by the fact that sales of traditional branch office routers are sharply down as a consequence, Gartner stated in its report.
The number of vendors Gartner has designated as Leaders in WAN-edge infrastructure since 2019 has increased as more are judged to have the requisite "completeness of vision" and "ability to execute". Just two companies were rated "leaders" in 2019, compared to six in 2020 and 2021. The same six companies were ranked as leaders in the past two reports—Fortinet, VMware, Versa, Palo Alto Networks, Cisco and Silver Peak—although the Silver Peak was bought out last year by HPE/Aruba last year and has inherited the company's spot in the new report. Gartner noted that edge network leaders offer versatile products with rich features, and broad name recognition.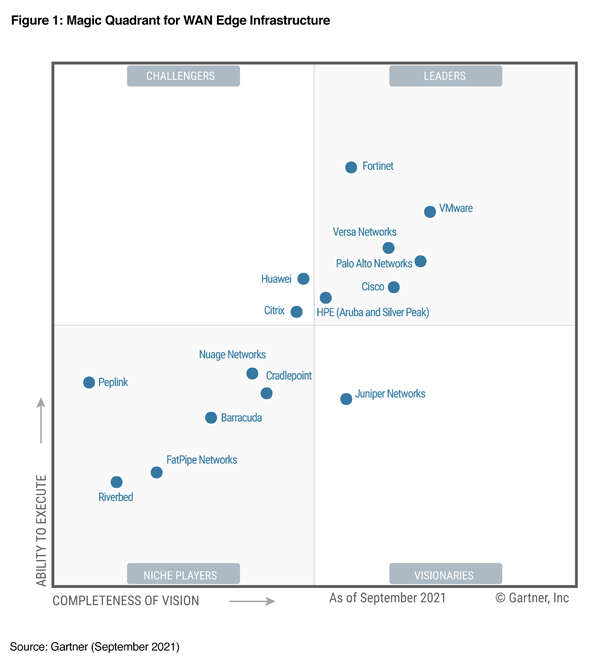 SASE architecture is also on the rise, according to Gartner, who predicted that more than 70% of SD-WAN customers would implement SASE by 2024, up 10% from last year's estimate. The ability to deliver a competitive SASE service affected this year's ratings, making up a part of vendors' innovation" score. If a vendor's offerings include the types of network security features that would qualify its WAN edge products as SASE, the innovation score are slightly higher.
"We see network and security decisions being made at the same time and more often with the same solution," the latest report said. "This is largely driven by the move to distribute internet access to support cloud applications and change the security perimeter."
Gartner says Fortinet is a leader in this Magic Quadrant. Its offering is the FortiGate Secure SD-WAN product, which includes physical, virtual appliances and cloud-based services managed with FortiManager orchestrator. Fortinet is based in Sunnyvale, California, U.S., and Gartner estimates that it has more than 34,000 WAN edge customers with more than 10,000 SD-WAN customers. FortiOS v.7.0 combines ZTNA to its broad WAN and network security functionalities to deliver a capable SASE offering. It has a wide global presence, addressing customers across multiple verticals and sizes. We expect the vendor to continue investing in SASE, artificial intelligence for IT operations (AIOps) and 5G functionality.
VMware is a Leader in this Magic Quadrant. Its offering is branded as VMware SD-WAN, and is part of VMware SASE. The offering includes edge appliances (hardware and software), gateways — VMware points of presence (POPs) offering various services — and an orchestrator and its Edge Network Intelligence. VMware provides additional optional security via VMware Cloud Web Security and VMware Secure Access. Based in California, U.S., it has more than 14,000 SD-WAN customers. The vendor operates globally and addresses customers of all sizes, and in all verticals. Gartner expects the vendor to continue investments in this market, including enhancing options for remote workers and building out its SASE offering.
Cisco is also a leader in this Magic Quadrant. It has two branded offerings: Cisco SD-WAN powered by Viptela and Cisco SD-WAN powered by Meraki. Both include hardware and software appliances, and associated orchestration and management. Cisco also provides optional additional security via the Cisco Umbrella Security Internet Gateway (SIG) platform. Cisco is based in California, U.S., and has more than 40,000 WAN edge customers. The vendor operates globally and addresses customers of all sizes, in all verticals. We expect the vendor to continue to invest in this market, particularly in the areas of improved self-healing capabilities, new consumption-based pricing models and integrated security to enable a single-vendor SASE offering.
References:
https://www.gartner.com/reviews/market/wan-edge-infrastructure
https://www.gartner.com/en/documents/4005922
https://www.networkworld.com/article/3634476/gartner-sd-wan-sase-biggest-drivers-of-wan-edge-infrastructure.html
---