Will 2022 be the year for 5G Fixed Wireless Access (FWA) or a conundrum for telcos?
Lightshed Partners says absolutely!  "This is the year for 5G Wireless Home Broadband," as it emerges as a viable competitor to cable based Internet access.
The market research firm believes that the recent deployment of large blocks of spectrum by wireless operators will enable them to offer viable home broadband service to a notable segment of the market.
T-Mobile is already adding more than 200k home broadband subs per quarter, and Verizon is about to unleash rate plans that drop as low as $25/month. Verizon is also layering additional commission opportunities for their sales group. The vast majority of cell phone upgrades in the U.S. are still done in a cellular operator's store. That provides wireless network operators with a familiar opportunity to sell home broadband and they are incenting their salesforce to do so.
Fixed wireless access (FWA) services into homes and offices, have approximately 7 million users around the U.S.   The new efforts by Verizon and T-Mobile appear poised to push the technology into the cable industry's core domain.
"We forecast that Verizon and T-Mobile will add 1.8 million wireless home broadband customers in 2022, more than doubling the 750,000 added in 2021," the LightShed analysts forecast. "To put that growth in context, Comcast, Charter and Altice combined added 2.4 million broadband subscribers in 2021 and 2.7 million in 2019. Investors expect these three cable companies to add more than 2 million broadband subs in 2022, but even that reduced level of growth from recent years may prove to be too aggressive."
5G fixed wireless access (FWA) services could serve 8.4 million rural households—nearly half the rural homes in the U.S.—with a "future-proof", rapidly deployable, and cost-effective high-speed broadband option, according to a new Accenture study commissioned by CTIA, the wireless industry association.
Other analysts agree. "Fixed wireless probably cost Comcast and Charter, in aggregate, about 180,000 subscribers in the second half of 2021," wrote the financial analysts at Sanford C. Bernstein & Co. in a recent note to investors.
"The great risk seems to lie in late 2022 and 2023. As Verizon, T-Mobile and AT&T deploy initial and subsequent blocks of C-band spectrum and as T-Mobile expands its 2.5GHz coverage to the last 1/3rd of US households, the availability of fixed wireless should expand," Bernstein analysts wrote.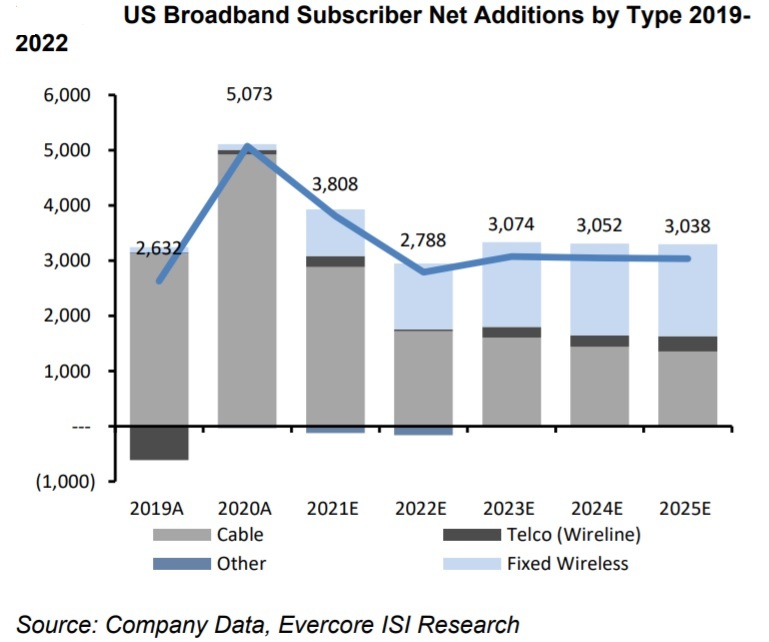 The financial analysts at Evercore predict that FWA services will gain a growing share of U.S. broadband new subscribe additions.  Light Reading's Mike Dano wrote the reasons are as follows:
 Verizon and T-Mobile are in the midst of deploying significant amounts of new spectrum into their networks. The addition of C-band spectrum (for Verizon) and 2.5GHz spectrum (for T-Mobile) will give them far more network capacity. And that's important considering the average Internet household chews through almost 500 GB per month, according to OpenVault. The average smartphone user, meanwhile, consumes just 12 GB per month, according to Ericsson.
 Verizon and T-Mobile have finally shifted their FWA offerings from the test phase into the deployment phase. Although Verizon has been discussing FWA services for years, it finally started reporting actual customer numbers late last year (it ended the third quarter of 2021 with a total of 150,000 customers). Similarly, T-Mobile first outlined its FWA strategy in 2018, but officially launched its 5G FWA service in April – the company ended 2021 with 646,000 in-home Internet customers, well above its goal of 500,000. And both companies have recently cut FWA prices.
The cable industry appears to be in the early stages of what MoffettNathanson analyst firm described as the "great deceleration."  According to the principal analyst Craig Moffett, this cable industry slowdown stems from such factors as a decrease in the rate of new household formation, increased competition from fiber providers – and FWA.  He described the situation as a "concerning issue for cable investors, particularly if it appears that this is just a taste of what lies ahead."
However, Craig is not convinced that FWA from telcos will mount a serious threat to cablecos Internet, partly because of capacity challenges operators will face as they bring subscribers onto the platform. They also wonder if it makes sense for mobile operators to get too aggressive with FWA, considering the much higher value on a per-gigabit basis they get from their respective mobile bases.
MoffettNathanson does acknowledge that both Verizon and T-Mobile have ramped up their focus on FWA even as AT&T takes a more cautious, targeted approach.  Last week at an investor conference, AT&T CEO John Stankey said:
I  believe that having some fixed high bandwidth infrastructure is going to be essential to being an effective networking company moving forward… Is fixed wireless going to be the best way to get a lot of bandwidth out to less densely populated rural areas? Yes, it probably will be. So is there a segment of the market where fixed wireless will apply and be effective? Sure, it will, and we'll be in a position to have the right product to address those places.

But I don't want to just simply say, well, that is the single solution that's going to deal with what I would call the 70% of the business community, the 70% of the consumer population that are going to be pretty intensive users in some location, indeed, to have fixed infrastructure to support that over the long haul, given all the innovation that's going to come……I see an opportunity for us to be very targeted and very disciplined around what we do (in FWA) and what used to be I hate using the term but traditional out of region markets, where good fiber deployment that supplements the strength of our wireless network.
Moffett wrote in a note to clients today:
There's been a sea change in the rhetoric about fixed wireless broadband. We're admittedly still struggling to understand it.

Until recently, Verizon and T-Mobile had, by turns, swung between aggressiveness and reticence. Investors will recall that in 2018, Verizon made bold claims about millimeter wave-based FWA. T-Mobile was rather skeptical at the time, not just about mmWave but even about FWA-over-mid-band. By 2019, Verizon had pulled in their horns, just as T-Mobile was first committing to bring FWA to rural Americans in a bid to sell their Sprint merger to regulators. At the start of last year, when all three of Verizon, AT&T, and T-Mobile held analyst days, T-Mobile upped the ante, forecasting 7-8M FWA customers by 2025. But Verizon was by then more cautious, committing only to a paltry $1B in revenue by 2024 (equating to perhaps 1.7M customers) and warning that their participation would be back end loaded. And AT&T was more cautious still, arguing that the capacity utilization implications made FWA unattractive.

Now, for the first time, Verizon and T-Mobile are pounding the table at the same time. What has changed? And what does it mean for the many plans for fiber overbuilds?

First, it's important to consider the network capacity implications of fixed wireless. Most investors understand that the burden of serving homes with a wired broadband replacement is far greater than that of serving individual phones for mobility. But investors will also understand that network utilization isn't uniform across all cell sites; there are cell sites with more excess capacity and there are cell sites with less.

The challenge for operators is to ensure that their FWA subscriptions fit as neatly as possible into the cell sites, or sectors of cell sites, with the most available capacity (a cell site will typically be divided into three sectors, each covering a 120 degree arc).

No operator wants to risk their high-value mobile service experience for the benefit of a few incremental low-value fixed subscriptions (as we'll see shortly, the revenue per bit from a mobile customer is 30 to 50x higher than that for fixed).
Still, both T-Mobile and Verizon see FWA as promising. T-Mobile expects to have between 7 million to 8 million FWA subs by 2025, and views an addressable market of about 30 million homes that are suitable from a signal quality and capacity standpoint. T-Mobile has already noted that their 664K FWA customers include a mix of customers from relatively rural areas with limited or no wired broadband availability and those from suburbia who were previously cable subscribers.
Verizon, meanwhile, is committing to about $1 billion in FWA revenues by 2024, which MoffettNathanson equates to roughly 1.7 million customers (Verizon ended Q3 2021 with about 150,000 FWA subscribers).
Craig questions whether there's enough bandwidth to go around to fulfill subscriber targets, and if getting aggressive with FWA makes business sense.  He indicates that 5G telcos are getting desperate to find revenues after spending billions of dollars for licensed spectrum and 5G RAN buildouts.
With tens of billions of dollars of investment in spectrum already sunk, and with tens of billions more to come for network densification, one might imagine that carriers are desperate to find a more tangible revenue opportunity than one that depends on beating Amazon AWS at what is essentially just a next iteration of cloud services.
And when all is said and done, Craig is as puzzled as this author:
As we said at the outset… we're struggling to understand. We're struggling to understand why Verizon and T-Mobile suddenly see this (FWA) relatively low value use of network resources as attractive. We're struggling to understand how, after an initial burst of growth, they will sustain that growth as sectors "fill up." We're struggling to understand why they have set such ambitious targets so publicly. And we're struggling to understand why cable investors have come to expect that deployments of FWA and fiber should be treated as independent, or additive, risks. It doesn't seem, to us, that it all adds up.
Opinion:  We think an undisclosed reason for telco interest in FWA is that 5G mobile offers few, if any advantages over 4G and there is no roaming.  Therefore, the 5G enhanced mobile broadband use case will continue to fail to gain market traction. 5G FWA can work well with a proprietary telco/cloud native 5G SA core network which could be shared by both 5G mobile and FWA subscribers (perhaps using the over hyped "network slicing").  So even though FWA was NOT an ITU IMT 2020 use case, it still has a lot of room to grow into a revenue generating service for wireless telcos.
References:
MoffettNathanson research note (only available to the firm's clients)
https://www.lightreading.com/5g/t-mobile-and-verizons-fixed-wireless-aggression-doesnt-add-up—analyst/a/d-id/774527?
https://www.lightreading.com/5g/is-2022-the-year-fwa-actually-starts-to-threaten-cable/a/d-id/774499?
https://www.ctia.org/news/5g-fixed-wireless-access-could-serve-nearly-half-of-u-s-rural-households-with-high-speed-broadband-new-study-finds
Complete and Comprehensive Highlights of AT&T CEO's Remarks at Citi Conference
---