T-Mobile sells Sprint wireline business to Cogent for $1
T-Mobile will sell its wireline business, acquired from Sprint, to Cogent Communications Holdings Inc for $1, while taking a $1 billion charge on the transaction. The deal includes a $700 million contract under which Cogent will provide transit services to T-Mobile for 4-1/2 years after the deal closes.  Cogent and T-Mobile expect to close the deal in or prior to December 2023.
T-Mobile has been turning its attention away from the wireline business that includes assets from its $26 billion acquisition of Sprint Corp in 2020.  The decline of Sprint's wireline business has been astounding to this author.  For years, Sprint was the leader in wireline technologies like X.25, Primary Rate ISDN, Frame Relay, ATM, Carrier Ethernet and MPLS.  Their optical network was second to none and was used as a backbone network for many carriers, including AT&T.
The deal for the Sprint wireline assets, a unit formerly known as Sprint Global Markets Group, provides a range of services, including MPLS (Cogent plans to convert those to VPLS and WAN), DIA (dedicated Internet access) and transit, wavelength and colocation services. The unit generated roughly $560 million in revenues in 2021 and has about 1,300 employees. In North America, the unit operates approximately 19,000 long-haul route miles, 1,300 metro route miles, and some 16,800 route miles of leased dark fiber.  Total wireline business revenue was $739 million last year, according to Reuters.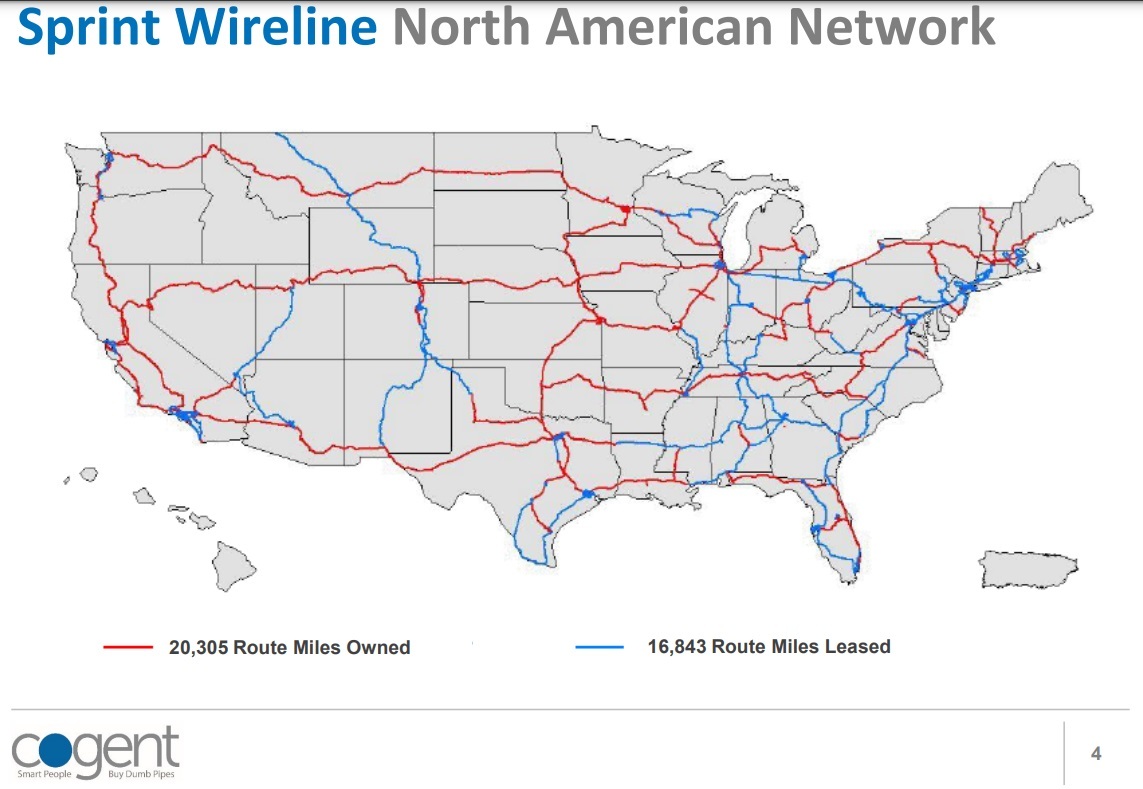 In the most recent earnings call, T-Mobile Chief Executive Michael Sievert said the company was no longer using Sprint infrastructure to support its wireless business and that an asset review was underway.
"We think that T-Mobile must be receiving some sort of discount on the IP transit services that they will be buying from Cogent contractually, and they will save on the costs that they'd otherwise have to keep, maintain and improve (the infrastructure)," said Michael Ashley Schulman, partner and chief investment officer at Running Point Capital Advisors.
For Cogent, the deal provides a U.S. long-haul network that could eventually replace its current leased network and help expand the company's product set to consumers and enterprises.
Cogent expects its revenue base to be about $1.1 billion, or 180% of its current $600 million run rate, CEO Dave Schaeffer said on a conference call.   He outlined several strategic benefits from the deal, noting it will increase its fiber footprint and boost scale in the DIA, transit, virtual private networks and colocation/data centers markets.
The deal also paves the way for Cogent to enter the North American market for wavelength sales, and compete with market leaders Lumen and Zayo. Cogent, which is also looking to enter the market for dark fiber sales, said it also stands to gain international operating licenses in India and Malaysia, where it has no presence today.
Among other benefits, Cogent will also acquire a legacy Sprint customer base of about 1,400 businesses that, it claims, fall outside Cogent's typical customer profile.
Cogent expects to offer customers the ability to migrate from their legacy MPLS VPN solutions to modern Ethernet / VPLS or SD-WAN / DIA solutions for their corporate needs. Cogent also expects to facilitate the migration of netcentric internet access customers from the T-Mobile Wireline Business (legacy Sprint) AS1239 to Cogent's AS174.
Cogent expects its revenue base, post-close, to be $1.1 billion, or 180% of its current $600 million run-rate. Cogent likewise expects its multi-year revenue growth post-close will be 5% to 7% annually, with targeted aggregate revenue of over $1.5 billion by 2028.
A newly formed direct subsidiary of Cogent will consummate the acquisition. Cogent does not plan to issue new debt or equity in order to finance the acquisition, and the transaction is not expected to be dilutive to Cogent's existing stockholders. Cogent plans to maintain its current dividend per share, which is expected to continue to increase over time.
Morgan Stanley served as the financial adviser for Cogent, while Houlihan Lokey was T-Mobile's financial adviser.
References:
https://www.cogentco.com/en/about-cogent/press-releases/3566-cogent-announces-definitive-agreement-to-acquire-t-mobile-s-wireline-business
https://www.cogentco.com/en/about-cogent/events/3565-cogent-investor-call
https://www.cogentco.com/files/docs/about_cogent/investor_relations/presentation/tmus-wireline-deck.pdf
https://www.reuters.com/markets/deals/cogent-communications-acquire-t-mobiles-wireline-business-2022-09-07/
https://www.lightreading.com/opticalip-networks/t-mobile-strikes-deal-to-unload-legacy-sprint-wireline-biz-to-cogent-for-$1/d/d-id/780201?
---