T-Mobile will sell its wireline business, acquired from Sprint, to Cogent Communications Holdings Inc for $1, while taking a $1 billion charge on the transaction. The deal includes a $700 million contract under which Cogent will provide transit services to T-Mobile for 4-1/2 years after the deal closes.  Cogent and T-Mobile expect to close the deal in or prior to December 2023.
T-Mobile has been turning its attention away from the wireline business that includes assets from its $26 billion acquisition of Sprint Corp in 2020.  The decline of Sprint's wireline business has been astounding to this author.  For years, Sprint was the leader in wireline technologies like X.25, Primary Rate ISDN, Frame Relay, ATM, Carrier Ethernet and MPLS.  Their optical network was second to none and was used as a backbone network for many carriers, including AT&T.
The deal for the Sprint wireline assets, a unit formerly known as Sprint Global Markets Group, provides a range of services, including MPLS (Cogent plans to convert those to VPLS and WAN), DIA (dedicated Internet access) and transit, wavelength and colocation services. The unit generated roughly $560 million in revenues in 2021 and has about 1,300 employees. In North America, the unit operates approximately 19,000 long-haul route miles, 1,300 metro route miles, and some 16,800 route miles of leased dark fiber.  Total wireline business revenue was $739 million last year, according to Reuters.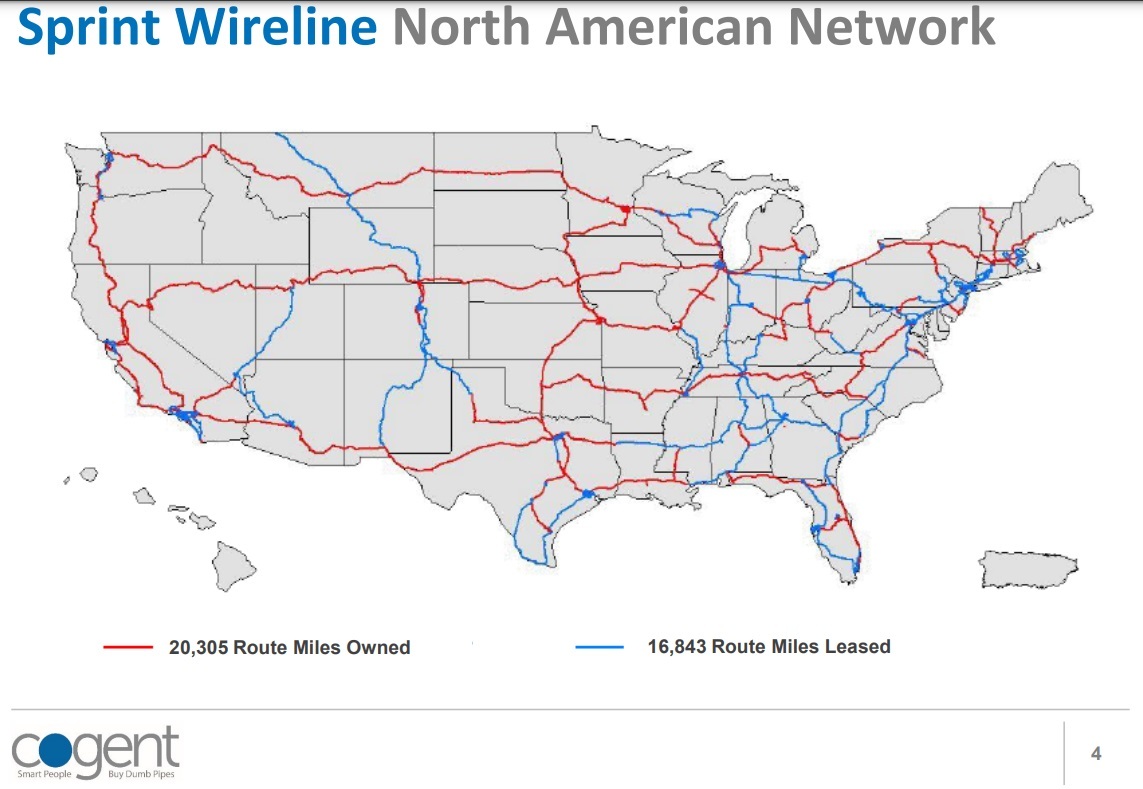 In the most recent earnings call, T-Mobile Chief Executive Michael Sievert said the company was no longer using Sprint infrastructure to support its wireless business and that an asset review was underway.
"We think that T-Mobile must be receiving some sort of discount on the IP transit services that they will be buying from Cogent contractually, and they will save on the costs that they'd otherwise have to keep, maintain and improve (the infrastructure)," said Michael Ashley Schulman, partner and chief investment officer at Running Point Capital Advisors.
For Cogent, the deal provides a U.S. long-haul network that could eventually replace its current leased network and help expand the company's product set to consumers and enterprises.
Cogent expects its revenue base to be about $1.1 billion, or 180% of its current $600 million run rate, CEO Dave Schaeffer said on a conference call.   He outlined several strategic benefits from the deal, noting it will increase its fiber footprint and boost scale in the DIA, transit, virtual private networks and colocation/data centers markets.
The deal also paves the way for Cogent to enter the North American market for wavelength sales, and compete with market leaders Lumen and Zayo. Cogent, which is also looking to enter the market for dark fiber sales, said it also stands to gain international operating licenses in India and Malaysia, where it has no presence today.
Among other benefits, Cogent will also acquire a legacy Sprint customer base of about 1,400 businesses that, it claims, fall outside Cogent's typical customer profile.
Cogent expects to offer customers the ability to migrate from their legacy MPLS VPN solutions to modern Ethernet / VPLS or SD-WAN / DIA solutions for their corporate needs. Cogent also expects to facilitate the migration of netcentric internet access customers from the T-Mobile Wireline Business (legacy Sprint) AS1239 to Cogent's AS174.
Cogent expects its revenue base, post-close, to be $1.1 billion, or 180% of its current $600 million run-rate. Cogent likewise expects its multi-year revenue growth post-close will be 5% to 7% annually, with targeted aggregate revenue of over $1.5 billion by 2028.
A newly formed direct subsidiary of Cogent will consummate the acquisition. Cogent does not plan to issue new debt or equity in order to finance the acquisition, and the transaction is not expected to be dilutive to Cogent's existing stockholders. Cogent plans to maintain its current dividend per share, which is expected to continue to increase over time.
Morgan Stanley served as the financial adviser for Cogent, while Houlihan Lokey was T-Mobile's financial adviser.
References:
https://www.cogentco.com/en/about-cogent/press-releases/3566-cogent-announces-definitive-agreement-to-acquire-t-mobile-s-wireline-business
https://www.cogentco.com/en/about-cogent/events/3565-cogent-investor-call
https://www.cogentco.com/files/docs/about_cogent/investor_relations/presentation/tmus-wireline-deck.pdf
https://www.reuters.com/markets/deals/cogent-communications-acquire-t-mobiles-wireline-business-2022-09-07/
https://www.lightreading.com/opticalip-networks/t-mobile-strikes-deal-to-unload-legacy-sprint-wireline-biz-to-cogent-for-$1/d/d-id/780201?
During a live media event Thursday afternoon, T-Mobile's Mike Sievert and SpaceX's Elon Musk announced a new partnership that's intended to connect T-Mobile sold phones to a new constellation of SpaceX's Starlink satellites. The result, according to the companies, will be the elimination of all cellular dead zones around the U.S.
"It's a lot like putting a cellular tower in the sky," Sievert said, adding that the "vast majority" of T-Mobile's existing phones would be supported by the service. Meaning, customers will not need to purchase new phones in order to connect them to Starlink's second-generation satellites.
Sievert said that T-Mobile expects to offer the service for no additional charge on its more expensive plans. For customers on its cheaper plans, he said they may need to pay an additional monthly charge in order to be able to access satellite coverage.
Starlink's satellites will use T-Mobile's mid-band spectrum to create a new network. Most phones used by the company's customers will be compatible with the new service, which will start with texting services in a beta phase beginning by the end of next year.  The companies did not say when it might launch commercially.
T-Mobile CEO Mike Sievert at a joint news conference at Space X facility in Brownsville, TX
REUTERS/Adrees Latif
SpaceX has launched nearly 3,000 low-Earth-orbiting (LEO) Starlink satellites since 2019, handily outpacing rivals OneWeb and Amazon.com Inc's Project Kuiper.  Starlink recently suffered a major setback when the FCC rejected the company's application for almost $900 million in government subsidies. The agency ruled that Starlink's service likely wouldn't be able to meet the agency's speed and service requirements.
SpaceX's next-generation Starlink satellites, the first of which are planned to launch on SpaceX's next-generation Starship rocket whenever it is fully developed, will have larger antennae that will allow connectivity directly to mobile phones on the T-mobile network, Musk said.
Meanwhile, U.S telecom firms are in a race to build up the mid-band portion of their 5G networks to catch up with T-Mobile, which bagged a chunky 2.5 GHz of mid-band spectrum thanks to a buyout of rival Sprint.
Mid-band or C-Band has proven to be perfect for 5G, as it provides a good balance of capacity and coverage.  T-Mobile said it aims to pursue voice and data coverage after the texting services beta phase.
Others in the Mix:
Satellite communications firm AST SpaceMobile Inc is also building a global cellular broadband network in space that will operate with mobile devices without the need for additional hardware.  AST SpaceMobile is relying on SpaceX's rockets to get its satellites into orbit, having pivoted away from a plan to use Russian rockets after Russia's invasion of Ukraine.
"Elon [Musk] and Mike [Sievert, of T-Mobile] helped the world focus attention on the huge market opportunity for SpaceMobile, the only planned space-based cellular broadband network," AST SpaceMobile CEO Abel Avellan wrote on LinkedIn yesterday. "BlueWalker 3 … is scheduled for launch within weeks!"
Meanwhile, Verizon and AT&T each have their own satellite plans: Verizon plans to use Amazon's planned Project Kuiper satellites to connect its rural cell towers to the Internet, and AT&T is planning a similar setup with OneWeb's own growing constellation of low-Earth orbit (LEO) satellites.
In 2020, AT&T agreed to let startup AST SpaceMobile use its Band 5 spectrum to test transmissions from its BlueWalker 1 satellite to devices on the ground. AST SpaceMobile is now hoping to launch its new BlueWalker 3 prototype later next month. However, as reported by SpaceNews, supply chain issues delayed the launch of AST SpaceMobile's first operational satellite by about six months, to late 2023.
AST SpaceMobile's main rival, Lynk, already has one operational satellite in orbit for phone connections. As noted by Ars Technica, the company is hoping to receive FCC approval to offer satellite-to-phone services across 35 countries by the end of this year.
"Elon said it's hard, and it's only been done in the lab, but Lynk has done it in space already," Lynk's Charles Miller told the publication yesterday. "We're the only company in the world that has done that."
Lynk hasn't yet announced an agreement with a major U.S. network operator, though it has agreements with a number of international operators.  Lynk tested its services in the U.S. with Smith Bagley, a tiny wireless network operator offering services under the Cellular One brand in East Arizona.
"There are significant regulatory hurdles to clear, as the FCC is reviewing SpaceX's request to launch a constellation of 30,000 Gen2 satellites, while other LEO proposals including Amazon's Project Kuiper (with whom Verizon is collaborating) and AST SpaceMobile (financial backing from Vodafone and a commercial agreement with AT&T) are also working DC as well as international agencies to put some rules in place for this latest chapter of the Space Race," Raymond James analysts wrote in a note to investors.
References:
https://www.reuters.com/business/media-telecom/elon-musks-spacex-t-mobile-us-plan-boost-cellular-coverage-space-2022-08-26/
https://www.lightreading.com/satellite/t-mobile-and-spacex-want-to-connect-regular-phones-to-satellites/d/d-id/779964?
https://www.lightreading.com/satellite/did-elon-musk-just-upstage-tim-cooks-big-iphone-14-surprise/a/d-id/779976?
UPDATE:  Apple iPhone 14 text messages via Globalstar LEO satellites starting Nov 2022:
Emergency SOS: Apple iPhones to be able to send/receive texts via Globalstar LEO satellites in November 2022
---