U.S. cable commercial revenue to grow 6% in 2022; Comcast Optical Network Architecture; HFC vs Fiber
U.S. cable multi-service operators (MSO's) now generate more than $20 billion a year in business services revenues as the sector has emerged as one of the most profitable for the industry.  However, cablecos face major challenges in maintaining their growth pace because of the economic meltdown wrought by COVID-19 and the emergence of new all-fiber and wireless competitors.
Cable business service revenues and customer growth each slowed during the first two years of the COVID-19 pandemic, but they are clearly increasing again at the end of 2022.
U.S. cablecos commercial revenue growth is set to hit 6% in 2022, up from just 2% in 2020 and 3% in 2021, Alan Breznick, cable/video practice leader at Light Reading and a Heavy Reading analyst said in opening remarks at Light Reading's 16th-annual CABLE NEXT-GEN BUSINESS SERVICES DIGITAL SYMPOSIUM, which focused on cable business services.  [The source of that data is CMG/S&P.]
"There are signs of things pointing up again for the [cable] industry," Breznick told the virtual audience.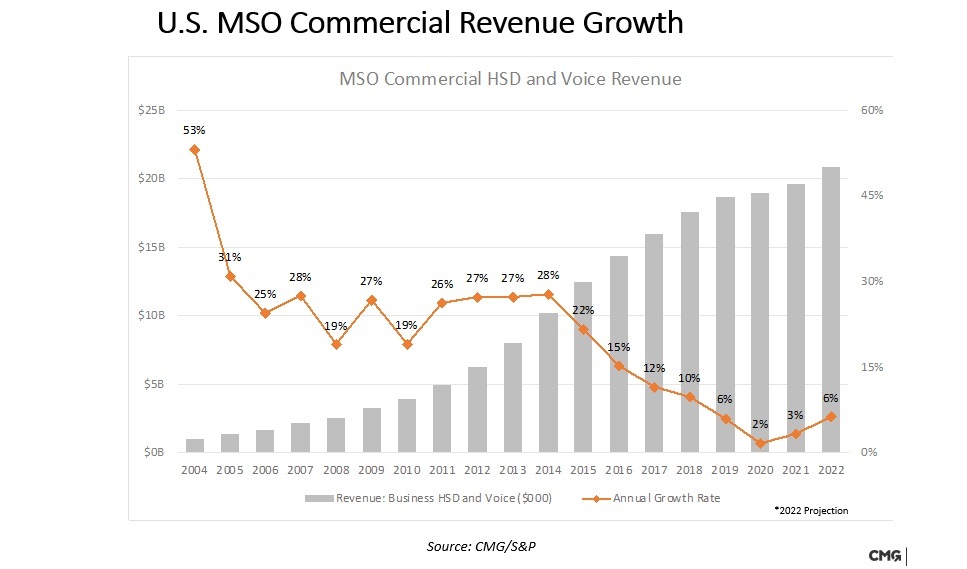 U.S. cable is expected to bring in $20.5 billion in total commercial services revenues in 2022. Broken down by segment, small businesses (up to 19 employees), at $14.6 billion, will continue to represent the lion's share, followed by medium businesses (20-99 employees), at $3.3 billion, and large businesses (100-plus employees), at $2.6 billion.
Commercial customer growth is estimated to reach 5% in 2022, down slightly from 2021 levels, but almost doubling the growth rate seen in 2020, when businesses across the country were hit by pandemic-driven shutdowns and lockdowns. Breznick estimates that US cable has about 5.5 million commercial customers.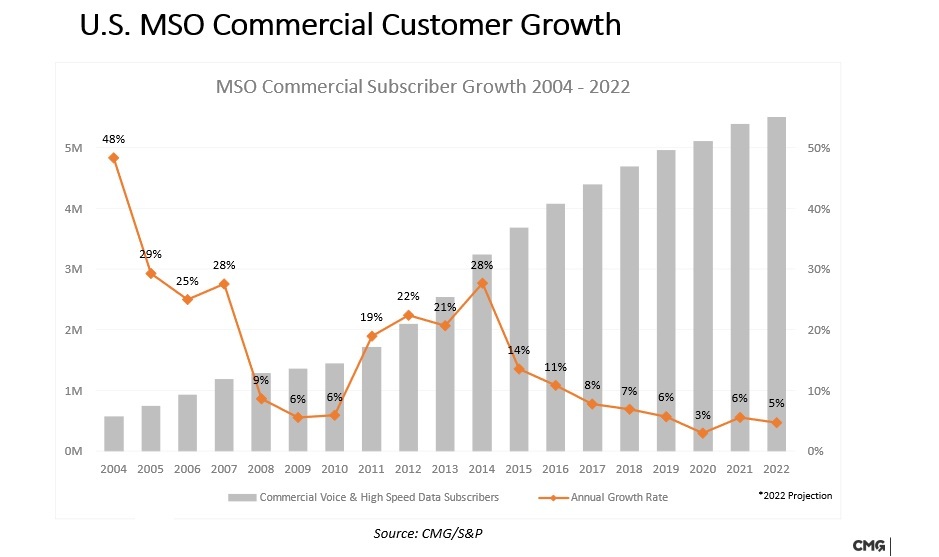 Christopher Boone, senior VP of business services and emerging markets at Cable One, acknowledged that the commercial services market is returning to a faster rate of growth. However, businesses – and smaller businesses, particularly – are feeling labor and inflationary pressure as things continue to open up.
"Everything is expensive, including labor, and it's hard to find [workers]," Boone explained. "For the small business owner, I think it's pretty tough right now."
During the earlier phases of the pandemic, Boone said Cable One didn't emphasize new work-from-home products but instead focused on the broader customer experience. For example, Cable One put some customers on a seasonable pause for the first time, forgave early termination fees, issued credits and, where appropriate, helped customers move to lower-level services.
"We really threw the rulebook out and just said, do what it takes to take care of the customers," he said. Even if some small businesses fail, the hope is that those entrepreneurs will return and choose Cable One again, remembering that the company did right by them when times were tough.  Moving forward, he said Cable One will stick to its knitting and focus on connectivity rather than look to expand its product line for the business segment.
"I think our product menu needs to look like In-N-Out and not The Cheesecake Factory," Boone said, noting that Cable One has opted to sit on the sidelines with product categories such as SD-WAN. "We're pretty cautious in terms of new product launches … We feel that connectivity is really our sweet spot."
…………………………………………………………………………………………………………………………………………………………………………………………..
Comcast Business now serves, small, mid-range and  enterprise-level customers with a variety of services including Metro Ethernet, wavelength services and Direct Internet Access.  An important piece of the firm's broader strategy revolves around a "unified optical network architecture" initiative that enables the MSO to serve a broad range of customer types, including those requiring that services are delivered to multiple locations in multiple markets.
Comcast's unified optical architecture combines the access and metro optical networks using a set of items: network terminating equipment (NTE), a Wave Integration Shelf (WIS) and OTN (Optical Transport Network – ITU standard) "tails."
The NTE is a small, optical shelf that today supports 10-Gig and 100-Gig up to a 400-Gig wavelength, and can reside at a single customer site or a data center. The WIS resides in the Comcast headend or hub, co-located with the metro optical line system, and serves as the demarcation point for commercial services. The OTN Tails are the key to connecting the access network to the metro network.
"We needed a way to provide commercial services to customers that were located in the access [network], but needed to reach the metro network to get to one of our routers for Internet access or possibly another segment of the access to connect their locations together," Stephen Ruppa, senior principal engineer, optical architecture for Comcast's TPX (technology, product and experience) unit, said this week during his keynote presentation.
The combining/meshing of the access and metro networks enables features such as remote management, performance monitoring data, alarming and a full "end-to-end circuit view," including the customer sites themselves.   "We use the same hardware, standards, configurations, designs, procurement, processes … in all the networks, regardless of the vendor," Ruppa said.
And while there was once little need to connect two non-Comcast sites that resided in different areas or to provide connections greater than 10 Gbit/s, customer demands have changed. Ruppa said two products drove that demand and the desire to create the company's unified optical architecture: wavelength services and high-bandwidth Metro Ethernet.
A modular, simplified, commoditized and easily repeatable architecture enables Comcast Business to "easily offer the next gen of 400-Gig wavelengths and Ethernet services with a very light lift," he added.
………………………………………………………………………………………………………………………………………………….
Ed Harstead, Lead Technology Strategist, Chief Technology Office, Fixed Networks, Nokia presented the final keynote.
The panel session "Fighting Fiber with Fiber" was moderated by Breznick with panelists:
Christian Nascimento, VP, Product Management & Strategy, Comcast Business
Brian Rose, Assistant VP, Product Internet, Networking & Carrier Services. Cox Communications
Steve Begg, VP/GM, Business Services, Armstrong Business Solutions
Mark Chinn, Partner, CMG Partners
Ed Harstead, Lead Technology Strategist, Chief Technology Office, Fixed Networks, Nokia
Decades old hybrid fiber-coax networks (HFC) drive fiber to the node outside of the premises, which is then hooked up using older cable (coaxial) technology. However, due to advances in cable technology such as the latest DOCSIS 4.0 technology, the cable industry has touted its newly developed technological capacity to support multi-gig symmetrical speeds over those hybrid networks. DOCSIS 4.0 currently supports speeds of up to 10 Gigabits (Gbps) per second download and 6 Gbps upload – its predecessor, DOCSIS 3.1, offered only 5 Gbps * 1.5 Gbps.
Christian Nascimento of Comcast stated that hybrid networks that deliver multi-gigabit speeds are "adequate" for smaller enterprises. "This is matter of matching the technology up with…the customer's needs," he said, adding that Comcast delivers these services in a "cost-effective way."
For Cox Communications, the hybrid model is "an 'and,' not an 'or,'" said Brian Rose, the assistant vice president of product internet for the cable company. While Cox may invest more heavily in fiber networks going forward, Rose said it will continue to invest in its cable networks as well. Rose said he welcomes market challenges from insurgent fiber deployers. "Competition is good for customers and the industry overall," he said. "It pushes people to be better and to push the envelope."
The panel wasn't unanimously bullish on older cable technology, however. Ed Harstead of Nokia argued that a widespread transition to fiber is inevitable. "I don't doubt that mom-and-pop businesses will be perfectly fine on [cable]. But to the extent that you need higher speeds and symmetrical speeds…it's going to be fiber."
The cable broadband industry faces an onslaught of criticism from fiber advocates. Organizations like the Fiber Broadband Association say their preferred technology performs better, last longer, and costs less in the long term than the competition. FBA President Gary Bolton has strongly opposed government support for all manner of non-fiber technology, including satellite and wireless.
……………………………………………………………………………………………………………………………………………………………………………………
References:
https://www.lightreading.com/cable-tech/cable-business-services-bounce-back/d/d-id/782175
https://www.lightreading.com/cable-tech/comcast-builds-unified-optical-architecture-for-business-services/d/d-id/782231
Cable Providers Back Hybrid Fiber-Coax Networks in Face of Pure Fiber
---