Highlights of Qualcomm 5G Fixed Wireless Access Platform Gen 3; FWA and Cisco converged mobile core network
With 5G deployed in more than 90 countries globally, network operators are increasingly considering 5G Fixed Wireless Access (FWA) to enable more homes and businesses can connect and enjoy the power of connected broadband experiences.
This week, Qualcomm unveiled its 5G Fixed Wireless Access Platform Gen 3, the world's first fully-integrated 5G advanced-ready FWA platform.  Besides benefitting from Snapdragon X75 capabilities, Qualcomm FWA Gen 3 key features include:  
Extended-range mmWave and Sub-6 GHz
Qualcomm Tri-Band Wi-Fi 7 with expert Multi-Link operation for blazing-fast lower latency, reliable connections, and mesh capability for seamless coverage
Quad-core central processing unit (CPU) and hardware acceleration boosts
Self-install capabilities facilitated by Qualcomm Dynamic Antenna Steering technology
Qualcomm RF Sensing Suite to enable indoor mmWave Customer Premises Equipment (CPE) deployments
Support for 5G Dual-SIM Dual Active (DSDA) and Dual-SIM Dual Standby (DSDS) configurations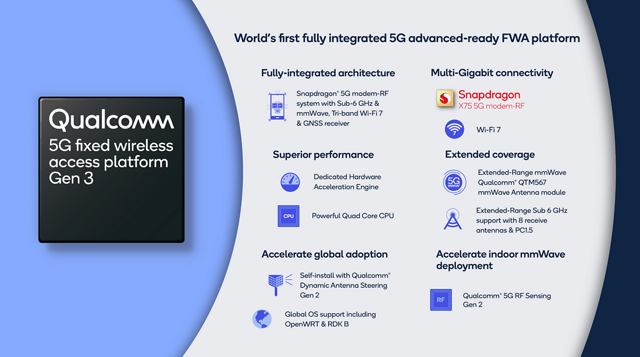 Qualcomm FWA Gen 3 is claimed to be the world's first fully-integrated 5G advanced (???)-ready FWA platform, which includes support for Sub-6 GHz, mmWave, and Wi-Fi 7 connectivity, and boosted with quad-core CPU and hardware acceleration to drive a wide range of applications and value-added services.
The new platform features:
The recently announced Snapdragon X75 5G Modem-RF, enabling breakthrough 5G performance to achieve unmatched speeds, coverage, and link robustness
Qualcomm QTM567 mmWave Antenna Module, providing reliable and extended mmWave coverage
Wi-Fi 7 with 10Gb ethernet, delivering multi-gigabit speeds and wire-like latency to virtually every device in the home
Converged mmWave-sub 6 hardware architecture, reducing footprint, cost, board complexity, and power consumption
These capabilities will help OEMs accelerate time to launch, improve performance, and lower development effort for building cutting-edge FWA CPEs at scale. The Qualcomm FWA Gen 3 provides a fully-integrated solution that enables product development for multiple mobile broadband product categories and enables OEMs to offer a diverse product portfolio to their customers.
Qualcomm FWA Gen 3 includes the following features:
Increased coverage through extended range mmWave and extended-range sub-6GHz with eight receiver antennas and support for power class 1.5 (PC 1.5)
Enhanced self-install capabilities with Qualcomm Dynamic Antenna Steering Gen2
Qualcomm RF Sensing Suite to help accelerate indoor mmWave CPEs deployments
Flexible software architecture with support for multiple frameworks, including OpenWRT and RDK-B
The Qualcomm FWA Gen 3 encapsulates the next-gen modem-RF system technologies intended to springboard 5G forward with superior 5G speeds and flexibility. This breakthrough connectivity is enabled by several capabilities including:
Unrivalled spectrum aggregation
Multi-Gigabit speed
Improved uplink coverage with FDD uplink MIMO and uplink carrier aggregation (CA)
Significant performance increase with Wi-Fi 7 advanced features:

Tri-Band support in the 2.4GHz, 5GHz, and 6GHz spectrum bands with 320MHz and 4K QAM modulation
Multi-Link technology enabling lower latency in heavily congested home environments
With WiFi 7 (IEEE 802.11be) and 5G connectivity, the platform offers consumers a faster and more reliable internet connection in the home. They can tap into the increased capacity and bandwidth offered by Wi-Fi and 5G to deliver multi-gigabit speeds, enabling consumers to connect all their devices and enjoy improved user experiences.
Qualcomm Resources:
Learn more about Fixed Wireless Access and its benefits here and here. Additionally, check out more on our latest Snapdragon X75 5G Modem-RF System enabling this technology here. Solutions such as this, powered by our one technology roadmap, including foundational 5G technologies, further position Qualcomm as the edge partner of choice for the cloud economy. Qualcomm makes an intelligently connected world possible.
…………………………………………………………………………………………………………………………………
FWA and a Converged Mobile Core Network:
In a blog post today, Matt Price of Cisco states that FWA is a great tool for reducing the digital divide when it comes to accessibility and affordability.  The economics for providing Internet services were in need of a change and FWA offers some good ones – reducing trenching requirements, increasing serviceable area, offering self-install customer equipment (CPE), and even providing a common wireless network architecture that can serve both Fixed Wireless Access and Mobile Access services.  To achieve these goals, Cisco strongly recommends 5G service providers deploy 5G SA core networks, which the vendor has implemented as a converged 4G/5G core for T-Mobile US. 
Other carriers, like Verizon [1.] have deployed a 5G NSA FWA network.
Note 1.  Verizon has increasingly come to view FWA as an integral part of their broadband access offering everywhere that FiOS isn't available.  At the same time, the telco has argued (with increasing confidence) that the often-assumed capacity constraints on FWA are not only addressable, but that they are not an issue.  Verizon views 5G FWA as a major growth opportunity- much more so than 5G mobile services, according to Sowmyanarayan Sampath, Executive Vice President and CEO of Verizon Business.  It's also interesting that Telkom in South Africa and  Safaricom in Kenya have deployed 5G NSA networks for FWA but NOT yet for 5G mobile service.
……………………………………………………………………………………………………………………………………………………………..
5G SA's network architecture can flexibly deploy User Plane Function (UPF) nodes to anchor a FWA subscriber's user plane traffic for peering at the nearest edge aggregation point.  Unlike a typical mobile device such as a cell phone, fixed wireless devices are meant to be always-on and connected for serving end user devices.  Meaning that the latency and reliability we commonly expect from traditional wireline services is expected from fixed wireless services too.
In 2022, T-Mobile US became the fastest growing U.S. Internet Service Provider—doubling their number of FWA customers in the past six months. With over 2 million FWA subscribers and counting, the scalability and flexibility of having a Converged Core has proven invaluable to T-Mobile. Being able to deploy UPF nodes for Fixed Wireless Access in remote locations while managing the Session Management Function (SMF) nodes at a central site(s) is effective for scaling the network, optimizing the usage of the transport infrastructure to deliver better end-user latency.
Scaling and extending Fixed Wireless Access with the flexible deployment of UPF nodes, optimizing the routing for user plane traffic.  Source: Cisco
…………………………………………………………………………………………………………………………………………………………………
It's estimated that around 70% of communication service providers today offer a form of Fixed Wireless Access services, most of them still using 4G LTE, which delivers a fraction of the performance of fiber.  Upgrading network architectures to meet the needs of new 5G services needs a smooth plan for the transition. Cisco believes that can begin in the mobile core network.   With a Converged 4G/5G Core, communication service providers can migrate from 4G to 5G without disruption while scaling to serve the needs of millions of new subscribers.
For More Information:
Learn more about the Cisco Converged Core, and how we are helping rural communities bridge the digital divide. Find out how T-Mobile and Cisco Launched the World's Largest Cloud Native Converged Core Gateway, read the December 2022 press release.
……………………………………………………………………………………………………………………….
References:
Next-level connectivity: Unveiling our new 5G FWA Platform | Qualcomm
https://blogs.cisco.com/sp/getting-to-the-core-of-the-digital-divide-with-5g-fixed-wireless-access
https://www.verizon.com/about/blog/fixed-wireless-access
---