NEC Corp and Cisco today announced they have entered into a Global System Integrator Agreement (GSIA) to expand their partnership for accelerating the deployment of innovative 5G IP transport network solutions worldwide.
[Will any other protocol besides IP operate over 5G data plane?]
Under the agreement, the companies will jointly drive new business opportunities for 5G. NEC group companies will work closely with Cisco to complement NEC's ecosystem with optimized IP metro/access transport and edge cloud computing solutions. Cisco will support NEC's customer engagements by offering best-in-class products, proposals and execution support.
The new agreement underlines NEC's successful track record as a Cisco Gold Partner over two decades, and its proven engineering capabilities to provide Cisco products to its global customer base across multiple regions.
"We believe 5G is fueling the internet for the future, and accelerating our customers' digital transformations," said Jonathan Davidson, Senior Vice President and General Manager, Mass-Scale Infrastructure Group, Cisco. "Together with NEC, we are creating a powerful force to drive the critical changes needed in networking infrastructure to carry the internet into the next decade."
"Collaboration across the network solution ecosystem is essential for continued success in meeting diversified customer requirements and establishing a win-win relationship," said Mayuko Tatewaki, General Manager, Service Provider Solutions Division, NEC Corporation. "This powerful partnership strengthens our global competitiveness as a network integrator that drives the customer journey with innovative solutions."
NEC and Cisco say they will make collaborative efforts to further enhance their joint solution portfolio and to optimize regional activities for advancing the digital transformation of customers across the globe.  Indeed, NEC has a long history of working with Cisco stretching back more than two decades. This includes the two working together on 4G LTE equipment that combined NEC's RAN and backhaul assets with Cisco's network equipment.
The two firms last year bolstered efforts in ensuring the security of their networking equipment. This involved using NEC's blockchain technologies and Cisco's fraud detection technologies to confirm the authenticity of network equipment used for security and critical industrial infrastructure before it was shipped to a customer, during the construction of those networks, and during operation.
NEC also participated in Rakuten Mobile's 4G-LTE network deployment in Japan. NEC has so far gained the most from that deployment as it's been tapped to provide a standalone (SA) 5G core network based on the specification it wrote with Rakuten Mobile.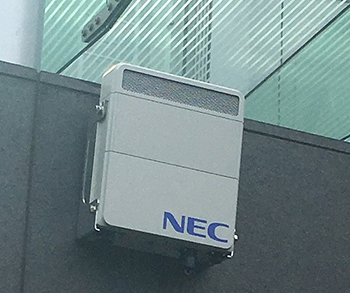 NEC recently established an Global Open RAN Center of Excellence in the UK, which aims "to accelerate the global adoption of Open RAN and to further strengthen its structure for accelerating the global deployment of 5G."
The company also developed (with Samsung) and demonstrated an O-RAN Alliance compliant 5G base station baseband unit (5G-CU/DU) on NTT DOCOMO's commercial 5G network.
Source: NEC Corp.
………………………………………………………………………………………………………………………………….
Cisco was initially part of Rakuten Mobile's 4G-LTE deployment, but has been conspicuously absent from the Japanese carrier's more recent 5G plans.  Cisco has been steadily bolstering its 5G focus with updates to its routing and networking equipment. This includes updates earlier this year to its router portfolio, and scoring a deal late last year with AT&T to assist with disaggregated IP routing technology for an edge routing platform.
Cisco has also been working with Japanese carrier KDDI on its 5G and network virtualization efforts. This included a proof-of-concept (PoC) last year that demonstrated cloud-native software with Cisco's Ultra Packet Core platform.
Nonetheless, Cisco continues to lag behind the more established telecom vendors in providing 5G equipment.  They don't make cellular base stations which limits their offerings to routers with 5G interfaces.
A recent Dell'Oro Group report placed Cisco a distant No. 5 among overall telecom equipment vendors, with its market share having shrunk by 1% from 2019 to 2020 to only 6%.
| | | |
| --- | --- | --- |
| Top 7 Suppliers | Year 2019 | Year 2020 |
| Huawei | 28% | 31% |
| Nokia | 16% | 15% |
| Ericsson | 14% | 15% |
| ZTE | 9% | 10% |
| Cisco | 7% | 6% |
| Ciena | 3% | 3% |
| Samsung | 3% | 2% |
Source:  Dell'Oro Group
………………………………………………………………………………………….
References:
https://www.nec.com/en/press/202104/global_20210408_01.html
https://www.sdxcentral.com/articles/news/cisco-nabs-nec-to-expand-5g-reach/2021/04/
https://www.delloro.com/key-takeaways-total-telecom-equipment-market-2020/
Cisco Systems is extending the concept of software-as-a-service (SaaS) technology with the introduction of Cisco Plus, which is a network-as-a-service (NaaS) offering focused on cybersecurity and hybrid cloud services. The new service offering can also provide computing-as-a-service and data-storage-as-a-service.
Cisco announcing plans to lead the industry with new Network-as-a-Service (NaaS) solutions to deliver simpler IT and flexible procurement for customers looking for greater speed, agility and scale
Cisco also reveals plans to help customers build a SASE foundation today (with Cisco SD-WAN and security) with as-a-service offer coming soon
Cisco Plus offers include flexible consumption for data center networking, compute and storage now, and commits to delivering the majority of its portfolio as-a-service over time
"I believe every organization would benefit from simplifying powerful technology," said Todd Nightingale, Senior Vice President and General Manager, Enterprise Networking and Cloud, Cisco. "Network-as-a-service is a great option for businesses wanting to shift to a cloud operating model without a heavy lift. Cisco is leading the industry in its approach with Cisco Plus. Together with our partners, we intend to offer the majority of our technology portfolio in the simplest, most flexible way: cloud-driven, cloud-delivered, cloud-managed and as-a-service."
"Network-as-a-service delivery is a great option for businesses wanting to shift to a cloud operating model that makes its easy and simple to buy and consume the necessary components to improve and grow their businesses," said James Mobley, senior vice president and general manager of Cisco's Network Services Business Unit.
Cisco Plus NaaS solutions will provide:
Seamless and secure onramps to applications and cloud providers
Flexible delivery models, including pay-per-use or pay-as-you-grow options
End-to-end visibility from the client to the application to the ISP
Unified policy engine to ensure the right users have access
Security across everything, not bolted on as another point solution
Real-time analytics providing AI/ML-driven insights for cost and performance tracking
API extensibility across the technology stack
Partners layering additional value and delivering their services faster
The NaaS rollout will first focus on a cloud-based solution as-a-service for secure access service edge (SASE). The Cisco SASE offer currently available enables customers to easily leverage future services with investment protection. Cisco is planning limited release NaaS solutions later this calendar year that will unify networking, security and visibility services across access, WAN and cloud domains.
While Cisco plans in the next few years to introduce what will likely be many service options under Cisco Plus, for now it is introducing two flavors. The first, Cisco Plus Hybrid Cloud, includes the company's data-center compute, networking, and storage portfolio in addition to third-party software and storage components all controlled by the company's Intersight cloud management package.  Customers can choose the level of services they want for planning, design and installation Mobley said.
Cisco Plus Hybrid Cloud, which will be available mid-year, offers pay-as-you-go with delivery of orders within 14 days, Mobley said.
"As enterprises recommit to their digital transformation strategies, they are increasingly looking for more cloud-like, flexible consumption models for procuring and managing their IT, cloud and network infrastructure. These "as-a-service" deployment options provide much needed flexibility and scalability, along with a simplification of network deployments and ongoing operations. Cisco's transition to as-a-service via Cisco Plus shows the company is committed to meeting customer needs for predictable costs, cloud-like agility, first-class security, and more.
"With Cisco Plus, it's taking NaaS and its hybrid cloud offerings to the next level by including hardware and the full portfolio into this as-a-service offer, that provides cloud-like simplicity and flexibility of consumption on one end, and on the other, it provides a rich set of intelligent operational enhancements that go a long way to deliver enhanced IT experiences and outcomes. This has also been made possible by increased embedded intelligence now available in network and IT hardware and software, coupled with advanced telemetry options in many of these platforms."
— Rohit Mehra, Vice President of Network Infrastructure, IDC.
"With Cisco Plus, we couldn't be more excited that Cisco is diving deeper into the as-a-service era, helping us in our transformation to deliver IT as a service to our customers. In this way, we are better equipped to help our customers simplify their IT operations, and free up resources to invest in innovation of their core business." — Jeffrey den Oudsten, CTO Office Solutions Director, Conscia Nederland
"There's always been a push and pull in how to operationalize and finance IT infrastructure. Cisco Plus is the matching pair to a cloud operating model. Delivering Cisco Plus across the majority of Cisco's portfolio helps us at Insight to further deliver the transformation to a cloud operating model our clients want. With Cisco Plus, organizations can not only operate their infrastructure as a cloud, but also consume it in a similar fashion, enabling a true hybrid, multi-cloud."  — Juan Orlandini, Chief Architect Cloud + Data Center Transformation, Insight
"At Presidio, we have seen this shift coming for a long time. Our customers are very clear: They want to consume reliable, best of breed infrastructure with consumption-based financial models. And with the launch of Cisco Plus, Presidio and Cisco in partnership are doing just that."  — Raphael Meyerowitz, Engineering VP, Office of the CTO, Data Center, Presidio
The second Cisco Plus service, which did not have an availability timeframe, will feature the company's secure access services edge (SASE) components, such as Cisco's SD-WAN and cloud-based Umbrella security software.
Security-as-a-service models offer many advantages for organizations including offloading the maintenance of hundreds or thousands of firewalls and other security appliances, said Neil Anderson, senior director of network solutions at World Wide Technology, a technology and supply-chain services provider.
"With SASE, enterprises can consume that from the cloud and let someone else take care of the toil, which frees up their security team to focus on threat vectors and prevention," he said.
While the strategy behind delivering network components as a cloud-based service has been around for a few years, it is not a widely used enterprise-customer strategy. Cisco's entry into NaaS is likely to change that notion significantly.
"Cisco has been on this journey for a few years now—starting with providing subscription-based offers for many of its software solutions—while working on simplifying and enriching the licensing and consumption experience," Mehra said. "Customers understand and have embraced cloud-like IT-consumption models that are typically subscription-based and provide scalability and other on-demand capabilities," Mehra said.
 Terms such as NaaS are still largely new in an enterprise context to most IT practitioners, although they do understand that operational simplicity and flexibility will be crucial to their success in digital transformation, Mehra said.
While NaaS might be relatively new to some customers, others are already utilizing it, other experts said. For remote-access, customers are more than ready, and it's starting to go mainstream, Anderson said.
"For connectivity to the cloud edge, it's coming very soon, and the adoption of SASE models for security will accelerate the demand for NaaS services," he said. "NaaS in the campus will probably take a bit longer, but we see that coming. Some customer segments, like retail, are probably ready today, while others like global financials will take longer to adopt."
Networking is no longer just about connecting things within private networks because there is a world of networking to and between clouds to account for, Anderson said.  "For example, with private WANs, I typically networked my sites to my other sites like a private data center. Now, I need to network my sites to cloud services, and I may be doing so with public-internet services," Anderson said.
NaaS for the campus network is another use case on the horizon, he said. "To build campus networks in the past, we had access, distribution, and core layers, and the core spanned my campus and sometimes private data center. It was designed to aggregate traffic from users into my private data center," Anderson said. "Today, much of the traffic is heading to the cloud—Office 365 is the tipping point for many organizations—so building a core network may not be necessary. I see a new architecture emerging where the goal is to tie each site, including each building of a campus, to the internet directly to connect users to cloud and enable traffic to [reach] the cloud sooner, ultimately improving the user experience."
Naas is by no means a slam dunk, and there will be challenges for enterprises that use it. "For medium to large organizations with significant investments in existing remote, branch, campus and data-center networking network-security infrastructure, migrating to NaaS will be difficult and time consuming. Multi-vendor environments will further complicate the matter," stated principal analyst at Doyle Research, Lee Doyle.
Widespread adoption of enterprise NaaS will occur slowly over the next five to 10 years Doyle stated. The best fits for adoption now are greenfield sites, temporary locations, and small branch offices. NaaS offerings will also be attractive to network remote, home and mobile workers who need secure, reliable application performance. Enterprise networks with the requirement to move traffic at high speeds on-site would be more difficult to deliver as a service, Doyle stated.
Key challenges, besides understanding of what NaaS will help deliver, face IT practitioners who are the potential customers as well as vendors and service providers, Mehra said.
"On the customer aspects, what we'll need to watch will be the changing role of IT and how it can optimally consume these technologies as a service while retaining overall control of its IT environment," Mehra said. "On the provider side, visibility across issues such as operational flexibility and simplicity will be one area to consider, while another will be the direction the industry takes on what metered-service options it makes available for its clients."
The challenges depend on the industry and security requirements, WWT's Anderson said. "If the organization is in a heavily regulated industry like financial, healthcare, or federal [government], one challenge will be trusting the integrated security needed," Anderson said. "For example, there would be fewer challenges to enable everyone to connect to the internet, akin to a giant hotspot, but to adopt more of a zero-trust model, where you may need to securely isolate sessions and devices from one another, will require building trust in some integrated security technologies."
"What Cisco is doing is very interesting because what NaaS is out there has been limited to mostly the WAN world but once you start targeting the enterprise that's where the challenges are because customers still have to move bits and everything can't be in the cloud," Doyle said. "Instead of being in the first inning of a game we are really just now defining the rules of the game, so there's a long way to go."
References:
https://newsroom.cisco.com/press-release-content?type=webcontent&articleId=2150489?dtid=oblgzzz001087
https://www.networkworld.com/article/3613180/cisco-puts-network-as-a-service-options-on-enterprise-menu.html
https://www.zdnet.com/article/cisco-launches-cisco-plus-a-step-toward-network-as-a-service/
Historical Review:
From its beginnings as a start-up multi-protocol router company, through the early 2000s, Cisco thrived as a major supplier of hardware to build corporate and internet networks, both to telecom firms, large enterprise companies, universities, and government agencies (like the European Commission).
Having acquired many Ethernet switch start-ups, most notably Crescendo Communications and Grand Junction Networks, Cisco became the undisputed leader in Ethernet switching.  But that dominance faded with the rise of cloud computing and "white box" switches the big Internet companies bought for their cloud resident data centers.  Also, the competition from Arista Networks, co-founded by brilliant hardware architect Andy Bechtolsheim, depressed sales to cloud computing companies like Microsoft and Amazon.
Much of Cisco's revenue growth has come from acquisitions. Cisco recently acquired ThousandEyes, a networking intelligence company, for about $1 billion. Cisco bought WAN companies Stratacom and Cerent for $4B in 1996 and $6.9B in 1999, respectively. Cisco acquired software maker AppDynamics for $3.7 billion in 2017.  Later that year, it bought BroadSoft for $1.9 billion.
Most of Cisco's recent acquisitions have been software-related. In July 2019, Cisco acquired Duo Security for $2.35 billion, marking its biggest cybersecurity acquisition since its purchase of Sourcefire in 2013. Acquiring Duo Security bolstered Cisco in an emerging category called zero trust cybersecurity.
Not to be outdone by VMware, HP Enterprise and other large corporate acquirers Cisco purchased SD-WAN companies Meraki in 2012 and Viptela in 2017.  In 2019, Cisco agreed to buy Acacia Communications, a maker of 400G optical components, for $2.6 billion in cash. That deal has not closed. Earlier it bought optics device maker Luxtera for $660 million.
CFO Kramer told Reuters that Cisco will continue to acquire smaller companies to help boost revenue and that its $2.84 billion acquisition of Acacia Communications Inc remains on track. The deal was slated to close before the end of Cisco's fiscal 2020 last month, but the company said it is still awaiting approval from Chinese regulators.
Cisco CEO Chuck Robbins
…………………………………………………………………………………………………………………………………….
Revenues Drop; Earnings Forecast Disappoints:
In its 4th fiscal quarter (May to July 2020), Cisco revenues fell 9% year-on-year to just $12.2 billion as enterprise customers slashed spending on network "infrastructure platforms." Earnings declined 4% to 80 cents a share from a year earlier.  For the current quarter, Cisco expects sales to fall between 9% and 11% in the current quarter.  A 10% revenue drop would be at the midpoint of its forecast to about $11.84 billion. Wall Street analysts had expected $12.25 billion in revenue.
According to a filing with the Securities and Exchange Commission (SEC), sales of "infrastructure platforms" tumbled 16% during the quarter, to about $6.6 billion, compared with the year-earlier period.  "This is the product area most impacted by the COVID environment," said Kelly Kramer, Cisco's chief financial officer who is retiring.  "We saw declines across switching, routing, data center and wireless, driven primarily by the weakness we saw in the commercial and enterprise markets," Kelly added.
Cisco's applications unit, its second largest product segment, sells everything from unified communications products to "Internet of Things" software. It recorded a 9% drop in sales, to $1.4 billion in the last quarter.
That's no surprise.  As companies shift business workloads to cloud computing services like AWS, AZURE and Google Cloud they spend much less on internal computer networks (aka Enterprise Networks). In addition, Cisco has lost share in several large markets, though it aims to rebound in cybersecurity.
Indeed, Cisco's only real 4th fiscal quarter growth came at its comparatively small security business, where sales were up 10%, to $814 million.  Cisco's huge services unit were flat YoY, generating $3.3 billion in revenues.
CFO Kramer elaborated:
"Applications (segment) was down 5% driven by a decline in unified communication and TP endpoints. We did see growth in conferencing as we saw strong uptake with the COVID-19 environment. We also saw strong double-digit growth in AppDynamics and IoT software. Security was up 6% with strong performance in unified threat management, identity and access and advanced threats. Our cloud security portfolio performed well with strong double-digit growth and continued momentum with our Duo and Umbrella offerings. Service revenue was up 5% driven by software and solution support. We continue to transform our business delivering more software offerings and driving more subscriptions. Software subscriptions were 74% of total software revenue, up 9 points year-over-year.

In terms of orders in Q3, total product orders were down 5%. During the quarter, there was a slowdown in April as we saw the impact of the COVID-19 environment continue. Looking at our geographies, the Americas was flat, EMEA was down 4%, and APJC was down 22%. Total emerging markets were down 21% with the BRICS plus Mexico down 29%. In our customer segments, public sector was up 1% while enterprise was down 4%, commercial was down 11%, and service provider was down 3%. Remaining performance obligations or RPO at the end of Q3 were $25.5 billion, up 11%. The portion related to product was up 25%."
"Management does not see the Covid-19 disruption as having improved since May," Barclays analyst Tim Long said in a note to clients. He added that Cisco's fiscal fourth quarter saw "Data center particularly weak from reduced demand. Applications again below expectations as growth in Webex (video conferencing)  volume still to be fully monetized, and outweighed by weakness in the larger campus communications business."
"Cisco earnings were disappointing on several levels, primarily on the news of a large restructuring and elimination of jobs as well as the forecast for a revenue decline, which shows the company is not meeting its growth forecasts," said Scott Raynovich, founder and chief analyst of Futuriom, in an email Wednesday afternoon to FierceTelecom. "The share price looks like it will fall on Thursday based on the fact that investors were too optimistic that cloud infrastructure expansion could support Cisco's business. The fact is that Cisco has never been a major player in the cloud, and this quarter may be proving out that point."
Transition/Pivot to Software, Services and Security:
It's a work in progress and not at all easy for a large company to accomplish.  In its fiscal 4th quarter, approximately 31% of revenues came from pure software vs. 51% of sales generated by software and services in the last fiscal year.  Of its software revenues, 78% now come from subscriptions, easily beating a company target of 66%.  However, the company wants to transition faster.
"We will accelerate the transition of the majority of our portfolio to be delivered as a service," according to CEO Chuck Robbins who said on the earnings call:
"We believe the transition in our own business model through our shift to more software and subscription-based offerings is paying off. We saw continued strong adoption of our SaaS-based offerings and now have 74% of our software that is subscription versus 65% a year ago. We also believe we remain well-positioned over the long-term to serve our customers and create differentiated value aligned to cloud, 5G, Wi-Fi 6 and 400 gig. Our business model, diversified portfolio, and ability to continue to invest in key growth priorities gives us a strong foundation to build even stronger customer relationships. As we prepare for the future, we will closely partner with our customers to modernize their infrastructure, secure their remote workforce and their data through our innovative solutions that will serve as the foundation for their digital organizations."

"I think this pandemic is basically just giving us the air cover to accelerate the transition of R&D expense into cloud security, cloud collab, away from the on-prem aspects of the portfolio. Clearly, we've got a lot of technology that we're working on today to help our customers over the next three, four, five years in this multi-cloud world that they're going to live in, and you'll see more of that come out over the next couple of years."
Related to security, Robbins said:
"Moving on to security, which is always at the heart of everything we do. In Q3, we saw solid growth reflecting increased demand for our robust solutions to secure the rapid growth in remote workers and their devices. Being the largest enterprise security company in the world, we are uniquely positioned to safeguard our customers wherever they work. We have the most comprehensive and integrated end-to-end portfolio in the industry across the network, cloud, applications, and endpoints."

"As I mentioned earlier, we provided extended free licenses for key security technologies that are designed to protect remote workers including Cisco Umbrella, Zero Trust Security from Duo, industry-leading secure network access from Cisco AnyConnect and endpoint protection from our AMP technology. We are also supporting our customers on their multi-cloud journey by enabling them to secure direct Internet access, cloud application usage, and roaming users. We are only two quarters into our Secure Internet Gateway transition and we are already seeing strong adoption from existing and new customers. Building on the investments we made in innovation partnerships and acquisitions, we also introduced SecureX. This is the industry's broadest cloud-based security platform connecting the breadth of our portfolio and our customer security infrastructure by providing unified visibility, automation, and simplified security across applications, the network endpoints and the cloud."
SD-WAN Opportunity:
Robbins outlined the company's SD-WAN strategy during the earnings call:
"We continue to execute on our secure cloud scale SD-WAN strategy by investing in innovation and partnerships to help enterprises accelerate their multi-cloud strategies. As an example, we are now integrating with our Umbrella secure Internet gateway to give our customers flexibility to use best of breed cloud security with our industry-leading SD-WAN solution. Our partnerships across web scale providers like AWS, Azure and our most recent announcement with Google Cloud allow us to offer a truly multi-cloud network fabric. As bandwidth and SaaS application demand increases, we are enabling our customers to securely connect branches and interconnect to different cloud providers to enable consistent application performance and user experience."
With SD-WAN, companies have less need for costly private data networks leased from telecom companies. Cisco competes with VMware, startup Aryaka, Fortinet and CloudGenix in the SDN market. Palo Alto Networks recently bought CloudGenix.
Will 5G/WiFi 6 Drive Demand for Routers and 5G Core Products?
"In our view, headwinds have mostly played out, and we see smoother sailing ahead with easier comps and better growth cycles that are related to new product cycles,"  Bank of America analyst Tal Liani said in a note. "5G could drive demand for routers, especially access and aggregation routers, 400G  switching could drive demand for data center switching to recover, and Wi-Fi 6 (IEEE 802.11ax) could drive up another upgrade cycle."
CEO Robbins on 5G growth:
"So I think what we see happening with 5G is a little bit mixed, but generally there is a tendency for our customers to want to sort of put their foot on the accelerator. I think you heard some of our customers that are looking for permits and with regional governments around the United States and other places that they are not sure they're going to be able to get that done (permits to mount small cells on public infrastructure) during this pandemic. You got other customers who are saying that they actually are not having a problem, but it's — so we think generally there is going to be an acceleration, particularly as our service provider customers also realize that some element of this work from home scenario will not go away and so we're going to be continuing in the future to work in these very hybrid worlds where we're going to have even a much broader distribution of where their users will be working from and I think that's the reason that they want to continue to accelerate the deployments and the strategies around 5G."
CEO Robbins on WiFi 6 mixed customer feedback:
"I'd say in Wi-Fi 6, I don't see any big significant shift. I'd say on the cloud, I've had mixed feedback from customers. I think that in general, it's probably a tailwind to cloud, but there are some customers that believe they have a cloud strategy and this doesn't — they don't understand why this would change how they go about it, but it will, as it relates to our strategy. We are going to continue to accelerate those technologies that help our customers use the cloud more effectively. We are going to — as our customers, some of our customers are going to need opex offers in the future given capex restraints. So we're working on a balance of our portfolio to be delivered in both op capex models to give customers the flexibility that they need and we're definitely going to continue to accelerate the development and work around our security portfolio as it relates to remote work and cloud connectivity because we think that's only going to accelerate as well."
Cost Cutting including Layoffs Coming:
Cisco's restructuring plan started in the current quarter and is expected to recognize a related one-time charge of about $900 million. CEO Robbins plans to cut costs and shrink the payroll. "Over the next few quarters, we will be taking out over $1 billion on an annualized basis to reduce our cost structure," he said on the earnings call.  CFO Kramer said operating costs would fall by around $800 million, about 4.4% of the annual total.
Costs have already been reduced substantially. In the 4th fiscal quarter opex fell 9%, to about $4.4 billion. Yet with those cuts, operating profit dropped 11%, to $3.3 billion. It was only due to lower tax payments via the 2017 GOP tax bill (which benefited companies at the expense of the middle class) that net profit rose 19%, to roughly $2.6 billion.
While older Cisco workers were getting buy-out deals to retire, headcount at the firm has grown for the past four years, rising from 71,833 employees in 2015 to 75,900 last year.  That latter number will surely decline in the months ahead.   Note that Cisco does not provide details of staff numbers or layoffs in quarterly earnings updates.
CEO Robbins did not disclose any details about possible job cuts. According to Reuters: "Cisco's restructuring, which includes a voluntary early retirement program and layoffs, will begin this quarter, the company said, adding that it expected to recognize a related one-time charge of about $900 million."
…………………………………………………………………………………………………………………………………….
References:
https://www.fool.com/earnings/call-transcripts/2020/05/13/cisco-systems-inc-csco-q3-2020-earnings-call-trans.aspx
https://www.lightreading.com/opticalip/routing/cisco-plans-hefty-cuts-as-virus-pain-deepens/d/d-id/763213?
https://www.reuters.com/article/us-cisco-systems-results/ciscos-first-quarter-forecast-disappoints-shares-fall-idUSKCN2582Q6
https://www.fiercetelecom.com/telecom/cisco-implements-restructuring-plan-including-layoffs-as-stock-tumbles-after-hours
---