1G bps residential broadband
by Geoff Burke, DZS Inc. (a global provider of access networking infrastructure, service assurance and consumer experience software solutions).  Edited by Alan J Weissberger
There are a handful of significant trends that will emerge over the next several months as service providers navigate their transformation and seek to find their Competitive EDGE.  This post will focus on the increasing shift to multi-gigabit services, the growing importance of the network edge and how service providers are being transformed into "experience providers..
Multi-Gigabit Broadband Services are Becoming the New Standard – The shift to gigabit services was both widespread and well suited for Gigabit Passive Optical Networking (GPON) However, new advanced applications will require symmetrical multi-gigabit speeds. The proliferation of multiple devices using these bandwidth-hungry apps is pushing service providers to begin to think 10 gig services and beyond for both business and residential services. The emergence of the metaverse, with Ultra High Definition (UHD) Augmented Reality/Virtual Reality/Extended Reality (AR/VR/XR) and gaming applications will continue push these boundaries.
The Network Edge Continues to Rise as a Strategic Location – The rise of 10 Gigabit Symmetrical (XGS)-PON and multi-gigabit services that support the above mentioned applications and more is creating new challenges in the network – especially as these apps require symmetrical bandwidth. Service providers realize that they must push equipment as close to the subscriber as possible to optimize traffic management, but also to minimize latency, which is becoming increasingly important in the world of the metaverse and AR/VR/XR apps. Additionally, leveraging intelligence at the edge moves it closer to where data is actually created and consumed and where the subscriber experience is defined giving service providers increased agility in monitoring, managing and optimizing performance.
Service Providers are Rapidly Transforming into Experience Providers – As the network becomes increasingly software defined and intelligent equipment is deployed closer to the edge, the ability for carriers to both gather meaningful information that can reflect and provide actionable insights into user experience grows dramatically. As a result, the concept of a true "experience provider" is emerging where subscriber problems can be anticipated and proactively addressed, and user needs can be addressed remotely and immediately in an extraordinarily personalized manner. This transformation is proving to have profound impacts on carrier performance, with dramatically reduced churn, faster responsiveness, better performance, and higher Average Revenue Per User (ARPU).
…………………………………………………………………………………………………………………………………………………………………………………………………………………………………..
DZS Inc says these Applications are Changing the Broadband Industry:
Connected Home: WiFi everywhere
Connected Business: Passive Optical LAN
MDUs: delivering multi-gigabit services
Multi-gigabit services: they are becoming a major source of differentiation for service providers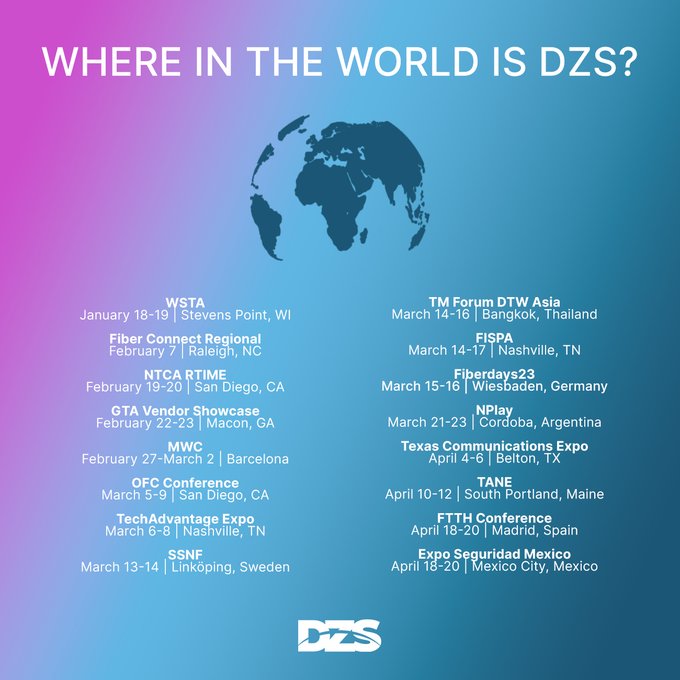 References:
https://dzsi.com/resources/blog/the-broadband-trends-that-will-define-2023-part-1/
Comcast announced in a press release it successfully tested a symmetrical multi-gigabit DOCSIS 4.0 connection on its live network, taking a major step toward "offering 10G-enabled services" in the second half of 2023.  In Philadelphia, where Comcast is headquartered, it connected service at an undisclosed business location using multiple cable modems and a DOCSIS 4.0-enabled 10G node. If you're wondering what 10G means, the answer is — more than 5G. As we noted in 2019, the cable industry rolled out its marketing term just in time to have something that's twice as many Gb/sec as 5G wireless has.
DOCSIS 4.0 technology should enable download speeds of up to 10Gbps with 6Gbps uploads, and Comcast said a lab test in January achieved more than 4Gbps speed in both directions.
Earlier this year, Comcast announced it was working on rolling out multi-gig Internet speeds to more than 50 million residences and businesses in the U.S. by the end of 2025. The company planned on deploying 2Gbps speeds to 34 cities by the end of this month and has also given a slight bump to download speed on internet service in many areas.
The advantage of 10G tech is that it should make multi-gig speeds available for both downloads and uploads (currently, Comcast's gigabit plans include upload speeds of just 200Mbps), just as it is with fiber optic internet connections. However, for anyone considering upgrading, we should note that you will probably need another new cable modem.
Ideally, this will increase speeds for those in places where fiber isn't available, especially non-metropolitan areas. And in places that have competition, it measures closer against rivals that deliver fiber services, such as Verizon, AT&T, Google, and Frontier Communications, which are already offering some customers symmetrical multi-gigabit connections.
"We started this year with the announcement of our world-first test of 10G modem technology capable of delivering multi-gig speeds to homes and, as of today, 10G is a reality with the potential to transform and evolve the Internet as we know it," said Elad Nafshi, EVP and Chief Network Officer at Comcast Cable. "It's been an incredible year of progress, and we look forward to continuing to refine and harden our 10G technology as we work to make this service—and all its incredible benefits—available to all customers in the years ahead."
……………………………………………………………………………………………………………………………………………………………………………………………
Separately, TDS Telecom [1.] said its new symmetrical 8Gb/sec (gig) service is already available in more than 75 of its fiber markets and runs $295 per month.  While most U.S. operators [2.] are sticking with 2-gig as their top tier product for now, a handful of others have already pushed further into multi-gig territory. AT&T and Ziply Fiber, for instance, both offer residential plans providing up to 5 Gbps. And fewer still have gone beyond that. Lumen Technologies introduced an 8-gig tier for its Quantum Fiber service in August and Google Fiber has announced plans to trot out 5-gig and 8-gig plans in early 2023. Lumen's service costs $300 per month.
Note 1.  TDS Telecom offers internet service across 31 states with the greatest coverage in Wisconsin, Tennessee, and Utah.
Note 2. TDS is competing directly against AT&T, Comcast, Consolidated Communications and Lumen in the territory it serves.
While TDS in a press release pitched the 8-gig product as suitable for power users such as gamers and content creators, an operator representative told Fierce Telecom it doesn't initially expect significant uptake of the plan.  Instead, such offerings are tools in a marketing war being waged across the broadband industry.
Wire 3 offers a 10-gig service to customers in Florida, and Tennessee's EPB and also provides a 25-gig service. However, it is not likely that consumers need those kinds of speeds currently.
On TDS's Q3 2022 earnings call, TDS CFO Michelle Brukwicki stated its 1-gig and 2-gig plans are "important tools that will allow us to defend and win new customers." She added nearly a quarter of new customers are taking its 1-gig service where it is available and its faster, higher-APRU tiers helped it boost residential broadband revenue in the quarter. However, TDS expects to miss 2022 fiber build target.
References:
https://corporate.comcast.com/press/releases/comcast-live-10g-connection-4-gig-symmetrical-speeds
https://www.theverge.com/2022/12/12/23505779/comcast-multi-gigabit-10g-docsis-40-cable-fiber-isp
https://www.fiercetelecom.com/broadband/tds-cranks-fiber-speeds-8-gbps
WOW! Internet, Cable & Phone, a leading broadband services provider, today announced the launch of its 1.2 Gig high speed data tier in all markets it serves. This highest speed tier is available for all new WOW! residential customers and available as an upgrade for existing residential customers.
The new speed tier offers 1.2 G Mbps download speeds and 50 Mbps upload speeds to support even faster Internet capabilities for residential customers – for work, entertainment, connecting with friends and family, and more – enabling simultaneous streaming, instantaneous downloads, professional-level gaming, and frictionless livestreaming.
"As part of our dedication to bringing customers the fastest, most reliable broadband speeds available, we're now able to offer our fastest speeds yet across our markets with 1.2 Gig service," said Henry Hryckiewicz, chief technology officer for WOW!. "Our ability to offer these speeds is just the latest demonstration of the deep capabilities available with our robust fiber network. Our customers now have even more options for staying connected and we look forward to seeing them benefit from it."
Ongoing effects from the pandemic have reinforced WOW!'s commitment to bring even faster speeds to customers. With changing dynamics for how we work, learn and play, consumers need a reliable internet connection, with 81 percent of adults saying they've used bandwidth-hungry video calls since the onset of the pandemic according to Pew Research Center.
Along with its blazing fast 1.2 Gig speeds, WOW! is offering a free modem for the duration that the customer is subscribed to the plan, unlimited data usage where applicable and a $5.00 AutoPay discount.
About WOW! Internet, Cable & Phone:
WOW! is one of the nation's leading broadband providers, with an efficient, high-performing network that passes 1.9 million residential, business and wholesale consumers. WOW! provides services in 14 markets, primarily in the Midwest and Southeast, including Michigan, Alabama, Tennessee, South Carolina, Florida and Georgia. With an expansive portfolio of advanced services, including high-speed Internet services, cable TV, phone, business data, voice, and cloud services, the company is dedicated to providing outstanding service at affordable prices. WOW! also serves as a leader in exceptional human resources practices, having been recognized eight times by the National Association for Business Resources as a Best & Brightest Company to Work For, winning the award for the last four consecutive years.  SOURCE WideOpenWest, Inc.  Please visit wowway.com or call 800-560-1824 for more information. Areas served by WOW:
References:
https://www.prnewswire.com/news-releases/wow-launches-1-2-gig-speeds-across-entire-footprint-301584596.html
---