With all the air coming out of the next gen cellular hype balloon, Dell'Oro's report that CBRS RAN is not living up to expectations comes as no surprise.  Think about the failed promise of 5G since there is no standard or spec for URLLC in the RAN. Or all the terrific 5G functions and features (including network slicing and security) which are ONLY made possible with a 5G SA core network (very few have been deployed). Or that there is no standard (revision of M.1036) for the mmWave frequencies to be used for 5G.
Dell'Oro says that CBRS adoption continues to increase, but it is significantly below expectations.  That's driven primarily by diverging trends between fixed wireless access (FWA) and non-FWA including public and private LTE/5G NR.
"Adoption gaps across the various CBRS segment remained significant in 2021," said Stefan Pongratz, Vice President and analyst with Dell'Oro Group. "We have again revised the CBRS RAN projections downward to reflect the lower baseline and slower-than-expected uptake with non-FWA segments. This adjustment does not change the long-term vision—we continue to believe that there is an opportunity to improve spectrum utilization while at the same time stimulating innovation for both public and private networks across various industry segments. So we see this downward revision more as a calibration to reflect the current state of the market and the fact that there is still a significant gap between registered SAS APs and LTE/5G NR base stations," continued Pongratz.
Source:  Counterpoint Research
Other highlights from the CBRS RAN Advanced Research Report:
LTE is projected to drive the lion share of the investments over the near term while 5G NR based CBRS capex will dominate by 2026.
CBRS RAN revenues are expected to account for less than 5 percent of North America RAN by 2026.
Fixed Wireless Access and capacity augmentation for Mobile Broadband (MBB) applications are dominating the CBRS RAN capex mix initially while the enterprise share is expected to improve in the outer part of the forecast period.
Pongratz's comments were echoed by Norman Fekrat of CBRS vendor Imagine Wireless. In a recent YouTube presentation, Fekrat said that sales of CBRS-based private wireless networking equipment and services to enterprises have been sluggish.
He attributed that in part on the complexities around the technology to use CBRS spectrum. He said the telecom industry in general needs to smooth the sales process for enterprises looking to build their own private wireless networks using CBRS spectrum.
According to Pongratz, there's a wide range of vendors selling CBRS-capable hardware and software. He said companies like Baicells, BliNQ Networks, Airspan Networks, Telrad Networks and Cambium Networks sell equipment into the FWA market, while companies like Ericsson, Nokia and Samsung have been supplying CBRS equipment into the market for mobile networks.
Verizon was the biggest spender during the FCC's 3.5GHz CBRS spectrum auction (#105) in 2020, paying almost $1.9 billion for 557 licenses in markets across the U.S. We reported that they planned to test carrier aggregation in the CBRS band, but don't know if that ever happened.   Instead, Verizon's attention has since shifted following the massive $53 billion it spent in the FCC's C-band spectrum auction last year. Verizon recently lit up C-band services that covers ~ 95 million people.
Dish Network was another major CBRS spectrum buyer, but they too have not started a major buildout of its CBRS spectrum holdings.
Among the cablecos/MSOs, Comcast, Charter Communications, Cox Communications and others spent millions of dollars on licenses in the auction.  However, Charter is the only cable company that has discussed any major efforts to construct a network in the spectrum.  Charter may provide additional details on its CBRS efforts during its fourth quarter earnings conference call scheduled for Friday (January 28th).
Financial analysts at New Street Research believe that's a mistake. "Deployed spectrum has strong long-term strategic benefits. Developing expertise in wireless networking will take years," they wrote in a note to investors this week. "We think Comcast should be making hard investments in wireless infrastructure now."
Dell'Oro Group's Advanced Research: Citizen Broadband Radio Service (CBRS) Report offers an overview of the CBRS LTE and 5G NR potential with a 5-year forecast for the CBRS RAN market by technology, location, and market. For more information about the report, please contact us at [email protected].
References:
https://www.lightreading.com/5g/cbrs-isnt-living-up-to-expectations—delloro-group/d/d-id/774899?
FCC CBRS Auction for 5G mid-band spectrum in the 3.5GHz band
FCC permits Verizon to test 5G and carrier aggregation in CBRS spectrum band
The Federal Communications Committee (FCC) has given Verizon Wireless permission to conduct a series of tests in the 3.55 to 3.7GHz CBRS spectrum band using three radio stations in Minneapolis, Minnesota.  Verizon said the tests will involve 5G and carrier aggregation technology. The FCC grant reads as follows:
Verizon Wireless is working with 5G base station and mobile device equipment vendors to
conduct product testing of 3.5 GHz in outdoor locations listed below.
Station Locations:
1. Minneapolis (HENNEPIN), MN – NL 44-48-26; WL 93-22-29; MOBILE: within 0.75 km
radius of center point location, within 0.75 km, centered around NL 44-48-26; 
2. Minneapolis (HENNEPIN), MN – NL 44-48-24; WL 93-22-29; MOBILE: within 0.75 km
radius of center point location, within 0.75 km, centered around NL 44-48-24; 
3. Minneapolis (HENNEPIN), MN – NL 44-48-24; WL 93-22-29; MOBILE: within 0.75 km
radius of center point location, within 0.75 km, centered around NL 44-48-24.
"Verizon and partners plan to conduct the proposed 5G tests using pre-commercial equipment in prototype form," Verizon said in its FCC application. The operator did not name the device or network equipment partners it will be working with for the tests.
PCMag reported that Verizon has only been using CBRS spectrum only for 4G – LTE.  In Jackson Heights (Queens, NY), the CBRS-enhanced 4G clocked 456Mbps, while 5G DSS at the same times and similar locations hit 232Mbps.  The PCMag author previously observed Verizon's 5G Ultra Wideband at about3.2Gbps.
Therefore, the move to 5G over CBRS is significant.  Verizon added that it plans to evaluate "intra-band and inter-band carrier aggregation between 3.5GHz and licensed (and/or unlicensed) bands," including its licensed 700MHz, PCS and AWS bands.  [Carrier aggregation technology can be used to bond together transmissions across different spectrum bands, thus dramatically increasing users' connection speeds.]
Light Reading's Mike Dano says that Verizon has been adding support for the 3.5GHz CBRS spectrum band to its network for years. And last year Verizon spent $1.9 billion to purchase CBRS spectrum licenses across the country in an FCC auction.
Verizon's tests roughly coincide with the operator's three-year, $10 billion program to put its C-band spectrum licenses into use.  Verizon succeeded in more than doubling its existing mid-band spectrum holdings by adding an average of 161 MHz of C-Band nationwide paying $52.9 billion including incentive payments and clearing costs.
References:
https://apps.fcc.gov/oetcf/els/reports/GetApplicationInfo.cfm?id_file_num=0461-EX-ST-2021
https://apps.fcc.gov/oetcf/els/reports/STA_Print.cfm?mode=current&application_seq=106415
https://apps.fcc.gov/els/GetAtt.html?id=273078&x=.
https://www.lightreading.com/5g/verizon-aims-to-test-5g-carrier-aggregation-in-35ghz-cbrs-band/d/d-id/769336?
https://www.fiercewireless.com/operators/verizon-boosts-lte-speeds-philly-via-cbrs-spectrum
https://www.verizon.com/about/news/verizon-announces-c-band-auction-results
Verizon has reportedly shown growing interest in providing service in the 3.5 GHz band via Citizens Band Radio Service (CBRS) frequencies, even though federal regulators (FCC and NTIA- see below) have yet to allow carriers to launch commercial operations using the mid-band spectrum. The development also points to Verizon's increased enthusiasm for unlicensed spectrum, which saves money at the risk of frequency crowding.
Verizon first signaled its interest in the 3.5GHz CBRS band during the Mobile World Congress trade show in 2017. Ed Chan — now one of Verizon's top network executives — said CBRS could power a number of business models including both private and commercial mobile networks. And then last year Verizon issued a press release about its ongoing CBRS testing with Federated Wireless, Google, Nokia and Qualcomm.
Since then Verizon executives have routinely said the operator is interested in using the 3.5GHz for outdoor and indoor small cells. Indeed, just last month the operator embarked on new outdoor and indoor CBRS tests, according to filings with the FCC.
But the fact that Verizon is already deploying CBRS antennas into its network, and is already selling several CBRS-capable phones including the Pixel 3 and the Samsung Galaxy S10, shows that Verizon is keen to put the band to commercial use much more quickly than expected.  According to some new Verizon cell tower applications, the largest U.S. wireless network operator is now specifically noting support for the 3.5GHz band: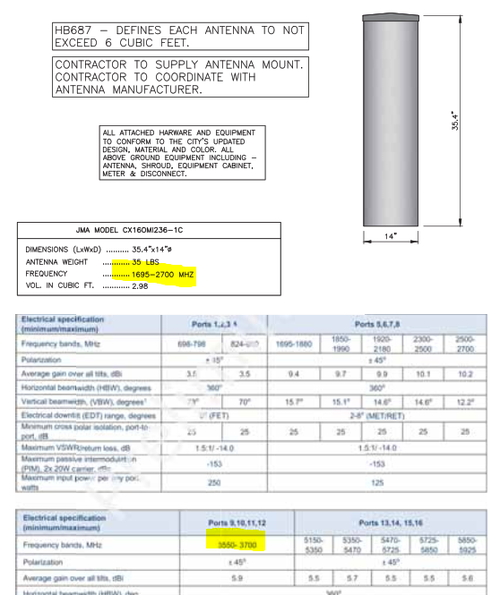 Verizon and a wide range of other companies are waiting for the FCC and NTIA to give final approval for initial commercial deployments in the CBRS 3.5GHz band. Those approvals are expected in the next few weeks. After monitoring the initial deployments, the FCC is expected to sign off on broad, unlicensed commercial use of the 3.5GHz band in the third quarter.  In 2020, the FCC is expected to conduct auctions of 3.5GHz licenses.
Verizon, like most wireless carriers, wants to add more spectrum to its network to keep pace with increasing user traffic. But instead of spending billions of dollars buying spectrum from someone like Dish Network, or buying it at a government auction, Verizon increasingly is using unlicensed spectrum. Such spectrum is free to use but can become crowded.
Verizon first hinted at its unlicensed aspirations in its support for the LTE-U standard roughly five years ago. That standard was designed to allow cellular operators to expand LTE transmissions from licensed spectrum bands and into the 5GHz unlicensed band. Although the similar LAA standard eventually replaced the LTE-U standard, the result is the same: Operators like Verizon can add more capacity to their networks by basically pushing LTE transmissions into unlicensed spectrum bands alongside their existing, licensed spectrum bands. AT&T and T-Mobile are also deploying LAA.
Verizon may employ the same strategy in the 3.5GHz CBRS band. And the reason Verizon is moving so fast to do so is probably to add capacity to its network quickly. As noted by the Wall Street analysts at Wells Fargo, Verizon sits well behind AT&T in terms of overall mid-band spectrum ownership:
Although Verizon owns significant amounts of so-called millimeter-wave (mmWave) spectrum, it owns just slightly more mid-band spectrum than T-Mobile does — although Verizon counts almost twice as many mobile customers.
Thus, Verizon may well be looking for ways to improve its network capacity with unlicensed spectrum like the 3.5GHz band while it waits for the FCC to release more mid-band spectrum like the C Band.
Read more at: https://www.lightreading.com/mobile/5g/verizon-slaking-mid-band-spectrum-thirst-with-35ghz-cbrs-deployments/d/d-id/751907
…………………………………………………………………………………………………………………………………………………………
Addendum — 3.5GHz band for 5G in China:
China Telecom was allowed to use the 3.4 GHz to 3.5 GHz frequency range to carry out 5G trials in mainland China. Under the agreement with the Chinese government, China Telecom will return its 2.635 GHz to 2.655 GHz spectrum over the same timeframe.
China Unicom said it has been approved to use the 3.5 GHz to 3.6 GHz frequency band for a nationwide 5G trial rollout until June 2020. The telco said that it will gradually cease to use the frequency in the 2.555 GHz to 2.575 GHz range that it had been using for 5G trials and progressively return it to the MIIT.
Reference:
https://www.rcrwireless.com/20190603/5g/5g-spectrum-allocations-china
---