Dutch satellite asset tracking start-up Hiber has signed an agreement with Royal Dutch Shell to provide worldwide well monitoring systems. The global framework agreement will allow all Shell entities and subsidiaries to use the HiberHilo product worldwide for Industrial IoT applications.
HiberHilo, launched in October 2020, is an end-to-end IoT system that makes adds data and security to monitoring. Based on satellite technology, the system will enable oil and gas companies to measure real-time well temperature and pressure at disconnected wells in remote and offshore locations. HiberHilo is already installed in Shell operations in the North Sea. Shell is considering using HiberHilo for various operations in Africa, the Middle East and Southeast Asia.
"After testing HiberHilo, the opportunity was clear," said Ian Taylor, Global Principal Technical Expert for well integrity at Shell. Operations in South-east Asia, the Middle East, and Africa are considering HiberHilo.
"HiberHilo is a simple solution to help oil and gas companies improve safety, optimize operations, and reduce their environmental footprint," said Coen Jansen, Hiber's Chief Strategy Officer. "We're thrilled to be working with Shell toward a technologically cleaner future. Hiber's mission is connecting everything everywhere to deliver productivity and sustainability in global industrial IoT," he added.
Shell plans to use HiberHilo to reduce travel to and from wells in remote locations. The system will also let the company to gain more data on their well performance and better monitor well integrity issues, improving the safety of remote and offshore oil and gas wells.
Image Credit:  Hiber Global
Hiber, founded in 2016 in the Netherlands, designs, builds and operates end to end solutions for the Internet of Things, focused on industrial uses such as well integrity or heavy equipment monitoring.  The company is working on a network of 50 satellites aimed at making the 'Internet of Things' available all over the world.  Its Hiberband network is described on their webpage as follows:
Hiberband is the world's first LPGAN (Low Power Global Area Network) and it changes everything. It's low cost thanks to using tiny nano satellites at a low orbit of just 600km above Earth. Unlike traditional satellite and cellular operators who launch gigantic, super expensive satellites at 60x higher with much higher costs.

Low orbit also means low power with modem batteries lasting 5-10 years. Just one of many factors that make experimenting with Hiberband-enabled devices a developer's dream. We've even secured priority on our own dedicated frequency. Which is why everyone at Hiber believes Hiberband is the future of IoT connectivity.
Hiber acquired a new space permit in July 2020. On 29 February, the company launched a second-generation satellite into orbit through a SpaceX launch. A second Soyuz rocket launch followed in March. At the end of March, Hiber received an investment of  26 million EUROs to further expand its IoT satellite network.  The funding came from the European Innovation Council Fund (EIC Fund), the EU's innovation agency, which has a €278 million Innovation Fund. The EIC co-invested with an innovation credit provided by the Dutch government and existing shareholders. Other investors include Finch Capital, Netherlands Enterprise Agency and Hartenlust Group. Hiber's satellite constellation tracks and monitors machines and devices in harder-to-reach places.
References:
https://hiber.global/press/hiberhilo-shell-deal/
https://www.telecompaper.com/news/hiber-signs-iiot-agreement-with-shell–1397276
Hiber signs deal with Shell for remote IoT well monitoring system
Shell hands major IoT contracts for oil well and refinery monitoring to Dutch startups
IoT satellite network startup Hiber secures €26M in funding round led by EU's innovation agency
https://hiber.global/press/hiberhilo-wts-venture/
Qualcomm has released a new range of cellular connectivity modules for IoT devices. The seven new products range from entry-level to premium tier to expand access to a variety of industrial and commercial applications, including transportation and logistics, warehousing, video collaboration, smart cameras, retail and healthcare.
Qualcomm's senior director of product management Nagaraju Naik said that the new chips are a comprehensive offering from entry-level to high-end products that meet the needs of a broad range of IoT solutions.  Naik said that the high-end chips in particular will support video collaboration with support for high-resolution cameras and image signal processing for electronic pan, tilt and zoom actions.
"Within the Internet of Things ecosystem, there are a variety of segments going through digital transformation, whether its retail or warehouse management or the shipping industry.  Collaboration is yet another significant segment. These products that we're introducing are going to enable a lot of those applications," Naik said.

"Smart cart is actually bringing the point-of-sale experience or the checkout experience into the cart.  So, you have cameras that can detect what (merchandise) is being picked by the consumer, and then right on the cart you have point-of-sale ability.   Companies need highly capable cameras and AI compute capability and connectivity to provide these services," Naik added.
The chips can support a variety of activities, according to the company, including:
Integrated connectivity
Sensor fusion
Person identification and detection
Object detection
Edge interaction
Activity analysis
Personalization
Naik said the chips also can support modern warehouse management from inventory management to package delivery to driver safety and productivity. In a warehouse environment, the entry-level chip can power the handheld device for managing inventory while the high-end chip can run the robot that pulls items.  "All of these scenarios can be supported with the family of products we are introducing today," Naik said.
Qualcomm also has promised extended life hardware and software options for a minimum of eight years for the new products. All of the new chips are available now except the QCM 6490.
The Qualcomm QCS8250 is the premium-tier offering, optimized to enable maximum performance at the greatest power efficiency possible for intensive AI at the edge. It comes with support for Wi-Fi 6 and 5G, with the Qualcomm Kryo 585 CPU architecture, latest Qualcomm AI Engine and an image signal processor to support up to 7 concurrent cameras with 4K resolution at 120 frames per second. The new Neural Processing Unit supports AI and machine learning for products such as smart cameras, video collaboration, AI hubs, connected healthcare and smart retail.
The next tier is the Qualcomm QCS6490 and QCM6490, also with global 5G connectivity and Wi-Fi 6E, and available from the second half of this year. These come with the Kryo 670 CPU architecture targeting industrial and commercial IoT applications such as transportation, warehousing, connected healthcare, logistics management and POS kiosks. The models can support triple ISPs and advanced edge-AI based on the 6th generation Qualcomm AI Engine.
The Qualcomm QCS4290 and QCM4290 are aimed at mid-tier devices, running the Kryo 260 CPU and 3rd generation Qualcomm AI Engine. This platform supports LTE Cat13 and is ready for upgrade to Wi-Fi 6.
For the entry-level market, the company has the Qualcomm QCS2290 and QCM2290 with LTE connectivity and memory support for low power consumption. Equipped with the Cortex A53 CPU architecture, this cost-effective solution is aimed at retail point-of-sale, industrial handheld, tracking and camera applications.
Customers supporting the new modules include Arrow Electronics, Zebra, Amtran, EInfoChips, Honeywell, Fibocom, Lanotronix and Quectel.
References:
https://www.techrepublic.com/article/qualcomm-adds-7-new-chips-to-power-iot-installations-in-retail-warehouse-and-manufacturing-sectors/
https://www.sandiegouniontribune.com/business/story/2021-06-11/qualcomm-doubles-down-on-internet-of-things-as-pandemic-accelerates-digital-transformation
Executive Summary:
After 3GPP release 16 has been completed and included in IMT 2020 RIT/SRIT, 5G networks will offer ultra-reliable, ultra-low-latency and high-bandwidth capabilities.  That will open up new enterprise market opportunities for communications service providers/wireless network operators.  Therefore, understanding the future market is key to an effective strategy. Gartner Inc. says that IoT use cases like surveillance cameras and connected cars will offer the biggest markets for 5G IoT.
Outdoor surveillance cameras will be the largest market for 5G Internet of Things (IoT) solutions worldwide over the next three years, according to Gartner.  These cameras will represent 70% of the 5G IoT endpoint installed base in 2020, before contracting to 32% by the end of 2023.5G IoT installed endpoints for outdoor surveillance cameras will reach 2.5 million in 2020, 6.2 million units in 2021 and 11.2 million units in 2022, but will be surpassed by connected cars in 2023. "Cameras deployed by city operators or used to ensure building security and provide intruder detection offer the largest addressable market as they are located outdoors, often across cities, and require cellular connectivity," said Stephanie Baghdassarian, senior research director at Gartner Inc.
Gartner predicts that the 5G IoT endpoint installed base will more than triple between 2020 and 2021, from 3.5 million units in 2020 to 11.3 million units in 2021. By 2023, the 5G IoT endpoint installed base will approach 49 million units (see Table 1).
5G capabilities open up new enterprise market opportunities, so communications service providers (CSPs) need to assess the many use cases with a view to prioritizing investment in the building of IoT solutions.
"Their investments should focus on outdoor surveillance cameras, connected cars, and government and physical security," said Ms. Baghdassarian.Table 1: 5G IoT Endpoint Installed Base, Worldwide, 2020 and 2023 (Thousands of Units)
Segment
2020

Volume

2020

Market Share (%)

2023

Volume

2023

Market Share (%)

Connected cars — embedded (consumer and commercial)

393

11

19,087

39

Outdoor surveillance cameras

2,482

70

15,762

32

Fleet telematics devices

135

4

5,146

11

In-vehicle toll devices

50

1

1,552

3

Emergency services

61

2

1,181

2

Others

400

11

5,863

12

 

Total

 

3,522

 

100

 

48,590

 

100
Due to rounding, figures may not add up precisely to the totals shown
Source: Gartner (October 2019)
Connected Cars Will Offer the Biggest Opportunity for 5G IoT in the Long Term:
In 2023, the automotive industry will become the largest market opportunity for 5G IoT solutions. It will represent 53% of the overall 5G IoT endpoint opportunity in that year.
Within the automotive sector, embedded connected-car modules are the major use case for 5G. Embedded endpoints in connected cars for commercial and consumer markets will represent an installed base of 19.1 million units out of a total of 25.9 million 5G endpoints in the automotive sector in 2023.
"The addressable market for embedded 5G connections in connected cars is growing faster than the overall growth in the 5G IoT sector," said Ms. Baghdassarian. "Commercial and consumer connected-car embedded 5G endpoints will represent 11% of all 5G endpoints installed in 2020, and this figure will reach 39% by the end of 2023."
In addition, the share of 5G-connected cars actively connected to a 5G service will grow from 15% in 2020 to 74% in 2023. This figure will reach 94% in 2028, when 5G technology will be used for Cellular V2X communications that enable messages to be sent and received within vehicles and between vehicles, infrastructure, pedestrians, cyclists and more. Ultimately, connected cars actively connected to a 5G service will help keep traffic moving and improve road safety.
"As the automotive industry will be the largest sector for IoT endpoints and 5G IoT use cases in the long term, we recommend that CSPs that want to be relevant in the 5G IoT market put this industry at the forefront of their investments. They should do this in terms of personnel who understand the sector and of partnerships that will move the market forward," said Ms. Baghdassarian.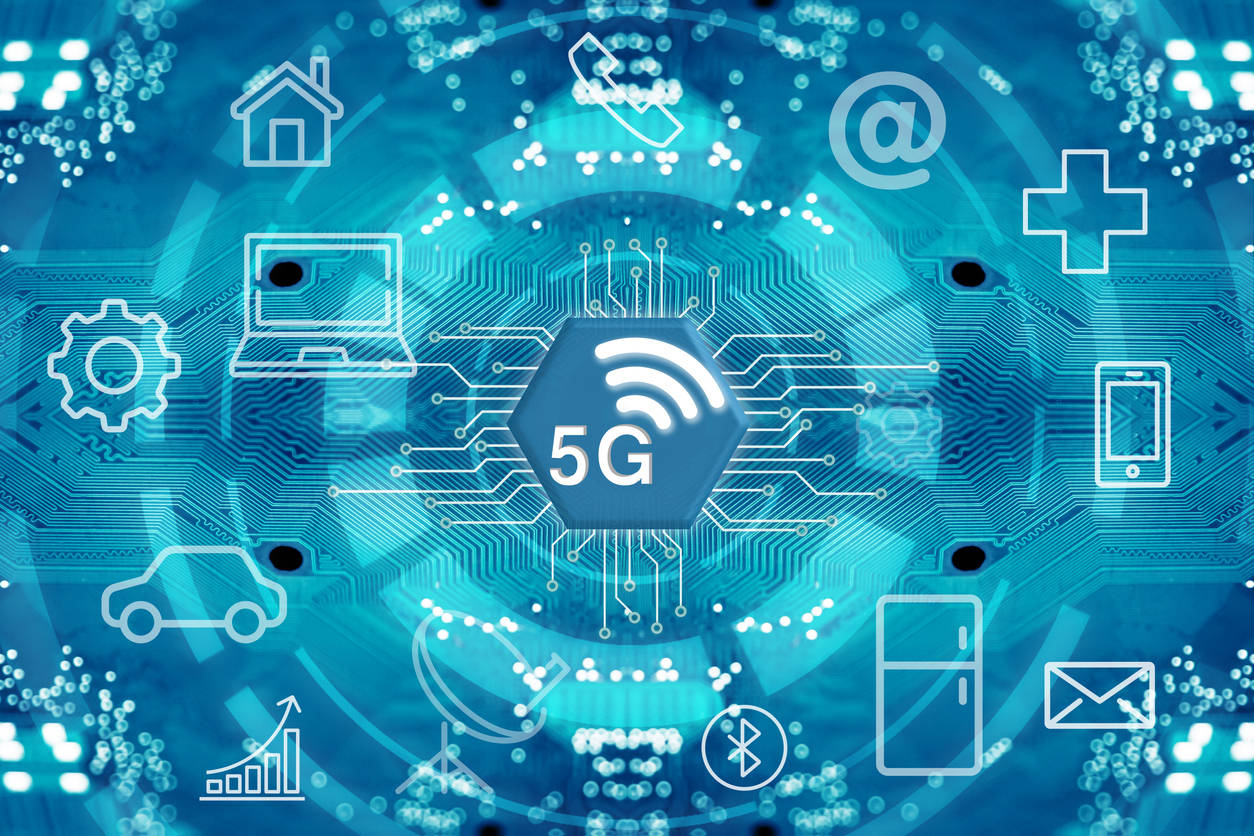 Other Analyst and Industry Opinions:
"The industrial IoT market is among the most fractured especially amongst the verticals like healthcare and automotive," said Lee Doyle, principal analyst with Doyle  Research. "Large companies such a Cisco, HP and IBM have been challenged to address it because it is so fractured. It's not at all clear any one of them has the overall network architecture to handle it all."  Vendors need to show users on a case-by-case, application-by-application basis what works, Doyle said.
…………………………………………………………………………………………………………………………………………………………………………………………………………
"With 5G, you can put more video cameras up in a big facility to monitor where folks are going and what they're doing. Then bring analytics into the picture to increase efficiency. Speed really matters when you're adding that many cameras," said Samsung Networks' VP of Networks Strategy & Marketing Alok Shah.
Shah believes the most "magical" element of 5G for enterprise users is decreased latency (so does this author, but it won't happen till 3GPP Release 16 is finalized). "Bringing latency down substantially allows the user to perform from a remote perspective much more.  Robotics in factories can be manipulated without being there in person," he elaborated.
In addition, with 5G, the number of IoT sensors that can be implemented can skyrocket. "It can go up to a million sensors around a facility, which is huge," Shah stated. "It's a combo of these different things. You don't get all of this at once because different devices have different requirements, but network slicing will help with this," Shah added.
……………………………………………………………………………………………………………………………………………………………………
Ericsson's new 5G business potential report considers a set of "5G-enabled B2B use case clusters" as drivers of industrial 5G revenues. Among these use case clusters, it said "enhanced video services" represents the largest opportunity for telecoms providers in terms of value across industrial sectors, worth up to 17 per cent or $118 billion of the total value by 2030.
Ericsson said enterprise 5G services will drive up to $700 billion of new revenues in the period. However, the total market, of 5G services for industry will be worth more than twice that, it said. The $700 billion operators can go for corresponds to 47 per cent of the total 5G business-to-business (B2B) market to be served by ICT players.   Network  operators must extend their reach "beyond connectivity" and consider newer roles for their services and expertise within the B2B value chain, and "what use case clusters to address."  Operators must act urgently, Ericsson warned, if they are to capture new value from industrial transformation services, as revenues for existing airtime services will remain stagnant through to 2030.
The chart below superbly illustrates the dire dilemma of network operators- traffic increasing exponentially, revenues (measured by ARPU) decreasing!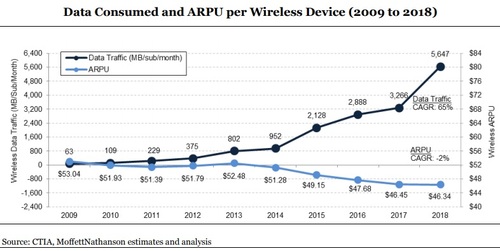 Jan Karlsson, senior vice president and head of B2B digital services at Ericsson, said: "The journey to grow the 5G business starts now by building momentum and identifying 5G-enabled B2B opportunities."
Ericsson looked at the following industrial sectors for its report: manufacturing, automotive, energy and utilities, public safety, healthcare, media and entertainment, public transport, financial services, retail, and agriculture.
Other use cases in the report, besides enhanced video, include real-time automation, connected vehicles, and augmented/virtual reality.  The company said use case examples building up these 'clusters' include live streaming of events, real-time monitoring of distributed energy, and autonomous cars.
–>Please refer to my comment in box below this article for more on the Ericsson report.
……………………………………………………………………………………………………………………………………………………………………
"Clearly there is no single access technology out there that solves all the problems and challenges of networking especially in the industrial arena where customers have one of every type of communications device imaginable, but 5G and Wi-Fi 6 will deliver a whole bunch of new use cases and address many multi-access  requirement challenges," said Liz Centoni, senior vice president and general manager of Cisco's Internet of Things Business Unit, in an interview with Network World.
"Many industrial IoT use cases mandate wide mobility, low latency, and mission-critical reliability, such as mobile-robot control in production automation and autonomous vehicles in open-pit mining. These use cases rely on wireless access at 50ms to 1ms latency and service reliability from 5 nines to 6 nines," Centoni wrote in a recent blog about 5G.
"4G/LTE has attempted to address these use cases but has often failed due to unsatisfactory performance. 5G's combination of ultra-reliable and low-latency connection will extend industrial IoT to unconquered spaces," Centoni.
Cisco's Scott Harrell, senior vice president and general manager of enterprise networking told Network World the company expects to see a lot of 5G being used in branches as a faster backup and bandwidth alternative to current 4G or LTE links. Keeping an enterprise's branch and campus locations all connected to each other and the internet has traditionally fallen to wired technologies like T1/E1 and xDSL, Harrell said. Today, 4G is often used to quickly bring up sites or as a back-up link, but it's seldom used as a primary link, due to bandwidth limitations and cost, Harrell said.
https://www.networkworld.com/article/3446457/cisco-pushes-5g-to-hasten-industrial-iot.html
https://blogs.cisco.com/news/how-5g-will-accelerate-industrial-iot
https://www.ericsson.com/assets/local/5g/the-5g-for-business-a-2030-compass-report-2019.pdf
---