Despite no work even started by ITU-R WP 5D (responsible for all IMT xG's), global technology intelligence firm ABI Research expects that 75% of 5G base stations will be upgraded to 5G-Advanced by 2030, five years after the estimated commercial launch in 2025.
3GPP approved their Release-18 package in December 2021, making the official start of 5G-Advanced with the planned freeze date in December 2023.
But that really doesn't mean much since Release-16 was frozen in June 2020, yet 2+ years later the spec for URLLC in the RAN has not been completed.  As a result, neither 3GPP or ITU-R recommendation M.2150 (formerly IMT 2020) meets the ITU-R M.2410 performance requirements for URLLC use case.  Also, less than 5% of deployed 5G networks are 5G SA with a 5G Core network, which is required for implementation of ALL 5G features, e.g. network slicing, security, automation, as well as MEC.
Some network operators like Verizon have already admitted that it could take up to a decade before they profit from their 5G investments.
ABI Research claims that 5G-Advanced will bring continuous enhancements to mobile network capabilities and use case-based support to help mobile operators with 5G commercialization, long-term development of Artificial Intelligence (AI)/Machine Learning (ML), and network energy savings for a fully automated network and a sustainable future.
"In 5G-Advanced, Extended Reality (XR) applications will promise monetary opportunities to both the consumer markets with use cases like gaming, video streaming, as well as enterprise opportunities such as remote working and virtual training. Therefore, XR applications are a major focus of 3GPP working groups to significantly improve XR-specific traffic performance and power consumption for the mass market adoption," explains Gu Zhang, 5G & Mobile Network Infrastructure Principal Analyst at ABI Research. "Another noticeable feature is AI/ML which will become essential for future networks given the predictive rapid growth in 5G network usage and use case complexities which can't be managed by legacy optimization approaches with presumed models. System-level network energy saving is also a critical aspect as operators need to reduce the deployment cost but assure network performance for various use cases."
The upgrade of 5G network infrastructure is expected to be faster in the consumer market than in enterprises. ABI Research forecasts that 75% of 5G base stations will be upgraded to 5G-Advanced, while in the enterprise market the ratio is about half. 5G-Advanced devices per radio base station will quickly gain traction around 2024 to 2026 at the early stage of the commercial launch because devices will grow more aggressively than network deployments over the period.
"The commercial launch of 5G-Advanced will take two or three years, but the competition has already started, Zhang points out. "Taking AI/ML development as an example, industrial leaders such as Ericson, Huawei, Nokia, ZTE, and Qualcomm have trialed their solutions with mobile operators across the world. Ongoing development in this area will continue to bring improvements on traffic throughputs, network coverage, power saving, anomaly detection, etc."
Different from previous generations, 5G creates an ecosystem for vertical markets such as automotive, energy, food and agriculture, city management, government, healthcare, manufacturing, and public transportation. "The influence on the domestic economy from the telco players will be more significant than before and that trend will continue for 5G-Advanced onward. Network operators and vendors should keep close to the regulators and make sure all parties involved grow together when the time-to-market arrives," Zhang concludes.
These findings are from ABI Research's 5G-Advanced and the Road to 6G application analysis report. This report is part of the company's 5G & Mobile Network Infrastructure research service, which includes research, data, and ABI Insights. Application Analysis reports present in-depth analysis on key market trends and factors for a specific technology.
Nokia said it is working with Reliance Jio, Bharti Airtel and Vodafone Idea (Vi) in 5G field trials in advance of India's repeatedly delayed 5G spectrum auction,  now scheduled for April-May, 2022. India's big three telecos are using government spectrum to conduct their 5G field trials.
Nokia's chief strategy and technology officer Nishant Batra said Wednesday at India Mobile Congress that his company expects to bring in advanced 5G solutions (?):
 "We have active engagements with Bharti, VI, and Jio for 5G field trials and have made several public announcements on the milestones achieved. 5G will open up new possibilities that will have a massive impact on society, industry and consumers in India…in the coming years and beyond the 5G era," said Batra.  By the end of 2023, we expect to see release 18 of 3GPP (see the actual 3GPP Timeline below)….or as we prefer to call it: 5G-Advanced.  This version of the 5G evolution will develop 5G to its fullest capabilities and is an important stepping-stone to the new interactive use cases we will see on a large scale in the coming 6G era," he added.
Nishant Batra, Nokia's Chief Strategy and Technology Officer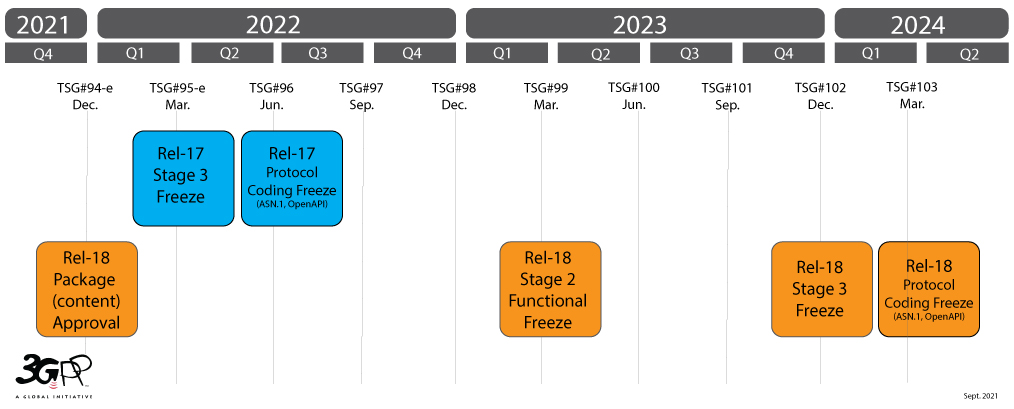 3GPP Timeline for Release 17 and 18
………………………………………………………………………………………………………………………………………………………………………………………………………………………
Telcos so far have highlighted that 5G use cases (what are they without URLLC?) can bring in transformation in healthcare, agriculture, education related areas. Batra also gave a glimpse of how human technology interfaces will change in the future and the internet used via smartphones will be "less exciting."
"By 2030, we expect two of the biggest drivers of network evolution will be human augmentation and digital/physical fusion. Consumer broadband will still be the biggest service, and video will still drive the bulk of Internet traffic," Batra opined. India is one of the biggest data consumers. "Practically speaking, digital/physical fusion means that by 2030 every physical thing that makes sense to connect digitally will be connected to the Internet," he added.  Nokia, which has its "Conscious Factory" in Chennai, is betting big on machine learning, automation, cloud services and automation. "As enterprises, governments and networks invest in their digital transformations, Nokia is well-positioned to provide the critical networking solutions they need," Batra said.
Author's Opinion:
It is premature to start thinking of 5G-Advanced when so many of the needed 5G ITU-R recommendations/standards and 3GPP specs are incomplete.  These include: URLLC in the RAN and updates to ITU-R M.2150 for URLLC (to meet the 5G minimum performance requirements specified in ITU-R M.2410), implementation specs/agreements for 5G SA Core network (cloud native/microservices/containers, etc or otherwise), frequency arrangements for terrestrial 5G (ITU-R M.1036 revision to include mmWave frequencies approved at WRC'19), network management, security, roaming, interworking with WiFi 6E, etc.
References:
https://economictimes.indiatimes.com/industry/telecom/telecom-news/nokia-says-by-2023-5g-advanced-solutions-will-come-in/articleshow/88160579.cms
IMT towards 2030 and beyond ("6G"): Technologies for ubiquitous computing and data services
ATIS: Next G Alliance leadership and 6G Roadmap – Is it premature?
---