AT&T is partnering with Nokia to provide reliable connectivity for the Internet of Things (IoT) devices.  Chris Penrose, the President of the IoT Solutions of AT&T, said the carrier's enterprise customers will benefit from this partnership through the simplified adoption of IoT devices and the improved ability of the network operator to respond to the concerns of its customers. Furthermore, the carrier noted in its announcement that this partnership enables AT&T to address specific business concerns of companies using latest technologies including 5G network slicing.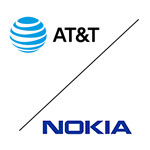 Worldwide IoT Network Grid (WING), a service that is developed and managed by Nokia, will be used by AT&T.  WING assists network operators in managing IoT devices, securing connected appliances, and facilitating the billing of the carrier's customers. Another advantage of utilizing Nokia's WING service is that it allows AT&T's customers to access the global IoT ecosystem and infrastructure of the Finnish tech firm. It is expected that the core network assets of Nokia's WING service will become available in 20 different countries by 2020.
AT&T will also utilize its own cloud-based service dubbed as the Multi-Network Connect platform. This platform enables businesses to manage their IoT devices remotely using a variety of communication technologies, including 2G, 3G, 4G LTE, Low-Power Wide Area Network (LPWAN), and satellite. Aside from the compatibility with a variety of communications standards, the carrier claims that another benefit of using its Multi-Network Connect platform is the ability to manage and monitor the devices using a single portal.
The partnership will begin developing, testing and launching IoT offerings this year. Offerings will be available in more than 20 countries in Europe, Asia, North America, South America and the Middle East by the first quarter of 2020. The partners will target a number of industries, including transportation, health, manufacturing, retail, agriculture, utilities, consumer electronics and smart cities. The initiative will "help set the stage for the evolution to global 5G," according to the companies.
More specifically, the partnership will:
Address specific business requirements through capabilities like 5G network slicing that allows a single network to be partitioned into multiple networks.
Meet local regulatory requirements for IoT devices.
This is not the only IoT partnership in which AT&T is involved. In February, the mega telco and Ericsson said that they are teaming  up for IoT device certification. The collaboration includes testing, verification and "white glove" assistance with regulatory approval process. The program is available in more than 150 countries.
Early last year, AT&T said that Carrier, one of the world's largest appliance and equipment manufacturers (made famous by Donald Trump's visit), will build AT&T's IoT functionality into its heating, ventilation and cooling (HVAC) product line.
References:
https://www.androidheadlines.com/2018/06/att-nokia-to-provide-reliable-iot-device-connectivity.html
https://www.business.att.com/solutions/Portfolio/internet-of-things/
http://www.telecompetitor.com/att-nokia-iot-partnership-targets-enterprises-worldwide/
Net neutrality advocates are declaring June 26 another day of action in support of Democrats' resolution to restore the 2015 Obama-era net neutrality rules. Public Knowledge, Common Cause, Consumers Union and other groups want to bring pro-net neutrality Americans directly to the offices of their representatives in the House to lobby for passage of the measure, drawn up under the Congressional Review Act. The Senate passed it 52-47 last month, and so far 124 House lawmakers have signed the paperwork to force a floor vote (they need 218, so they've got some work cut out for them). TechFreedom is hosting a more skeptical panel discussion on Democrats' effort Tuesday. Among the panelists slated to appear is Grace Koh, who advised President Trump on telecom issues until she left the White House earlier this year.
Tom Leithauser of TR Daily (subscription required) wrote yesterday:
The rollback of net neutrality rules by the FCC will spark broadband investment in rural and suburban areas served by small and mid-sized cable TV operators, Matthew Polka, president and chief executive officer of the American Cable Association, said on this week's "The Communicators" program.

"It created a sense of greater innovation and investment that these companies can now deploy," Mr. Polka said on the show, which is set to air on C-SPAN tomorrow and C-SPAN2 on Monday.

He noted that broadband networks were increasingly being viewed as "infrastructure" by policy-makers and that deployment to underserved and unserved areas was a top priority at the FCC and among some members of Congress.

One impediment to broadband deployment, he said, is the time and cost required to arrange access to utility poles. Andrew Petersen, an ACA board member and senior vice president for TDS Telecom who also appeared on the C-SPAN program, said pole attachment rates for his company averaged $7.80 per pole, but were significantly higher in some markets. "It really retards our ability to make those investments to extend broadband," Mr. Petersen said.

Mr. Petersen expressed hope that the FCC's Broadband Deployment Advisory Committee would offer recommendations on ways to lower the cost of pole attachments and other broadband deployment expenses, which he said were his company's top cost.

"When you bring robust broadband to a new area, you're combatting the 'homework gap,' [and] you're allowing for economic development and commerce to take place," Mr. Petersen said. He said it was unlikely, however, for 5G service to bring broadband to unserved areas because those areas generally lack structures needed to place 5G equipment.

"We're not bullish that 5G is going to make its way to suburban and rural areas immediately," he said. "I don't believe 5G technology is going to make its way to those areas in the next several years."
In a related CNET post, Margaret Reardon wrote:
AT&T has given up efforts to challenge the Federal Trade Commission's authority to regulate broadband (Internet access) providers.  AT&T on Tuesday informed court officials that it would not file a petition to the US Supreme Court to challenge a lower court's decision in the case. In 2014, the FTC sued AT&T in the US District Court of Northern California, accusing the company of promising unlimited data service to customers and then slowing that service down to rates that were barely usable. The case hasn't yet gone to trial since AT&T had argued that the FTC has no authority over any of AT&T's businesses.

The US Appeals court in Northern California rejected that argument in February and said the case could proceed. AT&T had until May 29 to file an appeal the the Supreme Court to challenge the decision.

AT&T indicated earlier this month in a status report submitted to the appeals court that it was considering appealing to the Supreme Court to stop the case.

This case was being closely watched by net neutrality supporters, because the question of whether the FTC has authority over AT&T would have had big implications for the future of the internet and whether there will be any cop on the beat ensuring that consumers are protected from big phone companies abusing their power online.

Why? When the Federal Communications Commission gave up its authority to police the internet with its repeal of net neutrality regulations in December, it specifically handed authority to protect consumers online to the FTC.

Net neutrality is the idea that all traffic on the internet should be treated equally and that large companies like AT&T, which is trying to buy Time Warner, can't favor their own content over a competitor's content. Rules adopted by a Democrat-led FCC in 2015 codified these principles into regulation. The current FCC, controlled by Republicans, voted to repeal the regulations and hand over authority to protect internet consumers to the FTC.

But there was one hitch in the law that could have made it impossible for the FTC to oversee some of the biggest broadband companies. Many of these companies, like AT&T and Verizon, also operate traditional telephone networks, which are still regulated by the FCC. AT&T argued that because some aspects of its business, like its traditional phone services, are regulated by the FCC, the FTC doesn't have jurisdiction.

A federal appeals court disagreed with AT&T's argument, stating the FTC can fill in oversight gaps when certain services, like broadband, aren't regulated by the FCC. If AT&T had appealed to the Supreme Court and if the court had taken the case and ruled in AT&T's favor, it would have meant that phone companies providing broadband or wireless internet services would be immune from government oversight. By contrast, cable companies, which do not operate traditional phone networks regulated by the FCC, would still be under the authority of the FTC.

For now, that doomsday scenario is put to rest and the lower court's ruling that the FTC can, in fact, oversee all broadband providers stands.

Meanwhile, net neutrality supporters continue their fight to preserve the 2015 rules. Several states, including California and New York, are considering legislation to reinstate net neutrality rules. Earlier this year, Washington became the first state to sign such legislation into law. Governors in several states, including New Jersey and Montana, have signed executive orders requiring ISPs that do business with the state adhere to net neutrality principles.
Democrats in the US Senate are also trying to reinstate the FCC's rules through the Congressional Review Act, which gives Congress 60 legislative days in which to overturn federal regulations. The resolution passed the Senate earlier this month and must pass the House of Representatives and eventually be signed into law by President Donald Trump to officially turn back the repeal of the rules.
AT&T Expands G.fast & FTTH Deployments:
In sharp contrast to Verizon's decision NOT to deploy G.fast, AT&T has announced expansion of its G.fast service for multi-dwelling units (MDUs) and its fiber-to-the-home network (AT&T Fiber).
The mega telco will extend its all-fiber network in two markets — Biloxi-Gulfport, MS and Savannah, GA.  AT&T will also be offering its hybrid fiber-coax service for MDUs in 22 metropolitan markets.
The AT&T G.fast deployments will use "fiber runs to the telecom closet on the property, and individual coax runs to each apartment unit," an anonymous AT&T spokesperson said to Telecompetitor.
Residents of properties served will also be able to obtain DIRECTV service without installing a dish at their individual units. Instead, the video service will be delivered over D2 Advantage, which the AT&T spokesperson described as "a centrally wired satellite dish that is shared among residents in the property."
AT&T announced eight metro areas where G.fast can be deployed immediately, including Boston, Denver, Minneapolis, New York City, Philadelphia, Phoenix, Seattle and Tampa. In 14 other markets, consumers in target MDUs can order service now for deployment in "the near future," the company said.
AT&T is one of multiple carriers that are looking at G.fast as part of their broadband strategy. The technology can support considerably higher speeds than DSL or fiber-to-the-neighborhood (FTTN) services – and although bandwidth is lower than it might be for a fiber-to-the-home deployment, the cost is considerably less.
The news that AT&T is deploying G.fast is not surprising, as the company already has conducted a trial of the service in Minneapolis and executives have indicated deployment plans.  At this year's Open Network Summit (ONS), AT&T's Tom Anschutz told an audience that G.fast would improve the speed and signal quality of data transmission on older, low grade twisted pair, which is used in many MDUs and in condominium complexes (where this author lives).  He hinted that market segment would be a focus area for AT&T.
…………………………………………………………………………………………
AT&T is extending the reach of its fiber network:
AT&T claims to have the largest fiber network in its 21-state home broadband footprint, reaching more than 5.5 million residential and commercial locations across the 57 markets after adding over 1.5 million sites since January 1st. Plans call for extending service availability to another 1.5 million locations by year's end, boosting the total to 7 million.
Of those 5.5 million homes and businesses now reached by AT&T Fiber, the mega telco said it has signed up more than 2 million broadband subscribers. The company did not, however, break out how many of those subs are new ones, as opposed to DSL customers who have been upgraded to the new FTTH network.
AT&T  is the US's third-largest broadband provider after Comcast Corp and Charter Communications Inc with nearly 15.7 million subscribers at the end of June, 2017.
However, the mega telco ranks #1 on Vertical Systems U.S. Fiber Lit Buildings (Fiber to commercial buildings) leaderboard:
References:
http://about.att.com/story/att_g_fast_on_sale_now_to_apartment_and_condominium_properties.html
http://www.lightreading.com/gigabit/gigabit-cities/atandt-spreads-fiber-and-gfast-wings/d/d-id/735645
http://www.telecompetitor.com/att-g-fast-launch-will-expand-broadband-reach-outside-of-its-traditional-territory/
https://techblog.comsoc.org/2017/08/03/att-verizon-spectrum-enterprise-lead-in-fiber-optic-business-connections/
https://techblog.comsoc.org/2017/08/16/verizon-passes-on-g-fast-in-favor-of-fttp-for-mdus/
---