Generative AI could put telecom jobs in jeopardy; compelling AI in telecom use cases
The loss of jobs due to AI forecasts are very grim.  IBM's CEO Arvind Krishna this week announced a hiring freeze while speculating that 7,800 jobs could be replaced by AI in the next few years.  A new report from the World Economic Forum (WEF) states that AI will cause 14 million jobs to be lost by 2027. The organization's Future of Jobs Report 2023 shows that 590 million jobs will not change, while 69 million will be created and 83 million positions will be lost.
Even more scary was Goldman Sachs issued a report in March predicting AI would "replace" 300 million jobs and citing the recent impact of generative AI.  Generative AI, able to create content indistinguishable from human work, is "a major advancement", the report says.  However, those predictions don't usually forecast let alone mention the new jobs that will be created in an AI prevalent world.
According to Light Reading's Iain Morris, new types of AI like Hawk-Eye, ChatGPT, GitHub Copilot and other permutations threaten a jobs apocalypse.  The telecom sector looks extraordinarily exposed. For one thing, it's stocked with people in sales, marketing and customer services, including high-street stores increasingly denuded of workers, like those coffee chains where you select your beverage on a giant touchscreen instead of telling somebody what you want. Chatbots have already replaced some roles. One very big (unnamed) network operator is known to be exploring the use of ChatGPT in customer services for added efficiency – a move that could turn thinned ranks anorexic.
The schema is that telco networks could feasibly be a self-operating, self-healing entity, stripped clean of people, run by an AI that's probably been developed by Google or Microsoft even though it lives in facilities owned by the telco to keep GDPR watchdogs and other regulatory authorities on side. All those fault-monitoring, trouble-ticketing and other routine technical jobs have gone. If staff have been "freed up," it's not to do other jobs at the telco.
Opinion:  This author strongly disagrees as these new versions of AI have not proven themselves to be that effective in doing telecom network tasks.  Meanwhile, chat bots are somewhere between ineffective and totally dysfunctional so won't replace live/real person chat or call centers till they improve.
……………………………………………………………………………………………………………………………………………………………….
At big telcos tracked by Light Reading, collective headcount fell nearly 58,000 last year. Across AT&T, T-Mobile and Verizon, the big three of the U.S. mobile telecom market, around 45,000 jobs disappeared in 2022, more than 11% of the end-2021 total.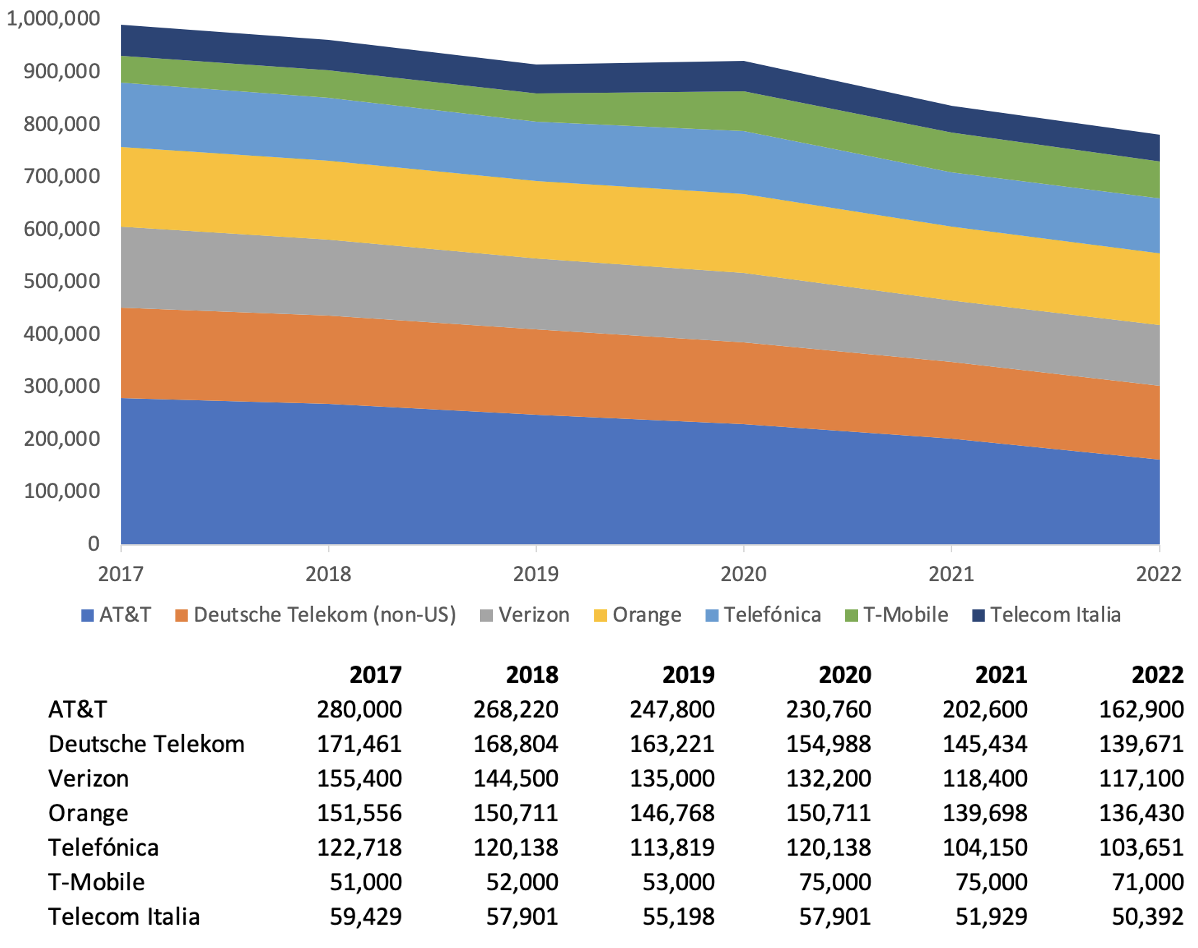 Source: Companies tracked by Light Reading
Outside the U.S., around 11,000 jobs were cut at Deutsche Telekom, Orange, Telecom Italia and Telefónica. That was a much smaller 2.5% of the earlier total, and yet more than 67,000 non-US jobs have been cut from the payrolls of these companies since 2018, a figure equal to 13.5% of headcount at the end of the previous year.
Much of this attrition has very little if anything to do with technology. Instead, it's the result of more routine efficiency measures and the disposal of assets, including geographical units, infrastructure (such as towers) once but no longer deemed strategically important, and IT resources farmed out to the public cloud. This is a frightening thought for employees.
Morris asks, "If jobs were disappearing this fast before the arrival of ChatGPT, what does the future hold?"
AI Can Improve Telecom Industry without causing major job losses:
We think AI has the potential to improve various aspects of the telecommunication industry without causing major job losses.  For example,  Ericsson has reported that the implementation of AI-powered solutions in networks can lead to a 35 percent decrease in critical incidents and a 60 percent decrease in network performance problems. Additionally, energy costs can be reduced by 15 percent through the automation, making the network more environmentally sustainable.
AI can help telcos optimize their networks by automatically adjusting network settings and configurations to improve performance and reduce costs. AI algorithms can further be used to analyze vast amounts of data generated by telecommunication networks, providing valuable insights into network performance, and helping to identify and resolve issues in real-time. This can significantly improve network reliability and reduce downtime, ultimately leading to enhanced customer satisfaction.
Some of the other compelling AI use cases in telecom are:
Fraud detection and prevention: AI algorithms can play a crucial role by analyzing massive amounts of data to detect and prevent various forms of fraudulent activities in real time, such as SIM-swapping, unauthorized network access, fake profiles, and bill fraud.
Predictive maintenance: AI can analyze data from telecom equipment to predict when it will require maintenance—reducing downtime and costs associated with maintenance.
Personalized marketing: AI can analyze customer data to create targeted marketing campaigns—improving customer engagement and reducing the costs associated with marketing efforts. Using machine learning models to recommend products or services to customers based on their usage patterns and preferences.
Automated decision making: Using deep learning models to automate decisions such as network routing, dynamic pricing, and more.
References:
https://www.lightreading.com/aiautomation/after-hefty-cuts-ai-puts-thousands-more-telco-jobs-on-line/a/d-id/784674?
https://www.microsoft.com/en-us/industry/blog/telecommunications/2023/04/11/unlock-the-potential-of-ai-in-the-telecommunications-industry/
https://www.mckinsey.com/industries/technology-media-and-telecommunications/our-insights/the-ai-native-telco-radical-transformation-to-thrive-in-turbulent-times
---