Global technology market intelligence firm ABI Research expects the Network-as-a-Service (NaaS) [1.] market to expand significantly, reaching over  $150 billion by 2030.
Note 1. NaaS is a secure, cost-effective subscription-based model that lets businesses of all sizes consume network infrastructure on-demand and as needed.  It offers scale-up or scale-down flexibility that many businesses require to stay competitive in today's unpredictable data traffic environment.
Networks have been commoditized over the last few years and the cost of connectivity has fallen. Value has shifted from network infrastructure to the services built on top of the network. Enterprises need scalable solutions that offer cloud-native agility, multi-cloud accessibility, and services that can dynamically fluctuate to support digital transformation.  This has led to significant interest in the NaaS market, according to ABI Research.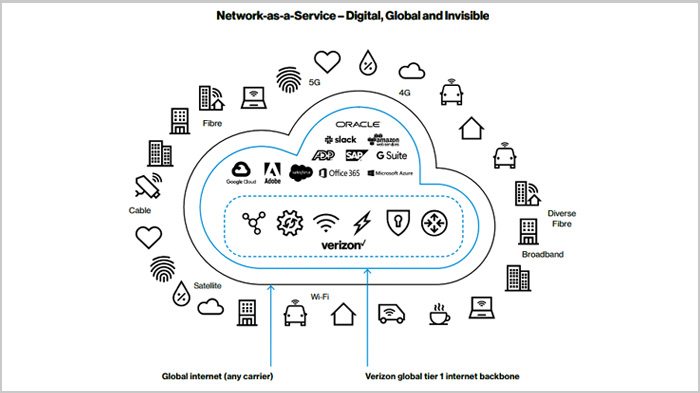 Image Credit: Verizon
The firm's blog promoting their NaaS report notes that telecom operators currently lack business models that allow them to build on their physical connectivity advantages to gain control of the NaaS market.
"Telcos must seize the opportunity to dominate the NaaS market, as revenue generated from connectivity provision will continue to decline. However, their investment strategy, business, operational, and 'go-to-market' models are not ready to deliver a competitive NaaS solution, explains Reece Hayden, Distributed & Edge Computing Analyst at ABI Research. "The market is immature and highly fragmented, but telco market revenue will exceed US$75 billion by 2030 if they act now and transform technology, culture, and structure to better align with the requirements of the NaaS market."
Currently, telcos face NaaS competition from two key players. Interconnection providers (e.g., Megaport and Packet Fabric) have built their agile solutions from the ground up, focusing energy on virtualization and software specialization. At the same time, cloud infrastructure providers (e.g., Amazon AWS, Google GCP, and Microsoft Azure) continue to offer cloud-specific NaaS solutions.
"Telecom operators remain in the best position to lead the market as long as they recognize their service/innovation limitations, invest/restructure successfully, and focus their messaging appropriately," according to Hayden.
Telcos must look to transform three areas. First, telcos must virtualize network infrastructure to deliver cloud-native services and continue to invest heavily to integrate automation (AIOps) throughout network services, including paying attention to 5G slice-as-a-service and other 'value-add services' which are critical to monetization.
Second, telecom operators must restructure business and operating models with a look toward openness and partnerships across the industry and reduce internal fragmentation to drive cross-business service continuity.
Third, telcos must look to develop a problem-solving culture and realign their 'go-to-market' strategy to better position themselves within the NaaS market. This involves developing vertical and enterprise size-specific sales strategies and establishing consultative processes that educate enterprises to bridge the ever-present gap between awareness and understanding. Telco executives should focus more on service provision and up/reskilling their workforce.
NaaS adoption will rapidly grow over the next eight years.  ABI Research expects that by 2030, just under 90% of enterprises will have migrated at least 25% of their global network infrastructure to be consumed within a NaaS model. However, this process will not be organic, suppliers will have to drive education and consultative practices, as significant skepticism within SMEs and MNCs pervades the market. "To drive short-run sales, suppliers must educate and tailor their sales strategy to focus on first adopters (startups and SMEs) and specific verticals," Hayden recommends.
The outlook in the NaaS market is hugely positive for telcos, especially given the rising demand from startups and SMEs. "But a lot still needs to be done to bridge technological, cultural, and structural gaps," Hayden concludes. "Although it seems like an expensive and risky uphill battle, developing NaaS will be crucial to the long-term upside. But, if telcos miss this opportunity and drop the ball, interconnection providers and hyperscalers will be waiting and willing to catch it."
These findings are from ABI Research's Network-as-a Service: Business, Operational, and Technological Strategies for Telco Digital Service Transformation application analysis report. This report is part of the company's Distributed and Edge Computing research service, which includes research, data, and ABI Insights. Based on extensive primary interviews, Application Analysis reports present an in-depth analysis of key market trends and factors for a specific application, which could focus on an individual market or geography.
ABI's NaaS report does not include IT equipment and software vendors like Cisco, Dell Technologies, and Hewlett Packard Enterprise (HPE), which have been bolstering their own NaaS hardware and software stacks while established sales channels into most enterprises.
About ABI Research:
ABI Research is a global technology intelligence firm delivering actionable research and strategic guidance to technology leaders, innovators, and decision makers around the world. Our research focuses on the transformative technologies that are dramatically reshaping industries, economies, and workforces today.
………………………………………………………………………………………………………………….
References:
https://www.abiresearch.com/press/telco-network-as-a-service-is-a-us75-billion-opportunity-if-they-invest-and-align-early/
https://www.sdxcentral.com/articles/analysis/aws-microsoft-google-target-telecoms-naas-lead-abi-finds/2022/07/
https://www.verizon.com/about/news/network-service-explained
ETSI has now completed Release 2 of its Experiential Networked Intelligence (ENI) specifications with the ETSI GS ENI 005 system architecture.
ETSI GS ENI 005 and associated documents will provide better insight into network operations – allowing more effective closed-loop decision making plus better lifecycle management. Through its use, network operators will be able to leverage acquired data and apply artificial Intelligence (AI) algorithms to it. This will mean that operators will be able to respond much quicker to changing situations and gain far greater agility.
The services being delivered across their networks may thereby be rapidly adapted and the resources they have available correctly assigned in accordance with subscribers' requirements, or any other alterations in circumstances (either operationally or commercially driven).
An industry specification group (ISG) focused on ENI was first established by ETSI five years ago. The organisations involved include many of the leading mobile operators worldwide – full list available here.
ETSI ENI Release 2 defines the key architectural requirements (GS ENI 002), and provides a more comprehensive array of potential use cases (GS ENI 001) and applicable proof of concept (PoC) specifications. To support this release, the ENI ISG has produced a series of reports. These cover data characterization, fault identification, the different types of AI mechanisms that can be employed (along with details of the associated bias and ethical implications), the constituent functional blocks needed for modular design implementations and how to assure their interoperability.
"ENI will have an important part to play in how next generation networks are managed, making them contextually aware and giving them greater inherent flexibility," states Dr Raymond Forbes, Chair of the ETSI ENI ISG. "Use cases and PoCs are already enabling its validity to be demonstrated, and with ETSI ENI Release 2 we are providing a framework upon which operators and their technology partners can implement it into their infrastructure."
ETSI's ENI Release 2 includes the following specifications and reports:
From the Systems Architecture Spec:
The ENI System is an innovative, policy-based, model-driven functional architecture that improves operator experience. In addition to network automation, the ENI System assists decision-making of humans as well as machines, to enable a more maintainable and reliable system that provides context-aware services that more efficiently meet the needs of the business.

For example, the ENI System enables the network to change its behaviour (e.g. the set of services offered) in accordance with changes in context, including business goals, environmental conditions, and the varying needs of end-users.

This is achieved by using policy-driven closed control loops that use emerging technologies, such as big data analysis, analytics, and artificial intelligence mechanisms, to adjust the configuration and monitoring of networks and networked applications. It dynamically updates its acquired knowledge to understand the environment, including the needs of end-users and the goals of the operator, by learning from actions taken under its direction as well as those from other machines and humans (i.e. it is an experiential architecture).

It also ensures that automated decisions taken by the ENI System are correct and increase the reliability and stability, and lower the maintenance required, of the network and the applications that it supports. It improves and simplifies the management of network services through their visualization, and enables the discovery of otherwise hidden trends and interdependencies.
About ETSI:
ETSI provides members with an open and inclusive environment to support the development, ratification and testing of globally applicable standards for ICT systems and services across all sectors of industry and society.  We are a non-profit body, with more than 950 member organizations worldwide, drawn from 64 countries and five continents. The members comprise a diversified pool of large and small private companies, research entities, academia, government, and public organizations. ETSI is officially recognized by the EU as a European Standards Organization (ESO). For more information, please visit us at https://www.etsi.org/
References:
https://www.etsi.org/newsroom/press-releases/2016-2022-01-etsi-announces-second-release-on-self-adapting-autonomous-networks
Multi-access Edge Computing (MEC) Market, Applications and ETSI MEC Standard-Part I
---