Global technology market intelligence firm ABI Research expects the Network-as-a-Service (NaaS) [1.] market to expand significantly, reaching over  $150 billion by 2030.
Note 1. NaaS is a secure, cost-effective subscription-based model that lets businesses of all sizes consume network infrastructure on-demand and as needed.  It offers scale-up or scale-down flexibility that many businesses require to stay competitive in today's unpredictable data traffic environment.
Networks have been commoditized over the last few years and the cost of connectivity has fallen. Value has shifted from network infrastructure to the services built on top of the network. Enterprises need scalable solutions that offer cloud-native agility, multi-cloud accessibility, and services that can dynamically fluctuate to support digital transformation.  This has led to significant interest in the NaaS market, according to ABI Research.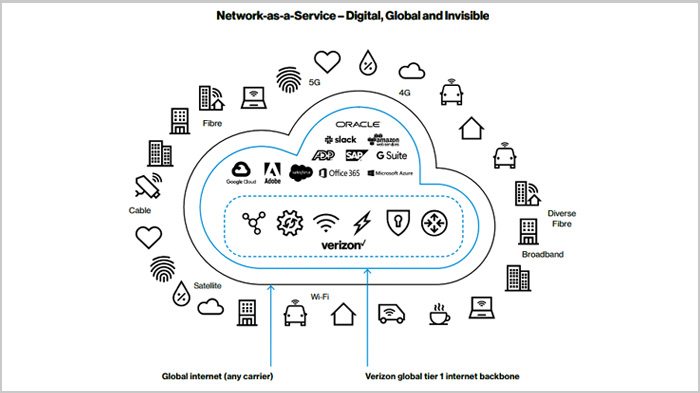 Image Credit: Verizon
The firm's blog promoting their NaaS report notes that telecom operators currently lack business models that allow them to build on their physical connectivity advantages to gain control of the NaaS market.
"Telcos must seize the opportunity to dominate the NaaS market, as revenue generated from connectivity provision will continue to decline. However, their investment strategy, business, operational, and 'go-to-market' models are not ready to deliver a competitive NaaS solution, explains Reece Hayden, Distributed & Edge Computing Analyst at ABI Research. "The market is immature and highly fragmented, but telco market revenue will exceed US$75 billion by 2030 if they act now and transform technology, culture, and structure to better align with the requirements of the NaaS market."
Currently, telcos face NaaS competition from two key players. Interconnection providers (e.g., Megaport and Packet Fabric) have built their agile solutions from the ground up, focusing energy on virtualization and software specialization. At the same time, cloud infrastructure providers (e.g., Amazon AWS, Google GCP, and Microsoft Azure) continue to offer cloud-specific NaaS solutions.
"Telecom operators remain in the best position to lead the market as long as they recognize their service/innovation limitations, invest/restructure successfully, and focus their messaging appropriately," according to Hayden.
Telcos must look to transform three areas. First, telcos must virtualize network infrastructure to deliver cloud-native services and continue to invest heavily to integrate automation (AIOps) throughout network services, including paying attention to 5G slice-as-a-service and other 'value-add services' which are critical to monetization.
Second, telecom operators must restructure business and operating models with a look toward openness and partnerships across the industry and reduce internal fragmentation to drive cross-business service continuity.
Third, telcos must look to develop a problem-solving culture and realign their 'go-to-market' strategy to better position themselves within the NaaS market. This involves developing vertical and enterprise size-specific sales strategies and establishing consultative processes that educate enterprises to bridge the ever-present gap between awareness and understanding. Telco executives should focus more on service provision and up/reskilling their workforce.
NaaS adoption will rapidly grow over the next eight years.  ABI Research expects that by 2030, just under 90% of enterprises will have migrated at least 25% of their global network infrastructure to be consumed within a NaaS model. However, this process will not be organic, suppliers will have to drive education and consultative practices, as significant skepticism within SMEs and MNCs pervades the market. "To drive short-run sales, suppliers must educate and tailor their sales strategy to focus on first adopters (startups and SMEs) and specific verticals," Hayden recommends.
The outlook in the NaaS market is hugely positive for telcos, especially given the rising demand from startups and SMEs. "But a lot still needs to be done to bridge technological, cultural, and structural gaps," Hayden concludes. "Although it seems like an expensive and risky uphill battle, developing NaaS will be crucial to the long-term upside. But, if telcos miss this opportunity and drop the ball, interconnection providers and hyperscalers will be waiting and willing to catch it."
These findings are from ABI Research's Network-as-a Service: Business, Operational, and Technological Strategies for Telco Digital Service Transformation application analysis report. This report is part of the company's Distributed and Edge Computing research service, which includes research, data, and ABI Insights. Based on extensive primary interviews, Application Analysis reports present an in-depth analysis of key market trends and factors for a specific application, which could focus on an individual market or geography.
ABI's NaaS report does not include IT equipment and software vendors like Cisco, Dell Technologies, and Hewlett Packard Enterprise (HPE), which have been bolstering their own NaaS hardware and software stacks while established sales channels into most enterprises.
About ABI Research:
ABI Research is a global technology intelligence firm delivering actionable research and strategic guidance to technology leaders, innovators, and decision makers around the world. Our research focuses on the transformative technologies that are dramatically reshaping industries, economies, and workforces today.
………………………………………………………………………………………………………………….
References:
https://www.abiresearch.com/press/telco-network-as-a-service-is-a-us75-billion-opportunity-if-they-invest-and-align-early/
https://www.sdxcentral.com/articles/analysis/aws-microsoft-google-target-telecoms-naas-lead-abi-finds/2022/07/
https://www.verizon.com/about/news/network-service-explained
Market Overview
Gartner forecasts that the market for enterprise data networking services in 2020 will be $157.5 billion, broadly unchanged from 2019 (see "Forecast: Enterprise Communications Services, Worldwide, 2017-2023, 4Q19 Update").
The number of global NSPs included in this Gartner research has increased as more providers have met our revised inclusion criteria. In addition to large global providers, enterprises are increasingly willing to consider smaller providers, including managed service providers with little or no network infrastructure of their own (such as those featured in the "Market Guide for Managed SD-WAN Services"). Alternatively, enterprises may choose a combination of multiple regional providers.
Sourcing Trends
Providers are increasingly focused on providing the managed service platform (e.g., managed SD-WAN and NFV/vCPE); however, they are also more open to "bring your own access" and other flexible sourcing approaches for the network transport components.
The global network service market continues to move toward a more software-driven, as-a-service model, with increasing levels of visibility and self-service via portals and APIs available to enterprise customers.
However, this means providers are reluctant to allow deviations from their standard offerings, because that will require deployment of a custom solution at a higher cost that could rapidly become obsolete in this fast-moving market.
Operational Trends
The network buying discussion is gradually moving away from technologies toward outcomes and service levels. Providers continue to improve their SLAs with more-realistic objectives and more-meaningful penalties for failing to meet those objectives, increasingly including the right to cancel the service in the event of chronic breach. Installation lead times — a pain point for many enterprises with global networks — are starting to be covered by standard SLAs, and providers are striving to improve delivery times, although they remain frustrated by third-party/local access providers. The increasing speeds of cellular services are making this technology more useful as a rapid deployment (interim) solution. In addition, it provides a truly diverse backup option. However, the hype around 5G cellular replacing fixed connectivity should be treated with caution, due to maturity issues — especially coverage limitations.
Electronic quoting and ordering are increasingly widespread, with electronic bonding between the global providers and their local access providers. Self-service ordaining and/or provisioning, as well as the increased visibility of the service being delivered via portals continue to gain momentum. This is blurring the lines between managed services and self-management, to create a spectrum of co-management possibilities.
However, global networks are also becoming more complex, because transport becomes a hybrid of MPLS, internet and Ethernet; cloud endpoints are added; and SD-WAN and NFV technology are added. In addition, the internet, especially using broadband or cellular access, is an inherently less predictable service than MPLS. Visibility capabilities, sometimes referred to as performance analytics, can help by enabling enterprises see the actual performance of their applications.
Thanks to the continual investment in enhancing the customer experience, customer satisfaction with global NSPs is improving.
Network Architectures
New global network proposals are predominantly for managed SD-WAN services based on a hybrid mix of MPLS and internet transport, with different applications using the most appropriate link type. Most providers support a small portfolio of SD-WAN vendors, because the market is more fragmented and differentiated than the router market it is replacing. Some providers offer network-based SD-WAN gateways, allowing traffic to use the internet for access, but use the providers' higher-quality, long-haul backbones.
Enterprises' adoption of cloud IT service delivery remains key to transforming their WAN architectures. Fortunately for enterprises, global NSPs have deployed a range of capabilities to address enterprises' cloud connectivity needs (see "Five Key Factors to Prepare Your WAN for Multicloud Connectivity").
The providers in this research offer carrier-based cloud interconnect from their MPLS and Ethernet networks to leading CSPs, such as Amazon, Microsoft and Google. Most offer connection to additional cloud providers as well. The key differentiators are the specific cloud providers and the cities connected, and the ability to add virtualized services (e.g., security) into the cloud connection points.
Managed SD-WAN services typically offer the option of local internet access (split tunneling) from every site, which is especially useful for access to SaaS applications, such as Microsoft Office 365. Perimeter security can be provided on-site or as a cloud-based service. An option for managed SD-WAN services is for the provider to deploy network-based SD-WAN gateways to facilitate interconnection between SD-WAN and non-SD-WAN networks, improve scalability and avoid the need for traffic to traverse long distances over the internet. Alternatively enhanced internet backbone services may be available to improve the performance of cloud service access over the internet and to improve end-to-end performance, when using the internet as a transport link.
An increasing number of global WANs incorporate managed application visibility and/or WAN optimization, with some providers now offering application-level visibility by default. SD-WAN services, which operate based on application-level policies, also typically offer inherently higher levels of application visibility.
Network functions, such as edge routing, SD-WAN, security, WAN optimization and visibility, can be delivered as on-site appliances. However, many providers prefer to offer these as VNFs, running in NFV service nodes in their POPs or in uCPEs, which are essentially industry-standard servers, deployed at the customers locations, supporting one or more virtual functions. This makes it easy to rapidly change the functions deployed in the network and is also usually consumed on an "as a service" basis with a monthly subscription fee for each function.
Ethernet WAN services (virtual private line and virtual private LAN services) remain more niche. They are principally used for data center interconnection; high-performance connections, including extranets (such as trading networks); or for sites that are geographically close (i.e., Metro Ethernet). Different combinations of these services can be used to obtain different service levels appropriate to each enterprise location.
Providers are starting to offer NoD services, where bandwidth can be adjusted via a portal or APIs. Some of these services support multiple services (e.g., MPLS and internet) on a single access line, and also allow dynamic control of cloud connectivity.
Access Options
WAN access is evolving, with traditional leased-line access, such as T1 or E1 lines, no longer proposed in new deals, except when no other form of access is available, such as in rural locations or some emerging markets.
Pricing for these legacy service types is typically increasing, and, in some cases, the services are reaching the end of their life.
Traditional access lines have largely been replaced by optical Ethernet access at 10 Mbps, 100 Mbps, 1 Gbps or 10 Gbps. The scale economics of Ethernet access are very good, with each tenfold increase in speed, typically increasing cost by only two to three times. As a result, in developed markets, enterprises now tend to purchase access lines with much higher speeds than they initially require, with the port capacity limited to their current needs. This allows them to easily and quickly upgrade capacity in response to changing requirements.
For smaller, less critical or remote locations, broadband (increasingly, "superfast broadband," such as very-high-speed DSL [VDSL], cable modem or passive optical network [PON]) is the access technology of choice, despite having no SLAs or poorer SLAs than Ethernet access. When enterprises require large numbers of broadband connections, they can sometimes find that they are able to get better pricing than that offered by global service providers by sourcing broadband access directly or from aggregators. Many providers now support "bring your own broadband." This refers to the service provider delivering managed services over broadband sourced by the enterprise.
Finally, cellular connectivity (4G) and, in the future, 5G, is increasingly being used for backup, rapid deployment or temporary locations, although it does not offer SLAs. As with broadband, enterprises may be able to get attractive deals for data-only mobile services themselves, which will then be managed by their global provider.
Managed Services
Most global WANs are delivered on a managed service basis, with the on-site devices, such as routers, security appliances and WAN optimizers, provided and managed by the service provider. Transport links are usually sourced from the managed service provider, but might also be sourced by the enterprise, who would then give the managed service provider operational responsibility for them. Although more U.S.-headquartered multinationals are moving to managed network services, a significant number still manage their networks in-house and only source transport links from their global providers.
As more network functions, such as SD-WAN application policies or NoD bandwidth, are controllable via the providers' portals and APIs, networks are moving more to a co-managed reality. In this case, responsibilities for various network management functions are divided between the provider and the enterprise.
Pricing Trends
Downward pressure on global network service prices is relentless (e.g., global MPLS services are undergoing unit price declines averaging 10% per year, although with strong regional variance). Gartner has produced research summarizing and predicting pricing trends for different services and geographies (see "Network Service Price Trends: What You Need to Know to Save Money on Your Next Contract Negotiation"). The response from providers varies, with some focusing on extending their own networks, while others are relying heavily on network-to-network interface (NNI) connections to partners to improve their regional coverage. Most providers are increasingly using carrier-neutral communications hubs, such as those operated by Equinix, to allow them to cost-effectively interconnect with multiple access, backbone and cloud providers.
These hubs, particularly when combined with NFV and/or SD-WAN, have dramatically reduced the level of investment required to be competitive in the global network service market. This has allowed smaller providers, including some of the more recent entrants to this Magic Quadrant, to offer solutions competitive with those of the largest providers. However, maintaining a consistent set of service features and user experiences across these different elements remains a challenge.
Change Underway:
The network service market is undergoing a major transformation, with new generations of software-based network technologies enabling new services and new business models that are less focused on large-scale infrastructure. To reflect these trends, this Magic Quadrant focuses on transformational technologies and/or approaches that address the future needs of end users, as well as today's market.
Gartner defines the global network service market as the provision of fixed corporate networking services with worldwide coverage.
Current global network services evaluated in this Magic Quadrant include:
WAN Transport Services — These include Multiprotocol Label Switching (MPLS) service, Ethernet services and internet services, such as dedicated internet access (DIA), broadband and cellular.
Carrier-Based Cloud Interconnect (CBCI) — This is a direct connection between a service provider's enterprise network services, such as MPLS and/or Ethernet services, and the private connection option of one or more cloud service providers (CSPs). CBCI can be established directly between the network service provider (NSP) and the cloud provider or via a cloud exchange, such as Equinix Cloud Exchange.
Managed WAN Services — These include managed software-defined WAN (SD-WAN). Although a minority of enterprises are renewing their managed router networks, most new managed global network deployments in 2019 were managed SD-WAN networks using a mix of MPLS and internet transport. This is a trend Gartner expects to continue. An option for managed SD-WAN services is for the provider to deploy network-based SD-WAN gateways to facilitate interconnection between SD-WAN and non-SD-WAN networks, improve scalability and avoid the need for traffic to traverse long distances over the internet.
Emerging global network services that will be evaluated include:
Network On Demand (NoD) — NoD services from NSPs enable enterprises to make real-time changes to access/port bandwidth, change the WAN service types delivered over a network port and, in some cases, add and remove endpoints (e.g., connections to cloud providers). This occurs under software control, via the provider's web portal or APIs.
Network Function Virtualization (NFV) — NFV is an architecture to deliver multiple network functions, including routing, firewall, SD-WAN, WAN optimization, visibility and voice as software, termed virtual network functions (VNFs). NFV enables enterprises to rapidly (in minutes) deploy network functionality to locations where it is required. This functionality is the replacement for purpose-built hardware devices, such as routers, security devices or WAN optimizers. NFV can be implemented on universal customer premises equipment (uCPE; see below) or in NFV service nodes, located in the provider's network, or in colocation facilities. NFV enables network functions to be activated on demand (and deactivated when no longer required) and consumed on an "as a service" basis. This can improve the agility and cost-effectiveness of the enterprise WAN.
Virtual Customer Premises Equipment (vCPE) — This is the use of industry-standard x86 devices (uCPE), rather than function-specific appliances, to deliver enterprise network edge functions, including WAN edge routing, SD-WAN, WAN optimization, visibility and security functions (e.g., firewalls).
In addition, it is highly desirable for providers to offer related network services, including managed WAN optimization, managed application visibility, and managed, network-related security services. Integrators, virtual operators and carriers may be included, but only if they will bid for stand-alone WAN deals and provide and manage offerings that include the WAN connectivity.
During the past 12 months, Gartner has seen continued changes in enterprise requirements and buying criteria for global networks. Enterprises are placing an ever-growing emphasis on their need for greater agility and especially enabling their organization's adoption of cloud services and the Internet of Things (IoT). They are increasingly willing to consider smaller providers and innovative services, particularly those that can be consumed on an as-a-service basis. Therefore, they are placing less emphasis on supplier size, network scale and the availability of large numbers of provider staff to deliver customized capabilities.
NSPs are taking advantage of the marketplaces created by carrier hubs, such as those provided by Equinix and Digital Reality. This enables them to source access that's distance-insensitive, at the national or even regional level, reducing the need to deploy large numbers of network points of presence (POPs). POPs are increasingly acting as gateways between access and backbone network services of various types, and cloud providers. In addition, they are serving as locations where virtualized network services, such as security, can be applied.
Internet services, including broadband, DIA and cellular, are growing in importance as transport options, alongside the continued use of MPLS and Ethernet services. New services such as managed SD-WAN, NoD services, NFV and vCPE, which transform the enterprise networking market, are being deployed to improve the agility of providers' network solutions. Many of these services require a platform-based approach to delivering services, increasing the trend to move away from customized solutions, toward standard, off-the-shelf managed services, consumed on an as-a-service basis.
We are seeing a distinct split in providers' attitudes toward NFV and vCPE. Some providers are "doubling down" on the technology, making it their default edge device offering. Others are still focusing on appliances at the network edge, frequently accompanied by network-based NFV, especially for services such as security.
Although delivering against a strong technological roadmap is important, it is equally important that services be delivered with good operational performance to implement and sustain them.
The inclusion and exclusion criteria for this year's Magic Quadrant (see Figure 1), although similar to prior years, have been adjusted to reflect these trends.
Figure 1. Magic Quadrant for Network Services
Source: Gartner (February 2020)
………………………………………………………………………………………………….
Digital business initiatives are placing increasing demands on the enterprise network, increasing the needs for bandwidth (between 20% and 30% annually), reliability and performance. Video, live and stored, is driving significant increases in bandwidth, whereas IoT typically requires greater reliability.
A growing proportion of enterprise applications are being delivered as cloud services — infrastructure as a service (IaaS), platform as a service (PaaS) and SaaS. This requires incorporation of cloud endpoints into the network and a burgeoning need for data center-to-cloud and cloud-to-cloud connectivity.
Above all, digital business requires that enterprise networks become significantly more agile, to allow the rapid accommodation of new endpoints, new applications and new network capabilities. However, enterprises continually need to do all of this, while optimizing their WAN expenditure.
To address these requirements service providers are deploying a range of new networking technologies. SD-WAN is now the default offering for new network deployments and major refreshes, while the virtualization of network edge functions, using NFV and vCPE, is gradually becoming more common. CBCI is also mainstream, complemented by emerging NoD services.
Growing use of the internet as a network transport option, together with cloud endpoints, is resulting in performance uncertainty, and is driving significant demand for application visibility services.
Fortunately, enterprises can choose from a wide selection of solution providers, most operating across multiple geographies. This breadth is allowing enterprises to choose between one, two or many providers to find the best solution for their specific needs. These decisions will be based on geographic requirements, the specific service required and the preferred sourcing approach (i.e., the enterprise's desire to manage multiple networks from multiple providers). Competition continues to drive down unit prices for global networking services. However, in a market in which there are no meaningful price lists, enterprises still need to use competitive procurement practices and strong negotiations to obtain the best prices.
---