Network as a Service (NaaS)
Verizon Business, today announced a global Network-as-a-Service (NaaS) partnership with Wipro Limited, an India based technology services and consulting company, that will accelerate the network modernization and cloud transformation journey for businesses.  Wipro's Network-as-a-Service (NaaS) solution, powered by Verizon Business will include a range of pre-configured and tested service chains on a subscription-based consumption model, designed to drive network consumption infrastructure on demand.  The multi-year partnership will enable Wipro to transition customers from legacy cycles of deploying hardware, applications and services to an automated, self-healing, and highly secure network service environment.
Massimo Peselli, Senior Vice President and Chief Revenue Officer, Global Enterprise and Public Sector for Verizon Business said: "Many organizations want to get out of endless technology refresh cycles but they face the twin challenges of traditional hardware and fixed infrastructures. Our partnership with Wipro will enable businesses to future-proof their network in a manner that is more flexible, agile and predictive, centered around their specific needs."
"This is a network-as-a-service partnership that includes managed services, hardware and security for the global market," said Sowmyanarayan Sampath, executive vice president and CEO of Verizon Business.  "The bulk of Wipro's customers are global, and the system integrator caters to industry verticals such as retail and energy with a strong value system. We have a logical go-to-market strategy," Sampath added.
A recent IDC survey of over 400 technology-buying decision makers across the globe revealed that 69% of respondents are planning a network transformation investment in the next 12 months. NaaS has increasingly begun challenging legacy commercial models that require large upfront capital costs by providing more flexible, subscription-based services that can more easily be modified as needs change. The technology has accelerated the implementation of new digital technologies such as AI/ML, 5G, IoT, advanced robotics, blockchain, AR/VR, and voice-assistance.
Jo Debecker, Senior Vice President & Global Head, Cloud and Infrastructure Services, Wipro Limited commented: "Our joint NaaS offering brings together two industry leaders to drive this unique value proposition that will help our customers keep pace with changing demands of the cloud and network infrastructure while achieving operational efficiencies and agility at scale."
Today's agreement brings together two network industry leaders.
Verizon has been named a Leader in Gartner® Magic Quadrant Network Services, Global for the last 16 years and manages more than 4,300 networks globally.
Wipro is a Leader in Gartner® Magic Quadrant for Managed Network Services and manages over 500+ Network and data center facilities across geographies and different industries.
References:
https://www.verizon.com/about/news/verizon-business-wipro-partner
https://www.naasenterprisesurvey.com/#executive-summary
https://telecom.economictimes.indiatimes.com/news/verizon-wipro-team-up-to-digitally-transform-large-enterprises-worldwide/95870078
Global technology market intelligence firm ABI Research expects the Network-as-a-Service (NaaS) [1.] market to expand significantly, reaching over  $150 billion by 2030.
Note 1. NaaS is a secure, cost-effective subscription-based model that lets businesses of all sizes consume network infrastructure on-demand and as needed.  It offers scale-up or scale-down flexibility that many businesses require to stay competitive in today's unpredictable data traffic environment.
Networks have been commoditized over the last few years and the cost of connectivity has fallen. Value has shifted from network infrastructure to the services built on top of the network. Enterprises need scalable solutions that offer cloud-native agility, multi-cloud accessibility, and services that can dynamically fluctuate to support digital transformation.  This has led to significant interest in the NaaS market, according to ABI Research.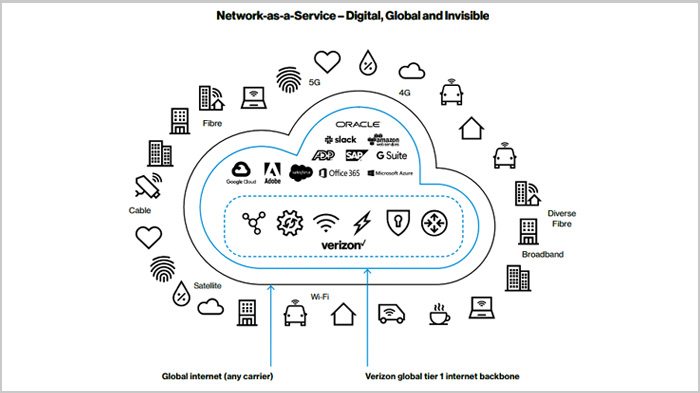 Image Credit: Verizon
The firm's blog promoting their NaaS report notes that telecom operators currently lack business models that allow them to build on their physical connectivity advantages to gain control of the NaaS market.
"Telcos must seize the opportunity to dominate the NaaS market, as revenue generated from connectivity provision will continue to decline. However, their investment strategy, business, operational, and 'go-to-market' models are not ready to deliver a competitive NaaS solution, explains Reece Hayden, Distributed & Edge Computing Analyst at ABI Research. "The market is immature and highly fragmented, but telco market revenue will exceed US$75 billion by 2030 if they act now and transform technology, culture, and structure to better align with the requirements of the NaaS market."
Currently, telcos face NaaS competition from two key players. Interconnection providers (e.g., Megaport and Packet Fabric) have built their agile solutions from the ground up, focusing energy on virtualization and software specialization. At the same time, cloud infrastructure providers (e.g., Amazon AWS, Google GCP, and Microsoft Azure) continue to offer cloud-specific NaaS solutions.
"Telecom operators remain in the best position to lead the market as long as they recognize their service/innovation limitations, invest/restructure successfully, and focus their messaging appropriately," according to Hayden.
Telcos must look to transform three areas. First, telcos must virtualize network infrastructure to deliver cloud-native services and continue to invest heavily to integrate automation (AIOps) throughout network services, including paying attention to 5G slice-as-a-service and other 'value-add services' which are critical to monetization.
Second, telecom operators must restructure business and operating models with a look toward openness and partnerships across the industry and reduce internal fragmentation to drive cross-business service continuity.
Third, telcos must look to develop a problem-solving culture and realign their 'go-to-market' strategy to better position themselves within the NaaS market. This involves developing vertical and enterprise size-specific sales strategies and establishing consultative processes that educate enterprises to bridge the ever-present gap between awareness and understanding. Telco executives should focus more on service provision and up/reskilling their workforce.
NaaS adoption will rapidly grow over the next eight years.  ABI Research expects that by 2030, just under 90% of enterprises will have migrated at least 25% of their global network infrastructure to be consumed within a NaaS model. However, this process will not be organic, suppliers will have to drive education and consultative practices, as significant skepticism within SMEs and MNCs pervades the market. "To drive short-run sales, suppliers must educate and tailor their sales strategy to focus on first adopters (startups and SMEs) and specific verticals," Hayden recommends.
The outlook in the NaaS market is hugely positive for telcos, especially given the rising demand from startups and SMEs. "But a lot still needs to be done to bridge technological, cultural, and structural gaps," Hayden concludes. "Although it seems like an expensive and risky uphill battle, developing NaaS will be crucial to the long-term upside. But, if telcos miss this opportunity and drop the ball, interconnection providers and hyperscalers will be waiting and willing to catch it."
These findings are from ABI Research's Network-as-a Service: Business, Operational, and Technological Strategies for Telco Digital Service Transformation application analysis report. This report is part of the company's Distributed and Edge Computing research service, which includes research, data, and ABI Insights. Based on extensive primary interviews, Application Analysis reports present an in-depth analysis of key market trends and factors for a specific application, which could focus on an individual market or geography.
ABI's NaaS report does not include IT equipment and software vendors like Cisco, Dell Technologies, and Hewlett Packard Enterprise (HPE), which have been bolstering their own NaaS hardware and software stacks while established sales channels into most enterprises.
About ABI Research:
ABI Research is a global technology intelligence firm delivering actionable research and strategic guidance to technology leaders, innovators, and decision makers around the world. Our research focuses on the transformative technologies that are dramatically reshaping industries, economies, and workforces today.
………………………………………………………………………………………………………………….
References:
https://www.abiresearch.com/press/telco-network-as-a-service-is-a-us75-billion-opportunity-if-they-invest-and-align-early/
https://www.sdxcentral.com/articles/analysis/aws-microsoft-google-target-telecoms-naas-lead-abi-finds/2022/07/
https://www.verizon.com/about/news/network-service-explained
Cisco Systems is extending the concept of software-as-a-service (SaaS) technology with the introduction of Cisco Plus, which is a network-as-a-service (NaaS) offering focused on cybersecurity and hybrid cloud services. The new service offering can also provide computing-as-a-service and data-storage-as-a-service.
Cisco announcing plans to lead the industry with new Network-as-a-Service (NaaS) solutions to deliver simpler IT and flexible procurement for customers looking for greater speed, agility and scale
Cisco also reveals plans to help customers build a SASE foundation today (with Cisco SD-WAN and security) with as-a-service offer coming soon
Cisco Plus offers include flexible consumption for data center networking, compute and storage now, and commits to delivering the majority of its portfolio as-a-service over time
"I believe every organization would benefit from simplifying powerful technology," said Todd Nightingale, Senior Vice President and General Manager, Enterprise Networking and Cloud, Cisco. "Network-as-a-service is a great option for businesses wanting to shift to a cloud operating model without a heavy lift. Cisco is leading the industry in its approach with Cisco Plus. Together with our partners, we intend to offer the majority of our technology portfolio in the simplest, most flexible way: cloud-driven, cloud-delivered, cloud-managed and as-a-service."
"Network-as-a-service delivery is a great option for businesses wanting to shift to a cloud operating model that makes its easy and simple to buy and consume the necessary components to improve and grow their businesses," said James Mobley, senior vice president and general manager of Cisco's Network Services Business Unit.
Cisco Plus NaaS solutions will provide:
Seamless and secure onramps to applications and cloud providers
Flexible delivery models, including pay-per-use or pay-as-you-grow options
End-to-end visibility from the client to the application to the ISP
Unified policy engine to ensure the right users have access
Security across everything, not bolted on as another point solution
Real-time analytics providing AI/ML-driven insights for cost and performance tracking
API extensibility across the technology stack
Partners layering additional value and delivering their services faster
The NaaS rollout will first focus on a cloud-based solution as-a-service for secure access service edge (SASE). The Cisco SASE offer currently available enables customers to easily leverage future services with investment protection. Cisco is planning limited release NaaS solutions later this calendar year that will unify networking, security and visibility services across access, WAN and cloud domains.
While Cisco plans in the next few years to introduce what will likely be many service options under Cisco Plus, for now it is introducing two flavors. The first, Cisco Plus Hybrid Cloud, includes the company's data-center compute, networking, and storage portfolio in addition to third-party software and storage components all controlled by the company's Intersight cloud management package.  Customers can choose the level of services they want for planning, design and installation Mobley said.
Cisco Plus Hybrid Cloud, which will be available mid-year, offers pay-as-you-go with delivery of orders within 14 days, Mobley said.
"As enterprises recommit to their digital transformation strategies, they are increasingly looking for more cloud-like, flexible consumption models for procuring and managing their IT, cloud and network infrastructure. These "as-a-service" deployment options provide much needed flexibility and scalability, along with a simplification of network deployments and ongoing operations. Cisco's transition to as-a-service via Cisco Plus shows the company is committed to meeting customer needs for predictable costs, cloud-like agility, first-class security, and more.
"With Cisco Plus, it's taking NaaS and its hybrid cloud offerings to the next level by including hardware and the full portfolio into this as-a-service offer, that provides cloud-like simplicity and flexibility of consumption on one end, and on the other, it provides a rich set of intelligent operational enhancements that go a long way to deliver enhanced IT experiences and outcomes. This has also been made possible by increased embedded intelligence now available in network and IT hardware and software, coupled with advanced telemetry options in many of these platforms."
— Rohit Mehra, Vice President of Network Infrastructure, IDC.
"With Cisco Plus, we couldn't be more excited that Cisco is diving deeper into the as-a-service era, helping us in our transformation to deliver IT as a service to our customers. In this way, we are better equipped to help our customers simplify their IT operations, and free up resources to invest in innovation of their core business." — Jeffrey den Oudsten, CTO Office Solutions Director, Conscia Nederland
"There's always been a push and pull in how to operationalize and finance IT infrastructure. Cisco Plus is the matching pair to a cloud operating model. Delivering Cisco Plus across the majority of Cisco's portfolio helps us at Insight to further deliver the transformation to a cloud operating model our clients want. With Cisco Plus, organizations can not only operate their infrastructure as a cloud, but also consume it in a similar fashion, enabling a true hybrid, multi-cloud."  — Juan Orlandini, Chief Architect Cloud + Data Center Transformation, Insight
"At Presidio, we have seen this shift coming for a long time. Our customers are very clear: They want to consume reliable, best of breed infrastructure with consumption-based financial models. And with the launch of Cisco Plus, Presidio and Cisco in partnership are doing just that."  — Raphael Meyerowitz, Engineering VP, Office of the CTO, Data Center, Presidio
The second Cisco Plus service, which did not have an availability timeframe, will feature the company's secure access services edge (SASE) components, such as Cisco's SD-WAN and cloud-based Umbrella security software.
Security-as-a-service models offer many advantages for organizations including offloading the maintenance of hundreds or thousands of firewalls and other security appliances, said Neil Anderson, senior director of network solutions at World Wide Technology, a technology and supply-chain services provider.
"With SASE, enterprises can consume that from the cloud and let someone else take care of the toil, which frees up their security team to focus on threat vectors and prevention," he said.
While the strategy behind delivering network components as a cloud-based service has been around for a few years, it is not a widely used enterprise-customer strategy. Cisco's entry into NaaS is likely to change that notion significantly.
"Cisco has been on this journey for a few years now—starting with providing subscription-based offers for many of its software solutions—while working on simplifying and enriching the licensing and consumption experience," Mehra said. "Customers understand and have embraced cloud-like IT-consumption models that are typically subscription-based and provide scalability and other on-demand capabilities," Mehra said.
 Terms such as NaaS are still largely new in an enterprise context to most IT practitioners, although they do understand that operational simplicity and flexibility will be crucial to their success in digital transformation, Mehra said.
While NaaS might be relatively new to some customers, others are already utilizing it, other experts said. For remote-access, customers are more than ready, and it's starting to go mainstream, Anderson said.
"For connectivity to the cloud edge, it's coming very soon, and the adoption of SASE models for security will accelerate the demand for NaaS services," he said. "NaaS in the campus will probably take a bit longer, but we see that coming. Some customer segments, like retail, are probably ready today, while others like global financials will take longer to adopt."
Networking is no longer just about connecting things within private networks because there is a world of networking to and between clouds to account for, Anderson said.  "For example, with private WANs, I typically networked my sites to my other sites like a private data center. Now, I need to network my sites to cloud services, and I may be doing so with public-internet services," Anderson said.
NaaS for the campus network is another use case on the horizon, he said. "To build campus networks in the past, we had access, distribution, and core layers, and the core spanned my campus and sometimes private data center. It was designed to aggregate traffic from users into my private data center," Anderson said. "Today, much of the traffic is heading to the cloud—Office 365 is the tipping point for many organizations—so building a core network may not be necessary. I see a new architecture emerging where the goal is to tie each site, including each building of a campus, to the internet directly to connect users to cloud and enable traffic to [reach] the cloud sooner, ultimately improving the user experience."
Naas is by no means a slam dunk, and there will be challenges for enterprises that use it. "For medium to large organizations with significant investments in existing remote, branch, campus and data-center networking network-security infrastructure, migrating to NaaS will be difficult and time consuming. Multi-vendor environments will further complicate the matter," stated principal analyst at Doyle Research, Lee Doyle.
Widespread adoption of enterprise NaaS will occur slowly over the next five to 10 years Doyle stated. The best fits for adoption now are greenfield sites, temporary locations, and small branch offices. NaaS offerings will also be attractive to network remote, home and mobile workers who need secure, reliable application performance. Enterprise networks with the requirement to move traffic at high speeds on-site would be more difficult to deliver as a service, Doyle stated.
Key challenges, besides understanding of what NaaS will help deliver, face IT practitioners who are the potential customers as well as vendors and service providers, Mehra said.
"On the customer aspects, what we'll need to watch will be the changing role of IT and how it can optimally consume these technologies as a service while retaining overall control of its IT environment," Mehra said. "On the provider side, visibility across issues such as operational flexibility and simplicity will be one area to consider, while another will be the direction the industry takes on what metered-service options it makes available for its clients."
The challenges depend on the industry and security requirements, WWT's Anderson said. "If the organization is in a heavily regulated industry like financial, healthcare, or federal [government], one challenge will be trusting the integrated security needed," Anderson said. "For example, there would be fewer challenges to enable everyone to connect to the internet, akin to a giant hotspot, but to adopt more of a zero-trust model, where you may need to securely isolate sessions and devices from one another, will require building trust in some integrated security technologies."
"What Cisco is doing is very interesting because what NaaS is out there has been limited to mostly the WAN world but once you start targeting the enterprise that's where the challenges are because customers still have to move bits and everything can't be in the cloud," Doyle said. "Instead of being in the first inning of a game we are really just now defining the rules of the game, so there's a long way to go."
References:
https://newsroom.cisco.com/press-release-content?type=webcontent&articleId=2150489?dtid=oblgzzz001087
https://www.networkworld.com/article/3613180/cisco-puts-network-as-a-service-options-on-enterprise-menu.html
https://www.zdnet.com/article/cisco-launches-cisco-plus-a-step-toward-network-as-a-service/
---