AT&T is powering Exide's digital transformation with its FlexWare network virtualization solution.  AT&T FlexWare is one of AT&T's core software-centric services from the company's "edge solutions portfolio." AT&T says its near real-time service cuts long set up times and complex processes.
FlexWare enables businesses to launch virtual network functions (VNFs) to improve productivity and communication across its geographically dispersed physical sites. With FlexWare, AT&T can move the VNFs, such as firewall or security VNFs, to devices on a company's network.
"Our technology will give Exide the support it needs to continue operating at high standards and to prepare for new opportunities in a 5G world," said John Vladimir Slamecka, AT&T Region President for Europe, the Middle East and Africa. "We're building a platform that is ready for new data hungry apps made possible with the arrival of 5G; such as AR and VR. That's why we are moving compute resources closer to the network edge, opening the door to new experiences and opportunities."
AT&T's FlexWare, for virtualized network edge services, is now in place across Exide's global locations, including throughout Europe, North America and Asia Pacific.  FlexWare at the edge allows Exide to use both highly secure MPLS and internet access services for its network needs. Starting with network routing, Exide is able to access all wide area network components utilizing high bandwidth capabilities to help provide greater flexibility as the needs of each change over time. AT&T FlexWare also allows Exide to fulfill its centralized IT requests without needing local site support.
……………………………………………………………………………………………………….
Exide is a battery and energy storage company which was founded 130 years ago.  It manufactures and recycles batteries for a broad range of industrial and transportation applications including cars, boats, forklifts and uninterrupted power units.  The company has more than 10,000 employees located across 80 countries.
"Our global presence in today's fast paced technology environment presents the unique challenge of blending reliable legacy platforms with emerging digital solutions.  This requires a data transport infrastructure that supports a broad number of traditional and disruptive applications," said Brian Woodworth, Exide Chief Information Officer. "AT&T is leading the way as a trusted and visionary provider of network edge solutions, so naturally we turned to AT&T to collaborate with us on our digital journey to become the preferred supplier to our customers across the globe," he added.
Exide is also using managed network security services from AT&T Cybersecurity.   From an AT&T report on this vital topic:
The security landscape is growing increasingly treacherous as hackers of every type continue to evolve their attack strategies to evade detection while maximizing profit from their time and effort. It doesn't matter if it's an organized criminal gang looking to make money from ransomware schemes, covert state-sponsored groups attempting to steal data and disrupt operations, or just malevolent individuals trying to impress others in the hacker community—every bad actor is smarter than they were last year, and better equipped to wreak havoc.
However, we wonder if AT&T takes cybersecurity seriously for its own customers, like this author who has experienced two AT&T account unexplained security breaches in the last few months?
…………………………………………………………………………………………………………………..
AT&T says it is "offering customers like Exide unrivaled visibility and security through people, process and technology allowing them to better protect their global business."  This author certainly hopes that happens!
…………………………………………………………………………………………………………
References:
https://about.att.com/story/2019/att_powers_exide_digital_transformation.html
For more information about AT&T FlexWare (nice video):  https://www.business.att.com/solutions/Service/network-services/sdn-nfv/virtual-network-functions/
For more information about AT&T Cybersecurity: https://att.com/security
https://www.business.att.com/learn/cybersecurity-report-volume-8-5.html
The Network Gets Smarter, Simpler and More Secure with Artificial Intelligence and Machine Learning:
Cisco today announced software innovations designed to make managing and securing networks easier. As today's businesses increasingly invest in digital technologies, IT teams are struggling under the amplified workload. To alleviate this burden and allow IT to focus on delivering innovation, Cisco is introducing new artificial intelligence and machine learning capabilities to allow IT teams to function at machine speed and scale through personalized network insights. As part of its broadened capabilities offering, Cisco is also unveiling innovations to more effectively manage users and applications across the entire enterprise network – from campus networks and wide-area networks, to data centers and the IoT edge.
IT teams currently face a daunting challenge. According to 451 Research, nearly two-thirds of organizations report that their IT teams are facing increased workloads; but increased IT headcount is in the cards for only about one-third of companies in the coming year. At the same time, it has never been more imperative for IT to deliver great digital experiences in this hyper-competitive landscape. Bridging the gap between the needs of a business and the resources available requires innovative network automation and analytics tools, powered by data and underpinned by artificial intelligence and machine learning.
Cisco's new capabilities will grant IT teams:
More Visibility: No two networks are the same. Environments are always changing. Cisco continuously collects relevant data from local networks and correlates it against the aggregate deidentified data set to create highly individualized network baselines. These baselines constantly learn and adapt as the number of devices, users and applications evolves, and as environments change.
Greater Insights: Network complexity has grown beyond the human scale of processing. Cisco uses machine learning to correlate the immense amount of data coming from the network against the individualized network baselines to uncover the issues that will have the greatest impact on the network. This improves issue relevancy, alerting IT of the issues that matter most. It also discovers trends and patterns, so IT can pre-emptively identify issues before they become a problem.
Guided Actions: Cisco uses machine reasoning algorithms and automated workflows to perform the logical troubleshooting steps that an engineer would execute to resolve a problem. This helps IT detect issues and vulnerabilities, analyze the root cause and execute corrective actions faster than ever.
"As the pace of change and diversity of the environment continues to rapidly evolve, Cisco is committed to continually simplifying our solutions," said Scott Harrell, Senior Vice President and General Manager of Cisco's Enterprise Networking Business. "Artificial intelligence and machine learning can enable businesses to efficiently discern which issues to prioritize, becoming more nimble and proactive. This will have a profound effect on network operations and the IT teams that run them. At Cisco, we're future proofing our networks and the workforce through automation and intelligence."
Reducing Complexity with the Multidomain Network
To help customers simplify the unprecedented complexity of modern IT, Cisco is building an architecture that spans every domain of the intent-based network — campus, branch, WAN, IoT, data center and cloud.  Cisco has created solutions optimized to meet the unique needs of each of these networking domains. Today, Cisco is introducing new integrations, so users have a secure, consistent experience no matter where, when or how they connect. The new integrations allow for end-to-end:
Network segmentation: The integration of Cisco SD-Access with Cisco SD-WAN and Cisco Application Centric Infrastructure (ACI) makes it easier for IT teams to consistently authorize, onboard and segment users and devices across campus, branch, data center and cloud networks, even when users and applications change. Because of this segmentation, IT is able to safeguard against unauthorized access to sensitive data and critical applications.
Application experience: Cisco now automatically conveys application requirements between the data center and the WAN, allowing the network to select the best path and prioritize traffic even if applications move or change. This allows IT teams to dynamically elevate application performance across the enterprise and branch.
Pervasive security: As an industry leader in cybersecurity, Cisco is leveraging its security innovations across all domains. By extending the ability to detect threats in encrypted traffic across public clouds, and by protecting the campus, branch and WAN against threats, Cisco says it's providing the end-to-end security customers need.
Cisco's Ecosystem Drives Innovation
As the network becomes increasingly programmable, Cisco's ecosystem of partners and developers has been crucial to drive innovation. To help organizations keep up with the relentless pace of change, Cisco DevNet, the company's developer program, has introduced community-backed efforts to make adopting networking technology easy and accessible. This includes machine learning and artificial intelligence developer resources, which include use cases and resources to get started with new applications; the Cisco DevNet Automation Exchange, which contains a curated repository of code for all levels of network automation use cases; and the Cisco DNA Center Platform, which helps networking professionals and software developers alike to build new applications and integrations.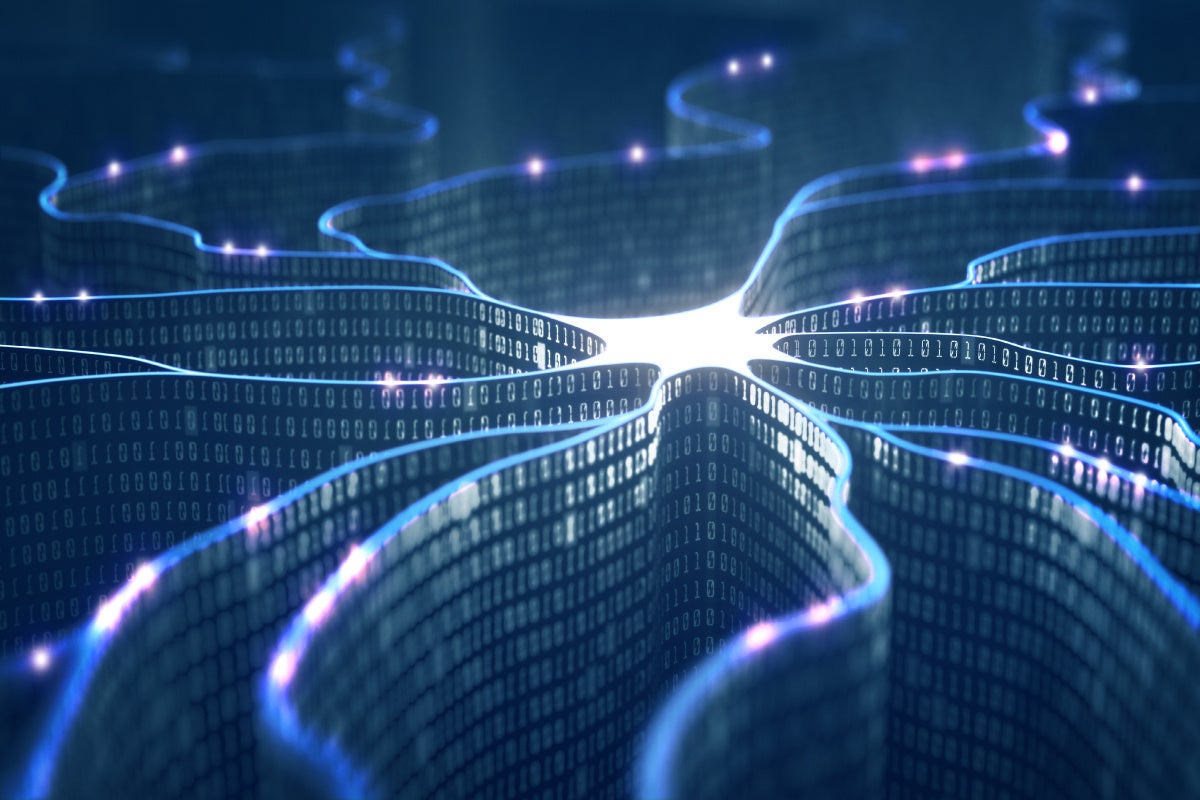 Cisco:  How AI and machine learning are going to transform your enterprise network
…………………………………………………………………………………………………………..
Availability, Licensing and Services
Cisco AI Network Analytics will be a standard part of Cisco DNA Assurance and will be available in the next version of Cisco DNA Center, generally available summer of 2019. Cisco AI Network Analytics capabilities will be included in the Cisco DNA Advantage software licensing tier.
The multidomain network integrations will be available with the next version of Cisco DNA Center, generally available summer of 2019. These integrations will be included in the Cisco DNA Advantage software licensing tier.
Cisco Customer Experience for Cisco DNA solutions accelerates deployment of next-gen intent-based networking solutions while reducing risk and disruption. The Cisco Customer Experience portfolio of services delivers expert guidance, best practices and innovative tools to help customers transition with greater ease and confidence. This also allows them to innovate faster, stay competitive, extract more value and realize faster ROI.
Additional Resources
SOURCE:  Cisco Systems
………………………………………………………………………..
References:
https://www.prnewswire.com/news-releases/the-network-gets-smarter-simpler-and-more-secure-with-artificial-intelligence-and-machine-learning-300864306.html
https://www.networkworld.com/article/3305327/cisco-how-ai-and-machine-learning-are-going-to-change-your-network.html
The REALITY:
Disappointingly small number of deployments, many open source software and open API organizations (ONF, Linux Foundation, MEF, TM Forum, OCP, etc), pop-up consortiums (Cloud RAN, Open RAN, other disaggregated hardware), defunct standards organizations (e.g. ETSI, ITU-T, IEEE) that only produce functional requirements, reference architectures, and white papers or none of the above.  Nothing that can be actually implemented via standardized exposed interfaces or APIs.
Discussion:
Tuesday April 30th and Wednesday May 1st I spent the entire day and early evening at the Layer 1,2,3 Network Transformation Congress which assessed the state of SDN, NFV, Open Source MANO (OSM), Open APIs (TM Forum and MEF), other Open Source management software, and topics related to what network operators have been talking about for at least eight years- computer controlled network automation and orchestration of services (sometimes referred to as service chaining).  Contrary to the rah, rah cheerleader talk from a few network operators (especially AT&T), telco deployment of this new age open source software for automation and control of networks has been very slow.  NFV actual deployments are minimal (if not zero) and SDN has become a marketing term that can mean any software control of network functions.  Every network operator and cloud service provider uses different protocols, many of which they invented (e.g. Google's routing protocol for DCI) along with  a sprinkling of open source code (such as a SDN Controller).
Decades of man years has been invested in network operator proprietary network management software, which is used to provision new services, keep track and maintain existing services, facilitate moves and changes.  One speaker said that he'd like to see light touch provisioning rather than zero touch.  Another said that they stack the new automation, provisioning and orchestration software on top of their legacy software
For the cloud giants (e.g. Amazon, Google, Tencent, etc), it has been done, but in almost a totally proprietary fashion with almost all the network automation, control and management done using in house generated code.  Amazon spoke at the conference and, in response to this author's question, suggested the different types of network access for AWS.  Microsoft spoke, not about Azure but their private enterprise network which doesn't use any open source code.  Moreover, it took two years to get 22 new sites connected via direct internet connections (<600M bit/sec) that would normally be served by copper lines (bonded DSL or short reach fiber).
Selected Quotes from Conference Participants:
Long time colleague Craig Matsumoto (whom I met when he was EE Times, but now at 451 Research) coined a new term during his presentation –  "software programmable interconnection" (SPI) for data centers.  Craig said: "We talk a lot about telcos. The question is what does network transformation mean for the data center world? What are they doing about it?  We came up with this new term, software programmable interconnection (SPI) . It's basically about the idea that data centers connect with one another with a fabric."  In this author's opinion the SPI term captures the wide variety of software being used within and between data centers!
"For me covering data centers after covering telcos for so long, they've (data center operators) talked to me about using the SDN for pretty much anything that involved automation and the network. Anything that has software is SDN to them. We came up with a different term as a good way to encapsulate that some kind of software is being used that might or might not be SDN,"  Matsumoto added.
Tuesday's keynote speaker and Wednesday moderator Roy Chua, Founder and Principal of AvidThink – a boutique market research firm:
"With regard to the key takeaways, I think you've captured them. I was very impressed at the level of candor in the discussions and presentations. I liked the concrete examples and quantification of NFV uptake challenges and the recognition that we need to solve constrained problems than try to boil the ocean. There was definitely good content…..Appreciate all the excellent questions and enjoyed the discussion at lunch. And I am most grateful for your endorsement of the analysis that I do."
This author recommends only a select few (<5) networking market analysts that do primary market research.  Roy is one of those select few!
From Kaustubha Parkhi, Principal Analyst at Insight Research (a well respected Indian market research firm):
"There is no doubt that LSO [2] is essential. Equally essential is the pruning of its objectives and scope, which becomes a bit overwhelming at times. The objectives, in the present form are so broad-based that they cover everything from billing functions to network equipment deployment."   –>More on LSO in a forthcoming IEEE Techblog article.
Note 2. LSO (Lifecycle Service Orchestration) is the set of MEF-defined specifications enabling standardized service orchestration based on standardized lifecycles of end-to-end connectivity services across one or more network service domains.  A key contribution is open APIs – to automate the entire lifecycle for services orchestrated across multiple provider networks and multiple technology domains within a provider network.  LSO enables service providers to transition from a silo-structured BSS/OSS approach towards flexible end-to-end orchestration that unleashes the value of SDN and NFV.  Standardized LSO APIs are critical for enabling agile, assured, and orchestrated services over automated, virtualized, and interconnected networks worldwide.
                                                           Above illustration courtesy of MEF
…………………………………………………………………………………………………………………………………………………………………………………………………………………
Conclusions:
I was pleasantly surprised by the honesty (if not brutal frankness) of the speakers.  What a refreshing change from the never ending hype, exaggeration and lies one hears at most networking conferences – including the IEEE 5G Summits :-((.
With over 20 pages of handwritten notes and so many important things revealed, I am not able to write a detailed conference summary report on this free website.  Hence, I solicit readers to email me what they'd like me to cover in future posts, after reading the conference agenda for Tuesday- Day 1 and Wednesday -Day 2.
Please remember that the IEEE Techblog does not accept advertisements so we can tell the real truth.  Also we don't charge for viewing posts or comments (no pay wall).  Finally, this author has managed and contributed to this and predecessor website (community.comsoc.org) for over 10 years without any pay.
You may contact this author at:  alan.weissberger@ieee.org
…………………………………………………………………………………………………………………..
References:
 PRESENTATIONS FROM:
–       WORKSHOP DAY: https://www.layer123.com/downloadfiles/NTC19_Presentations_WorkshopDay.zip
–        DAY 1: https://www.layer123.com/downloadfiles/NTC19_Presentations_Day1.zip
–        DAY 2: https://www.layer123.com/downloadfiles/NTC19_Presentations_Day2.zip
–        FINAL ALL: https://www.layer123.com/downloadfiles/NTC19_Presentations_Final.zip
---