South Korea is arguably one of the leading countries that has deployed 5G.  According to the Ministry of Science and ICT, the country had 29.6 million users as of  this March, and given that number of subscribers has increased to around 500,000 per month up to now, it is more than likely that as of early May, there are 30 million 5G users.   This milestone comes four years after 5G became available in smartphones in the country in April 2019 (based on 3GPP Release 15 specs).
South Korea started 2G code division multiple access (CDMA) services in 1996 and 3G wide CDMA in 2003, starting the cell phone era. This allowed South Korean telecommunication companies to expand abroad. The launch of WCDMA also allowed Qualcomm and Samsung to become leaders in application processors and smartphones, respectively, today.  Then in 2011 came 4G long-term evolution (LTE) services. This truly enabled smartphones which could now stream videos in real time.  South Korean wireless network operators SK Telecom, KT and LG Uplus became board members of GSMA, the global telecommunications suppliers organization.
Expectations were high for 5G. The government and telcos claimed in marketing before launch that 5G will be, compared to 4G, 20 times faster, 100 times better simultaneous access and 10 times shorter delays. They claimed new augmented reality, virtual reality, 3D content and IoT services would be introduced.  However, the reality after 5G launched was quite different and none of the promises were kept.
According to the Ministry of Science and ICT, 5G download speed on average was 896.10Mbps as of October. Upload speed was on average 93.16Mbps. This was only faster by 5.9 times and 2.8 times faster, respectively than 4G LTE in the same month.
Image Credit: TheElec (http://thelec.net)
5G coverage was also only around 33.1% of the country, which means on a national level, most people were using non-standalone 5G services  (5G NR with LTE infrastructure and EPC).
Spending to obtain 28 GHz mmWave spectrum has effectively ended. KT and LG Uplus had their spectrum cancelled in December; SK Telecom is also expected to lose theirs within the year  (SEE UPDATE BELOW)!  Without spending on 28GHz, there will be no "20 times faster 5G."  The country's Fair Trade Commission is expected to penalize the three South Korean telcos for violating advertisement laws.
………………………………………………………………………………………………………………………………………………………………………………..
On the positive side, 5G is being combined with AI.  KT announced the commercial launch of a new solution, which it calls its "5G Infrastructure Intelligent Control Solution", that is based on artificial intelligence (AI) technology.  The South Korean network operator noted that this solution is designed to control 5G infrastructure with the aim of making that infrastructure more efficient and stable.
KT's new solution is equipped with AI technology to detect abnormalities in the status of networks and equipment in real-time. By comparing dozens of equipment quality data in real-time with pre-learned data, the new solution can determine whether the equipment is abnormal or not with a single indicator, KT said.  Also, the solution also displays the status of access and core equipment in five stages, making it easy to "intuitively check the equipment and the degree of abnormality" that occurred, the Korean telco added.
The company highlighted that companies and institutions without expertise in network management can use KT's 5G solution to operate 5G networks without any "burden."  KT said it has already implemented the solution in four institutions, including Bundang Seoul National University Hospital, Samsung Seoul Hospital, Korea Aerospace Industries Co., Ltd. and Navy Headquarters.
"When KT's 5G specialized network testbed is established, it will be possible to perform a one-stop service for testing equipment for 5G specialized network, interworking with terminals, and conducting network trial operation and inspection. It is expected to greatly reduce the cost and technical burden of companies considering the introduction of a 5G specialized network," KT said.
"SK Telecom (SKT) is stepping up efforts on all fronts to transform itself into an AI company," CFO Kim Jin Won told a results briefing Wednesday. Its strategy is to grow through partnerships with local and global top-tier AI companies while also continuing to develop its own AI technology.
SKT has been trialing generative AI in its A. (pronounced "A-dot") service, built on its own technology and capable of holding complex conversations and developing long-term memories. Last month the telco invested 15 billion Korean won (US$11.4 million) in local startup Scatter Lab, which has used deep learning to create a chatbot that can hold empathetic conversations.  SKT wants to work with Scatter Lab to develop an AI agent that can have human-like conversations with A. customers. The two companies also aim to develop a hyperscale language model equipped with emotions and knowledge domains.
May 15 2023 Update:
On Friday, May 12th South Korea's Ministry of Science and ICT cancelled SKT's 28 GHz 5G license. The Korean network operator's major rivals KT Corp and LG U+ had their 28 GHz licences cancelled last year for the same reason, but SKT held on to its concession by the skin of its teeth and escaped with a warning.
"It is regrettable that this result has finally come about despite the government's active efforts so far," said Choi Woo-hyuk, director of radio wave policy at the Ministry of Science and ICT, in a Korean language statement confirming the licence withdrawal.
The three South Korean mobile operators each acquired 800 MHz of 28 GHz spectrum, alongside 3.5 GHz frequencies, in 2018, with the band being available for use by the end of that year. The licence conditions required them to deploy 15,000 base stations using 28 GHz within three years. But an investigation on the part of the last year Ministry showed that the telcos had built only 10% of the number of sites they had committed to, which led to it pulling the licences of the worst offenders: KT and LG U+.
https://telecoms.com/521670/south-korea-cancels-skts-28-ghz-5g-licence/
References:
https://www.thelec.net/news/articleView.html?idxno=4524
https://irsvc.teletogether.com/skt/pdf/skt2023Q1_Subtitles_eng.pdf?2
https://www.lightreading.com/aiautomation/skt-chases-ai-vision-as-legacy-business-goes-flat/d/d-id/784795?
On February 27 at MWC Barcelona 2023,  South Korean network operator SK Telecom (SKT)  signed a memorandum of understanding (MOU) with Deutsche Telekom and T-Mobile US to jointly explore opportunities for expanding its metaverse platform ifland into Germany and the U.S.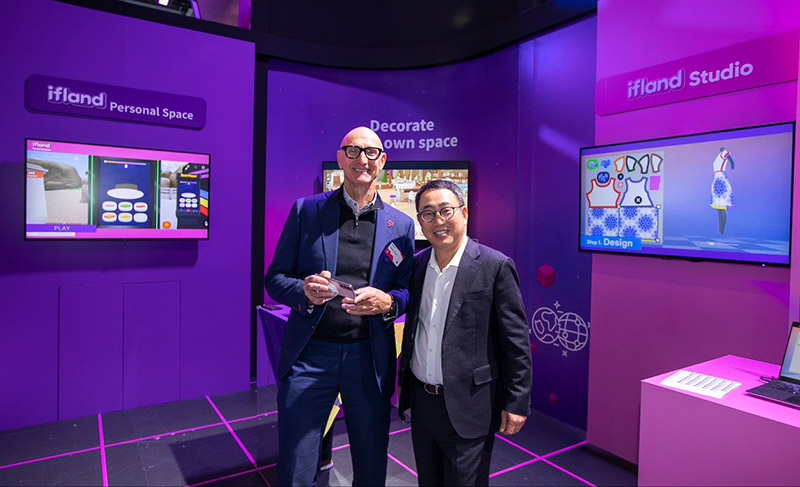 Image Credit:  SKT
The three companies will begin to conduct market tests in the U.S. and Germany in the second quarter of this year, with the main goal of the trials being to try "more diverse metaverse services in Europe and the U.S."
SKT, Deutsche Telekom and T-Mobile US will also produce content tailored to local preferences, and will jointly promote the metaverse offering.
The ifland platform is also set to be made available to more countries in South East Asia, and the telco has agreed a partnership with its Malaysian partner CelcomDigi to boost its ifland user numbers in the country and develop new business models. It will also be made available to all 11 subsidiaries of Axiata operating in the ASEAN (Association of South-east Asian Nations) and South Asian regions, including Malaysia, Indonesia, Sri Lanka, Cambodia, Bangladesh and Nepal.
SKT and Axiata also plan to develop "metaverse platform-related business models" and create business opportunities based on artificial intelligence (AI) to enhance the competitiveness of these models.
By expanding its metaverse service into the Southeast Asian market, where Korean culture such as K-content is gaining popularity, SKT expects to expand ifland's services and develop new business opportunities.
"As we advance into the global market with our metaverse platform ifland, major telecommunications companies in each country and region play an important role as our partners," said Ryu Young-sang, CEO of SKT. "Going forward, we will continue to work closely with diverse global companies to expand the scope of our metaverse service."
"The collaboration between the leading Malaysian telecoms operator serving more than 20 million customers and global ICT leader SKT will set the stage for the nation's metaverse development, and drive growth and digitalisation within the digital economy," said Datuk Idham Nawawi, CEO of CelcomDigi. "We look forward to working together on leveraging innovative technologies and practices particularly in virtual spaces to develop and deliver a wider range of innovative solutions for our customers and Malaysian businesses."
"Axiata is deeply committed to leveraging emerging technologies towards the inclusive advancement of Societies and Economies across Asia," said Dr Hans Wijayasuriya, CEO of Axiata. "We are proud to partner with SKT and the ifland platform and consider the partnership a significant component of our participation in the metaverse going forward."
SKT pointed out that each of the three operator partners has more than 100 million customers, giving it a solid foundation on which to expand the international impact of ifland. The company's CEO, Ryu Young-sang, pointed out that partnering with major telcos "in each country and region" plays a key role in advancing ifland's influence, so it plans to continue working closely with global companies to broaden the scope of the service.
SKT's metaverse platform launched in June 2021 and after an initial collaboration with Deutsche Telekom, it aggressively moved to global expansion across North America, Europe, the Middle East and Asia in November 2022.
References:
https://www.sktelecom.com/en/press/press_detail.do?idx=1560
https://www.telecomtv.com/content/digital-platforms-services/news-brief-skt-further-expands-its-metaverse-reach-46840/
South Korea has racked up a considerable 5G user base since the networks' commercialization in April 2019 — 10.9 million subscribers as of end-November, accounting for around 15.5 percent of the total 70 million mobile subscriptions.  SK Telecom had the most 5G subscriptions in November at 5.1 million, followed by KT at 3.3 million and LG Uplus at 2.5 million.
The average 5G user consumed 26 gigabytes of data in November, according to government data. A recent South Korea ministry report found that the country's 5G networks had an average 5G download speed reaching 690.47 Mbps, just over four times faster than current 4G LTE speeds.
                                     Graph Credit: RootMetrics
RootMetrics' says South Korean "blueprint" for rapid 5G success is based on several factors. Two of the three South Korean carriers are using 100MHz of 5G bandwidth, and the third uses 80MHz, all around the "mid band" 3.5GHz frequency.  Contrast that with U.S. carriers which have struggled for regulatory reasons to get access to both mid band spectrum and similarly large spectrum blocks.
The South Korean carriers have also been able to deploy plenty of network hardware across South Korean cities and have seen relatively little performance degradation indoors compared with outdoors, unlike early U.S. 5G millimeter wave deployments. In other words, the key to performant 5G is widely deployed mid band networking gear, which a major domestic vendor and government coordination can make considerably easier.
South Korea has benefited significantly from the availability of Samsung 5G networking hardware and devices.  RootMetrics expects that the belated launches of 5G-compatible iPhones could encourage other countries and carriers to achieve parity with the current 5G leader, as global demand for 5G will be driven at least as much by consumer devices as industrial applications. The report suggests that the one-year pace of the performance uptick "suggest[s] that networks in other countries could follow suit, which would level the worldwide 5G playing field" despite the "commanding lead" South Korea currently holds.
……………………………………………………………………………………………………………………………………………………………………………………………………
User migration from 4G LTE to 5G has fallen short of expectations, prompting competitive pay plans by the three carriers.  The companies had initially shot for 5G subscriptions to account for up to 30 percent of their mobile users by the end of last year.  A recent Korea ministry report found that the country's 5G networks had an average 5G download speed reaching 690.47 megabits per second (Mbps), just over four times faster than current 4G LTE speeds.
Carriers are still betting on the lower prices to give the shove the local 5G market needs for faster migration.  LG Uplus Corp. said Tuesday it will release a new monthly data plan, offering 6 gigabytes of data at 5G speeds for 47,000 won (US$43), following rival carrier KT Corp., which also launched late last year a monthly 5G plan at 45,000 won for 5 gigabytes of data.   The new data plans are relatively more affordable than most existing 5G data plans that cost over 50,000 won a month.
"By creating low-to-mid priced plans, we hope to both reduce telecommunication costs and expand the 5G market," an LG Uplus official said.
SK Telecom Co., the country's largest carrier, has also lowered the price of its 5G data plans, pending government review.
SK Telecom, KT Corp. and LG Uplus are currently preparing to commercialize 5G stand alone networks and 5G millimeter wave.
In July of 2020, the big three Korean mobile operators agreed to invest a total of KRW 25.7 trillion ($22 billion) through 2022 to boost 5G infrastructure across the country.  That  investment primarily focuses on enhancing 5G quality in Seoul and six other metropolitan cities. The investment plan also stipulates the deployment of 5G in 2,000 multi-purpose facilities, on Seoul Metro lines 2 and 9 and along major highways. In 2021, the carriers committed to expand 5G connectivity to an additional 85 districts, including 4,000 multi-purpose facilities, subways and all train stations, as well as 20 additional highways.
……………………………………………………………………………………………………………………………………………………………………………………………………..
Samsung Electronics Co. is expected to remain the world's top smartphone producer this year, according to a report by according to market researcher TrendForce.  However, the company's market share is likely to decrease as other brands will ramp up production with the recovery of mobile demand.
…………………………………………………………………………………………………………………………………………………………………………………………………………
---