On February 27 at MWC Barcelona 2023,  South Korean network operator SK Telecom (SKT)  signed a memorandum of understanding (MOU) with Deutsche Telekom and T-Mobile US to jointly explore opportunities for expanding its metaverse platform ifland into Germany and the U.S.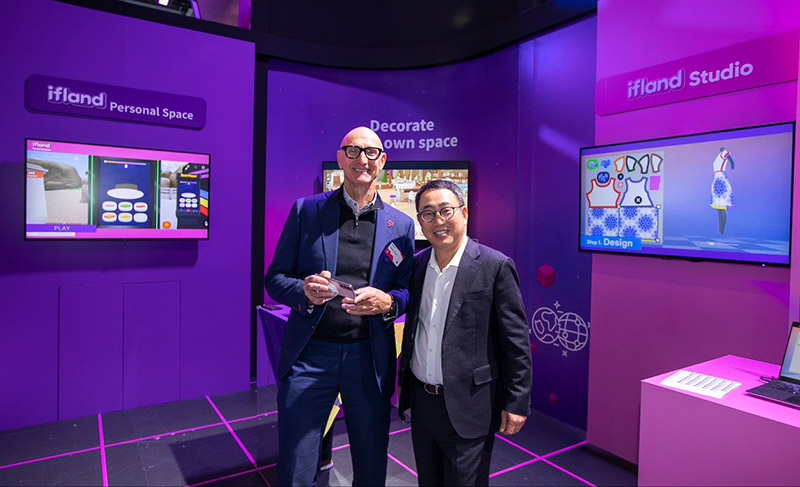 Image Credit:  SKT
The three companies will begin to conduct market tests in the U.S. and Germany in the second quarter of this year, with the main goal of the trials being to try "more diverse metaverse services in Europe and the U.S."
SKT, Deutsche Telekom and T-Mobile US will also produce content tailored to local preferences, and will jointly promote the metaverse offering.
The ifland platform is also set to be made available to more countries in South East Asia, and the telco has agreed a partnership with its Malaysian partner CelcomDigi to boost its ifland user numbers in the country and develop new business models. It will also be made available to all 11 subsidiaries of Axiata operating in the ASEAN (Association of South-east Asian Nations) and South Asian regions, including Malaysia, Indonesia, Sri Lanka, Cambodia, Bangladesh and Nepal.
SKT and Axiata also plan to develop "metaverse platform-related business models" and create business opportunities based on artificial intelligence (AI) to enhance the competitiveness of these models.
By expanding its metaverse service into the Southeast Asian market, where Korean culture such as K-content is gaining popularity, SKT expects to expand ifland's services and develop new business opportunities.
"As we advance into the global market with our metaverse platform ifland, major telecommunications companies in each country and region play an important role as our partners," said Ryu Young-sang, CEO of SKT. "Going forward, we will continue to work closely with diverse global companies to expand the scope of our metaverse service."
"The collaboration between the leading Malaysian telecoms operator serving more than 20 million customers and global ICT leader SKT will set the stage for the nation's metaverse development, and drive growth and digitalisation within the digital economy," said Datuk Idham Nawawi, CEO of CelcomDigi. "We look forward to working together on leveraging innovative technologies and practices particularly in virtual spaces to develop and deliver a wider range of innovative solutions for our customers and Malaysian businesses."
"Axiata is deeply committed to leveraging emerging technologies towards the inclusive advancement of Societies and Economies across Asia," said Dr Hans Wijayasuriya, CEO of Axiata. "We are proud to partner with SKT and the ifland platform and consider the partnership a significant component of our participation in the metaverse going forward."
SKT pointed out that each of the three operator partners has more than 100 million customers, giving it a solid foundation on which to expand the international impact of ifland. The company's CEO, Ryu Young-sang, pointed out that partnering with major telcos "in each country and region" plays a key role in advancing ifland's influence, so it plans to continue working closely with global companies to broaden the scope of the service.
SKT's metaverse platform launched in June 2021 and after an initial collaboration with Deutsche Telekom, it aggressively moved to global expansion across North America, Europe, the Middle East and Asia in November 2022.
References:
https://www.sktelecom.com/en/press/press_detail.do?idx=1560
https://www.telecomtv.com/content/digital-platforms-services/news-brief-skt-further-expands-its-metaverse-reach-46840/
South Korea has racked up a considerable 5G user base since the networks' commercialization in April 2019 — 10.9 million subscribers as of end-November, accounting for around 15.5 percent of the total 70 million mobile subscriptions.  SK Telecom had the most 5G subscriptions in November at 5.1 million, followed by KT at 3.3 million and LG Uplus at 2.5 million.
The average 5G user consumed 26 gigabytes of data in November, according to government data. A recent South Korea ministry report found that the country's 5G networks had an average 5G download speed reaching 690.47 Mbps, just over four times faster than current 4G LTE speeds.
                                     Graph Credit: RootMetrics
RootMetrics' says South Korean "blueprint" for rapid 5G success is based on several factors. Two of the three South Korean carriers are using 100MHz of 5G bandwidth, and the third uses 80MHz, all around the "mid band" 3.5GHz frequency.  Contrast that with U.S. carriers which have struggled for regulatory reasons to get access to both mid band spectrum and similarly large spectrum blocks.
The South Korean carriers have also been able to deploy plenty of network hardware across South Korean cities and have seen relatively little performance degradation indoors compared with outdoors, unlike early U.S. 5G millimeter wave deployments. In other words, the key to performant 5G is widely deployed mid band networking gear, which a major domestic vendor and government coordination can make considerably easier.
South Korea has benefited significantly from the availability of Samsung 5G networking hardware and devices.  RootMetrics expects that the belated launches of 5G-compatible iPhones could encourage other countries and carriers to achieve parity with the current 5G leader, as global demand for 5G will be driven at least as much by consumer devices as industrial applications. The report suggests that the one-year pace of the performance uptick "suggest[s] that networks in other countries could follow suit, which would level the worldwide 5G playing field" despite the "commanding lead" South Korea currently holds.
……………………………………………………………………………………………………………………………………………………………………………………………………
User migration from 4G LTE to 5G has fallen short of expectations, prompting competitive pay plans by the three carriers.  The companies had initially shot for 5G subscriptions to account for up to 30 percent of their mobile users by the end of last year.  A recent Korea ministry report found that the country's 5G networks had an average 5G download speed reaching 690.47 megabits per second (Mbps), just over four times faster than current 4G LTE speeds.
Carriers are still betting on the lower prices to give the shove the local 5G market needs for faster migration.  LG Uplus Corp. said Tuesday it will release a new monthly data plan, offering 6 gigabytes of data at 5G speeds for 47,000 won (US$43), following rival carrier KT Corp., which also launched late last year a monthly 5G plan at 45,000 won for 5 gigabytes of data.   The new data plans are relatively more affordable than most existing 5G data plans that cost over 50,000 won a month.
"By creating low-to-mid priced plans, we hope to both reduce telecommunication costs and expand the 5G market," an LG Uplus official said.
SK Telecom Co., the country's largest carrier, has also lowered the price of its 5G data plans, pending government review.
SK Telecom, KT Corp. and LG Uplus are currently preparing to commercialize 5G stand alone networks and 5G millimeter wave.
In July of 2020, the big three Korean mobile operators agreed to invest a total of KRW 25.7 trillion ($22 billion) through 2022 to boost 5G infrastructure across the country.  That  investment primarily focuses on enhancing 5G quality in Seoul and six other metropolitan cities. The investment plan also stipulates the deployment of 5G in 2,000 multi-purpose facilities, on Seoul Metro lines 2 and 9 and along major highways. In 2021, the carriers committed to expand 5G connectivity to an additional 85 districts, including 4,000 multi-purpose facilities, subways and all train stations, as well as 20 additional highways.
……………………………………………………………………………………………………………………………………………………………………………………………………..
Samsung Electronics Co. is expected to remain the world's top smartphone producer this year, according to a report by according to market researcher TrendForce.  However, the company's market share is likely to decrease as other brands will ramp up production with the recovery of mobile demand.
…………………………………………………………………………………………………………………………………………………………………………………………………………
---